Rory McIlroy drew on his enormous pride to post a remarkable 16th top-10 in his 22 events this year thanks to rousing weekend finish at the BMW PGA Championship.
McIlroy birdied three of his closing four holes in a five-under par 67 for a share of ninth place at 11-under par on the famed Wentworth course.
Former Masters champ, Danny Willett collected a seventh tour title and goes straight to the top of the 2020 European Ryder Cup qualifying table in posting a 67 to win by three shots at 20-under par.
Spaniard Jon Rahm, who put his second shot into the water at the last, salvaged a par in a score of 70 for a 17-under total.
McIlroy went into the final round at six-under par, trailing nine shots off the lead but in the final wash-up, he was simply playing catch-up following a very hurtful first day 76.
In fact, it took McIlroy 39 holes, when he birdied the third hole on Saturday, to finally move into the 'red' in the flagship event and from there he played his 33 holes in 10-under par.
"The start was undesirable to say the least but on Thursday night, if someone had told me on Sunday, I'd have a chance of finishing in the Top-10, I would have taken it," said McIlroy.
"I would have said, that would be great because that means I've played some great golf over the next three days to do that.
"To play like I have over the weekend, even to just grind it out and be here for the weekend and make the most of opportunity, yeah, I am proud of myself for just how I hung in there."
As it was, McIlroy delivered event organisers and huge crowds a collective sigh of relief in making the one-over par cut right on the mark.
McIlroy went out at 9am on Saturday in the second group of the day and it could have easily been the last group given the huge numbers that flocked to follow McIlroy, Padraig Harrington and Tommy Fleetwood.
"It was unbelievable as Wentworth and this tournament always does get great crowds," he said.
"Yesterday morning, for me playing with Pádraig and Tommy, obviously it's a pretty good grouping but at nine o'clock in the morning, and you're walking down — I was walking down the 4th fairway and I just looked back up the hill, and I couldn't believe how many people were out there early on a Saturday morning.
"Then the crowd just built as the day went on. I don't know if they have had record crowds this week but I think the weather has obviously helped and probably one of the strongest fields they have had in a lot of years. It's been incredible.
"It's been a great week. We were going to get a little bit of rain and we had to play through some of that, but yeah, wonderful support".
McIlroy was headed north to the Home of Golf to join his father, Gerry in Thursday's starting Alfred Dunhill Links Championship, an event he last contested in 2017 when it was the 10-year anniversary of his third place result in 2007 that secured him a European Tour card.
"My dad will be happier than I am, because he at least has a partner now that's playing pretty well," said McIlroy smiling.
"We're looking forward to it. It's a very relaxed week. I'm going to go up there and have a good time. St. Andrews is a great town obviously.
"Also, to spend a bit of family time, spend a lot of time with him on the course which will be really cool, and try not to take it too seriously because I think if you take these Pro-Ams too serious, you start to get frustrated with how long you're out there and all that sort of stuff.
"So, we'll each try to keep it light-hearted and hopefully that's the key to playing some good golf."
Joining McIlroy will be fellow Open Champions Shane Lowry and Padraig Harrington.
Lowry went into Wentworth's last day determined to 'sneak' a top-10 BMW finish and thanks to a second straight bogey-free round in posting a six-under par 66, he almost achieved it; Lowry eventually settling for a tie for 11th at 10-under par.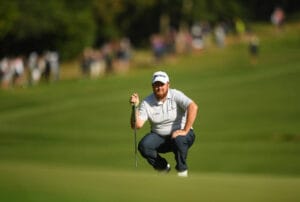 And like McIlroy, Lowry could look back to Thursday's no-frills 72 in not finishing higher up the 'Burma Road' board.
To his enormous credit, the Offaly golfer did not drop a shot from his 15th hole on Friday and completed the ensuing 39-holes in 10-under.
"I've come back this week after four weeks off and coming into a big tournament, and on a tough golf course so, I didn't know what to expect," he said.
"I was happy to get through to the weekend. I knew once I did, I could kind of make a run at it. You know, if anything, the first couple of days my putter was close. Although I felt like I was hitting good putts, I felt like nothing was going in but I stayed patient all week and thankfully that patience paid off at the end."
Lowry got a big lift ahead of teeing-up on day four having managed to squeeze-in much of Ireland's first round Rugby World Cup encounter against Scotland, with Ireland running-out clear winners 27-3.
"When we got the try to go 24 to 3 up, I got up off my seat and started my warm-up," he said smiling.
"I was happy it was done and dusted then and Paul (McGinley) had it on his phone on the range, as well.
"So, it's been a really successful day all around. Ireland win and 66 is always nice."
Harrington is also heading to St. Andrews, an event he captured in 2002 and 2006 after signing for a final round 68 to be just inside the top-50 on level par.