Gamed by Open Champion Shane Lowry and Graeme McDowell the Cleveland Golf the RTX wedge line up have been one of the most successful in the brands history.  Today Cleveland have announced that from June 11th they will push the performance benefits even further by bringing full-face grooves to the flagship RTX model.
This new wedge model delivers maximum short game versatility for the most demanding short game shots.
The new RTX Full-Face maintains the traditional and striking clean look that golfers have come to expect from a Cleveland wedge, all while adding shot-making creativity with grooves across the entire face," said Joe Miller, Product Expert at Cleveland Golf Europe. "It's the perfect complement to the classic RTX ZipCore and delivers exceptional versatility around the greens." The foundation of RTX Full-Face is a unique, low-density core that sits at the heart of the wedge. ZipCore makes you better by shifting the centre of gravity, while also boosting High-Low MOI for more stability high and low on the wedge face. The result: more impacts on the sweet spot for more consistent spin, distance and feel on every shot.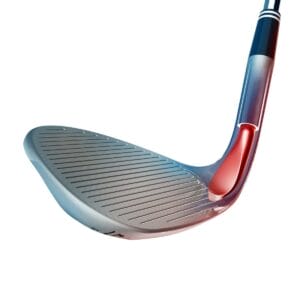 Furthermore, RTX Full-Face features UltiZip grooves covering every last millimetre of the clubface for optimal spin performance, while a High-Toe profile allows the club to slide under the ball with confidence.
Similar to RTX ZipCore, the new RTX Full-Face features a new heat treatment process to boost durability and preserve the lifespan of the grooves to maintain spin performance round after round.
Key Innovations Inside RTX Full-Face:
ZipCore: ZipCore shifts the centre of gravity while raising MOI, adding spin, enhancing control, and boosting consistency on all your shots.
UltiZip Grooves: These grooves are sharper and deeper, delivering maximum spin performance. They bite harder, channel more debris, and they're closer together for more groove contact on every shot.
Heat Treatment: A new heat treatment process increases ZipCore's durability, delivering better performance over a longer period of time.
Full-Face Grooves: The hosel-to-toe groove pattern covers every millimetre of the face in UltiZip Grooves. That means you are free to get creative and hit it off the toe when the shot calls for it without sacrificing spin.
High-Toe Profile: The optimal High-Toe profile lets you open the face with confidence. We made sure to give enough area for performance on challenging shots while maintaining a classic silhouette address.
The new RTX ZipCore Full Face will be available in Tour Satin and RAW finishes. Tour Satin – €159 (Available in R/H & L/H). RAW – €179 (R/H custom orders only) Lofts: Tour Satin (50°, 52°, 54°, 56°, 58°, 60° & 64°) & RAW (56°, 58°, 60° & 64°) Grind: C-Shaped. The new line-up will be available at all Cleveland / Srixon stockists from the 11th June 2021.