The multi-coloured umbrella logo, universally known to golfers, celebrates one of the most recognised icons in the sports world. Today, Wednesday, aptly on what is known as National Umbrella Day, PUMA Golf is announcing its second collaboration with Arnold Palmer Enterprises, a collection that embodies The King's timeless style as it would come to life today. The PUMA Golf x Arnold Palmer Collection celebrates the life and excellence of golf's global icon through nostalgic colours, unique prints and personal detailing on each piece.
Inspired in part by the iconic "Arnold Palmer," drink, a mixture of sweet lemonade and cool iced tea, the newest iteration of the collection combines hi-tech, modern fabrics with a sophisticated take on Mr. Palmer's signature style, both on and off the golf course. Each item features a unique pattern reminiscent of The King's taste, including umbrellas, iced tea and lemons and, in the collar of many of the tops, artistic renderings depicting a memorable period in his storied life and career.
Additionally, hidden quote labels with famous Arnold Palmer quotes are included on the interior of every piece, along with a two-tone version of the iconic Umbrella logo, adapted to reflect the PUMA x Arnold Palmer partnership. The collection includes other hidden discoverable details including pink stitching on the top buttons of the polos, real shell buttons with Arnold Palmer's name engraved on them, and unique hangtags inspired by the cataloging labels used in his personal archives.

"When designing this collection we had the honour of spending time with the Arnold Palmer Enterprises team, along with close Palmer friends and family, diving deep into the archives to bring key elements of his life and career into every piece," said Chris MacNeill, Senior Product Line Manager, PUMA Golf. "We wanted to make each piece something special that fans of Mr. Palmer and the game of golf will truly appreciate. We feel we captured the essence of his life and trend-setting style in a modern way in this new collection."
The PUMA Golf x Arnold Palmer collection for 2021 is comprised of polos, layering pieces, shorts, and caps listed below: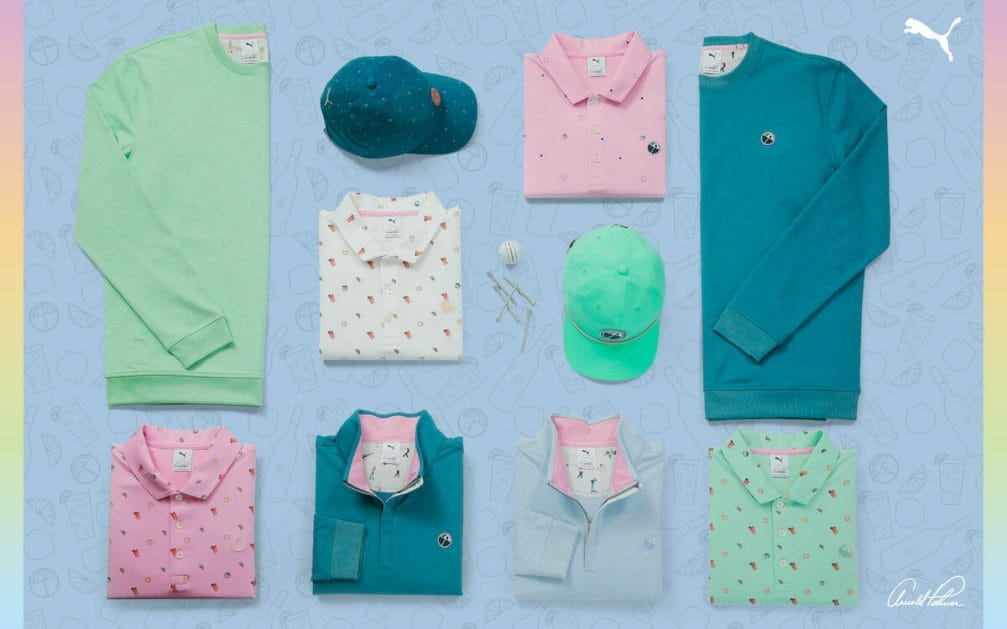 AP Lemons Polo (€70) – When life gives you lemons…you make an Arnold Palmer. The AP Lemons Polo features a fun umbrella, lemon and iced tea graphic. Available in Bright White, Pale Pink, and Mist Green.
AP 19th Hole Button Down (€75) – Great for on or off the course wear, this button down features a unique print celebrating the Arnold Palmer beverage and comes in Bright White & Halogen Blue.
Signature Pocket Polo (€60) – Offers a simple, clean look with single pocket button and cool interior print of The King himself. Available in five colours.
Signature Stripe Polo (€60) – Clean lines are the dominant characteristic of this striped polo, which comes in Halogen Blue, Pale Pink, Mist Green, and Legion Blue. Includes illustrations of Mr. Palmer at varying points in his career highlight an interior collar print.
Signature Tipped Polo (€70) – Contrasting sleeve and collar for added style; interior collar prints of Arnie. Available in Bright White, Pale Pink, Mist Green, and Legion Blue.
AP Cloudspun Clubhouse ¼ Zip (€90) – While he enjoyed cardigans, if he was playing today Arnie might opt for a ¼ zip option. Available in Legion Blue Heather and Halogen Blue Heather, this Clubhouse model also features an interior print of Mr. Palmer.
AP Handshake Woven ¼ Zip (€115) – Features of the "Handshake," include a cool, retro vibe, 100% Polyester construction, dual collar and cuff rings. Available in Legion Blue & Mirage Grey.
AP CLOUDSPUN Crewneck (€70) – This crewneck design is as clean and timeless as they come. Available in Legion Blue Heather, Pale Pink Heather, Halogen Blue Heather, Mist Green Heather.
Latrobe Short 9.5" (€60) – The simple elegance of The Latrobe captures The King's essence perfectly and comes in a choice of Pale Pink, Halogen Blue, and Mist Green.
Caps: AP Circle Umbrella Snapback (€27) – Simplicity and style at its finest – sometimes an umbrella says it all.
View the full collection and purchase HERE