It's that time of year again when we look at our Top 100 Courses in Ireland. Every golfer has their own list of favourite courses. Those ones that not many of our friends have played or ones where we always seem to play well. But this isn't a list of favourites, it's a list compiled by a group of experts in the golf industry based around set criteria you can find HERE. There is a lot that goes into compiling these rankings and before you get started on the list (if you haven't already read it and came back to read the intro), there are some caveats that you need to know about! The first of these is that Druids Glen has been removed from the list for this year as it is currently closed to undergo a multi-million euro investment and it won't be open until late 2022. This being the case it will undoubtedly make a reappearance in the 2023 rankings but for now must remain excluded.
You may also notice that there are plenty of movers this year. A lot of this is due to the new entry of St. Patrick's at Rosapenna which opened for play in summer 2021, and has come straight into the top-10, knocking many clubs down one place. Some other notable changes this year see Carne now classified as a new entry as we have ranked the new Wild Atlantic Dunes Course for the first time. We welcome back midlands favourite Glasson after a remodel, while Naas also comes back into the fold and Malahide makes its first appearance on the list.
100. MALAHIDE  www.malahidegolfclub.ie The past four years have seen significant improvements at Malahide, one of Dublin's big (27 holes) parklands, with clearing work revealing much of this parkland's true character. The smooth layout and terrain make this a smart and comfortable day out. VERDICT: A smart parkland with smart improvements and aesthetics. (NEW ENTRY) 
---
99. NAAS  www.naasgolfclub.com Naas fell out of our ranking last year with a drop in its conditioning, but this was much improved in 2021. It has been upgraded in recent years and offers some of the most delicious driving opportunities around. VERDICT: Well routed and with a sense of adventure. (NEW ENTRY)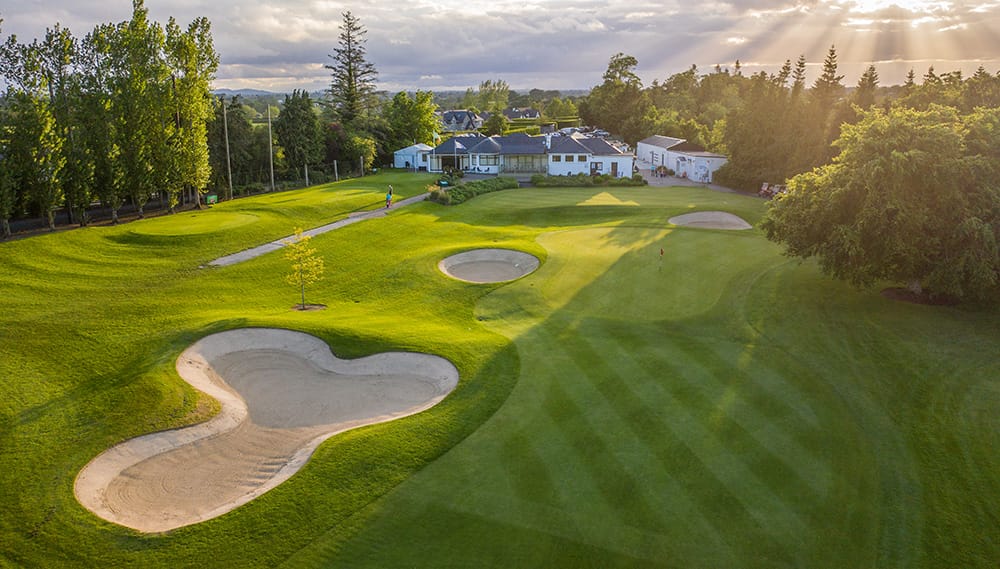 ---
98. CLANDEBOYE (DUFFERIN)  www.cgc-ni.com A big parkland full of colour, flowing over quiet slopes. A smooth middle section seals its quality and the 4th remains one of the best par fours you'll play. Host to 2021 and 2022 PGA EuroPro Tour. VERDICT: Don't ignore the sparkling second course (Ava). (up 1)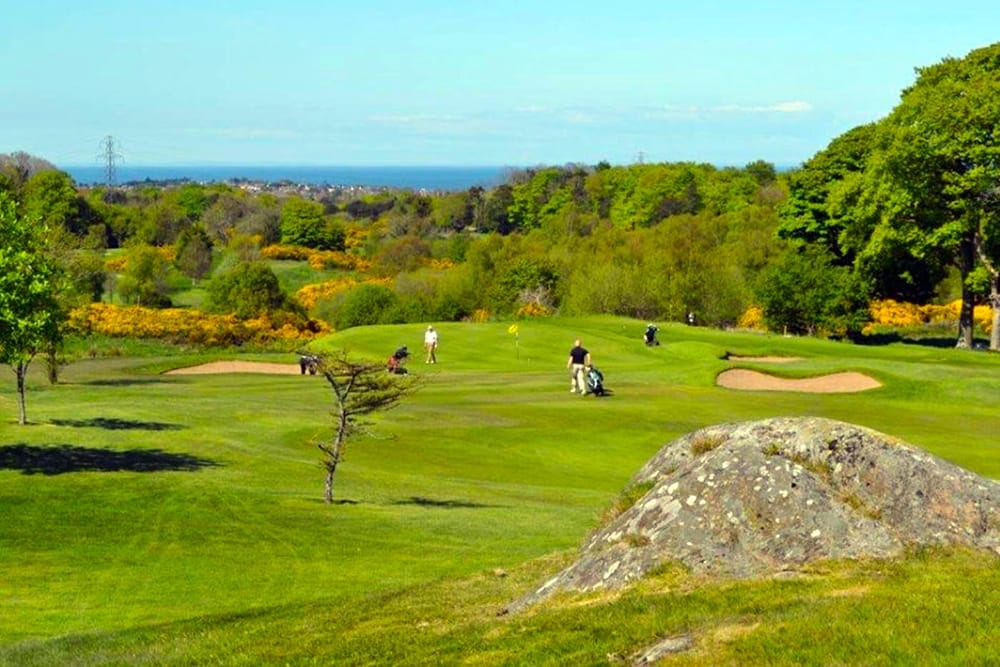 ---
97. MOYOLA PARK www.moyolaparkgolfclub.co.uk An estate parkland with beauty all around. The small densely wooded hill at the course's heart is picture-perfect and the holes leading in and out create an impressive and unforgettable signature. VERDICT: Estate parkland golf at its unfussy best. (SAME)
---
96. BALLINROBE www.ballinrobegolfclub.com A short and fast flowing parkland promising some wonderful holes and shots – notably the par threes, praised by Padraig Harrington himself. Plenty of colour, stone walls and Irish countryside. VERDICT: Delivers far more than you'd expect. (SAME)
---
95. CASTLETROY www.castletroygolfclub.ie Holes may appear to flow side by side and back and forth, but there is a smart design and layout to this understated suburban parkland . The condition is always excellent. VERDICT: Strong parkland rhythm that gains momentum. (SAME)
---
94. GLASSON LAKEHOUSE www.glassonlakehouse.ie The excellent evolution of Glasson's famous closing stretch by Lough Ree sees this Co. Westmeath parkland jumping in to the Top 100. The new holes are highly impressive and the par three over the lough is as testing as ever. VERDICT: A strong parkland upping its game. (NEW ENTRY)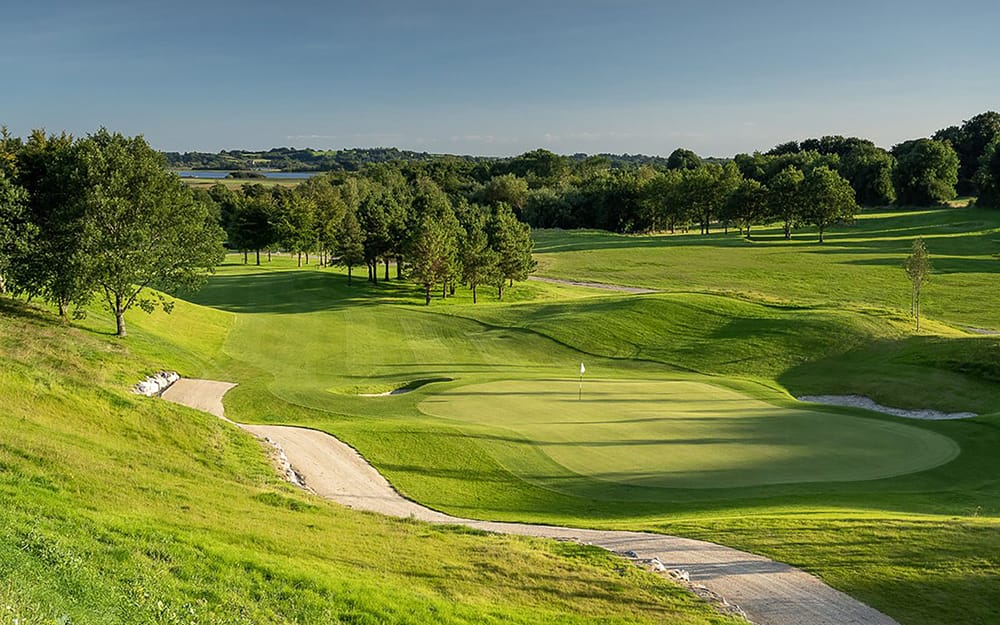 ---
93. DUNDALK www.dundalkgolfclub.ie Undoubtedly a classic parkland feel of tall trees, narrow corridors and quality greens, Dundalk has all of the elements for a testing and enjoyable round of golf. Don't be wild off the tee. VERDICT: An easy rolling landscape that tests your accuracy and your length.(SAME)
---
92. BALBRIGGAN  www.balbriggangolfclub.com When Balbriggan was upgraded some years ago it propelled this parkland forward in terms of quality and reputation. This very smart parkland has finesse and adventure in equal measure with big undulations offering tempting shots time and again. VERDICT: Smart routing shows how well it flows over the natural landscape. (SAME)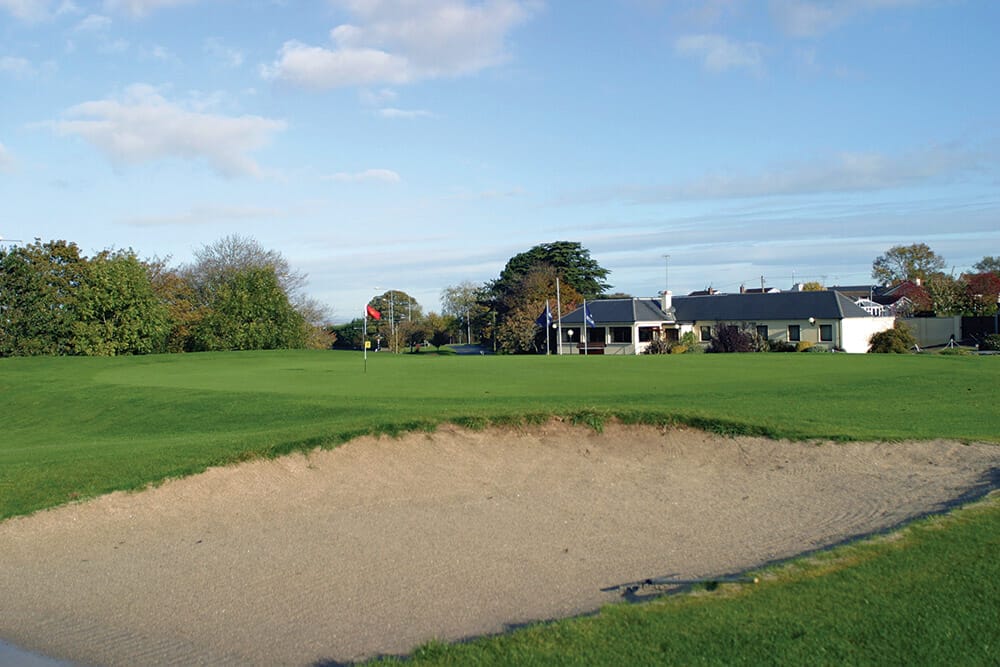 ---
91. ROYAL CURRAGH www.royalcurraghgolf.ie It is the fast changing shapes of the terrain and the quality of the turf that make Royal Curragh so special. The pockets of gorse and pine, the heathland flourishes and the unpredictability make this a special golfing occasion. VERDICT: Ireland's oldest golf landscape offers a unique experience. (UP 3)
---
90. KILLARNEY (MAHONY'S) www.killarneygolfclub.ie The setting for this calm parkland on the edge of Lough Leane and under the gaze of the MacGillycuddy's Reeks is stunning. Deer will watch your progress on a manicured course possessing old school charm. The finish is explosive. VERDICT: The gentler of Killarney's two courses breathes quiet confidence. (SAME)
---
89. CORBALLIS www.corballislinks.com A dynamic short public links with seven par threes and a whole lot of attitude… no matter which hole you're on: just wait for the stretch from 3 to 7. Value for money golf although a troubling issue with the neighbouring caravan park remains. VERDICT: A short, punchy, popular links. (DOWN 1)
---
88. NORTH WEST www.northwestgolfclub.com Sweet, subtle and classic low links golf that has adapted time and again to nature's impact… and yet it remains a true and captivating links test. Those low fairways & sweet greens emphasise the beauty of old-school design. VERDICT: A proper links education that requires your full concentration. (UP 3)
---
87. LAYTOWN & BETTYSTOWN www.landb.ie Recently re-routed, this links has – loosely speak.ing – two strips of holes: those crumpled shapely beauties above the beach; and those inland holes which possess more subtlety and demand more fight with the prevailing wind on the homeward stretch. VERDICT: A shining example of one of Ireland's lesser-known links. (SAME)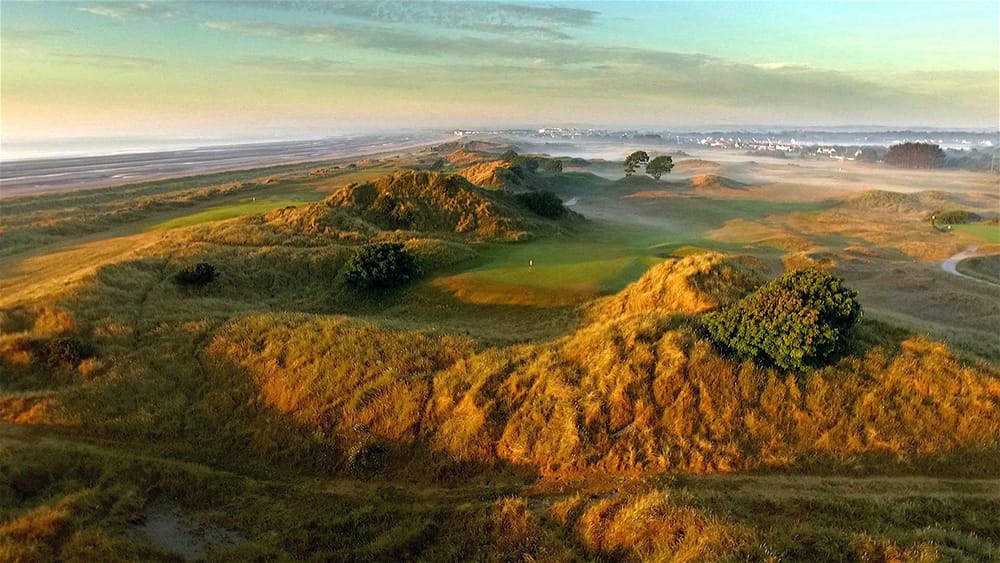 ---
86. HEADFORT (OLD) www.headfortgolfclub.ie The pace of the Old course is perfect. Mature trees envelop the fairways and create picturesque backdrops, while fairways flow elegantly in between. Charming but also challenging for the wayward. VERDICT: Straight hitting advised or the trees will swallow your ambition. (DOWN 2)
---
85. ROYAL COUNTY DOWN (ANNESLEY) www.royalcountydown.org A par 66 links that calls for restraint and concentration as you tackle tight corridors of gorse and heather, beautifully bumpy fairways, small tricky greens and majestic views. Conditioning matches its big sibling, too. VERDICT: A strategic test of accuracy and common sense. (SAME)
---
84. SEAPOINT www.seapointgolflinks.com A closing stretch of links holes to rival the best. Seapoint starts slow, relaxed and inland before picking up both the pace and the challenges as you head for the thundering finish. VERDICT: A links that builds its momentum from start to finish. (UP 2)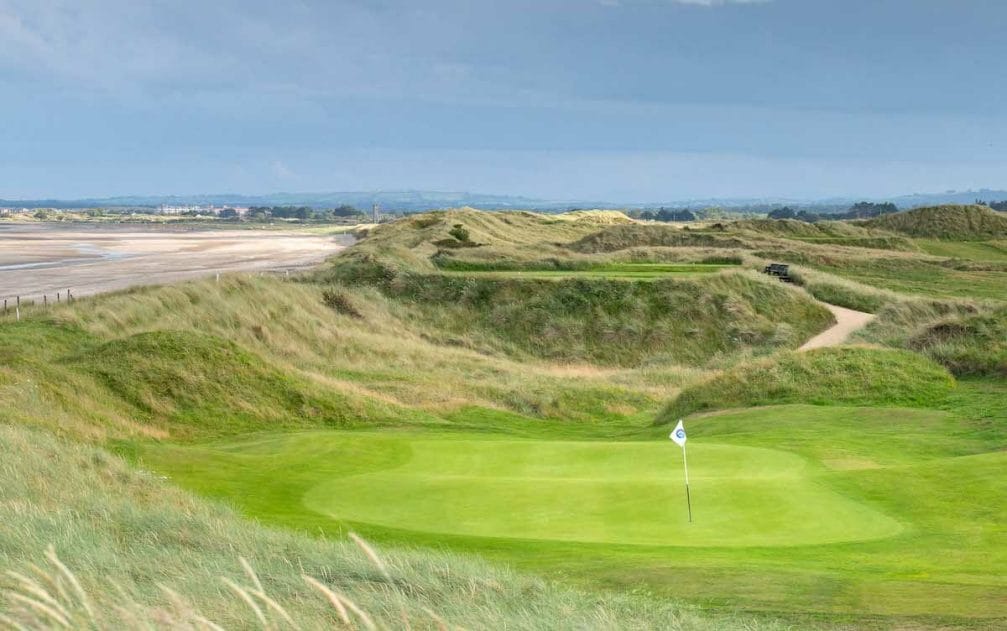 ---
83. MULLINGAR www.mullingargolfclub.ie A classic old parkland rumbling over joyously shifting terrain that offers up sweet shots and cleverly positioned green sites. And all the while you are surrounded by trees of different hues.  VERDICT: A highly respected and colourful parkland dating back to 1894. (DOWN 1)
---
82. MACREDDIN www.macreddingolfclub.com The scale of the green-to-tee walks may divide opinion but Macreddin has some serious motor.ing in its tank. This is thrill-a-minute parkland golf splashed over two sides of a valley which are drenched with gorse and pine. VERDICT: Many glorious shots and changes in elevation. (DOWN 1)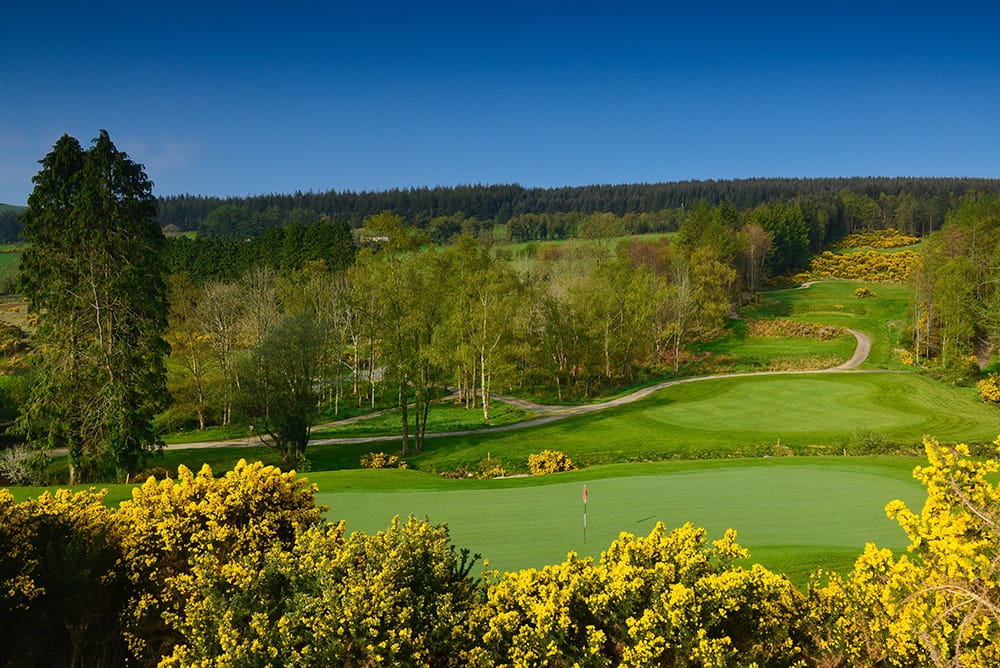 ---
81. ST. MARGARET'S www.stmargaretsgolf.com Easy rhythm, a calm landscape and attractive water features ensure that St. Margaret's is an ever-popular Dublin parkland. Some stand-out holes (the par-3s and the 18th in particular) make the most of the terrain. VERDICT: A colourful and well maintained parkland close to the airport. (DOWN 1)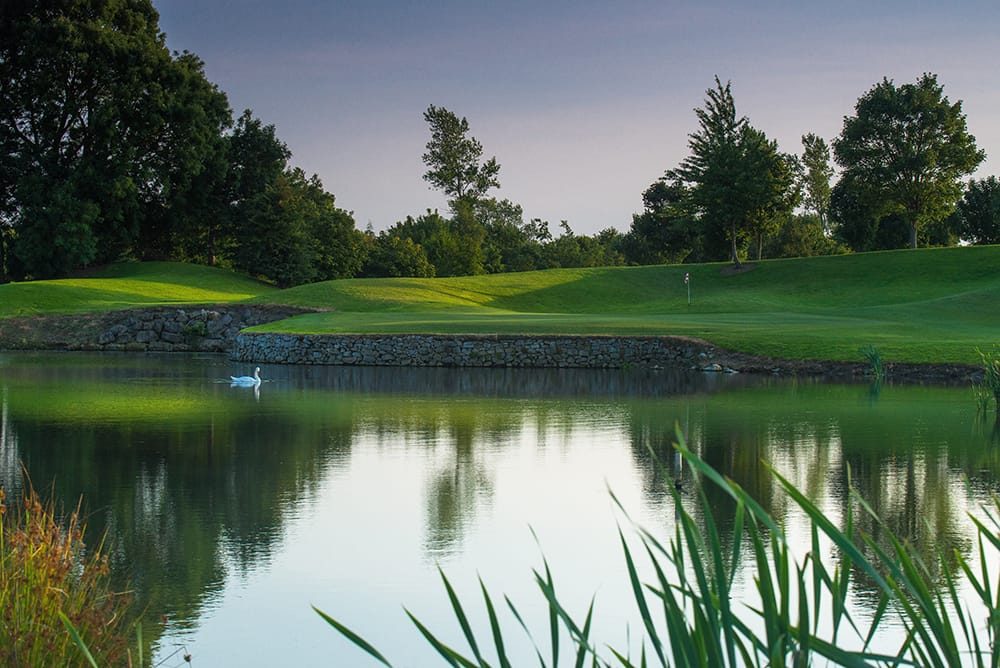 ---
80. POWERSCOURT (EAST) www.powerscourtgolfclub.com Powerscourt's original course mixes an open.ing tree-drenched corner with more open, curvaceous terrain… before trees and water return for a grandstand finish. A nice upwards bump for a club (36 holes) recognised for its superb greens. VERDICT: A strong combination of holes with plenty of variety. (UP 3)
---
79. ST. ANNE'S www.stanneslinksgolf.com Low links fairways ripple constantly across Bull Island as you head towards big greens that are always visible. Upgraded bunkering has contributed to the experience. Subtle, tricky and windy. VERDICT: Links golf in the heart of Dublin Bay. (SAME)
---
78. DUN LAOGHAIRE www.dunlaoghairegolfclub.ie Three nines glide ever higher across a gentle hillside of a modern parkland that has matured impressively. There is a strong variety of holes and challenges (the three nines are quite distinct) and the par threes are especially strong. VERDICT: Modern parkland with every frill imaginable. (SAME)
---
77. CASTLEMARTYR www.castlemartyrresort.ie The smooth almost lazy rhythm of this modern, low-lying parkland is endearing. Designed by Ron Kirby as an inland links-style course, the fairway edges drenched in golden fescue and new bunker ing adds credence to that links-like description. VERDICT: A resort course flowing over low, quiet land. (SAME)
---
76. FARNHAM ESTATE www.farnhamestate.com A tale of two nines? Definitely. And what a fascinating mix of quality holes it is. The front nine play over a rolling and more open landscape before one lone hole (the 10th) separates you from a back nine that heads higher into the forest. VERDICT: An intriguing parkland mix. (DOWN 1)
---
75. TULFARRIS www.tulfarrisgolfclub.com The majestic and picturesque setting for Tulfarris is matched by lovely hole shapes and routing that take you right to the edge of Blessington Lakes, particularly on the back nine. A fine final stretch. VERDICT: Parkland or lakeland? A perfect mix of the two. (DOWN 2)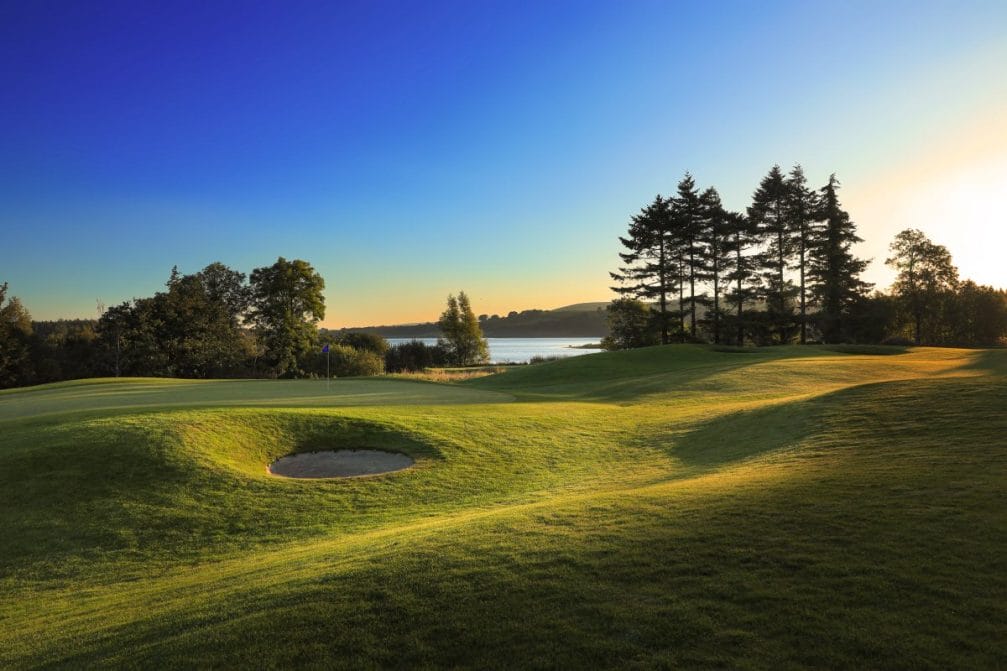 ---
74. GALWAY www.galwaygolf.com A hillside parkland of refined quality overlooking Galway Bay. There is lots of variety which makes this Alister Mackenzie course highly engaging, especially with greens that are revered and feared throughout the region. VERDICT: Plenty of movement to gorse and pine-drenched terrain. (DOWN 2)
---
73. ESKER HILLS www.eskerhillsgolf.com Esker Hills is one of our unique inland experiences, playing over explosive eskers that see you rising and falling constantly to greens in glorious settings. The common refrain that suggests you take a buggy doesn't make this course any less riveting. VERDICT: Pure adventure and a wonderful welcome. (DOWN 3)
---
72. MOYVALLEY ww.moyvalleygolf.com A big, modern and rolling adventure that finds a lovely rhythm with the shape of the land and big green complexes. Trees are sparse which allows Moyvalley to express its spaciousness. VERDICT: A different parkland feel that builds to a powerful finish. (UP 4)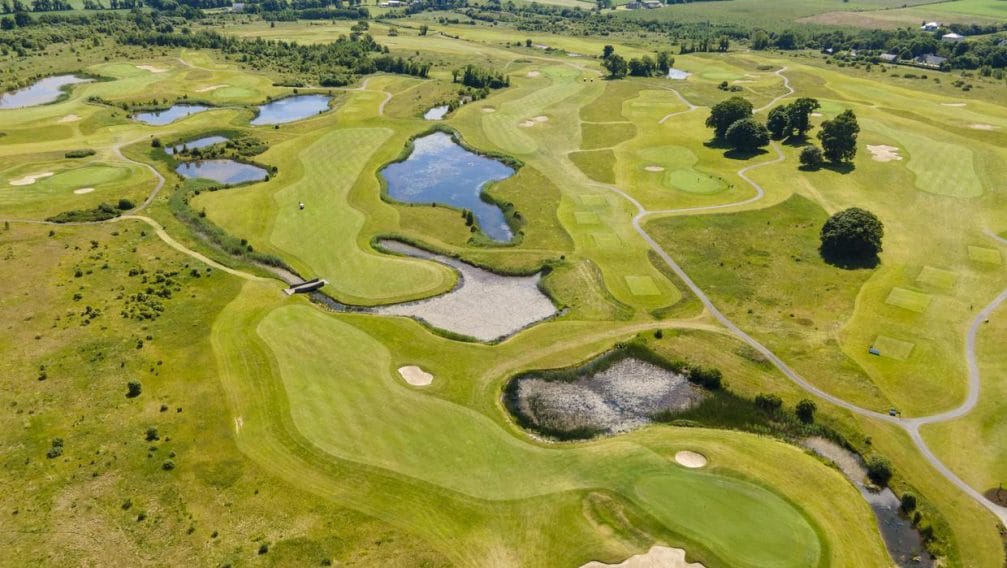 ---
71. THE HERITAGE www.heritageresort.ie Seve Ballesteros designed a sprawling, adventurous parkland over low-key Co. Laois terrain. The course is maturing and now possesses shape, attitude and intrigue. Considerable work on the bunkering and aesthetics elsewhere sees it rise up the rankings. VERDICT: Clubhouse views over the 9th and 18th holes sum up the course's flavour. (UP 3)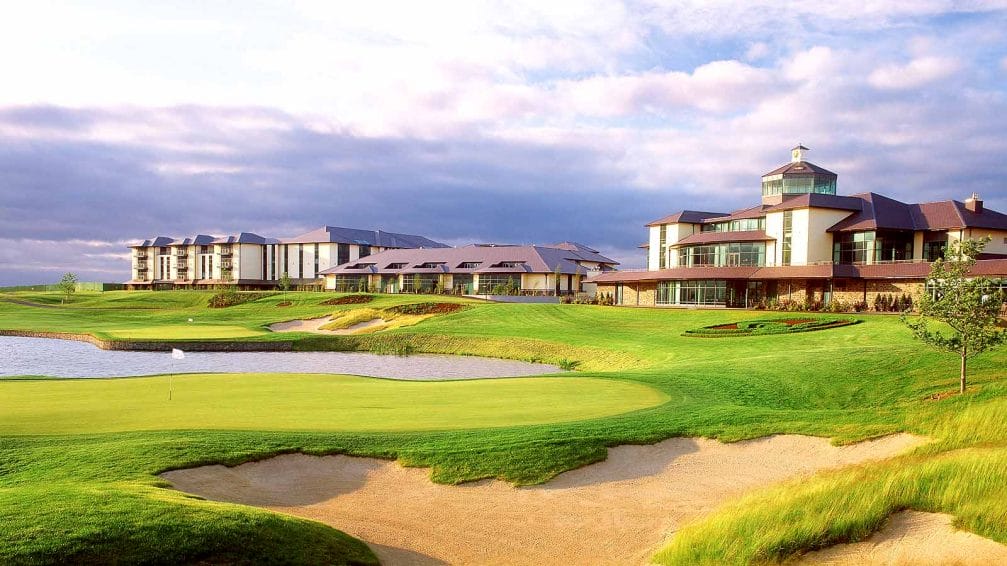 ---
70. GRANGE www.grangegc.com Grange continues its upgrades under McGinley Golf Course Design. The changes can only enhance this classic Dublin parkland where a big wood divides two sections of nine holes. VERDICT: A strong variety of holes with a James Braid heritage. (DOWN 1)
---
69. ARKLOW www.arklowgolflinks.com Arklow has swagger… increasingly so in recent years as upgrades have allowed this sparkling links to shine ever brighter. The greens offer sublime but slick and shapely surfaces, and your performance on these will define your round. VERDICT: A blossoming links with superb par threes. (UP 2)
---
68. WESTPORT www.westportgolfclub.ie A tame opening foray of six holes does little to prepare you for the main attraction at Westport, which begins at the 7th and doesn't stop. It is a rollercoaster of thrills that brings you to the glorious stretch (from 12 to 15) overlooking and even playing over Clew Bay. VERDICT: A parkland on the coast with a dramatic back 9. (DOWN 1)
---
67. DINGLE www.dinglelinks.com Dingle is located in a truly beautiful and wild Irish setting. Playing this mischievous links will leave you in no doubt that you are being taunted by some wonderful holes and a burn that comes into play 11 times VERDICT: A stern links test of wind and slopes. (UP 1)
---
66. CASTLE www.castlegc.ie The dark tree-lined avenues, the quality conditioning and the sweetest rhythm give this Dublin City parkland its impressive credentials. It's top notch stuff. VERDICT: Dublin City's top-rated parkland and always in superb condition. (DOWN 2)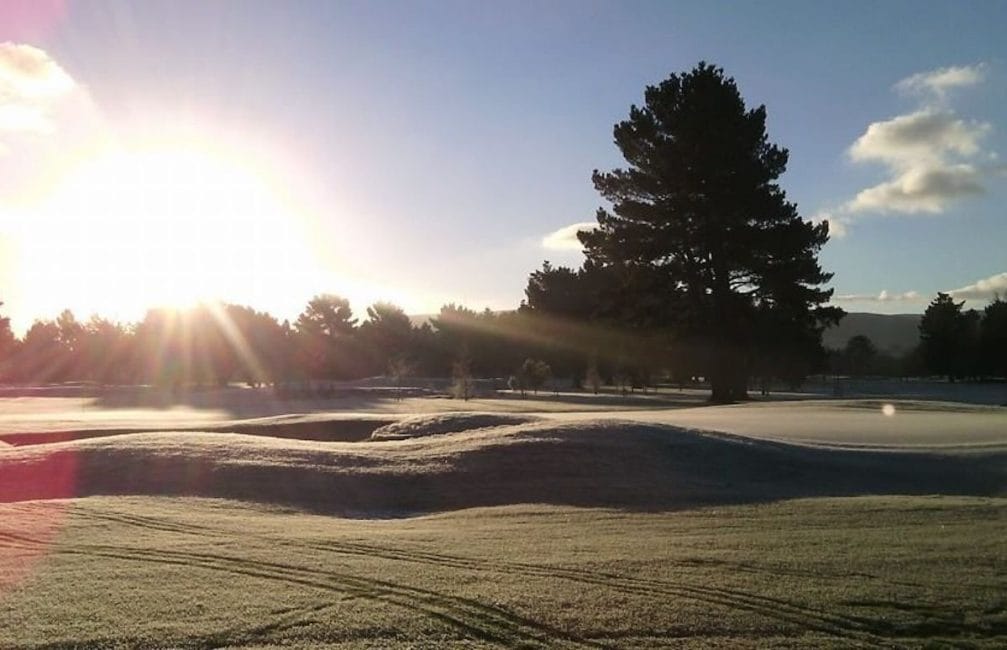 ---
65. BUNCLODY www.www.bunclodygfc.ie The more open holes at the start of each nine are maturing well and providing strong support for those beauties leading down to and playing alongside the River Slaney. VERDICT: The glorious driveway tells you exactly what's in store at this Jeff Howes creation. (SAME)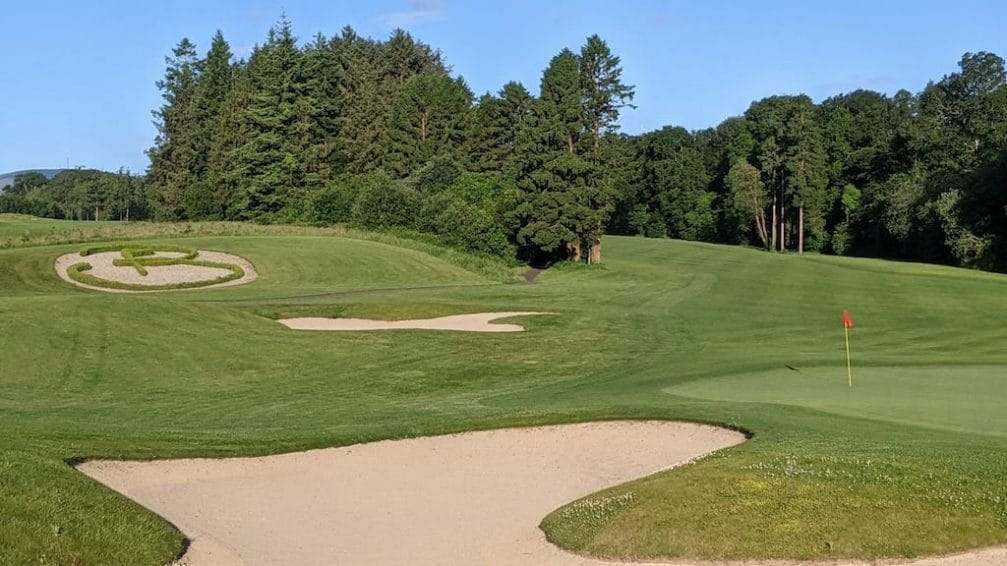 ---
64. NEW FOREST www.newforest.ie Perfect fairways glide through an old estate's wild parkland setting and the contrasts this creates add to the thrill of playing this modern course. Wild marshes and deep woodland will do that. VERDICT: A big and impressive parkland still below the radar. (DOWN 3)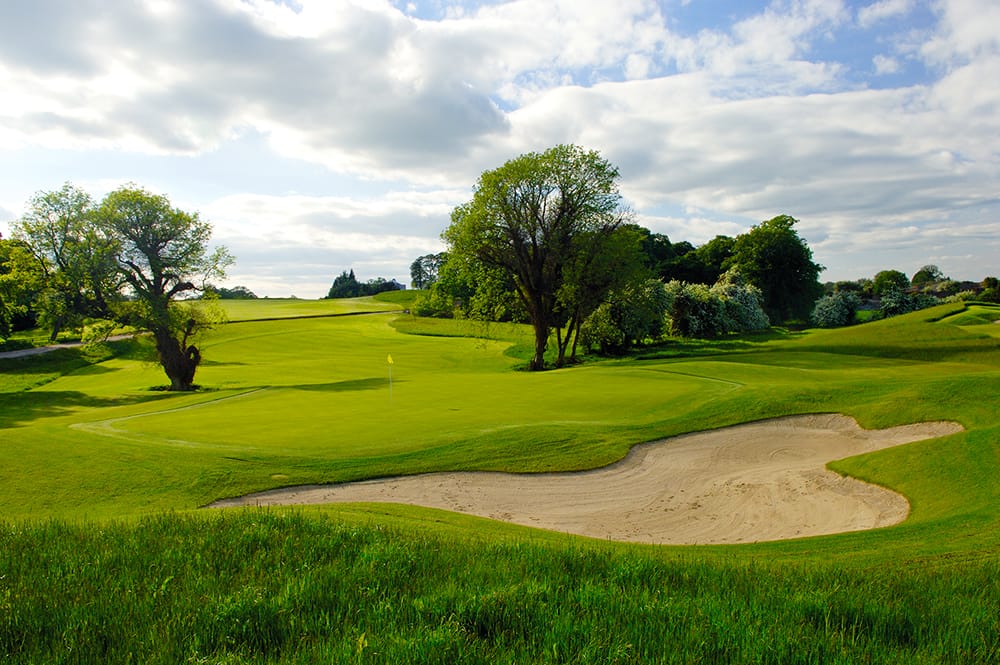 ---
63. ROSSLARE www.rosslaregolf.com Rosslare may be understated due to its location but it is a sparkling links with fabulous green sites and surfaces, and a majestic stretch of holes on the front nine. VERDICT: An understated links with a lovely bite. (SAME)
---
62. PALMERSTOWN HOUSE ESTATE www.palmerstownhouse.ie The new island green on the 10th hole has changed this par three dramatically. Added to the other improvements around the course it is no surprise to see this parkland rising up the rankings. One of our biggest and most colourful parklands. VERDICT: Very much back to its best with fearsome par fives. (UP 4)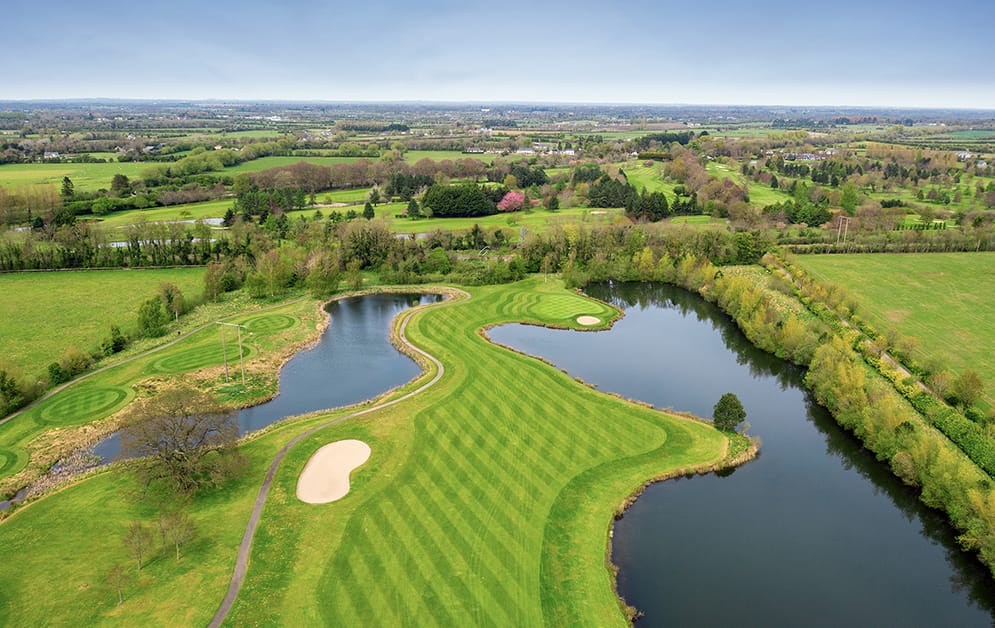 ---
61. HOGS HEAD www.hogsheadgolfclub.com Designed to be open and friendly, this is relaxed and generous golf over an idyllic head.land. Its Ring of Kerry views often prove too distracting. A modern headland course promising plenty of special moments… not least in the clubhouse. VERDICT: Not an easy tee time to get but an unforgettable experience when you do. (UP 1)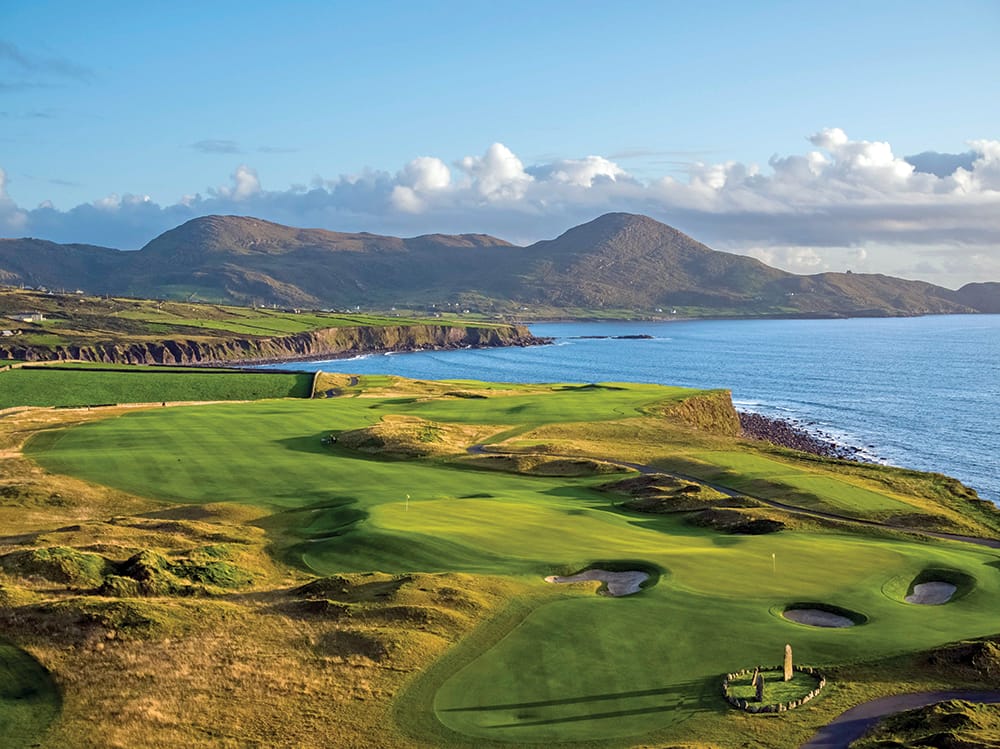 ---
60. CONCRA WOOD www.concrawood.ie The shores of Lough Muckno play host to a tumbling modern parkland that dips down and plays along the shores of the lough of different occasions. It is some setting for this impressive course. VERDICT: Lakeland golf at its most adventurous. (DOWN 2)
---
59. RATHSALLAGH www.rathsallaghgolf.com Hard to believe this peaceful gem closed at all (2015) but it's a parkland of quality in the sweetest of country settings so it is no surprise that it bounced back. Trees constantly threaten and they're not shy about it. VERDICT: A mature landscape where this parkland oozes confidence. (UP 1)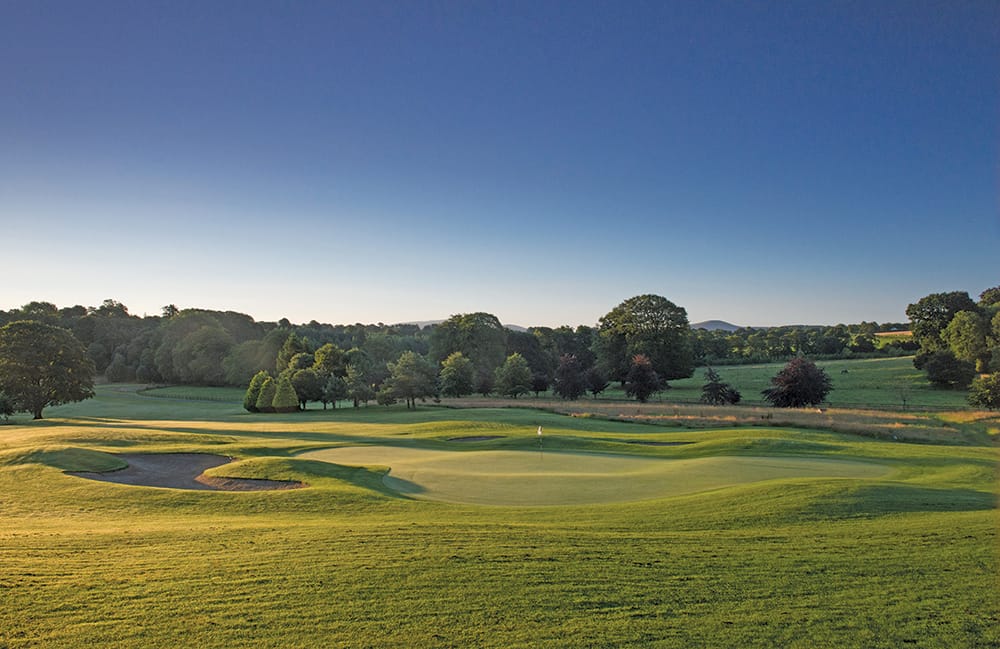 ---
58. ROYAL BELFAST www.royalbelfast.com The oldest golf club in Ireland has Harry Colt to thank for a design that flows down to the shores of Belfast Lough. Mostly open, with trees giving you room to play, there are some lovely angles to holes and strong, new bunkering. VERDICT: The oldest golf club in Ireland carries some weight. (UP 1)
---
57. K CLUB (PALMER SOUTH) www.kclub.ie A landscape that has been turned into a rhythm of hypnotic shapes and frequent drama. Big water features, big sweeping greens, big everything. A very different proposition to the North course with far fewer trees. VERDICT: The second of Arnold Palmer's creations has plenty of intrigue. (SAME)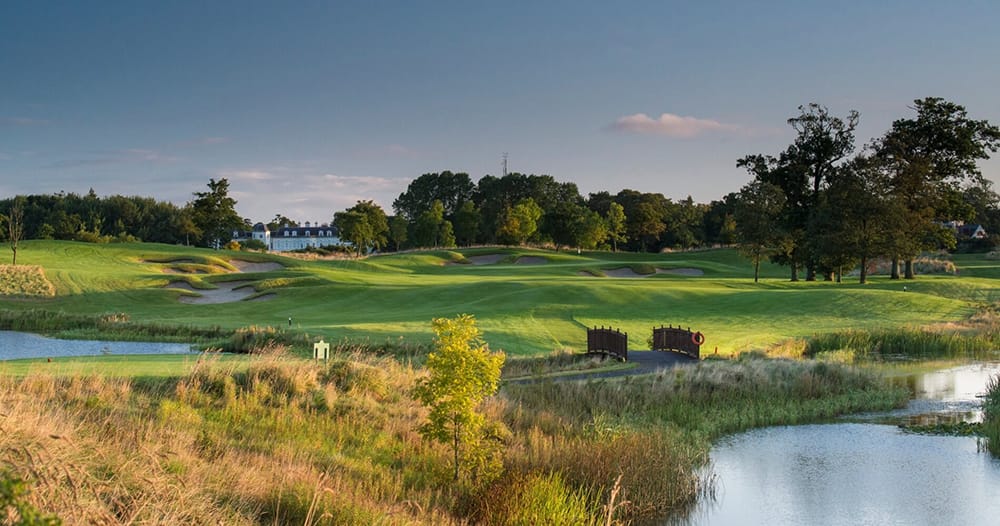 ---
56. HERMITAGE www.hermitagegolf.ie Renowned as it may be for the quality of its greens, Hermitage's rebunkering programme concluded in 2020, and it has proved to be a resounding success. Its heaving landscape and parkland maturity date back to 1905. VERDICT: A seriously strong parkland that will test your full bag. (SAME)
---
55. TULLAMORE www.tullamoregolfclub.ie Trees make Tullamore the beauty that it is today, but James Braid put in the strategic elements that demand clear thinking and patience from golfers. Many of the holes are doglegs and you don't have as much room as you'd like. VERDICT: Parkland in the best tradition with stunning greens. (DOWN 2)
---
54. DROMOLAND CASTLE Spread over a wide and charming landscape, including protected conservation areas, this estate parkland starts at a steady pace and then explodes into action from the 7th on… when you hit towards the castle. VERDICT: Serious parkland golf that proves unstoppable on the back nine. (UP 1)
---
53. CARTON HOUSE (O'MEARA) www.cartonhouse.com The O'Meara plays over a tumbling and mature landscape for much of the round and while there are some good holes early on, golfers are waiting for that famous three-hole stretch down by the River Rye. VERDICT: A generous parkland with a sting down by the river. (UP 1)
---
52. KILLARNEY (KILLEEN) www.killarneygolfclub.ie Host to an Irish Open or four, the Killeen course's setting is majestic, thanks to the Killarney National Park of mountains and lakes. But there's lots of drama on this parkland, too, with strong holes and an air of elegance. VERDICT: Location, location, location… and a big parkland experience. (SAME)
---
51. BALLYBUNION (CASHEN) www.ballybuniongolfclub.com The Cashen plays second fiddle to the Old, but here you will find dunes just as impressive – more so, perhaps – and holes rampaging through and over them. The green sites may lack obvious links traits but they do offer something unique. VERDICT: Cavorting links golf with elements of the unexpected. (DOWN 1)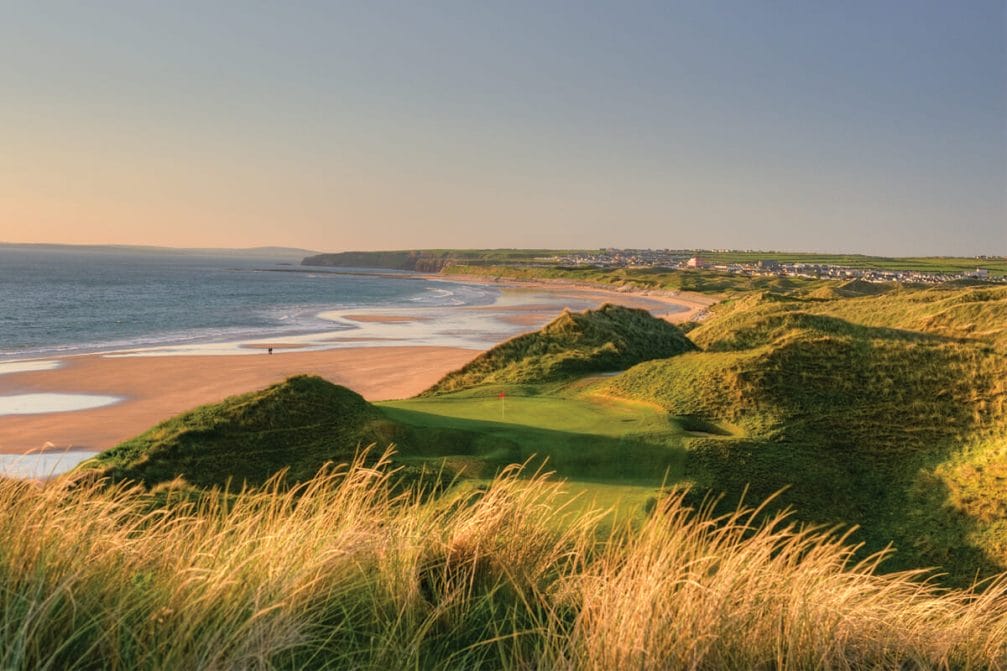 ---
50. POWERSCOURT (WEST) www.powerscourtgolfclub.com Two high quality modern parklands ramble over old estate land, making Powerscourt a major golf destination. The West ranks higher in our view but only just. It boasts a more shapely landscape and the exceptional greens are even more adventurous. VERDICT: The West's terrain has lent itself to a creative, fluid and thrilling parkland. (UP 1)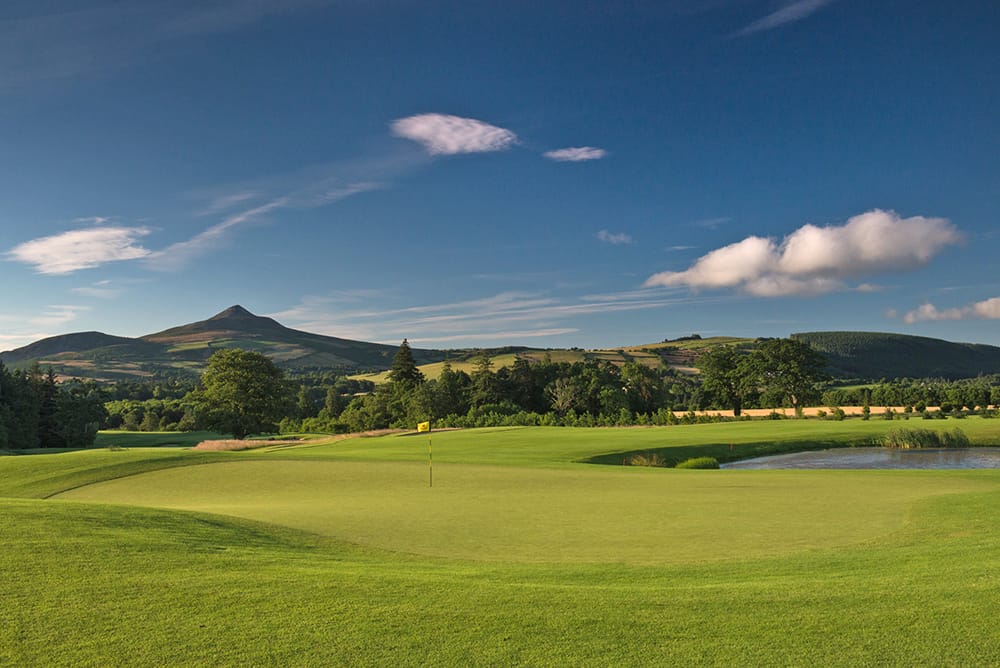 ---
49. PORTUMNA www.portumnagolfclub.ie The quiet, blissful forest setting of Portumna sets the tone for a round of delicious parkland golf. The old estate is marked by mature oak anchoring holes while stone watchtowers add a novel twist. Play early or late and enjoy the deer as playing partners. VERDICT: Still under-appreciated this parkland thrives in its deep forest location. (DOWN 2)
---
48. ARDGLASS www.ardglassgolfclub.com You launch yourself off the 1st tee with cannons pointing the way, and play clifftop holes, links holes and spacious holes spread over open terrain. It is a heady mix with charming views over the sea accompanying you all day. Still rising. VERDICT: A seaside adventure that is constantly improving. (UP 1)
---
47. GALGORM CASTLE www.galgormcastle.com At this stage Galgorm Castle's continuous improvements are as relentless as the course's rhythm. A master plan that has evolved over more than two decades has ensured a growing reputation and a venue that hosts big events: in 2022 the ISPS Handa World Invitational returns to this easy-flowing parkland. The new water feature by the par five 18th green has added real bite. VERDICT: A parkland that flexes its muscles at will. (UP 1)
---
46. BELVOIR PARK www.belvoirparkgolfclub.com Elegance and rhythm define this course on the edge of Belfast, as it coasts through avenues of mature trees with so much confidence. Designed by Harry Colt, it is a vibrant splash of golfing green. Visit the clubhouse balcony for the perfect appetiser. VERDICT: A Harry Colt classic. (SAME)
---
45. LOUGH ERNE www.lougherneresort.com A colourful lakeland adventure designed by Nick Faldo and wrapped around a top class resort in Fermanagh. The shorelines of two loughs play host to a feast of holes – the short par four 10th most notably – and these combine with forest, high ridges and dramatic tee shots to give you a big day out. VERDICT: Lakeside golf that promises a thrilling closing stretch on the water's edge. (DOWN 1)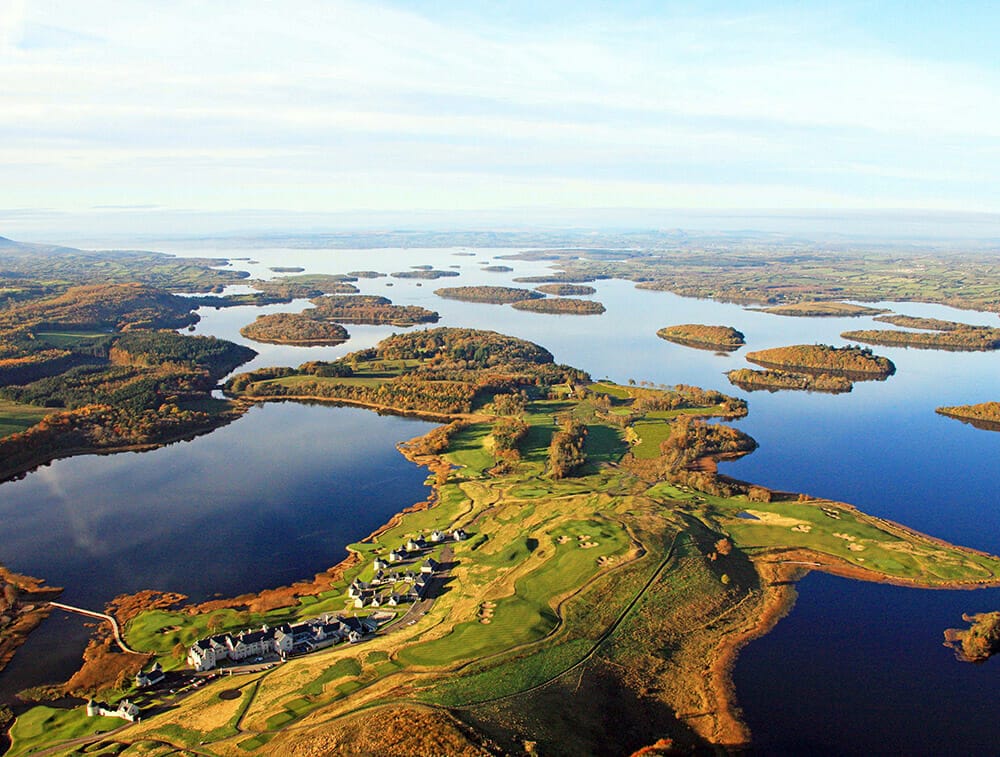 ---
44. ROSAPENNA (OLD TOM MORRIS) www.rosapenna.ie The design of the old holes remains revered as it uses original, untouched dune terrain, to create a classic links. These are combined with nine modern holes from the imagination of Pat Ruddy. The two nines are divided by Sandy Hills, and offer an intriguing view of old vs. new. VERDICT: A links education in more ways than one. (UP 1)
---
43. GALWAY BAY www.galwaybaygolfresort.com Another of our very individual courses, Galway Bay has muscle that flexes with heaving, gorse-drenched shoulders chaperoning fairways as they sweep out to the waters of Galway Bay itself. Barren and wind.swept it still has a beauty to it, helped no doubt by immaculate conditioning and big, adventurous greens. Verdict: A unique experience and accessible for every level of golfer. (SAME)
---
42. ROYAL PORTRUSH (VALLEY)  www.royalportrushgolfclub.com The Valley's reputation would undoubtedly be higher if it wasn't in the shadow – literally and metaphorically – of its mighty Dunluce sibling. Still, it impresses with some turbulent terrain that hosts electric links holes and some smooth, open duneland where you can let loose. VERDICT: A wonderful accompaniment to the Dunluce masterpiece. (SAME)
---
41. CASTLEROCK www.castlerockgc.co.uk Located on the same coastline as Royal Portrush and Portstewart, Castlerock offers a different and highly entertaining links experience… and one recently upgraded by Martin Hawtree. Some new greens and a bunkering upgrade programme have added extra bite to a boisterous links.. VERDICT: A muscular par 73 links of varied landscapes. (DOWN 1)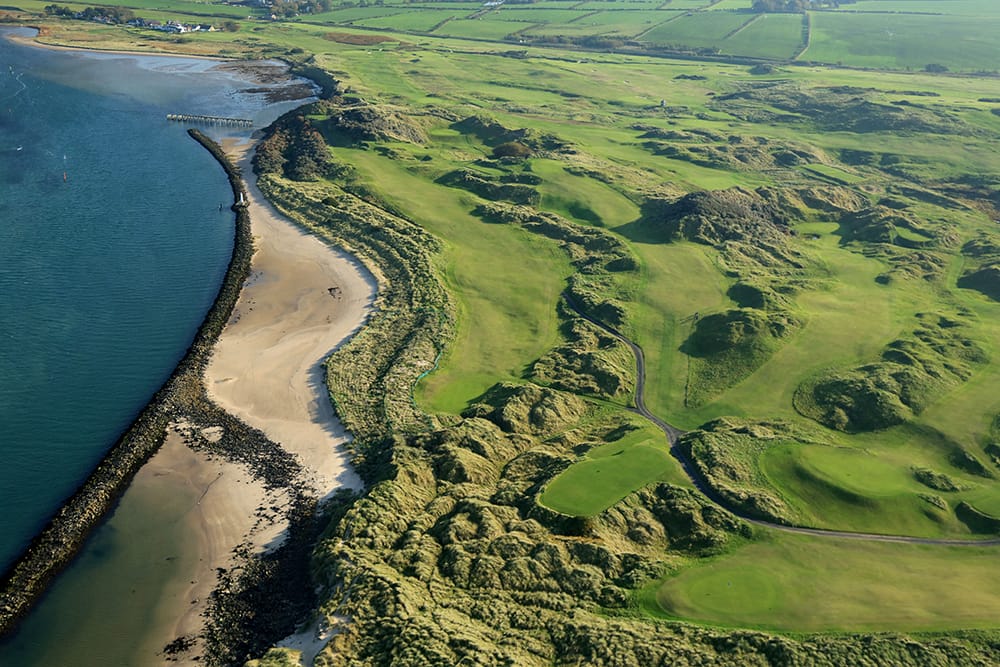 ---
40. HEADFORT (NEW)  www.headfortgolfclub.ie Another big Irish parkland with lots of water, grand trees and, in Headfort's case, an island at the centre of it all. Water embraces a dozen holes and these kick-start the thrills but this is part of a 36-hole venue and there is much to be enjoyed here. VERDICT: A big and colourful course where confidence is required constantly. (DOWN 1)
---
39. LUTTRELLSTOWN CASTLE www.luttrellstowncastle.com The length and scale and lazy flow of Luttrellstown Castle have always made it a star attraction for golfers. This is a classic modern parkland with rivers and lakes laced across an old estate, where big trees shepherd you along. There are no climbs here which only adds to its accessibility. A return to the old routing has helped this course reclaim some of its original design characteristics and flow. VERDICT: Elegant, muscular parkland in an ideal location. (DOWN 1)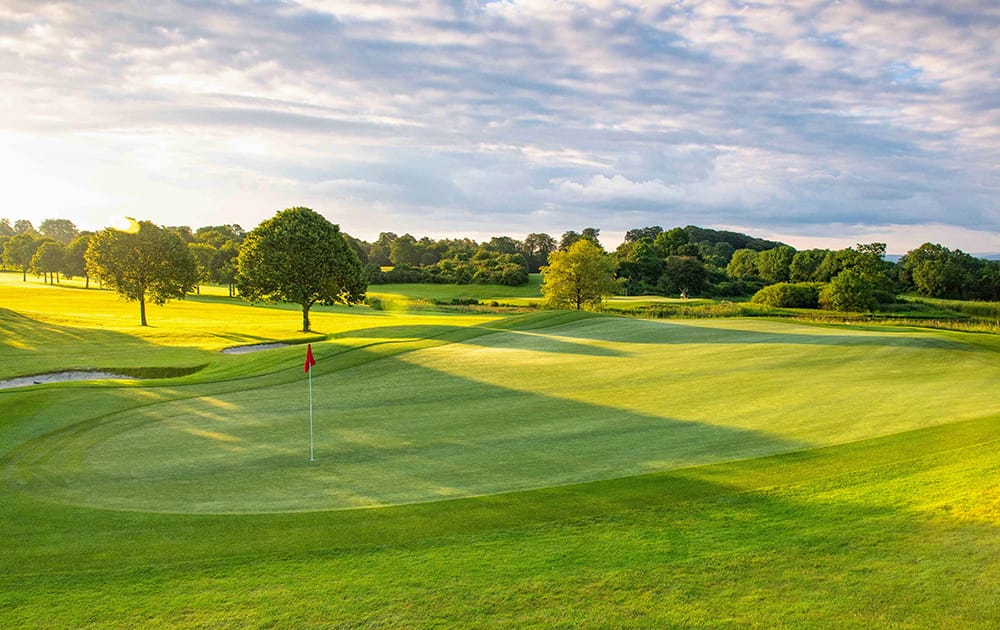 ---
38. MALONE  www.malonegolfclub.co.uk A strong rise for a renowned parkland where there has been considerable upgrade work in the past three years. The new short game area and a reimagined 14th that sees the green moved to the edge of the large lake are the stand-out attractions. That lake is the centrepiece of a thrilling back nine.  Verdict: A parkland adventure oozing confidence. (UP 3)
---
37. STRANDHILL www.strandhillgolfclub.com The brilliance of Strandhill comes in many guises: its location with sea on two sides and a mountain looming overhead is dramatic; its quality has improved thanks to recent upgrades (bunkering especially); its glorious greens so often flow out of the land; and its quirkiness is matched by thrilling entertainment and adventure. Holes 5, 6, 13 and 15 are outstanding. VERDICT: No airs or graces… just quality, value-for-money links entertainment. (DOWN 1)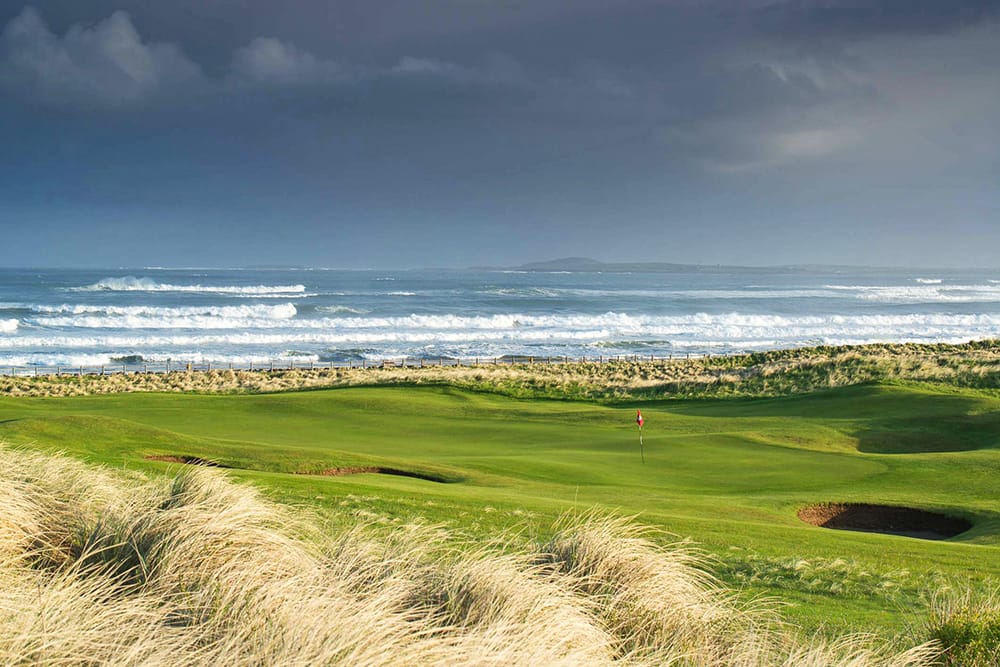 ---
36. CARTON HOUSE (MONTGOMERIE) www.cartonhouse.com The intention behind the Montgomerie was to create a links-style course inland. The exposed landscape where few trees roam assisted in that goal and to this was added a swaying rhythm of holes with a prolific array of punish.ing bunkers and dramatically shaped green complexes. It is very different to any of our other courses and that in itself is a thrill… but it is always challenging so golfers are advised to choose the appropriate tee. Changes to some bunkering is underway. VERDICT: An open, devious parkland that unashamedly falls into the love/hate bracket. (DOWN 2)
---
35. CARLOW www.carlowgolfclub.ie Carlow's beauty stems from its charming and bucolic Irish landscape, its perfect turf and the qualities bestowed upon it by its original designers – Tom Simpson and Molly Gourlay. The rush to modernise golf courses in the current era has barely touched Carlow, leaving a masterpiece of yesteryear. Holes are wrapped and routed superbly around a low central hill with so much shape that you are challenged constantly by a wonderful variety of holes. The 7th and 16th remain two of the best holes on the island. VERDICT: A timeless parkland/heathland classic. (DOWN 2)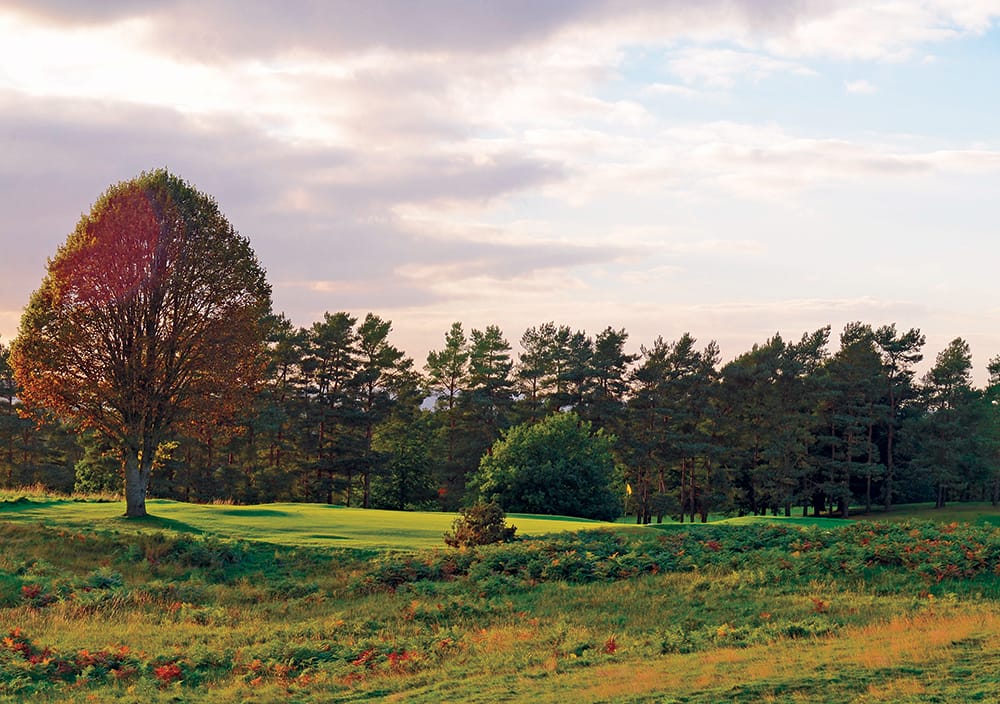 ---
34. ROSAPENNA (SANDY HILLS) www.rosapenna.ie Sandy Hills has long been regarded as a difficult links, with holes tossed tightly through the dunes, but it has been softened greatly in recent years with wider fairways and more clarity from the tee. There are still plenty of teeth but now it's more smile than grimace. The location is stunning and you can breathe it in before teeing off as many holes dip down into the dunes before rising to greens or the next tee box. Part of a first-class golf complex that now contains St Patrick's Links. VERDICT: Sweet rhythm on a links now showing its friendlier side. (UP 1)
---
33. CORK www.corkgolfclub.ie The legendary Alister MacKenzie helped craft this remarkable and constantly shifting course on Little Island. The famed quarry holes remain the club's signature, along with the preceding two holes (4 and 5) racing along the edge of Cork Harbour, and all of these beauties (eight in all) are tucked out of sight of the clubhouse. Significant clearing work has opened up the quarry, making these holes far more dramatic. The remaining holes are still strong, falling into the more classic parkland category. VERDICT: A renowned parkland with a heady rush down by the water. (DOWN 1)
---
32. FOTA ISLAND www.fotaisland.ie 27 golf holes adorn this idyllic and vibrant landscape, tucked away on an island. It is enchanting golf and it comes with big credentials. Fota Island has held the Irish Open three times so you have quality in spades. The slopes, the natural water features, the green locations all contribute to a charming round of golf that is both thrilling and accessible for all. There is an excellent golf academy here too, next to the newest of the nines. VERDICT: Charming and peaceful parkland with all the extras you could ask for. (DOWN 1)
---
31. DONEGAL www.donegalgolfclub.ie Eddie Hackett and Pat Ruddy, two of the most renowned names in Irish golf design, have created the big, sprawling links that is Donegal. It stretches over a wide area surrounded by mountains, for est and sea. Golfers can't help but fall under its spell and most who come here leave utterly charmed by the experience. The course does, however, require your full attention, for its par 73 means it plays long and the stretch of holes from 5 to 11 is both testing and one of the best in the country. It has been quiet of late while the courses that have moved ahead of it have been busy investing. VERDICT: Open, inviting and captivating links golf. (DOWN 4)
---
30. NARIN & PORTNOO www.narinportnoogolfclub.ie The Gil Hanse-renovated Narin & Portnoo has caused quite a stir since opening in 2020. New holes, new greens, and some new routing has given this links a new look. The greens are especially good with glorious shapes and run-offs that put a serious price on accuracy and will make big demands of your short game. The run of five holes starting on the (new) 7th remains one of the best sequences in the country, taking you to the ocean's very edge, but the three new par threes are a touch too short and similar in length, even if they play in different directions. One of Irish golf's beauty spots. VERDICT: A links of finesse and intrigue, especially as the par drops from 73 to 70. (SAME)
---
29. CONNEMARA www.connemaragolflinks.com Designed by Eddie Hackett, the 27 holes at Connemara are as natural as can be, using a low running front nine to whet the appetite before the dramatic back nine throw in the big thrills. The backdrop of the 12 Bens on one front and the Atlantic Ocean on the other contributes greatly to Connemara's mystical quality, as does the fabled rocky beauty that surrounds you. It gives this club a unique links feel and one that is so evident on arrival. Recent and continuing improvements see it solidify its position.  VERDICT: A unique feel and location give Connemara a lunar-like appearance (DOWN 1)
---
28. MOUNT JULIET www.mountjuliet.com The Irish Open will be hosted here again in 2022, after the successful staging in 2021. It says a lot for this famous Jack Nicklaus-designed parkland. With the course back in the spotlight expect glamour and style and finesse in abundance. The course coasts through an estate of towering trees with a grace that makes playing here an absolute joy. Despite the water features and big bunkers its challenges are restrained… rather, it is welcoming and designed for your enjoyment. Even on the famous 3rd, 4th and 13th you'll never feel too unhappy depositing a ball in the water! VERDICT: Such a relaxing and joyful round of golf. (DOWN 2)
---
27. OLD HEAD www.oldhead.com The thrill of Old Head is indisputable and it remains one of the world's great golf experiences. You can quibble over the design if you want but the exhilaration of playing over those cliff tops will live with you forever. This is glamour golf at its best and the elegant, generous design makes it a course anyone can play. That's assuming you can handle the drama of the clifftop holes, of which there are nine. Old Head boasts a world-class, bucket list attraction and it remains top of the list for many golfers. It continues its rise up the rankings. VERDICT: A startling and unique clifftop golf experience. (UP 2)
---
26. KILLEEN CASTLE  www.killeencastle.com You drive through the golf course on the way to one of Ireland's most comfortable but understated clubhouses. The views along the driveway show off the vast expanse that is home to this powerful Jack Nicklaus-designed parkland, and the castle beside the clubhouse is a spectacular sight. Hitting straight at those castle walls on your approach to the 18th is a remarkable way to finish. Here you will enjoy generous fairways which make driving a delight but Nicklaus placed a serious premium on finding heavily guarded greens. Considering all that space it is no surprise at how peaceful it all feels. Verdict: Drive for show… but tighten up your approach play. (DOWN 1)
---
25. DOOKS www.dooks.com The spectacular views which adorn Dooks make it one of Ireland's most beautiful spots for playing golf. It is surrounded by bays, sea and endless mountains, and it is a rainbow of colours. Dooks is a wildly natural links set over heaving terrain which drops down to the water's edge. The course's reputation flourishes on its crumpled dunescape, its renowned welcome and greens that are perfectly maintained… and amuse and confuse in equal measure. It's not the longest course which certainly has its advantages. VERDICT: A links that delivers on many fronts, one of which is its hospitality. (DOWN 1)
---
24. PGA NATIONAL IRELAND SLIEVE RUSSELL www.slieverussell.ie The vibrancy and colour of PGA National Ireland Slieve Russell envelop you from the moment you tee off. You are quickly swept up in this parkland's beautiful surroundings and its high ranking illustrates its quality and conditioning from start to finish. The course has everything a lover of parkland golf could ask for and that's all thanks to designer Paddy Merrigan. The tossing, tree-lined landscape uses Lough Rud as its focal point and there is a lovely momentum to keep golfers enthralled. Through thick and thin this course has remained in excellent condition. VERDICT: A quality, pretty parkland that should attract an ever greater number of golfers. (DOWN 2)
---
23. ROYAL DUBLIN www.theroyaldublingolfclub.com There is a calmness to the landscape that fools both the eye and the ambition of many a visiting golfer. Royal Dublin has a rich, illustrious history showcasing the development of golf in Ireland, but this low-lying links also boasts a classic out-and.back routing. Golfers will benefit from the wind for nine holes and battle it for the remainder. Therein lies the brilliance of its layout. But there is more to Royal Dublin than that with deep rough and intelligent bunkering. This is a place where strategy and bump-and-run rule. The links carries a sizeable reputation and the closing three holes are brilliant. VERDICT: A classic low and revered links. (DOWN 2)
---
22. BALLYLIFFIN (OLD) www.ballyliffingolfclub.com The Old course may lag behind the Glashedy in our ranking – if only by a few spots – but rest assured that this is electrifying links golf. The Old course glides over lower rumpled terrain and presses up hard to the sea's edge on the back nine. Its turf is of the perfect links variety and with its constantly rippling fairways and superb green sites, the Old is often preferred to the Glashedy. What the Old has in its favour is the sparkling run of holes beside the sea, starting at the 14th, which promises a thrilling run for home. VERDICT: Play both Ballyliffin courses; love the differences. (DOWN 2)
---
21. PORTMARNOCK HOTEL & GOLF LINKS www.portmarnock.com This wonderfully bumpy links is quite different to its immediate Portmarnock neighbour there's 100 years of history in the difference for one thing. The heart of the course is more shapely and while it is smoother inland, you can still see what awaits. That is a huge advantage on a seriously challenging links. The resort's recent multi-million investment has added finesse to the links (and the hotel), especially the bunkering and paths, while the aesthetics around the course have been further enhanced. Such qualities see it rise two places. Verdict: A superb links resort package, always evolving and getting better. (UP 2)
---
20. PORTSTEWART (STRAND) www.portstewartgc.co.uk From its stunning opening tee shot and holes cascading through the famed dunes of Thistly Hollow, Portstewart is a remarkable golfing adventure. The front nine holes are often discussed in terms of Ireland's 'best front nine' and it's little wonder with an opening stretch of such wild adventure and towering dunes. The closing section of the course may be more sedate but holes are still entertaining and there are challenges aplenty. It is a quality links with some stunning green sites that require pinpoint accuracy. VERDICT: A links of significant scale and a front nine you won't forget. (DOWN 1)
---
19. PORTSALON www.portsalongolfclub.ie Another unheralded links – despite it sitting in the top 20 – in a sublime setting of sea and mountains. Lough Swilly is magnificent and much of the front nine runs riot through rugged dunes above Ballymastocker Strand. Two double greens emphasise how the terrain has been cleverly used and holes smartly routed, and this extends across the course, even to the more inland holes. Bump-and-run is a good friend here as greens often lie low on the land… although that won't work on the magnificent par four 2nd, a hole many regard as the best hole in Ireland. VERDICT: A links of natural power and beauty. (DOWN 1)
---
18. K CLUB (PALMER NORTH) www.kclub.ie The Palmer North has received considerable investment which includes an impressive upgrade to the clubhouse. That attention is now being turned on a big modern course that carries a sizeable reputation – little wonder when you've hosted the Ryder Cup. It has all the facilities, colour and finesse you could ask for, and it is accessible to all with big fairways, sweeping greens and the promise of a captivating day of golf. The course recently returned to its original routing and it is all the better for it. Ambitious plans lie ahead with fairway upgrade work planned in 2022. VERDICT: Ireland's most famous parkland is again making lots of positive noises under new ownership. (DOWN 1)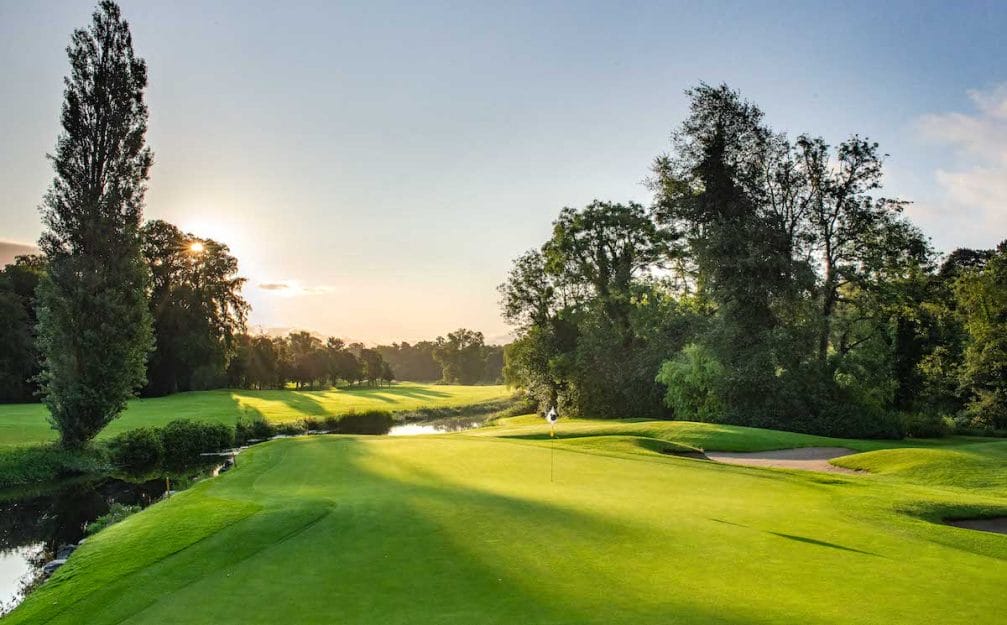 ---
17. TRUMP INTERNATIONAL DOONBEG www.trumphotels.com/ireland Upgrade work has been ongoing at Doonbeg since Martin Hawtree made considerable changes in 2015, and the most notable of these in 2021 was a remodelling of the wonderful par three 9th. Tucked away at the farthest point of the links, hanging over the beach on Doughmore Strand, it is a par three of beauty and drama. It is little wonder that with so many impressive holes its stock remains high. The course slides elegantly through the dunes for almost two miles above the beach and has been enjoying fabulous conditioning in recent times. VERDICT: A modern, big-scale links with a five-star experience. (DOWN 1)
---
16. BALLYLIFFIN (GLASHEDY) www.ballyliffingolfclub.com Pat Ruddy's influence on Irish golf runs deep and Glashedy is his highest profile creation (after The European Club, of course). That profile rose further with the hugely successful 2018 Irish Open. The routing is done to perfection, allowing both nines to visit the biggest dunes on the property. These include the two superb par threes (5 and 14) with tee boxes looking down on greens with the startling backdrop of Glashedy Rock beyond. It is dramatically done, as is so much of Ruddy's work here. This is tougher than its Old course sibling because subtle doglegs and tight greenside bunkering make accuracy essential. VERDICT: A big, muscular and imposing links. (DOWN 2)
---
15. ENNISCRONE www.enniscronegolf.com You often hear golfers lavishing praise on Ennis.crone's back nine and then, in the same breath, claiming that the middle holes (5-9) fail to fire. These are still strong holes – the approaches to greens on 6 and 7 are beauties – but it is easy to tar.get them based on the holes that come before and after. That is a shame because Enniscrone is always in exceptional condition and is superseded only by Royal County Down when it comes to blind shots. That much lauded back nine stretch out to Killala Bay and holes 12 and 13 – both par fours – are two of the quirkiest and captivating you will ever play. Bring your A game and a thumping short game. VERDICT: A big dune, big occasion that turns up the dial on the back nine. (DOWN 2)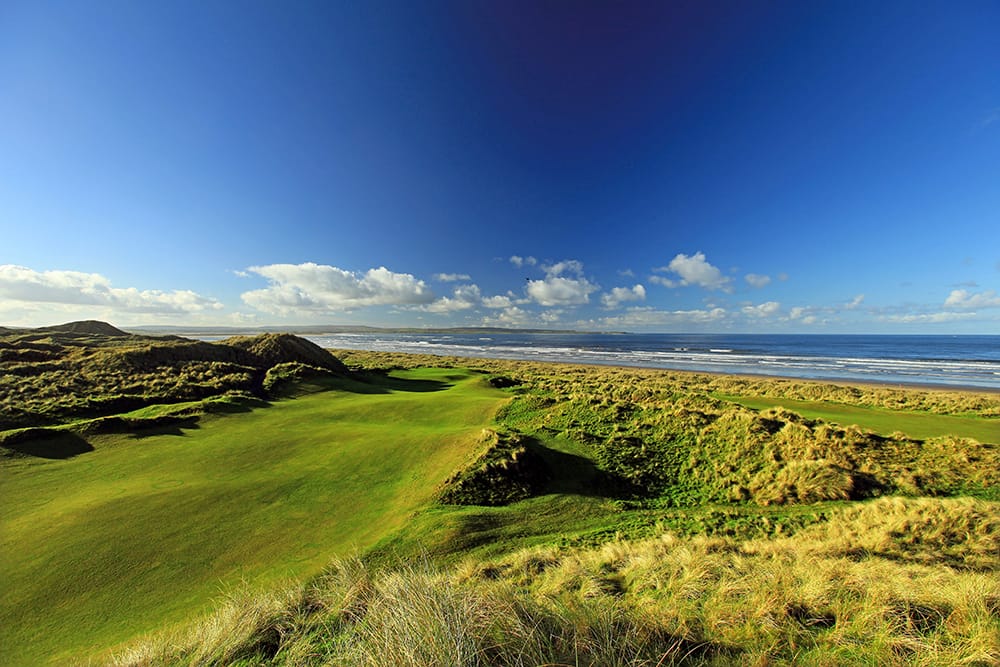 ---
14. COUNTY SLIGO www.countysligogolfclub.ie This is a Harry Colt classic but it has slipped in recent years as the upgrade programme has not been to everyone's liking. Co. Sligo is a course of different rhythms and different styles of holes, and this is determined by the fluctuating terrain over which it roams. The variety is astonishing but also hugely appealing as there's always something new to consider when you step onto the tee. Colt knew how to test golfers' abilities and this shines through at Co. Sligo. The par three 4th is a masterpiece in this regard… but it is not alone. VERDICT: The constant variety of this revered links is exhilarating. (DOWN 2)
---
13. CARNE (WILD ATLANTIC DUNES) www.carnegolflinks.com Calling this a new entry might raise some eyebrows, but the Wild Atlantic Dunes layout is very much a new course. This is now the club's preferred routing and it combines Eddie Hackett's back nine with the newer (2013) Kilmore nine. The routing is not simply one nine and then the other as holes have been integrated. There is no question that this is the biggest and most explosive links in Ireland… or anywhere for that matter. That is the scale of the mountainous dunes here. The soul of this course is buried deep in this raw, natural terrain and it ripples with beauty and charm, and challenges you'll never have encountered before. Little wonder that it appears where it does. VERDICT: An other-worldly links that must be seen to be believed. (NEW ENTRY)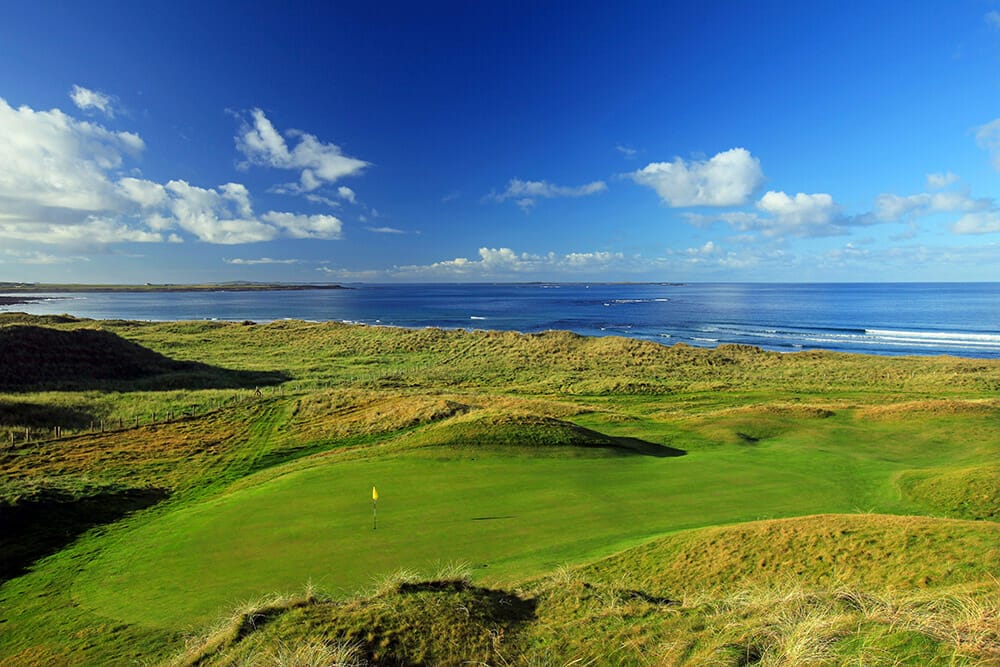 ---
12. THE ISLAND www.theislandgolfclub.ie The Island opened its new front nine in the middle of 2020. The work by Martin Ebert has undoubtedly boosted the club's stated championship credentials and ambitions, but some of the course's character has been lost as a result… and The Island was blessed with that. It still is as it boasts one of Ireland's finest back nines, including holes 13 to 15 which form an astounding stretch of holes. Discussion over the new holes will continue for years to come, with the remodelled par three 4th (originally designed by Martin Hawtree) offering a dramatic new signature hole that breaks up the previous run of eight par fours, and the new 8th and 9th adding considerable bulk to the front nine's finish. VERDICT: The challenge to make the front nine as good as the back nine comes at a cost. (DOWN 3)
---
11. THE EUROPEAN CLUB www.theeuropeanclub.com The European Club carries a unique reputation thanks to its creator who has added elements you won't find elsewhere. The course builds to a crescendo in the middle of the back nine where the holes almost touch the sea but there is so much to enjoy across all 18 holes… or 20, as is the case here. The course has become far more playable in recent years as the once polarising bunkers have been softened. But don't for a minute think that that makes them easy because The European always demands the best from every facet of your game. Enjoy the countless frills and wonderful routing. VERDICT: Pat Ruddy's masterpiece is a marvel of links creation. (SAME)
---
10. WATERVILLE www.watervillegolflinks.ie Waterville is a sublimely rhythmic and picture-perfect course. In such an irresistible setting on the Ring of Kerry, links golf doesn't get more attractive than this. There are no climbs here yet the landscape always moves and twists you constantly on terrain that feels as if it could serve no other purpose than to host a golf course. The rough, the grass.es, the dunes are all indescribably beautiful. The Inny estuary embraces one side of the course while the wild seas of the Atlantic press up against the other, where the renowned three closing holes streak back to the recently refurbished clubhouse. VERDICT: Ireland's most picture-perfect links. Utterly enchanting. (SAME)
---
9. ST PATRICK'S LINKS www.rosapenna.ie A new entry and what a beauty St Patrick's is. It is hard to know where to start with the praise that is required to review this course but focusing on Tom Doak's sensational design is as good a starting point as any. It is so elegant and effort.less in feel as holes ramble through big dunes, some rugged terrain and the more open spaces down by the sea. The green sites are sensational and there are different routes to reach them as hole shapes embrace different strategies. This is magical stuff with blowout dunes, ripped and ragged bunkering and greens that inspire constantly… the shapes can be mind-bending. Opened in July 2021. VERDICT: The new kid on the block and one that will only climb higher. Prepare to be amazed. (NEW ENTRY)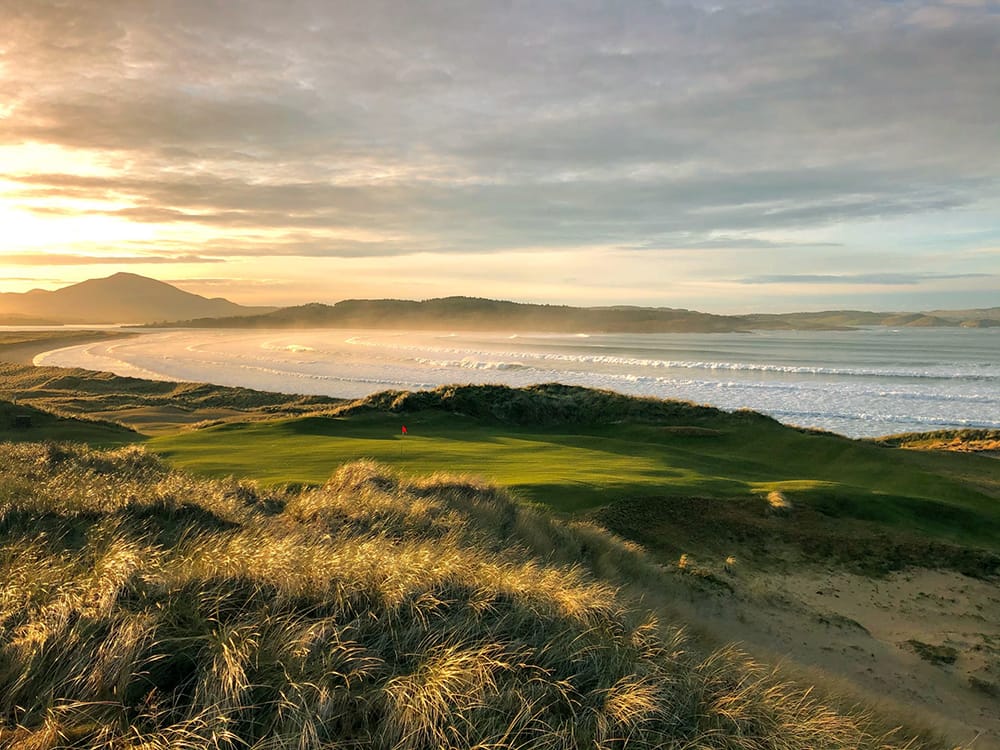 ---
8. TRALEE www.traleegolfclub.com Tralee upgraded three holes in 2021 – holes 6, 7 and 8 – and the changes to the par three 7th and par four 8th, in particular, are a resounding success. It also means that the front nine's improvements narrow the gap between the two nines. Add in the inspiring location and impressive breadth of facilities and upgrades, and Tralee's over all golf package carries serious weight. Changes are ongoing at a club that shines ever brighter. VERDICT: The Kingdom s cathedral of dunes remains worthy of worship. (SAME)
---
7. BALLYBUNION (OLD) www.ballybuniongolfclub.com Ballybunion is as pristine as ever, with remarkable conditioning making every inch of the place glow with quality. It is an electrifying adventure with such natural routing taking you out to the ocean's edge on both nines, greeting you with one magical hole after an.other. The dunes have created perfect doglegs, high tees and breath-taking green settings… some set in bowls, some set on plateaus, still others protected by sentry dunes. And yet there are no blind shots. VERDICT: Take a pilgrimage and rejoice in the links' spiritual glow. (SAME)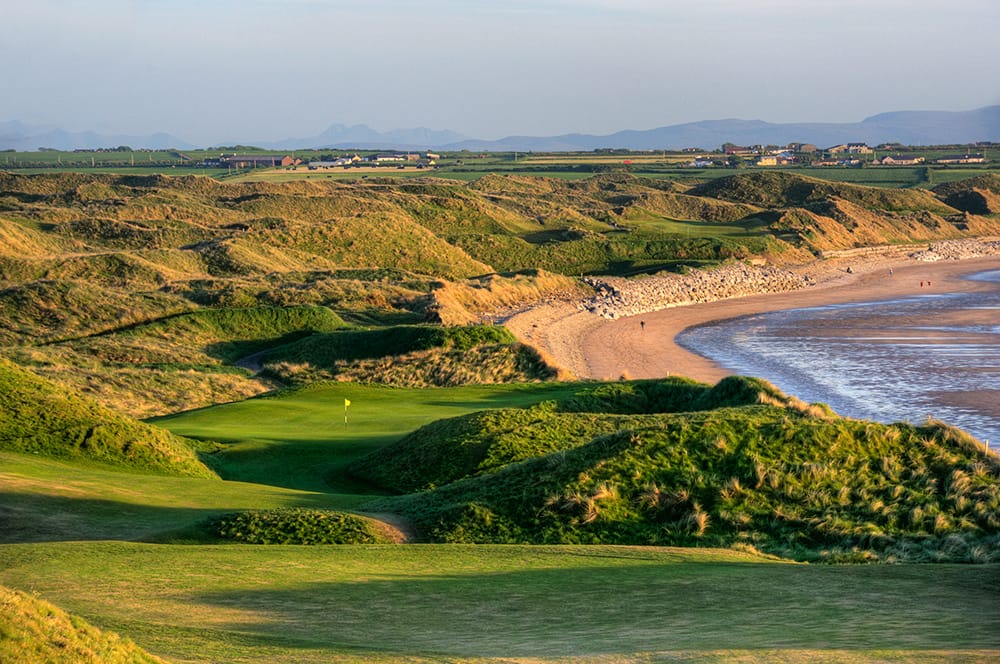 ---
6. COUNTY LOUTH (BALTRY) www.countylouthgolfclub.com Not many courses can lay claim to one of the best stretches of holes in the country… yet Baltray boasts two: the 3rd to 7th and the 12th to 16th reign supreme, the strategies and intricacies around Tom Simpson's greens opening up a myriad of choice and opportunity, while Molly Gourlay's ability to create wondrous par threes is immediately apparent. On account of a few of the inland holes, some feel it lacks the wow factor but this is to miss the essence of the links: The layout is a purist's delight, its subtleties revealing themselves a little more with each play. It's not short of quirk either, with small undulating greens and the occasional scary, blind shot. VERDICT: A purist's paradise that sits proudly amongst the best courses in the country. (SAME)
---
5. THE GOLF COURSE AT ADARE MANOR www.adaremanor.com Now easily recognised as Ireland's top parkland – sitting in exalted company with some of the world's best links courses – Adare continues to polish the edges of its golfing masterpiece. The attention to detail lavished on the course in anticipation of some major events has been building for some time (the twice-postponed JP McManus Pro-Am being just one event that comes to mind) and the efforts to maintain such gloriously perfect playing surfaces are relentless and admirable. There is no doubt in anyone's mind that this July's Pro-Am will see The Golf Course at Adare Manor blushing from the praise of the world's top golfers… and golfing media. And just wait for the 2027 Ryder Cup. Discussions about Adare's course condition tend to be of the breath.less variety, with sub-air technology raising pulses… but a course can't survive on conditioning alone. There needs to be more and Tom Fazio's re-design is something truly remarkable. It is hypnotic in its rhythm with raised greens and vast aprons of run-offs catching the eye – and your ball – time and again. They are dazzling targets. The bunkering is bright and unmissable, framing fairway corridors and threatening constantly around greens. It may be easier to be in a bunker than to run the gauntlet of those aprons which can sweep your ball 30 yards away. And yet its playability is one of Adare's great strengths. There is no rough to speak of and with thousands of trees removed, you should always be able to access greens. VERDICT: The premier parkland on the island is about to set the world alight. (SAME)
---
4. LAHINCH www.lahinchgolf.com Lahinch may slip one place as Royal County Down continues its fight back to the top but this is one of the most perfectly balanced links you'll find. Never mind the dune system over and through which it plays, Lahinch is blessed with a tempo that practically sings. The ridge of big dunes that hosts the front nine and press up to the sea heave in every direction creating sublime channels for holes to flow between. Such natural routing presents a layout where wind tests golfers from every angle but also accommodates some blind shots and fabulous quirks (The Dell, most notably). Farther inland, where the dunes are more subdued, the back nine are no different: perfect routing takes you to startlingly natural green sites. Indeed, the back nine demand more guile from the golfer, especially on approaches. What Old Tom Morris started, Gibson advanced, MacKenzie reimagined and Hawtree restored is now recognised as one of the world's greatest links. Alister MacKenzie's name looms largest, but Hawtree deserves plaudits for his restoration of MacKenzie's original vision. He rebuilt green sites, updated the bunkering for the modern age and added two new par threes. He also pushed greens out to the ocean's edge to enhance the links experience. These changes and particularly his new bunkering to challenge the modern golfer have benefitted the club hugely. In an age when links courses have little room to expand, Hawtree found other ways to promote Lahinch's challenges. As anyone who has played here will tell you, Lahinch just gets better and better. VERDICT: This strip of golfing heaven sings angelically to a flawless tempo. (DOWN 1)
---
3. ROYAL COUNTY DOWN www.royalcountydown.org Royal County Down (RCD) has often been recognised as the best course in the world, let alone best in Ireland, so even this year's rise of one place to third in our rankings will leave some golfers surprised. There's no question that RCD is one of the world's greatest golf experiences – it is unlike anything on the planet with those heaving, gorse-drenched dunes and bearded bunkers – but where it faltered in our rankings was in its playability. The great Jack Nicklaus felt there were too many blind shots and they are severe ones at that. Combined with those bunkers and some fairways that can treat you harshly with their deflections, it makes RCD a stern test for even the best players. It is not therefore as playable as the courses ranked above it. The two links above it have also upped their game massively in recent years. For many, though, RCD remains the ultimate, adrenaline-fuelled links with a heritage that embraces Old Tom Morris and a landscape that has been played over since 1889. Those blind shots are what many golfers remember most but this stretch of tumultuous links land is home to superb green settings, many of them nestled down low. The greens themselves roll like velvet and are oh so quick. The entirety of the holes, the perfect framing of wild rough, heather and gorse, and the strategic options available make RCD the epitome of a bucket list destination… and always will do. VERDICT: Strap yourself in for the most explosive links experience in the world. (UP 1)
---
2. PORTMARNOCK www.portmarnockgolfclub.ie Portmarnock may keep knocking but the mighty Royal Portrush won't let the Co. Dublin club in. For yet another year, Portmarnock remains in second place. Portmarnock and the word 'subtlety' go hand in glove. While some visitors will miss the nuances of this wonderful terrain on a single visit, others understand the immense reward it gives on repeat plays, revealing its strategies slowly and releasing its secrets only to those who persevere. Nuances such as the deceptive ridges on holes 3, 13 and 17, and the blind tee shot on 5 add to the fun but it is the peerless routing that provides the bones for this exceptional championship layout. It's worth noting that the skeleton of the course remains the same as when it was extended to 18 holes in 1896, the only significant addition being the famous one shot 15th along the water's edge, introduced in the 1920s. Portmarnock is big, not in the sense of mountainous dunes but in the size of its greens and hole corridors. Yet never does it feel too large, the holes fit so perfectly into the landscape. Great holes they are too, with more than one famous writer believing that there is no greater finish in golf than the final five at Portmarnock. The condition of the course is also second to none, the fine turf allowing firm and fast surfaces that encourage the ground game and necessitate a thinking golfer's approach. VERDICT: Portmarnock reveals its splendor more and more with each visit. You can't pick a fault in this icon's make-up. (SAME)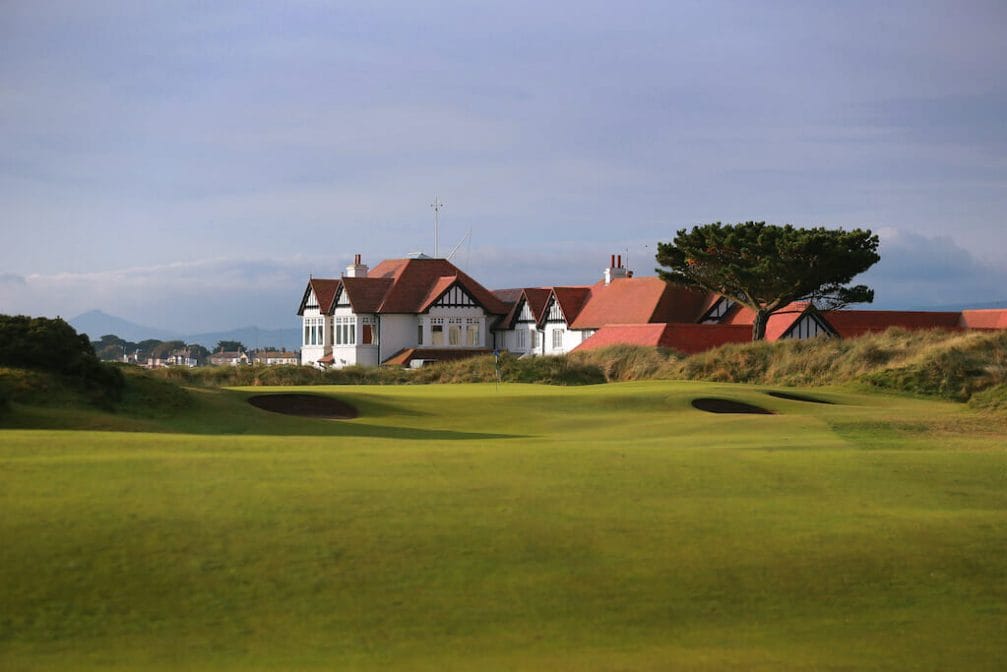 ---
1. ROYAL PORTRUSH www.royalportrushgolfclub.com Shane Lowry winning the Open Championship in 2019 was a major moment in Irish sporting history. A favourite son lifting the trophy on the hallowed turf of Royal Portrush is an image most of us will not forget. And now we could see it again, even sooner than we'd hoped, as the Open returns to the Co. Antrim coastline in 2025. This is classic course design of the golden age – that pioneering age around the roaring twenties. Decidedly modern at the time, the best architects had started to build features rather than rely wholly on nature. Harry Colt was a virtuoso practitioner and, at Portrush, he created what remain the best set of greens in Ireland. Colt considered the Dunluce course his masterpiece and it's easy to see why: the holes sweep elegantly through an undulating dunescape, never so violent that the golf is compromised yet never so calm that one's guard can be lowered. We all know the best of them, the 5th doglegging towards the sea and the long par three Calamity Corner being the most famous. But in truth, almost all of them are strong, beautifully following the land and taking the golfer on an adventure to each corner of the property. The course often appears to be in a perennial battle with Royal County Down for the top spot in the North. Each offers a very different experience to the other but in the past, both were perceived to have a brace of weak finishing holes. In preparation for the return of The Open Championship, Portrush went out of its way to rectify the situation, its hand being forced by the requirement to commandeer the 17th and 18th for the tented village. In their place, two outstanding new holes abutting the Valley course have been brought in to the routing. These have become the 7th and 8th meaning the course now finishes on the original 16th. The visual appeal and challenge of the new holes have been an overwhelming success. VERDICT: The most elegant design on the island continues to set the bar. (SAME)
---
You're almost there… We have an abundance of great golf courses in Ireland and narrowing a list to just 100 is no easy task When deciding on a list of top-100 courses one must consider many more than 100 for inclusion and sometimes things get pretty heated. There are always those that just miss out by the narrowest of margins and this year the list is long and distinguished. The clubs that just missed out this year are as follows: Beaverstown, Birr, Blainroe, Castleknock, Coolattin, Corrstown, Courtown, Druids Heath, Faithlegg, Gowran Park, Grange Castle, Greenore Hilton, Templepatrick, Howth, Knightsbrook, Lee Valley, Lisburn, Mount Wolseley, Mulranny, Portarlington, Roe Park, Roganstown, Royal Tara, Spa, Thurles, Tramore, Waterford Castle, Woodenbridge.
---
This feature appears in the 2022-2 print edition of Irish Golfer which you can view in full by clicking on the cover below.