Naas professional, Jonathan Yates became the latest Irish professional to earn tour status as he secured his full Alps Tour card at Qualifying School at La Cala.
The Kildare man earned his stripes by carding a final round four-under-par 68 on the Asia Course in Malaga to finish in a share of sixth spot on six-under-par.
With the top-35 securing promotion next season, Yates scaled the q-school mountain with apparent ease this time around but despite the seven birdies dotted across his card, the Lily White admits that it was far from easy going in a week that brought some eerily familiar weather that once plagued his amateur playing days.
"I'm absolutely delighted to get through it," reflected Yates. "It was a bit of a grind, particularly with the weather being as bad as it has been. That first day was bringing back some seriously fond memories from the West of Ireland but I'm thrilled to have got through!
"Sixth place is solid. It was eight shots off the winning score over three rounds. I certainly came here to win and to be that many off isn't great but look, sixth is still very good.
"Every week right now is a learning experience and I'm really happy. Particularly having the freedom now to make a full schedule for the Alps Tour next season. I've achieved that goal of getting my card and I'm really, really pleased."
It's been quite the journey from Naas to the Alps for Yates. Having only picked up a golf club for the first time at the age of 12, few could have predicted him carving out a career in golf. But where some start as prodigious talents, Yates proved himself a late bloomer and during a glittering amateur career, he picked up a personal highlight in winning the West of Ireland at County Sligo in 2016.
There's no doubt that those fond memories rang true as he tackled the wind and rain at qualifying school in Malaga this week, but Yates credits a much more recent experience as the catalyst for his change in temperament on the golf course in recent times.
"I've learned a lot the last few months," he continued. "European Tour Q-School Stage One – I learned so much there.  I could feel the things I'd learned through that experience on the golf course this week.
"They're similar course set ups in it's fairway off the tee or lost ball left and right. I've noticed at the Home Internationals, European Six-man, events like that where you become a little too results orientated, when you're thinking about where the ball wants to be rather than picking your target and going for it, it can cause a bit of anxiety I suppose.
"This week I just felt so comfortable. To start off with three birdies, hitting it stiff three times in a row, I really felt that I was ready straight away to keep going and kick on."
And so it proved. Despite a hiccup at the par-5 5th where Yates took seven, he showed superb bounce-back-ability by immediately picking up a birdie at the par-4 6th. Yates seems to be learning the inner workings of the crucial six inches between his ears and credits a push from his girlfriend for aiding that process further.
"My girlfriend recommended me a sports psychologist," he explained. "A couple of weeks ago I went to her and I've brought on a couple of things that we talked about to the golf course; just being honest with myself, being very clear and I really feel like we're headed in the right direction."
Ever humble, Yates was under no illusions as to the support system that has helped get him this far. One man mentioned amongst a plethora of praise-worthy people was former European Tour stalwart, Gary Murphy, who has been a constant source of support; Murphy clearly impressed after a recent hit with Yates.
"Gary got in touch with me and I played with him in Corballis at one of the Race to 59 events- first time I'd played there actually- and ever since he's been in constant contact, such a great help.
"He's given me a few tips about practice but mainly just about course-management more than anything. I would always be a bit more technical about things and he's more feel based so although his approach is different to mine, it's been great to get advice from such an experienced guy."
The likable Naas player has a team of people batting for him and knowing Jonathan, it's easy to see why. That support system will play a crucial role in his development next year, another stepping stone in a journey that's still so relatively new. At the top of that list will be the support from his coach Gavin Lunny along with his many peers, none more so than Naas teammate and friend, Conor O'Rourke, who plied his trade to great effect on the Alps Tour last season.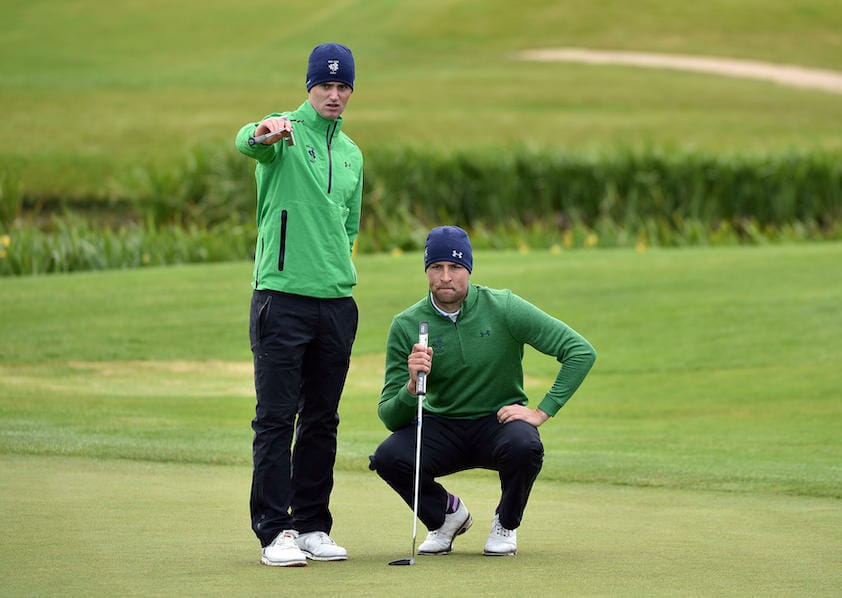 Yates and O'Rourke in action for Ireland together – Image from Pat Cashman
"The Alps Tour usually begins fairly early in the year down in Egypt so I'll tie in with a few events down there. I've been talking to Conor a lot about the Mediterranean Tour and he's been telling me that there's some real opportunities to secure some Challenge Tour starts there. You can tie that in with the Alps Tour as well so scheduling-wise it can work really well.
"I'm also looking at MENA Tour, again through chatting to Conor, and although I haven't ruled that out, right now my focus is on Alps. From talking to a lot of guys, I've learned that if you have a full status on a third tier tour, who knows what's going to happen results wise, but that's a great opportunity to springboard to bigger things. I'm really looking forward to Alps now and going from there."
First though, he'll take a well-earned and much needed rest after pulling a bit of a Dustin Johnson and almost letting it all slip this week. Thankfully, not all heroes wear capes and a friendly face offered a hand when Yates needed it most.
"I'm really looking forward to a bit of time off first," he admitted. "I jarred my back this week, slipped going down a path! I've been struggling a little bit with I and a shout out must go to Rob Brazill's Dad, Matt for pulling my bag on the back nine for the last few holes. That was a big help and it was great to have some home support around as well!"
With no shortage of willing helpers, and plenty more sources of inspiration with the likes of old friends and teammates, Paul Dunne and Gavin Moynihan carving their own paths on the main tour, Yates has all the ingredients necessary to give this game a real go. One thing's for sure, he won't be getting ahead of himself though. The Alps Tour represents a mountain to climb in itself but given his rise through the ranks in recent years, you wouldn't put it past Jonathan reaching its summit next season.