Tiger Woods returns to competition this week insisting having his two young children around him kept the former long-time World No. 1 'sane' over this past 10 months.
Woods played a first official practice round in some 10 months mid-morning Monday local time in the company of fellow American Patrick Reed ahead of this week's Hero World Challenge on the Albany course in the Bahamas.
Woods underwent a fourth back surgery on April 19th and tees-up for the first time since January when he was forced to withdraw ahead of the Dubai Desert Classic. And if the golf world was in any doubt of Woods fitness following fusion on his spine then the former long-time World No. 1 clearly impressed the handful watching him over his nine-holes, including yours truly.
Woods clearly out-drove Reed including landing his drive 60-yards down the last past Reed. In fact, Woods outdrove Reed, the current World No. 23, on every driving hole by an average of 30-yards and showed no signs of any back concern going 100% into every shot and not flinching at all, even in picking-up a tee. 
Woods had started his round with a drive 30-yards past Reed on route to the first of four birdies in holing a six-footer.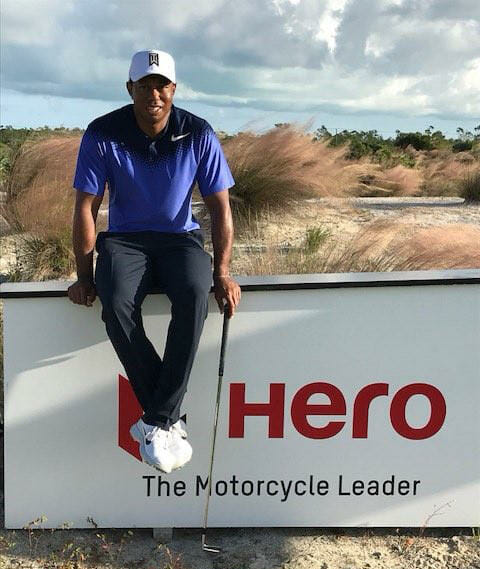 Image from Bernie McGuire
"Many may forget that I spent much of this year in bed so much I couldn't even get out of bed just to have a piss," he said.
"Often I needed help just to get out of bed.   Often, I would have to roll myself out of bed and take a piss in a bucket because I physically could not do something as basic as go to the toilet by myself."
"The thing is, pain is so personal and no-one knows the pain I endured.  We know what nerve pain can be like and no one can go through it with you, and no-one could understand the pain I was going through."
"It was drugs on top of drugs just trying to kill the nerve pain.  It was like something hitting your body about 200 times a day. And the thing is that I didn't know when it was coming."
"But now that I am fully healthy again there is no way I cannot stay healthy.  I can't see any reason why not. Look I had surgery in 2001 (smiling). I had surgery again in 2004 so we'll see how it goes."
"People also have to know I am just coming back to golf and while I am pleased with how I am hitting the ball, it is still just small steps for me at the moment."
Woods indicated the only medicine of sorts he is currently taking is anti-inflamatories.
The upside of Woods being side-lined for so long is that he had got to spend more time with his two children, Sam and Charlie.
"Having to spend so much time off the golf course has been a serious plus for me as I've got to spend so much time with Sam and Charlie," he said,
"Having them around the house kept me sane. Charlie's right into soccer big time, big time.  His favourite player is (Lionel) Messi.  
He just loves the game and enjoys watching him compete."
"We met some time back and he gets about the house wearing a Messi Barcelona top and just lives in it. He has part of the garage set-up where he can work on drills and he just loves to compete with me."
Reed, who last fortnight had led the opening round of the European Tour season-ending DP World Tour Championship, is just pleased to see Woods again competing.
"I want to see again the Tiger Woods from 1999 to 2001 and I want to play alongside the best golfer ever to live on this planet," said Reed.
"I want to see that Tiger Woods.  We all want to see that Tiger Woods and Tiger himself wants to see that. Getting to know Tiger as I have and getting to know all the golfers out here and how competitive we all are, I know Tiger wants to be the best, like he was before."
"The thing with Tiger, and what I and everyone really loves about the guy, it doesn't matter whether he is in his prime or whether he is not injured or injured, he is always trying to be the best. He's the ultimate grinder and that is something awesome to watch and he really has nothing to prove."
"People are putting all these expectations on him and whether or not Tiger is going to play well or is he going to do this or is he going to do that.  Honestly, who cares as we are just glad to have him back playing golf."
"He looked this morning like he was playing pain free and down the last there, he out-drove me by 60-yards and he out-drove me every hole of the nine we played. Though the last hole there was the first one he embarrassed me on (smiling) but then I did not expect him to come back if he could not give 100%, and unless his golf game was ready."
"I was very impressed on him going out and being able to hit the golf shots he wanted including being able to use his drive to draw and fade the ball. Also, I was impressed how he could move his body fast through the ball and also be able to move slowly when he needed to."
"He got steep on some shots so he could flight the ball and just being able to hit all the shots this morning he wanted to and not once flinch or pick his tee up gingerly, and also just walk at his normal pace with a real spring in his step. That is was impressed me most about Tiger this morning."

Stay ahead of the game. Subscribe to our newsletter to get the latest Irish Golfer news straight to your inbox!