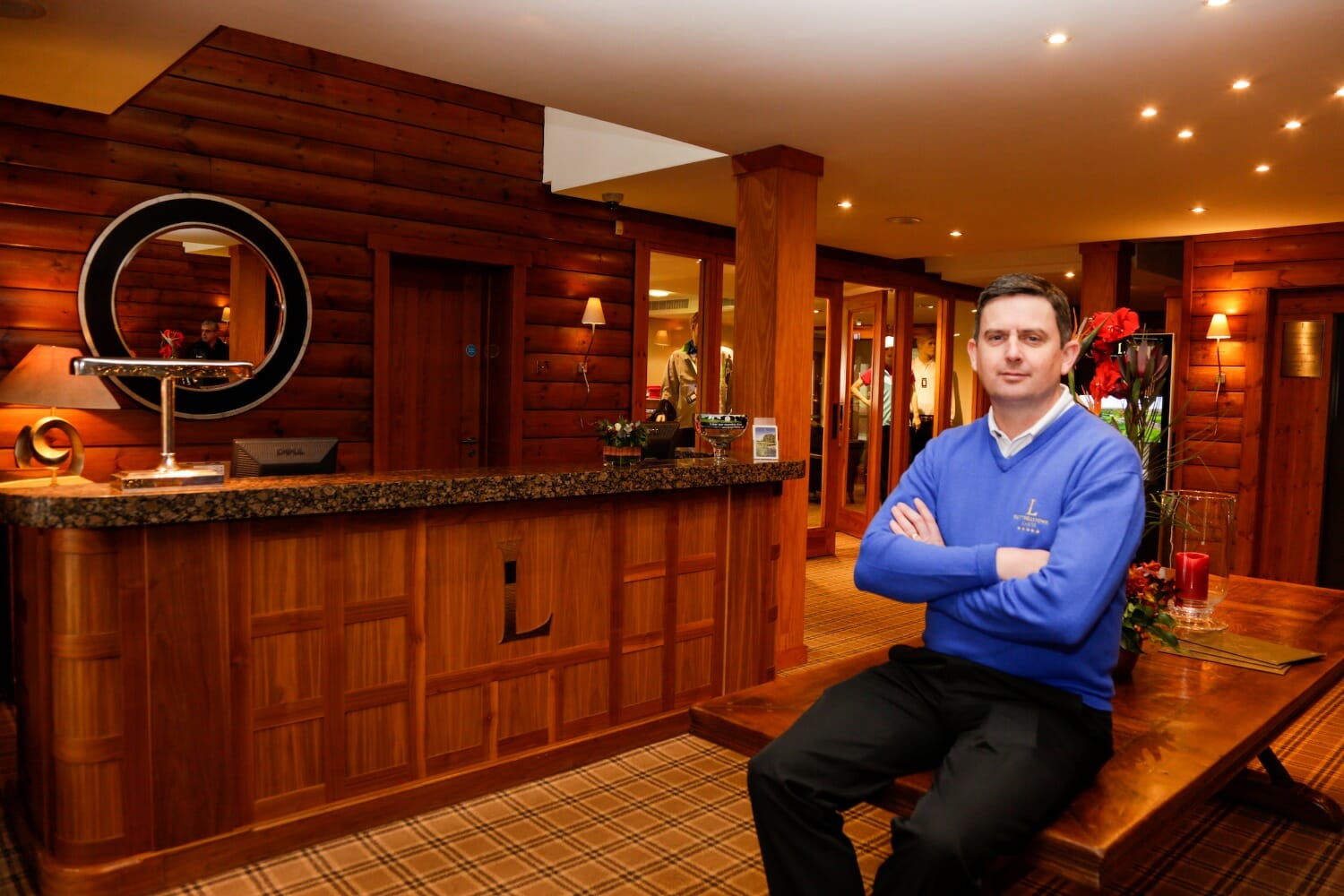 Peter Lawrie is settling in to his new role at Luttrellstown Castle and he has some big plans.

One would've thought the quick spin from Castleknock to Luttrellstown would've been quite the cushy number for Peter Lawrie but throw four kids into the mix and his new morning routine has come as quite the shock when compared to his pampered existence on the European Tour. Lawrie was appointed as Director of Golf at Luttrellstown in September, and far from an escape from the pressure chamber of professional golf, he may well be facing his greatest challenge yet.

A product of Newlands Golf Club, Lawrie grew up fast on the fairways with only one goal in mind, playing professionally. A student of Terenure College, he avoided rugby like Donald Trump does the truth, often joking to his classmates that his right hand was worth two million and his left hand worth one. Despite his singlemindedness, the perils of such a career path were never lost on his parents. Growing up a year or two behind Padraig Harrington who'd completed his accountancy degree before turning pro, Lawrie had the ideal mentor and duly attended University College Dublin where he studied Business & Commerce.

"I guess I've always been a wheeler dealer in some shape or form. I studied business for five years in college by night and played amateur golf all through that. Studying at night meant most of my classmates were mature students so again I was learning fast, progressing my education whilst working on my golf game." The work was paying off. Lawrie graduated with a Degree in Business and following his Irish Close Championship victory at Royal County Down, he turned professional in 1997. Though his subsequent breakthrough onto the European Tour didn't come as quickly as he would've liked, once there, Lawrie announced himself in style, picking up Rookie of the Year in 2003.

Any fear of getting carried away with the accolade?
"Not at all. When I won Rookie of the Year I felt I'd been lucky. There was nobody else there. I didn't deserve it. So I brushed it off. I'd got beaten in a playoff, yeah I'd had a good season but nothing special in comparison to what other rookies have done. But as time went on I realised I was voted in and nobody can take that away from me." Underselling such an achievement is hardly surprising of an Irishman, but Lawrie had kick-started his career in the perfect manner. Alongside good friend Damien McGrane, 'the odd couple', as they became affectionately known, began to carve out quite the reputation on Tour, with the best yet to come.

Fuelled by better half McGrane's inspiring China Open win in 2008, Lawrie went to Spain thinking, well if he can do it, so can I. "Up to the Spanish Open I'd been beaten in a couple of playoffs and I guess I was due. Then Damien goes and wins and I think, I can do this, and won two weeks later. Damien's break was the catalyst. We were like a married couple, though I did everything. It was 'Lawrie Travel', flights, accommodation, car hire, you name it and we had it covered. It was a great time."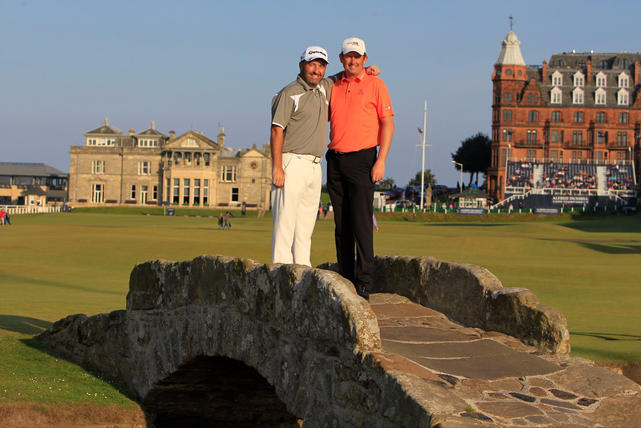 He would've been excused for falling into a sense of relative security following his win in Spain but such highs in golf pale in comparison to the struggles the majority suffer. Lawrie's nest egg soon ran dry and unhealthy economics meant he was fighting an uphill battle year after year just trying to keep his head above water.
"It's like a gambler who's that next little bit away from winning all their money back. That's the draw, that one week where it all goes well on Tour. Win three hundred odd grand, get a two year exemption and you're back."
Unfortunately for Lawrie, his luck was out and it's a realisation that remains hard to swallow.
"It was very difficult to be honest and probably still is but you have to grin and bear it. Is this really what I want to do? Am I spending more than I'm taking in? And I was spending plenty more than I was taking in. Do you keep on chasing the dream or stop and take back and say maybe it's time I did something else?" Lawrie had been around the block enough to know his time had come having enjoyed a wonderful career for over a decade on Tour.

But what was next?
Naturally the plan had always been to finish as a player, for the dream never to end, continue onto the Seniors Tour and sit on a healthy retirement, but with that door now closed, new opportunities soon emerged.
"I had a couple of offers at the time and a few people knew I was thinking about finishing up but Luttrellstown was by far my first choice. I played it going back to the early 90s. The Dublin team -myself, Jody Flanagan, Padraig Harrington, Noel Fox, it was our home course. That's when we started in Luttrellstown. And when I got married, Philippa and I moved to Castleknock. It really was the perfect fit."

So forgive me Peter, but what exactly does a Director of Golf do? "That's a good question", he said with a nervous giggle. "I ask myself every day! I would say my number one role is to be an ambassador for Luttrellstown and be recognised as the face of the club. To service the members and make the members feel like they're part of something. And ultimately, to better their time here as a member of Luttrellstown. This club is in recovery. It's not too long ago we'd lost the majority of our members and looked to be closing down. We're back at over 200 members now but my goal would be to grow that number substantially over the next two to three years."

The gravity of that task isn't lost on Lawrie who knows the pitfalls of Ireland's golfing landscape as well as anyone. "When I looked at it first I worried to be honest. There's an awful lot of golf courses out there and they all seem to have fallen into the trap of using products that barter. This idea of the 'Race to the Bottom'. Systems are selling daily tee times at a lower value than the club are actually selling themselves. Say your member rate is twenty-five euro, you bring three guests costing you seventy-five quid. Quite often now you hop online and you probably could've got that tee time for fifty euro with a soup and sandwich thrown in too. They're completely undervaluing the product."
"I used to harp on about it on the European Tour, I'd fecking bang the table before they'd listen to me. You can't buy a Ralph Lauren jumper for twenty euro. We have to value our product. And then we can't sell it below that value. But that's what golf clubs are doing. If a guy goes and plays 18 holes on your golf course, there's a cost to that that some clubs aren't seeing. They view the tee time as free and getting anything for it represents value. They forget about the costs in maintenance, shop assistants, whatever it may be."
The golf industry has often been a good indicator of the strength of the Irish economy and though there's been signs of recovery, Lawrie is now faced with the tentative prospect of finding a balance between setting a reasonable member's subscription and a competitive green fee. The golfing bubble of Celtic Tiger Ireland was never sustainable and the fallout from the recession has seen clubs undercut each other to the brink of closure, a major concern for the new Director.

"The perceived value is something else. You get guys coming in and they want golf for twenty euro. Well our course is worth more than twenty euro. For the amount of time and effort that's gone into it and the standard that it's at. You can get a pitch & putt course for ten euro. Is it worth that ten euros more? Bloody right it is, and the rest. But when you reduce your prices it's very difficult to get them back up again. I noticed it straight away when I walked into Luttrellstown that we were getting an awful lot of unhappiness when upping the price. 'You can't charge me that, that's twice what you charged me last year.' You just have to eek the rates up a little bit but once you drop the prices you're in big trouble. You can't maintain a course to a good enough level charging twenty quid."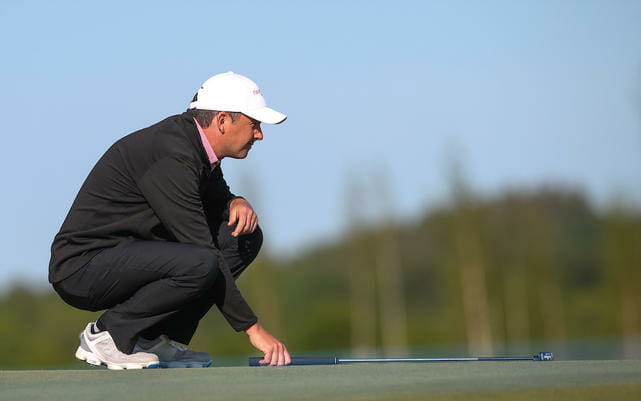 Yet all the number crunching in the world could prove meaningless unless the industry moves with the cultural shift of modern Ireland, something Lawrie has been closely monitoring for years. "I do worry, let's say you've just got married, maybe had a child. Are you going to pay two grand to join a golf club to play a couple of times a year or will you spend that money elsewhere? Can you realistically tell your wife that you'll be out playing golf for six hours on a Saturday? She'd knock the head off you! Golf is taking too long and we need to adapt to the times."

To combat cultural change, Lawrie points to not only the wonderful clubhouse facilities at Luttrellstown, but to those across Ireland that lie dormant once the sun has set. "We need to think outside the box; are we wholly golf based? Can we do a business meeting, 9 holes and a bit of lunch? Even poker nights, snooker nights, Strictly nights to get everyone up and dancing? I see clubhouse gates closing at six o clock right across the country and everyone goes home. But Ireland's not what it was ten, twenty years ago. The pub is probably not the place where everybody wants to go. It's not all about the drink anymore. People actually want to do things. We have on-site parking, function rooms, everything's in place. It's just a matter of getting up and actually doing it."

It was hard not to be taken by his enthusiasm but from a golfing purist's perspective, I wanted more convincing. Why join a golf club when I can get a country membership and take advantage of the race to the bottom? "There is added value. We're a stone's throw from the centre of Dublin. The facilities that we have, from the Driving Range to our superb short game facilities. We even have three academy holes. When you arrive, the service that you get. You're not just thrown a card and sent on your way. You're looked after. We have very good chefs working on a daily basis so if you're organising a corporate outing or trying to impress a client, where do they want to go? They want a five-star experience, from the locker rooms to the food and service. That's what we offer."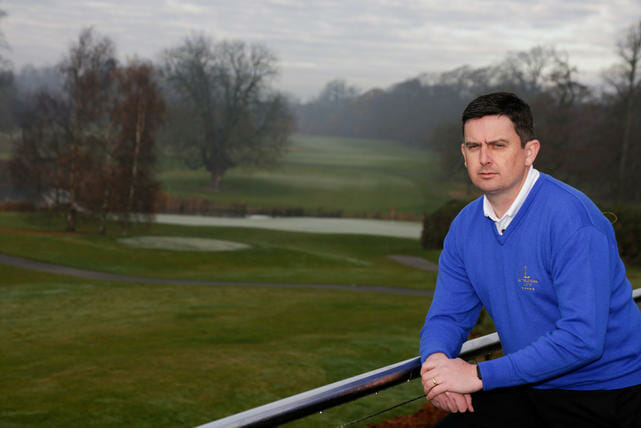 Lawrie hopes to revive a sleeping giant over the coming months with a real focus being placed on corporate membership. "Our bespoke packages for corporates cater for the unique needs of each individual client and our customised approach is something that I don't feel anybody else offers right now. We're this kind of country oasis in the centre of Dublin. We're a twenty minute taxi from the city where the majority of these companies reside. That's what I'll be pushing. Sure you have the likes of the K Club and Mount Juliet but you have to drive a long way for that. We're right there."

Lawrie has wasted little time in engineering his Luttrellstown Renaissance by securing the high profile Titleist and Footjoy PGA event for 2017. "My top priority was to get Luttrellstown back on the map as quickly as possible. Get people realising that we're not closing down. To this day I've heard whispers from people that JP McManus and John Magnier are going to knock it down to build houses. That's not going to happen. The golf courses will stay open and as far as I see it, will do so for a long, long time. There's no way they're taking me in there to close it tomorrow. That's just not the case." Quite the contrary in fact. There's a movement happening at Luttrellstown and with Lawrie at the helm, it might just finally fulfil its unbridled potential.

This feature first appeared in issue 2017-1, January 2017 edition of Irish Golfer Magazine.
Click cover to view edition.