Four years after her epic walk-off putt at Gleneagles, Suzann Pettersen explains why she felt so compelled to write another chapter in the Solheim Cup and succeed Europe's greatest-ever captain.
Should Netflix ever decide to dedicate a documentary to the women's game, they would do well to find a better subject than Suzann Pettersen.
The two-time Major champion has been synonymous with the Solheim Cup for the better part of 20 years, though her legacy is perhaps best remembered for the part she played in her last two events.
Those of an American persuasion struggle to look past the concession controversy in 2015, when the Norwegian refused to concede a tiny putt that was wrongly picked up by rookie Alison Lee. Pettersen was publicly chastised for a lack of sportsmanship, and her tearful apology came too late to repair her reputation Stateside as golf's pantomime villain.
She missed the next meeting because of a back injury and the expectation was that she would be absent again in 2019 after taking a 605-day break from competitive golf to go on maternity leave.
Her surprise call-up made sure she would be the centre of attention, and she played up to it by delivering one of the greatest mic-drop moments this sport has ever seen. After holing the final putt in the final match to win back the Solheim Cup at Gleneagles, Europe's heroine shocked everyone by announcing her retirement live on TV.
It should have been the perfect goodbye, but those who know her say she was never going to go away quietly. She was the obvious candidate to succeed Catriona Matthew as European captain, and now she's been given the job for the next two years, she's determined to make her mark. Even if it means taking a few risks along the way.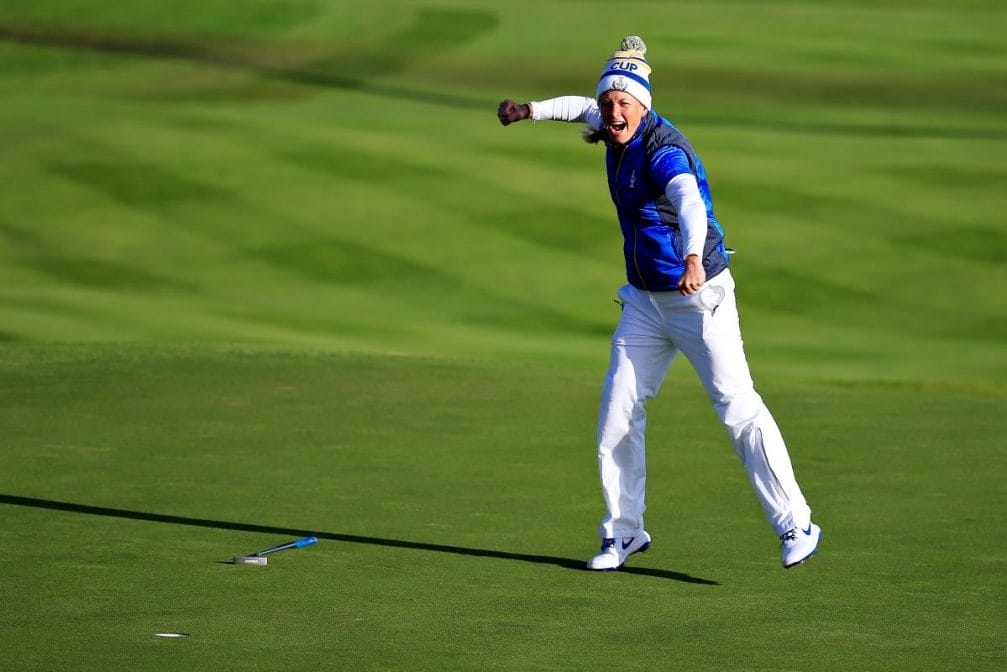 Here's what Suzann herself has to say about it….
I have big shoes to fill. Beany (Catriona Matthew) was a fantastic captain. I told her she should go for the three-peat, but she obviously didn't want to. I feel honoured that they've chosen me and it's my job now to take the best bits from all the captains I played under and put my own twist and stamp on it. Hopefully I can bring some of the energy and passion I had as a player and kind of transmit it onto the players.
The more I talk about the Solheim Cup, the more excitement you can hear in my voice. The major highlights from my career have come from the Solheim, both the wins and the losses. It's the pinnacle of female golf. There's so much energy, adrenaline, pressure, anxiety, frustration. It covers a full circle of emotions throughout the week.
My most important job is to get to know the players, so I know what triggers to pull if we need to. Every individual is different, so communication is the key. I've spent a lot of time interacting with a lot of players who will be on the team. I feel like I've become an official stalker. But I want them to know what I'm thinking. I want this to be a team effort.
I always say the Americans are the favourites, even though we are on home soil. But I've been part of 10 teams, and I don't think we've ever had nine players inside the top 35. That's very impressive. Look at our first eight players, on paper they've never been stronger. Celine Boutier just captured her first Major and it's great that so many of our top players have won over the last year. Leona Maguire is playing outstanding and has been very close in a lot of big events. Carlota Ciganda is playing really well, Anna Nordqvist has been solid, and then we've got Maja Stark and Linn Grant, two new superstars from Sweden. I could mention all of them. Georgia Hall and Charley Hull too. They are all equally as strong. It's a great time for European golf and it's my job to prove that.
Luck has gone our way over the last few Solheim Cups, but it feels like we've created a winning mindset. We've been in tough positions where we literally had to win the remaining matches on the golf course. Everyone talks about my final putt at Gleneagles, but it would never have happened had Anna Nordqvist not won her match on the 15th and Bronte Law not won hers on the 17th. It's all a team effort and I know players can handle themselves in those situations. That's what gives me confidence.
Most past captains I've spoken to have told me to follow my gut feeling on the big calls. Obviously you want to base a lot of decisions on the results and the stats, but I've always believed in 'no guts, no glory.' So, it might be that we take a chance with some pairings or some players. Time will tell, but I'm ready to take risks.
I actually know the area very well. My family have had a place nearby since I was born, so Spain feels like a second home. I've been able to spend a lot of time at Finca Cortesin, getting to know the course. I think it's going to be a fantastic venue, and from a player's perspective, I don't think it can get any better.
Being at home, the crowd and the fans are our 15th club in the bag.
I look at that American team and there's a lot of new faces, players who have had a lot of success already. People call them rookies, but they are LPGA winners and Major champions. They will definitely have us on our tippy toes.
It's going to demand a massive team effort to get the job done and to do the three-peat, but I have all the confidence in the world that we can win and make history. Those 12 players will represent their country and the continent of Europe with massive pride, and they'll play their hearts out. They're hungry, and that's the key.