Swede Vincent Norrman emerged an unlikely winner at the Horizon Irish Open at the K Club as the 25-year-old leapfrogged a host of big names on a star-studded leaderboard to capture his second DP World Tour victory.
Seven birdies – including five on the back nine – and no bogeys saw Norrman post an early score that none of the leading contenders could match and though he'd spend most of the 90-minutes immediately following his round keeping loose on the range in hope of a playoff rather than expectation, he'd scarcely have believed that his day was done and that his next official action would be to collect the trophy.
Because this is certainly not the script that the 40,839 in attendance had been promised. Shane Lowry had an outside chance, but playing alongside Jordan Smith and Hurly Long – both relatively inexperienced in comparison – in the final group, this was supposed to be another Rory McIlroy win at the K Club.
Trailing by two at the start, a 2-iron down the centre was followed by an 8-iron to four feet and he halved the deficit, then moved joint top after a par at the second to Long's bogey. After booming a 324-yard drive down the fourth, the sirens sounded halting play as inclement weather moved in from the south. Minutes later, light rain appeared but it wasn't long before the gentle pitter-patter had reached a rousing crescendo with rapturous thunder as the packed galleries ran for shelter.
By this stage, it was a four-way tie at the top with McIlroy and Long being joined by Min Woo Lee and Grant Forrest, with Billy Horschel and Ryan Fox trailing by one.
It would be some 90 minutes before play resumed, during which period a deluge of water had been poured onto an already soft golf course. It was as if all McIlroy's stars were aligning, and the fan-favourite returned to a 204-yard second shot to the par-5 fourth knowing that he could fire at will at the pin and the receptive green would provide a cushion-like landing.
Unfortunately, however, by the end of the day, McIlroy would be sick of the water as he'd go on to visit it four times accruing penalty strokes and seeing his hopes of a second Irish Open victory at the K Club end in several watery graves.
Things began to unravel for the world number two on the seventh when a 160-yard 9-iron came up short, catching the rocky ledge of the hazard and careening right into the depths of the pond, resulting in a double-bogey six that saw him fall two-strokes behind.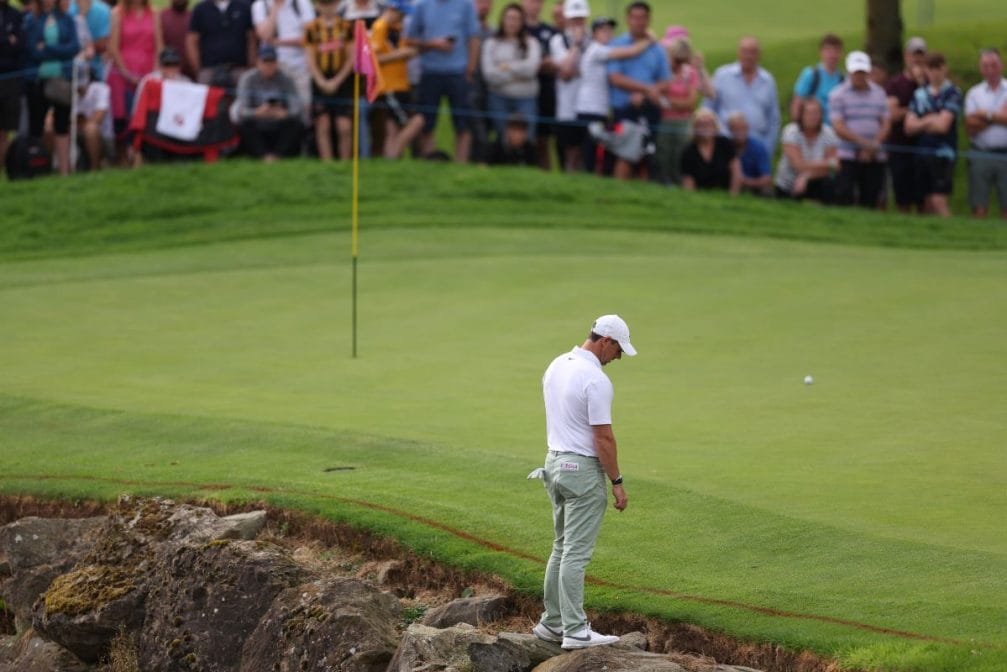 Missed chances at eight and nine saw him turn at level-par for the day, and when he failed to take advantage of another good drive on the par-5 10th, it was beginning to look like it wouldn't be his day and those suspicions were all but confirmed on the 11th when a wedge shot spun back off the green and found another hazard, leading to a bogey-five.
Somehow, despite twice visiting the water, his birdie at 13 provided hope as he scrambled back to level-par of the day and just three back with two par-5s to come. Pars at 14 and 15 meant he needed to recreate some of his 2016 magic on the closing trio, but if the 16th catapulted him to victory seven years ago, it provided the death knell to his 2023 challenge.
Going for broke, he found water yet again, and from the dropzone, airmailed the green for one final trip to the hazard.
Up ahead, Shane Lowry had come up just short, but a four-under final round was an excellent effort from the Offalyman, who'd ultimately pay the price for a slew of missed chances on Saturday but could consider the week a success.
Four birdies and an eagle were mixed with two bogeys in a final round that saw the 2019 Open Champion cap off a welcome return to form. The eagle, the highlight of the day, came at the fourth after a beautiful 4-iron from 229 yards almost went in for an albatross, but a bogey at six would see him make the turn in just one-under before a stretch of three birdies in four holes thrust him right back into the mix.
"To be honest, you know, I didn't see a scoreboard for a long time out there," he said, "I couldn't believe it when -13 was leading when I got to the 16th green."
Birdies at 16 and 18 would ultimately see him finish tied for third, but he'd given himself another good birdie look on the 17th but watched the putt slide agonisingly by, and his chance of victory gone, would receive rapturous applause on 18 but be left wondering what might have been.
Ryan Fox and Hurly Long both had chances but the New Zealander, twice a runner-up at the Irish Open, failed to birdie 16, bogeyed 17 and needed to eagle 18 to tie and finished tied for third with Lowry.
Back-to-back bogeys on 13 and 14 proved costly for Long who had a long eagle putt on the last to force a playoff but, despite giving it a good roll, watched it slide by which sealed victory for Norrman.
McIlroy would close out the week with a birdie at the last, but, given how difficult it has proven for Irish players to win on home soil, will look at this as a glorious opportunity missed.
"Disappointing, obviously," he'd say afterwards. "In the middle of the seventh fairway, 13 under par for the tournament, like if someone had have told me you just need to make two more birdies on the way in and you'd win, I obviously would have taken that. Just a couple of loose swings. Seven and 16 this week have sort of been my bogey holes. I've hit six balls in the water on those two holes this week. That's basically what did me in.
"But there was some good stuff in there, positive signs. My back felt really good as the week went on which was a big positive. Disappointing with how it finished."
Norrman, who captured his maiden Tour title this July at the co-sanctioned Barbasol Championship in Kentucky, said: "It means everything. Obviously such a cool event to play. The fans have been incredible. I've really had a fun week.
"The front nine was huge. I was playing so-so and then I birdied the seventh and ninth to get some momentum going into the back. I think that was key today.
"Obviously if you win, you're doing something good. It's a world-class event, and honestly I can't believe it's happened."