The research I carried out when writing A History of Women's Golf in Ireland for the 125th anniversary of the Irish Ladies Golf Union (1893-2018) is still fresh in my mind.
Agreeing to write this article about 'the twenty most influential women in Irish golf' seemed straightforward until I began selecting the candidates for inclusion. Keeping the number down to twenty was impossible. I ended up with 25 (if the Maguire twins and a couple of others are counted as one).
1 – Miss Catherine McGee
When Mrs Roberta Wright, the wife of a Gordon Highlander Officer played in a well-attended, highly publicised exhibition golf match with three men at Royal Belfast Golf Club in late 1887, it was the first time a woman played golf in public in Ireland. Among the spectators was an enthralled 40-years old, Miss Catherine McGee, who immediately succumbed to a desire "to try golf".
McGee cajoled the male hierarchy at RBGC into allowing the 15-members of Holywood Ladies Golf Club, which she had managed to establish, the limited use of the course. McGee's involvement with the game lasted her lifetime.
2&3- Mrs Emily Hezlet and her daughter, May
Missionary-style, the Ladies Golf Union in England brought the British Women's Championship to Portrush in 1895. Among the entrants were a local member, Mrs Emily Hezlet and her 12-years old daughter, May.
A larger than life character, Emily made golf the focus of her family's existence. Her son, Charles, played in the Walker Cup while daughters Florence and Emily (aka Girl) regularly contended in the final stages of championships.
Emily Senior played in every British Championship from its inception in 1893 to 1924 when she was 72-years old. Joining the Ladies Committee of RPLGC in 1894, she remained on it until her death; never losing an argument.
Middle daughter, May, won the British Championship in 1899 at County Down, aged 17. It was her first of three. After marriage, May moved to England and became a part-time golf journalist. Her book Ladies Golf, published in 1904 is a classic.
4 – Rhona Adair
By the time she was 13-years old, Rhona Adair (Killymoon) had a national reputation. Inspired by the one year younger, May Hezlet'svictory in the British Championship, Rhona followed suit one year later.
Between them they won 'the British' five times and Irish Close nine times. Adair's daring play contained an impressive range of rounded skills that resulted in her being invited to accompany Harry Vardon on a Tour of the USA in 1903.
As Mrs. Cuthell, Rhona was a constant member of committees at RPLGC and ILGU level, becoming ILGU President in 1931-1933.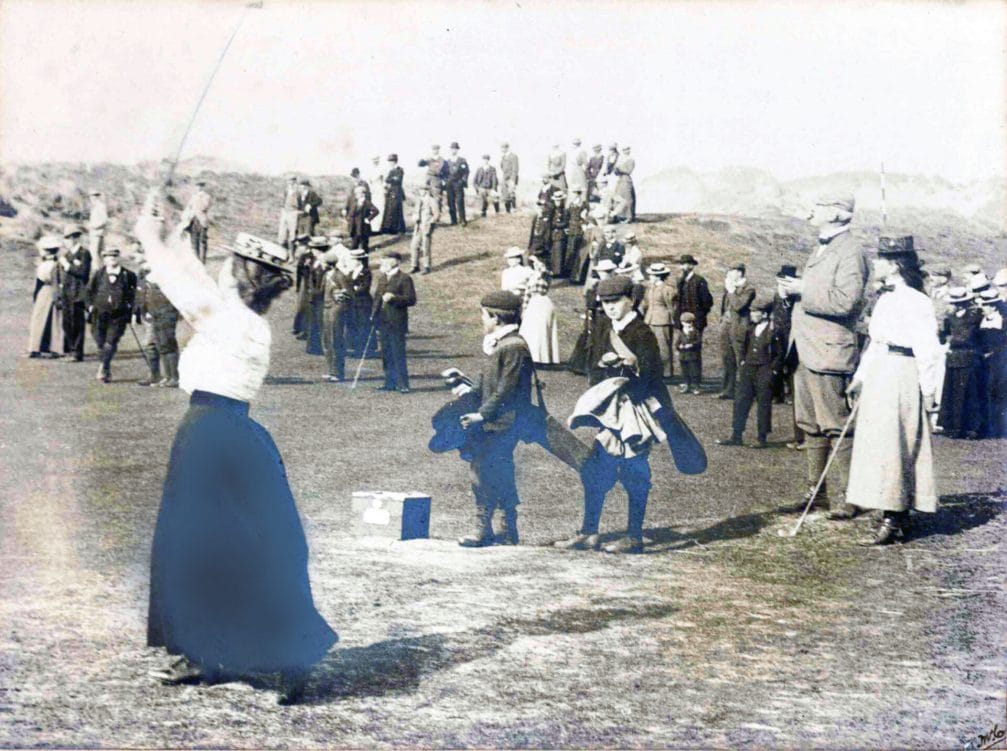 5&6 – Florence Walker-Leigh & Janet Jackson
A towering promoter of the game, Florence Walker-Leigh brought organisation to Ladies golf south of the border. She was the Close champion in 1907 and Ladies captain of four clubs (not all at the same time of course).
She mentored her neighbour in Fitzwilliam Square, Dublin, Janet Jackson, a six-times Close champion. In the 1930s, Jackson spent eight years travelling the country terrorising men's committees while advising them where to place the Ladies tees and setting standard scratch scores.
7 – Daisy Ferguson
Royal County Down stalwart, Daisy Ferguson was a powerhouse in Ulster and LGU affairs for decades.
The Irish Ladies Close Champion in 1935 was best known as Captain of a Curtis Cup team embroiled in an infamous badges controversy that caused Phil Garvey to withdraw from the 1958 team.
A less resolute person might have allowed the episode degenerate into long-lasting bitterness. Her steadfastness was rewarded with Chairmanship of the LGU in 1964-66.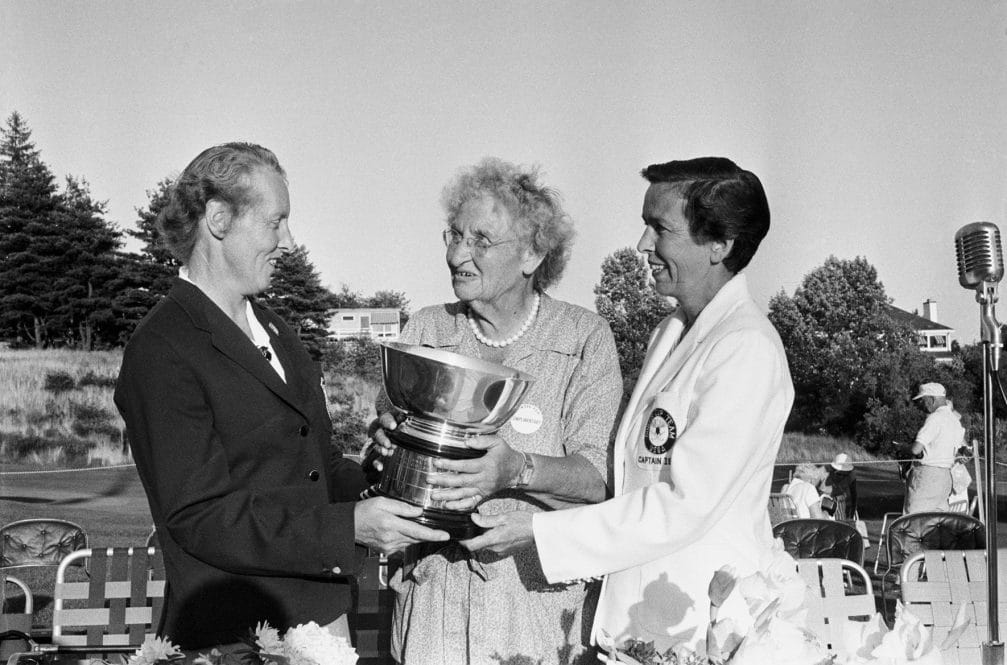 8 – Miss Eleanor Tivy
From 1940 to 1946, as President of the ILGU, Miss Eleanor Tivy (Douglas GC, Cork) proved her mettle. The first Southerner to hold the office, she was a patient and wise leader during the WWII years when there were understandable 'strains' between the Northern District and those south of the border.
9 – Philomena Garvey
Immediately after the war ended, a 20-year old, Philomena Garvey from County Louth entered the Close Championship for the first time. She won at her ease and continued winning right up into the 1970s.
Phil qualified for fifteen Close finals and won them all. She became Ireland's first lady professional golfer in 1968 but it was a premature move. There were not enough tournaments to play in to be able to make a living. In 1970, Philomena reverted to the amateur ranks.
10 – Dorothy Glendinning
If I was ranking these influential ladies in order of importance, Dorothy Glendinning (Royal Portrush) has a viable case to be No. 1.
She was the first woman to win the Irish Ladies Close wearing trousers. More importantly, seventeen years later, after losing in the final to Phil Garvey, she resolved to do something about the glaring lack of young talent on view.
Enlisting her club pro, PG 'Stevie' Stevenson and clubmate Zara Bolton (the best player in Ulster for two decades but ineligible to represent Ireland) to organise 'unofficial' coaching weekends by arranging for girls (from all over Ireland) to come and stay in member's homes while receiving intensive training.
It was a voluntary, low-cost operation that unearthed an amazing litany of talent, paving the way for formal, elite coaching in due course.
11 – The duo of Audrey O'Donohoe and May Fitzgibbon
In the late 1960s, two ex-internationals, Audrey O'Donohoe (Dun Laoghaire) and May Fitzgibbon (Greystones) took over sole charge of girl's coaching in Leinster with Watty Sullivan (Grange) as the professional coach.
Audrey was tall, gentle, and approachable, whereas the less than five feet in height May was a 'Miss Motivator' who tolerated no nonsense.
This unlikely duo made the perfect team. With extraordinary dedication they stood for hours watching their charges hitting balls. It was time well-spent.
 12 – Ann Reskin
Ann Heskin (Douglas & Cork) – a shy, quiet, but forceful lady with a vast number of caps for Ireland as a player and team captain (notably the European win in Belgium in 1983 when her acceptance speech in French made on the clubhouse patio through a loudhailer impressed King Leopold enormously).
A long-standing member of the Southern Executive, she became President of the ILGU in 2005/6.
13 – Mary McKenna
Mary McKenna (Donabate) thanks to the extra effort she put in on the practice ground had a trophy laden career. Eight Close titles and eleven appearances as both player and, captain of Curtis Cup teams tell their own story.
Her happiest moments may have been when Ireland won the European Team Championship in 1979 and 1983 and when GB&I won the Curtis Cup at Prairie Dunes in 1986 with three Irish players Mary, Claire Hourihane and Lillian Behan, all contributing.
It is doubtful if there ever was, or will be, a more popular ambassador for Irish Ladies golf. Mary is an Honorary Life member of the ILGU as well as serving as its President in 2013/4.
14 – Kay Keating
Kay Keating (Clontarf and Dooks) – first Irish R&A qualified referee who set up a Rules School for the ILGU that has ensured the smooth running of championships ever since.
15 – Maureen Madill
Maureen Madill (Portstewart) – with McKenna was the only team member who played on both European wins in 1979 and 1983. A British and Irish Amateur champion, Mo also played professionally before becoming a calm and knowledgeable TV commentator for the BBC.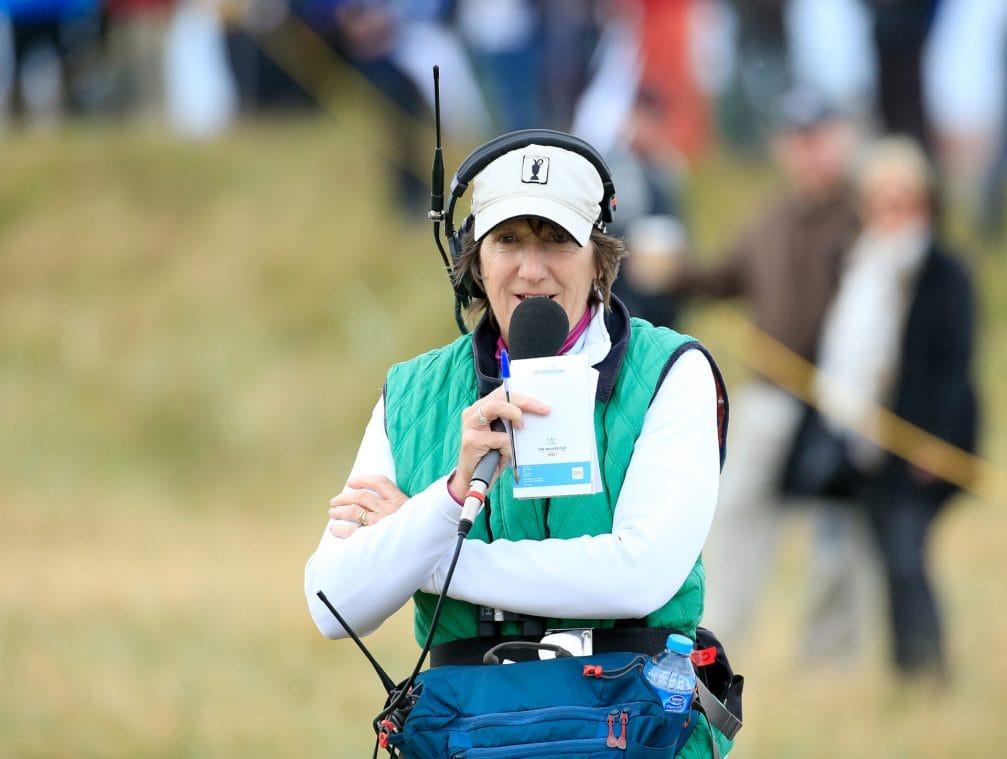 16 – Ita Butler (Burke)
Ita Butler (Burke) (Elm Park) – had a long and fruitful playing career, representing Ireland on and off from 1962 to 1979. She then embarked on various voluntary ILGU duties before graduating to the Curtis Cup captaincy in 1996 at Killarney and in 1998 in Minnesota.
A stalwart delegate behind the scenes, her experienced counsel has been of much benefit to office holders throughout the years.
17 – Claire Hourihane
Claire Hourihane (Woodbrook) was Ireland's dominant woman golfer between 1983 and 1991, winning the Close Championship five times.
Claire wasn't afraid to highlight the equality issue, both in her victory speeches and in print. It was during her period as Ireland's No. 1 that the confusing convention (from a researcher's point of view) of women golfers being called by their husband's name instead of their own, was ended.
In 2014, Claire had settled into retirement from competition and was learning the ropes as a referee, when she received a letter inviting her to become the first, Irish female member of the R&A. Since then, she has been an active member on several committees.
18 – Anne Tunney
Anne Tunney (Milltown). Rarely has the ILGU Presidency been earned more deservedly than when the Honorary Treasurer since 1976 was appointed for the Centenary Year (1993.)
Anne's centenary year was painstakingly planned and memorable. Good Presidents are always thinking about the future. When receiving the Irish Golf Writer's Annual Award for 'distinguished services' in 1995, Anne said;
"I am hopeful that the emergence of one Governing Body will be the final act in achieving our goals so that the golfing women of the third millennium can look forward with confidence to a bright and enjoyable future played on a level fairway."
19 – Ada O'Sullivan
Ada O'Sullivan (Monkstown) – ILGU's first High-Performance Director, continues to keep the Irish flag flying at LGU level and within the R&A structure having been 'talent-spotted' when captaining the Curtis Cup team in 2004 and 2006 and other GB&I teams. Before that she was a regular Irish international player from 1982-1997.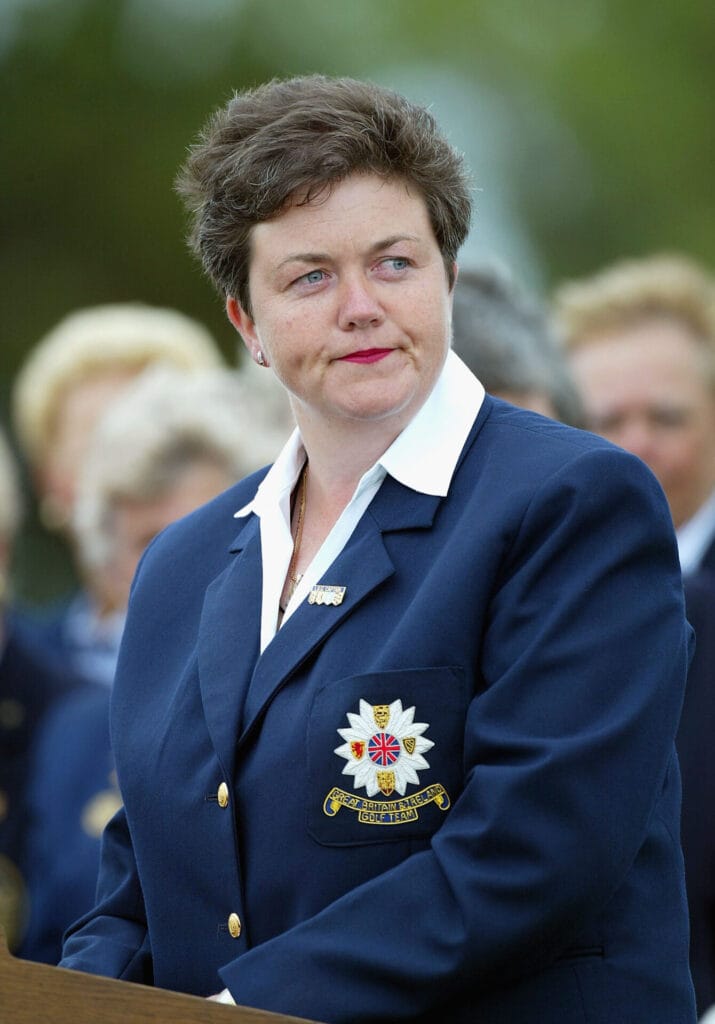 20 – Sheena O'Brien Kenney (McElroy) and Valerie Hassett
Sheena O'Brien Kenney (McElroy), (Grange) and Valerie Hassett (Ennis)were both committed championship competitors for decades and dedicated promoters of girls and ladies golf as well as being victorious captains of numerous Irish teams at various levels.
21 – Brigid McCaw
Brigid McCaw was the third member of RCDL to become LGU President in 2013/4 (after Moira Smyth (1976-78) and Daisy Ferguson 1964-66).
A council member at RCDL from 1980-2009, Brigid served as captain of the ladies during the Club's centenary year in 1989. She also served as Honorary Secretary and Honorary Treasurer of the Northern District (1993-1998) and became an R&A-qualified referee.
Brigid captained various Irish Girl's teams, was Convenor of the National Training Committee and served as ILGU Delegate to LGU. Elected an Honorary Life Member of ILGU in 2011, Brigid fulfilled several important roles in LGU before becoming its fifth, Irish President in 2013/4 – a unique achievement as she was also the Chairman in 2009-2010.
22 – Laura Webb (nee Bolton)
Laura Webb learned her golf at Cairndhu and comes from a family background steeped in golf. Laura is only the 4th Irish woman (so far) to claim the British Seniors crown.
Apart from representing Ireland and Ulster at all levels, Laura was the 1979 Irish Girls Champion, 1994 Irish Close Champion and in 2014 she became the first woman to win all three Close titles when she won the Irish Seniors. She is the current Irish Women's team captain.
23 – Leona and Lisa Maguire
The Maguire Twins have been trailblazers for girl's golf in Ireland and putting Irish golf on the map globally. So many achievements at home and abroad one could not possibly mention them all, but Leona becoming the first Irish woman to win on the LPGA Tour in February 2022 was a landmark achievement. Their story is far from over.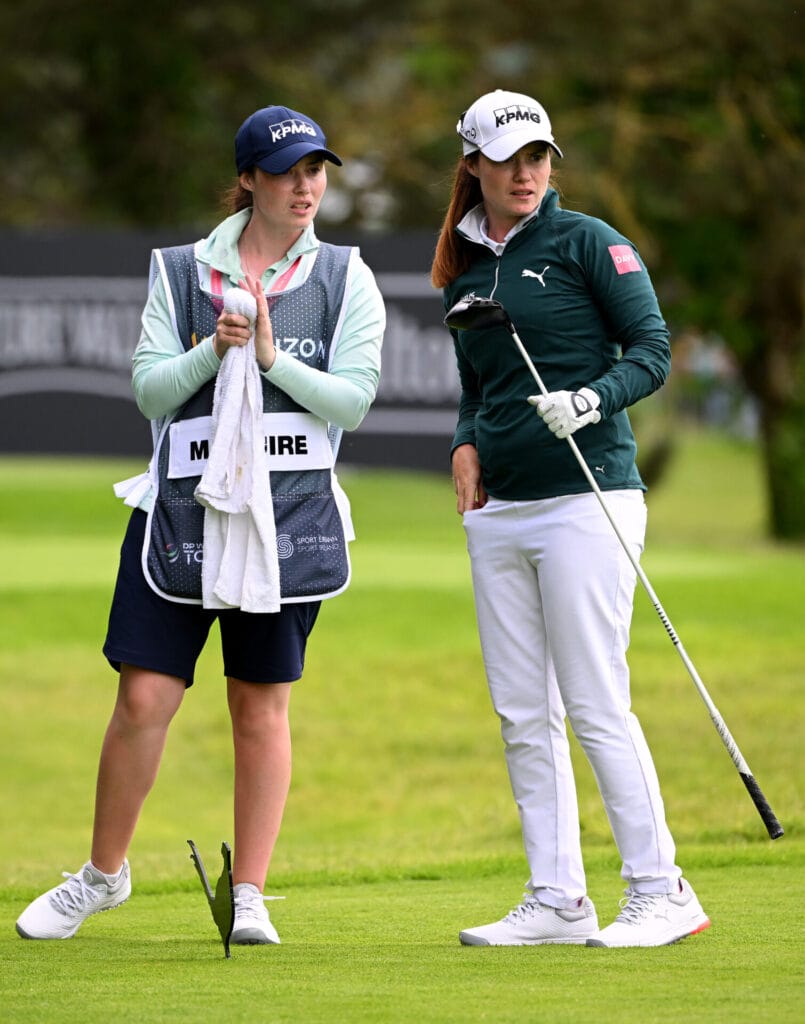 24 – Sinead Heraty
A former Connacht inter pro, Sinead Heraty became CEO of the ILGU in 2004 with the task of developing women's golf countrywide at all levels from novices to the highest international performers. She directed and oversaw the building of structures to equip women golfers with the appropriate supports and skills.
Having one governing body to look after the needs of all amateur golfers in Ireland may seem obvious today but it was not the case for 127-years. Along with the GUI CEO, Pat Finn, and a Discussion Group made up of three females and three males from the legacy unions, Sinead played a key role in planning the formation of Golf Ireland in 2020.
25 – Anne McCormack
Anne McCormack is a former Connacht inter pro and Girls international player who now holds the vitally important role of Chief Operations Officer within the new Golf Ireland structure. One of her main tasks is attracting new golfers and new club members by sending out the consistent message that while golf is challenging, it can also be fun whether you are a man, a woman, a boy or a girl, an elite player, a social player, an average player, or a beginner.
Above all, golf is a healthy, outdoor pursuit that prolongs life expectancy. Golf is a traditional and modern, family game that can be enjoyed by all age groups. The creation of one governing body provides a better opportunity to promote golf as an integrated family-oriented sport with wide appeal worthy of Government funding and support.
The best thing about Anne McCormack's new role is it is only beginning. Many opportunities for influencing the future of all golf, not just women's golf, are still ahead of her.