For most, it's a welcome relief travelling the 130 odd miles southeast from the stress of the Masters in Augusta, Georgia to Hilton Head in South Carolina for this week's more relaxed RBC Heritage.
The most direct driving route is along South Carolina highway SC 125 and then turn right onto SC 321 before emerging south onto the I-95, and a short time later taking the turn-off to Hilton Head.
Driving the two South Carolina roads is kind of like a time warp. You drive through very sleepy towns and hardly see anyone, past long ago closed down gas stations, the sight of railway lines running down the middle of townships, grain silos, cemeteries but sadly also spotting the odd billboard or sign supporting the Confederacy.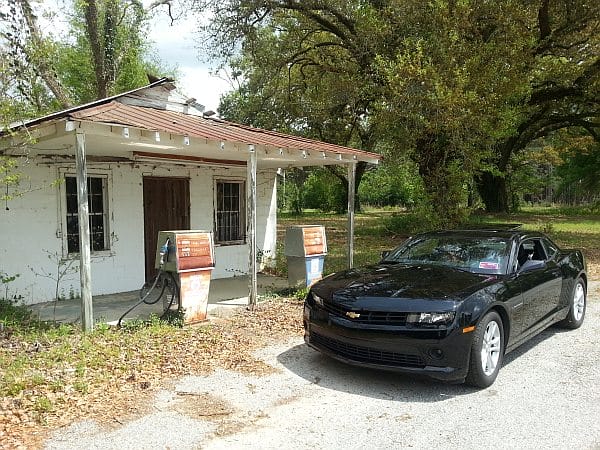 What you cannot do driving these roads is break the speed limit. The towns dotted along routes SC 125 and SC 321 are a haven for local police traffic enforcement.  They're the kind of towns that feature in movies where an unsuspecting motorist is stopped by a local sheriff, taken into custody, quickly hauled before a court, and finally back on their way grossly out of pocket.
If you get stopped, it also doesn't matter who you are.  Just ask double Masters winning Jose Maria Olazabal or three-time major winner Padraig Harrington.
Mugshots of Olazabal, and the then reigning European Ryder Cup Captain, posted by a local sheriff's office had the Spaniard looking more like a bank robber than someone simply stopped for speeding. It was 2012, and according to Effingham County Sheriff's Office spokesman David Ehsanipoor, the two-time Masters champion was caught speeding at 97mph in a 65mph zone when he was stopped.
Olazabal apologised and claimed he was leaving Augusta and was on his way to another tournament. He then followed an officer to the sheriff's office and later paid a $621 cash bond before being released.
Three years later in 2015, Harrington made the mistake while playing a practice round at Hilton Head revealing to this journalist that he'd been stopped for speeding on the roads I've been mentioning.  I immediately thought to myself here's a great RBC Heritage preview story.  So, I wrote the story 'One of the game's slowest players gets booked for speeding' and sent it off to my Irish papers.
I saw Harrington a day or two later post one of his Hilton Head rounds, and he says to me laughing: "Hey Bernie? Just because I mentioned to you, I got pinched for speeding, didn't mean you had to write about it in the newspaper".  I cheekily responded: "I thought you said you never read newspapers".
Once you arrive at Hilton Head it's just so different from Augusta. I've always said: "You would not go to Augusta for a summer holiday", whereas the 12-mile long and five-mile-wide Hilton Head is a haven for sun-seekers, beach-goers, pushbike riders, tennis lovers, golfers, and just a great spot to chill out.
Hilton Head has long been a famed golfing destination and not just for this week's RBC Heritage as the island boasts around 40 golf courses. Some of the best, and sporting some high prices to play, include the following:
·       Harbor Town Links at Sea Pines Resort (Host for the RBC Heritage)
·       Atlantic Dunes by Davie Love 111 at Sea Pines
·       Palmetto Dunes Oceanfront, Robert Trent Jones course
·       Heron Point by Pete Dye at Sea Pines
·       Old South Golf Links by Clyde Johnston near Bluffton
·       May River Golf Course by Jack Nicklaus at Bluffton
·       Oyster Reef Golf Club by Reece Jones
·       Palmetto Dunes Oceanfront by George Fazio
·       Hilton Head National (Combination of Gary Player & Bobby Weed)
·       Crescent Pointe Golf Club by Arnold Palmer Design near Bluffton
Hilton Head – Interesting Facts
·       Up until 1956 the only means of getting to Hilton Head was by boat
·       Hilton Head has around 40,000 residents but around 2.5m visitors a year
·       Hilton Head is 12 miles long and five miles at its widest point.  There are some 60 miles of bicycle tracks.
·       Alligators and snakes abound on Hilton Head.
·       Early in the week of the 2013 RBC Heritage, Graeme McDowell's mum Marion got lost in trying to find her son's rented house among a maze of similar-looking streets.  She was rescued by a Hilton Head beach life-saver who got her back to the house. McDowell arranged guest passes for the rescuer, went on to win the tournament, and

 publicly 

thanked him at his winner's press conference
·       On June 16th, 2016 Darren Clarke's Steakhouse & Tavern officially opened.  In December 2018, it was closed with the local 'Island Packet' newspaper stating the restaurant hadn't paid $2.5 million toward its mortgage.
·       There is not one neon sign on Hilton Head Island.
·       And the famed Hilton Head lighthouse that you will see throughout coverage of the RBC Heritage is not a lighthouse but was built as a tourist attraction and is a gift shop.