A name synonymous with the European Tour, Dom Pedro Hotels & Golf Collection has unveiled its new €120k golf academy during a gala opening ahead of this week's Portugal Masters, as attendees were treated to an exclusive golf clinic with the 2017 Champion, Lucas Bjerregaard.
The top-of-the-range facility offers the latest equipment, including TrackMan 4, to provide invaluable feedback during lessons and custom fittings within the new Titleist Regional Fitting Centre. It will also be home to a dedicated TPI (Titleist Performance Institute) Certified Instructor offering biomechanical advice tailored to each individual golf swing and providing personalised drills to improve performance.
Many keen players have visited the golfing paradise at Vilamoura from Irish shores over the years and the prospect of a swing-analysis centre on site only adds to the appeal, particularly for some warm-weather training and touch-ups coming into winter with top-class coaching also available.
"All amateur golfers should consider custom fitting, small changes can make a big difference," said Lucas Bjerregaard, two-time European Tour winner, during the clinic.
"Adding 15 yards to your tee shots or reducing strokes from your round, something as small as two grams in weight can completely change your ball flight."
Growing the game remains a key focus for Dom Pedro and it has partnered with GolPhin to help drive participation in the region. Originally started in Scotland, the brand develops equipment designed specifically for beginners aged 3-12, which will be available onsite to help junior golfers get off to the best possible start with the right clubs and first-class tuition.
Golf lessons are available now and can be taken in small groups or individually. For those under 21, there will also be several weekly after-school classes as well as weekend tuition, in addition to a schedule of courses and programs that will be run by the onsite professionals throughout the year.
The Dom Pedro Golf Academy will also be available to corporate groups and parties, where golf can be incorporated with instruction, tournaments and clinics to strengthen employee relationships.
Stefano Saviotti, Chairman, Dom Pedro Hotels & Golf Collection Chairman, said: "This is a major step in our strategy for the future of Dom Pedro. We have established ourselves as one of Europe's premier golf destinations for the calibre of our courses, but now we can offer first-class tuition too.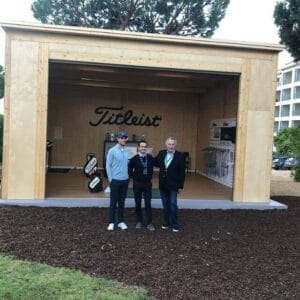 "Better still, we can now encourage juniors into the game, whether tourists or local Portuguese kids. We cannot wait to get up and running – maybe we'll even uncover a European Tour player of the future."
The 18-hole, par 72 Pinhal Golf Course offers outstanding facilities for every standard of golfer and now, with the addition of the new academy, gives guests access to dedicated PGA professionals – with lessons also available at all four of Dom Pedro's other venues in Vilamoura.
Simao da Cunha, Head of Golf Operations, Dom Pedro Hotels & Golf Collection, said: "We are committed to delivering a complete golf experience, no matter the standard of player and our new academy is the latest step in that journey.
"Not only is it one of the best in the region, we hope it will one day be considered one of the finest in Europe, delivering an expert junior programme that grows the game in the Algarve and becomes a hub for everyone in Portugal."
About Dom Pedro Hotels & Golf Collection
For those of you unfamiliar with the region and who are perhaps contemplating a warm-weather escape, Dom Pedro, as you'll see if tuning into this week's Portugal Masters on SkySports, ticks all the boxes.
Central to the visitor experience is what has long been recognised as Europe's most complete golf offering, comprising five world-class championship golf courses, all within a 3km radius: Dom Pedro Victoria Golf Course, Dom Pedro Old Course Golf Club, Dom Pedro Pinhal Golf Course, Dom Pedro Laguna Golf Course and Dom Pedro Millennium Golf Course. Each is set in the magnificent natural surroundings and exhibit at least five teeing options to challenge golfers of all abilities.
The five headline golf courses are complemented by 634 hotel rooms and apartments at three 4-star hotel properties: Dom Pedro Vilamoura, Dom Pedro Marina, and Dom Pedro Portobelo. The exceptional hotels are located in the centre of Vilamoura, next to the marina and casino, and just a few minutes from the pristine beach and beach restaurant.
Dom Pedro Hotels & Golf Collection has embarked on a journey that will improve the golfer's experience by enhancing the accommodation and hospitality they provide. As owners and operators of both outstanding golf and accommodation propositions, Dom Pedro presents a one-stop solution for travelling golfers.
For more information on Dom Pedro Golf Academy, visit: academy.dompedrogolf.com
To find out more about Dom Pedro Hotels & Golf Collection, go to: www.dompedrogolf.com
Live scoring from Vilamoura where Paul Dunne, Gavin Moynihan, Padraig Harrington and Michael Hoey are all in action HERE