It was a day to remember for Warrenpoint in the Irish Junior Foursomes while Tullamore successfully defended their Irish Boys Inter-club Championship at Castle Dargan.
A club known for its pedigree in the Barton Shield, Warrenpoint are producing the next generation of foursomes talent too and their win in the Irish Junior Foursomes showed they are on the right track.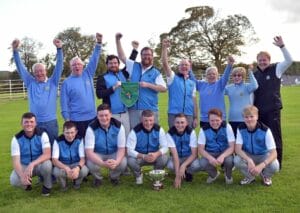 The Ulster club beat Faithlegg in a resounding seven-hole success to seal a comfortable win.
Meanwhile, Tullamore landed their second Irish Boys Inter-Club Championship in succession with victory at Castle Dargan.
Tullamore's 115 point total saw them beat Tandragee into second spot by seven points.
Full results:
Irish Junior Foursomes – All-Ireland Semi Finals & Final
Faithlegg lost to Warrenpoint 7 holes
Rory Fives & Kieran Houlihan lost to John Dunne & Bailey Wilson 5 holes; Alex King & Cormac Cadogan lost to Rian Carvill & Jack Murtagh 2 holes
Blainroe bt Tuam 1 hole
David Lally & Conor Leonard lost to Oisin Roche & Ciarain McGrath 2 holes; Jonathan Ryan & Liam Connolly bt Darragh Cunningham & Adam Carton 3 holes
Warrenpoint bt Blainroe by 5 holes
John Dunne & Bailey Wilson bt David Lally & Conor Leonard 3 holes; Rian Carvill & Jack Murtagh bt Jonathan Ryan & Liam Connolly 2 holes
Irish Boys Inter-Club Championship – Results (Best 3 scores from 5 count)
Tullamore 115 points* (Liam Delaney, Daniel Fox, Michael Fox, Evan Monaghan, Jack Mullins)
Tandragee 108
Oughterard 107
Tralee 106
* Retained championship