Darren Clarke was a rugby player in his youth who went on to become a multi-millionaire Open champion and Ryder Cup star. 
James Sugrue was a promising hurler who has tasted international fame as winner of the 2019 Amateur Championship last month. Tomorrow he finds himself sharing the Royal Portrush stage in The Open Championship with Clarke as they play in the starting group at 6.35 a.m. 
On the surface, they have little in common. Dungannon native Clarke, is a 50 year old grizzled veteran of the professional game who grew up in a Northern Ireland that was plagued by the ugliness of the Troubles. 
Sugrue (22) hails from a rural environment near Mallow, County Cork where he learned to love hunting, shooting, fishing, and the rugged outdoor life. Their upbringing and the era in which they matured from boys to men could not be more different. They are, however, linked by a common thread in that their respective careers hinged on teenage decisions: rugby or golf for Clarke; hurling or golf for Sugrue.  
In each case, they were accomplished exponents of their respective team sports, but ultimately the small ball game won out. Clarke's life and career could have taken a different trajectory, as could the much younger Sugrue's, but fate, destiny, karma, whatever, decreed otherwise.  
And so, here they are, the Northern home hero, and the Southerner, one in the twilight of his career, the other brim full of hope and promise for the future. Whatever happens in the 36 holes they will play together in the first two rounds of the 148th Open, the die is cast for Sugrue: he is compelled to plunge into the professional game.  
Barring a change of heart and a lucrative contract, the Mallow GC golfer will hold off until he has played The Masters and possibly the US Open next year, but it will happen. 
"Yeah, absolutely. I think I have to give it a shot. If I didn't give it a shot I think I'd just be kicking myself for the rest of my life, especially when I see lads that I've played with that have turned pro and done well," was his response to the pro question. 
Lest anyone is tempted to think this is a starry-eyed, emotional amateur golfer swept up in the excitement of winning The Amateur title and teeing off in The Open Championship, Sugrue puts that thought to bed. His attitude to the prospect of making a living playing golf is solidly based on the realism that made him a solid and dependable centre back for the Cork minor hurlers and Mallow GAA club. 
"It's a strange sport, golf. For example, The Amateur, which should be one of the bigger amateur events in the world, there's plenty of names on that trophy that you don't recognise.  
"And there's plenty of lads who were poor amateurs that turn out to be great professional golfers, so it's hard to say how it will turn out. I just think if you work really hard and especially if you enjoy it, that's probably one of my stronger points is that I enjoy it.  
"I don't really get down on myself. I don't really give out or throw clubs or anything, I just try and enjoy it. Now, obviously I'd be very competitive but I've taught myself over the years that if I just enjoy it, that's when I play my best." 
I was interested to know which of the "lads" Sugrue played against has gone on to impress him in the pro game, and he picked a good 'un.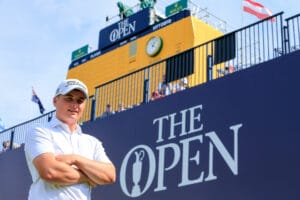 "Matt Fitzpatrick probably would be one of the big ones. I played Homes (Home Internationals) against him the first year playing Boys Homes, and there were probably a few players on the English team that were better than him. But he went on to win the US Amateur. 
"It just goes to show that a couple of good results can change your whole career. I definitely am going to give it a shot," he said.  
All that is for the future. For now, the focus is on Sugrue's Open debut. Charley Hoffman of the USA is the odd man out in their starting three ball alongside the two Irishmen. Nerves, and controlling the early tension are part of the package on the first tee for any golfer and the internal butterflies will be kicking up a right old racket as Clarke and Sugrue admitted. 
The emotions will be a bit special for big Darren on this auspicious week when he still has to pinch himself to appreciate that THE Open is being played on his home turf. 
"Will there be tears? No. I'll just be very proud that we have it back here in Northern Ireland. It's going to be an amazing tournament. Whether I play well or don't play well, it's a huge thing for all the Irish golfers, for Northern Ireland, for me that lives here a little bit, to have the Open Championship," said Clarke.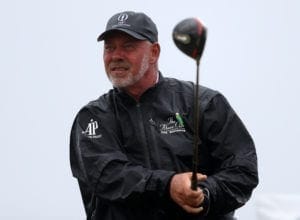 Sugrue's physical issue with an infection in his calf caused by an insect bite is a problem, but not so much that it will prevent him giving his best effort to make the cut. 
On Tuesday he carved his opening tee shot way right into heavy rough. The Mallow man hopes for a better outcome this time, and can draw on his recent experience at Portmarnock where he won The Amateur Championship. 
Speaking after that practice outing, Sugrue commented: "The most nervous I've ever been? I was pretty nervous in Portmarnock at times. I was actually quite nervous hitting my first tee shot today.  
"The grandstands just come right around you and you can almost… like, there wasn't even that many people in the grandstands, so I can only imagine what it's going to be like on Thursday."