Barry O'Leary held his nerve to complete an accomplished performance in lifting the Irish Seniors Amateur Close Championship at Kilkenny Golf Club.
Heading into the final day holding a commanding four shot lead, the Greystones golfer was rocked when three of those shots vanished at the par-4 third where he stumbled to a triple-bogey seven.
With the tournament blown wide open, and fellow Greystones golfer, Alan Condren along with Ballybunion's Peter Sheehan breathing down his neck, lesser men might've crumbled, but not O'Leary.
He parred the fourth to steady the ship before producing consecutive birdies on 5 and 6 in an incredible display of bounce-back-ability. He dropped another on eight before getting it back immediately at nine to make the turn in 37, still one-under par for the tournament.
With his lead reinstated and the ship settled, O'Leary reeled off nine pars to keep the opposition at bay, signing off with a one-over par 72 to beat Sheehan into second spot by two.
"It's tremendous," O'Leary reflected. "I've been playing these [seniors] events for 10 years. I've had two seconds and a third up to now. I'm thrilled to bits.
"I was quite nervous. I feel ​​a mixture of joy and relief but I'm over the moon."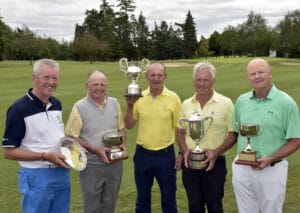 The Ballybunion golfer made the winner work all the way to the finish line having signed for consecutive 70's over the past two days.
While Condren signed off with a sound 72 for a three-over par tally and third place on the podium.
In the competition's tenth year, champion O'Leary became the first man to win the Maurice Kelly Trophy after the prize for the winner was dedicated to the championship's first victor, Maurice Kelly, who went on to win the competition an astonishing five times.
Maurice sadly passed away on 28 December last.​
Results – Par 213
212 B O'Leary (Greystones) 72 68 72
214 P Sheehan (Ballybunion) 74 70 70
216 A Condren (Greystones) 74 70 72
220 S Graham (Doneraile) 75 71 74; T Cleary (Woodstock) 74 76 70; E Haugh (Castletroy) 72 77 71
221 P Purdy (Shandon Park) 73 74 74
222 D O'Neill (The Links Portmarnock) 75 71 76
223 K Bornemann (Douglas) 78 76 69
224 J Mitchell (Tramore) 74 74 76; J O'Brien (Castlemartyr ) 74 74 76; B Hobson (Malone) 73 76 75
225 T Cleary (Cork) 79 75 71
226 P Madigan (Waterford Castle) 80 71 75; T McClements (Clandeboye) 79 71 76; G McGimpsey (Royal Portrush) 75 76 75; C Lally (Blainroe) 75 73 78
227 E Power (Kilkenny) 82 73 72; T Lennon (Carlow) 78 73 76; P Lyons (Cork) 70 80 77
228 A Moran (Tuam) 77 77 74; B Loftus (Lahinch) 76 75 77; J McGinn (Laytown & Bettystown) 74 79 75; A Egan (Royal Curragh) 74 77 77
229 C Murphy (Clandeboye) 78 75 76; H Smyth (Mourne) 78 74 77; S Alley (Co Tipperary) 77 76 76; M Quirke (Doneraile) 76 78 75; N Duke (Killiney) 73 78 78
230 J Crangle (Fortwillam ) 78 77 75; A McDonald (Kilkenny) 75 77 78
231 J Crean (Kinsale) 79 75 77; L Halpin (Westport) 77 79 75; D Brabazon (Balbriggan) 77 76 78; J Joyce (Borris) 76 75 80
232 P Murphy (Killarney) 77 79 76; H O'Leary (Muskerry) 75 79 78
233 R Guilfoyle (Kilkenny) 79 77 77
234 B Lavery (Belvoir Park) 78 78 78; L Connolly (Wexford) 75 79 80
235 D O'Donovan (Bandon) 79 77 79; P Higgins (Naas) 75 77 83
236 D Smith (Millicent) 79 74 83
239 D Varian (Dun Laoghaire) 77 78 84
245 P Cowley (Cork) 81 83 81
250 A Smith (Blainroe) 84 82 84; P Phelan (Cahir Park) 83 83 84
Full Scoring HERE