A second successive 69 fired Ruaidhri McGee up five places into a tie for 17th after day three of the Irish Challenge at Mount Wolseley Hotel, Spa and Golf Resort.
The leading Irishman will win the Christy O'Connor Jnr Memorial Trophy in honour of the course designer and much-missed legend of the Irish game, and at -3, McGee will take some catching.
Despite bogeying his first, the Rosapenna man bounced back with birdies at the 3rd and 5th to be out in 35. Slowly building momentum as the week's gone on, he birdied the par-5 10th before adding two more birdies either side of a bogey five on 15 to finish the day on a positive note.
It's been a stellar season for McGee and he'll be hoping for one more good round tomorrow to make a significant move forward on the Road to Oman standings. He's currently in 76th position.
It was a mixed bag for his closest challenger in the leading Irishman stakes, Cormac Sharvin, who sits two shots further back in a share of 26th after a frustrating day in all. Sharvin went into his round in good spirits after yesterday's excellent 68 but three sixes on the card mangled amongst four birdies was only good enough for a level par round of 72.
Of the rest of the home interest that managed to make the cut, Chris Selfridge got it into the red for the first time this week with a one under par round of 71. He currently sits on two over par in a tie for 39th and will be hoping for a sound finish tomorrow to shine some light on an injury plagued season. While David Carey's hopes of a season changing week hit a major stumbling block after a disappointing 76 dropped him back 25 places into the group in 47th position.
At the head of affairs, Julien Guerrier will look to close out a second European Challenge Tour victory of the season as he takes a one-shot lead into the final round of the tournament.
The Frenchman, who triumphed on home soil in June at the Hauts de France Golf Open, was bogey-free for Round Three – the only player not to drop a shot – and in doing so signed for a seven under par round of 65, the lowest of the week in a cold and wet Carlow, to move to 12 under par. Guerrier is second on the Road to Oman and knows that a win will close the gap significantly to Rankings leader Aaron Rai with just six events in the season remaining after this one.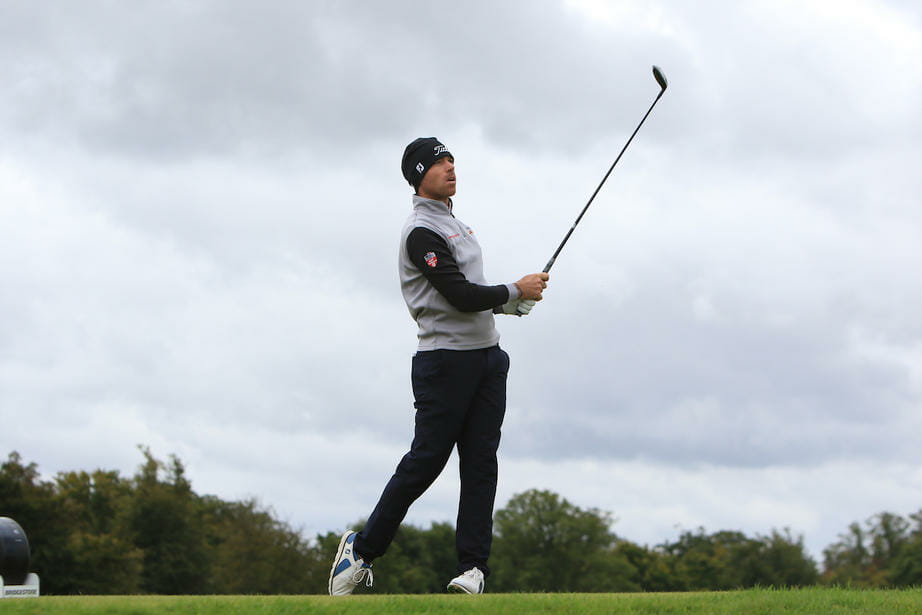 Julien Guerrier (FRA). Picture: Golffile | Thos Caffrey
"Of course it's on my mind," said the 32 year old. "It's far away still, with some big events to come it will move a lot, especially if you play badly in those events, but I am thinking about winning the Rankings for sure.
"It's not the goal – the goal is to get the European Tour card. But also to be in the best position, because we know that for some of the bigger European Tour events next year you need to be in the top ten or top eight so that can make a big difference.
"The goal is to be up there in the top few and if I can win the Rankings it would be a big accomplishment for sure, and winning here in Ireland would help a lot.
"I was not expecting this round. In these conditions and on this course, it's not easy at all, but I scored really well and I'm really surprised – it's nice because you must be really clever on some of the holes so it was definitely a good round.
"I was really solid, I missed only one drive, on the 17th, but I said to my caddie, 'I'm human, I'm not a robot!' and I still made birdie there anyway with a long putt.
"I'm just going to try to keep calm, no stress, and enjoy the moment. It was really nice to play with Oscar today, he's a good guy and we played very well together so that will be the same tomorrow I hope."
Guerrier's closest rival is Oscar Lengden, the winner of last week's Bridgestone Challenge who had led for the first two days at Mount Wolseley.
The Swede combined six birdies with three bogeys but his 69 leaves him on 11 under par with 18 holes to play, and still in with a very live shout of becoming the first back-to-back winner on the Challenge Tour since Kristoffer Broberg in 2012.
Norway's Jarand Ekeland Arnoy is in third place on nine under par, one shot ahead of Englishman Steven Brown, whose outstanding third round was undone on the last green when he called a two-stroke penalty on himself for putting while under an umbrella.
Jens Dantorp completes the top five, the Swede a shot further back on seven under par following a fine round of 67, with Charlie Ford, Gregoire Schoeb, Manuel Trappel and Nicolai von Dellingshausen sharing sixth place one shot further back.
Scores after Round Three:
204 J Guerrier (Fra) 71 68 65,
205 O Lengden (Swe) 68 68 69,
207 J Arnoy (Nor) 73 68 66,
208 S Brown (Eng) 72 68 68,
209 J Dantorp (Swe) 74 68 67,
210 G Schoeb (Fra) 71 73 66, C Ford (Eng) 70 74 66, N Von Dellingshausen (Ger) 73 70 67, M Trappel (Aut) 74 69 67,
211 K Samooja (Fin) 73 68 70, R Saxton (Ned) 73 68 70,
212 J Van Der Vaart (Ned) 73 70 69, O Lindell (Fin) 72 69 71, J Lando Casanova (Fra) 72 68 72, M Nixon (Eng) 74 70 68, C Braeunig (Ger) 72 70 70,
213 R McGee (Irl) 75 69 69, M Madsen (Den) 72 69 72, B Hellgren (Swe) 75 70 68, J McLeary (Sco) 77 69 67,
214 B Paolini (USA) 77 69 68, C Sordet (Fra) 72 71 71, T Santos Silva (Por) 75 70 69, M Fenasse (Fra) 74 67 73, A Bernadet (Fra) 73 73 68,
215 W Enefer (Eng) 74 72 69, D Law (Sco) 70 74 71, J Sarasti (Esp) 72 70 73, E Cuartero Blanco (Esp) 75 69 71, C Sharvin (Nir) 75 68 72, M Baldwin (Eng) 71 72 72,
216 T Perrot (Fra) 74 72 70, D Van Driel (Ned) 70 74 72, N Lindstrom (Swe) 72 75 69, M Ovesen (Den) 72 75 69,
217 A Kristiansen (Nor) 73 72 72, J Vecchi Fossa (Ita) 69 77 71, P Martin Benavides (Esp) 76 70 71,
218 G Forrest (Sco) 70 73 75, G King (Eng) 73 74 71, M Wolf (Ger) 74 72 72, D Fox (Aus) 74 70 74, F Maccario (Ita) 71 75 72, J Harrison (Eng) 75 71 72, C Selfridge (Nir) 75 72 71, J Wrisdale (Eng) 74 71 73,
219 D Carey (Irl) 72 71 76, B Poke (Den) 74 73 72, R McCarthy (Aus) 72 75 72, H Joannes (Bel) 72 74 73, G Boyd (Eng) 72 72 75, L Nemecz (Aut) 76 71 72,
220 M Laskey (Wal) 72 74 74, A Wennstam (Swe) 76 69 75, R Kellett (Sco) 75 70 75, O Rozner (Fra) 74 73 73, P Eriksson (Swe) 75 72 73,
221 H Smart (Eng) 75 71 75, L Johnson (Eng) 76 71 74, N Johansson (Swe) 77 70 74,
223 J Makitalo (Fin) 75 72 76

Stay ahead of the game. Subscribe to our newsletter to get the latest Irish Golfer news straight to your inbox!