Stephen Grant and Gavin Moynihan both carded opening rounds of five under 67s at the opening round of the KPMG Trophy on the Challenge Tour in Belgium.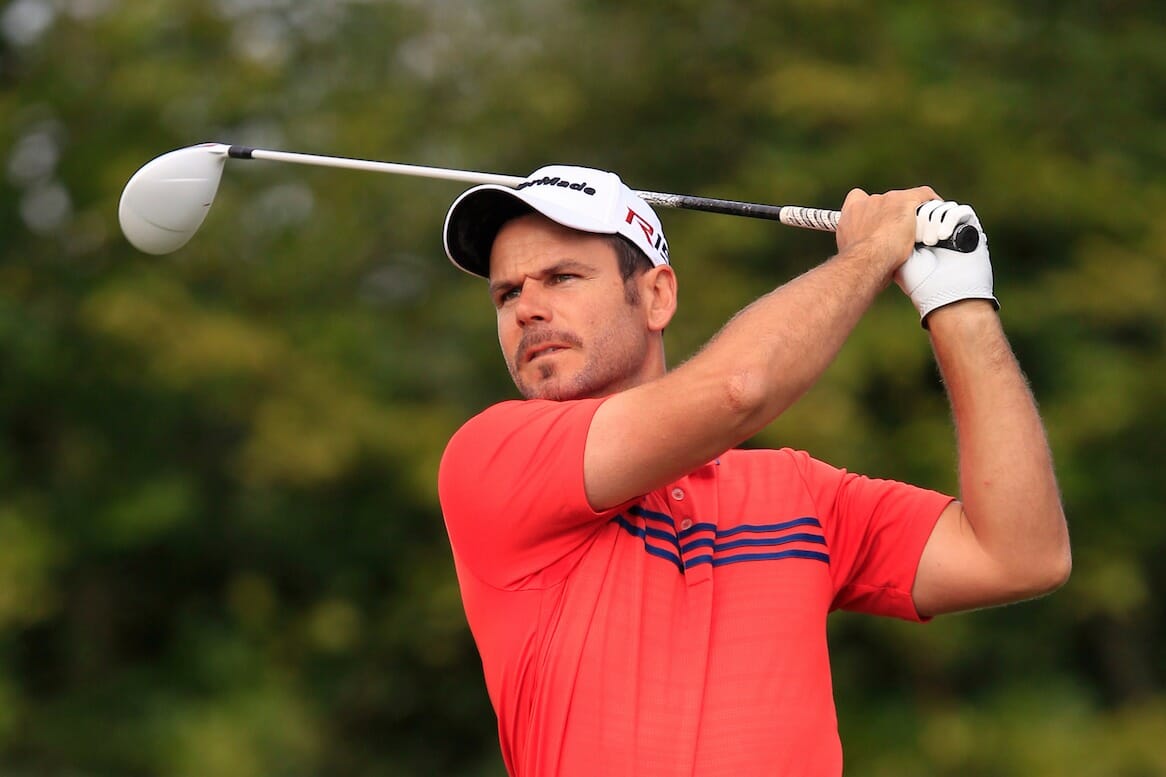 Stephen Grant -Picture: Thos Caffrey / www.golffile.ie

Grant who is looking to make his first Challenge Tour cut of the season after missing in the two previous starts this year carded seven birdies with only two blemishes on his card to finish the day in a tie for 10th.

Moynihan now sitting in eight in the overall Road to Oman rankings after his recent runner up finish on the Challenge Tour carded eight birdies with three drop shots during the wet and windy conditions in Belgium.

Ruaidhri Mcgee carded a one under par total to sit just inside the projected cut line in a tie for 59th while there is work to do to make the halfway cut for Kevin Phelan (T76th on level), Michael Hoey (T97th on +1) , Rory McNamara (T126th on +3) and Chris Selfridge carding a +4 total on his return from injury in a tie for 135th.

At the top of affairs, Joachim B Hansen's nine under par opening round of 63 earned him a one-shot lead aided greatly by making a hole-in-one on the 15th hole at Royal Waterloo Golf Club.

Starting on the tenth hole, the Dane opened with a birdie before he holed his pitching wedge tee shot from 142 yards, adding a second eagle three holes later to turn in 30.

Two late birdies took the 26 year old to the top of the leaderboard and, despite having missed his last three cuts, the 26 year old is feeling comfortable in himself as he bids to graduate from the Road to Oman for the third time, having finished in the top 15 in the Rankings in both 2012 and 2015.
"It felt good out there," he said. "I hit a lot of good shots, hit most of my drives and pitch shots where I wanted to and then I putted really well too.
"I had three hole outs from around the green, one from the bunker, the hole-in-one of course, so it was just one of those days where everything seemed to be going right.

"It was a good distance, with a bit of helping wind from right to left, and it was just a perfect pitching wedge – it pitched a few metres onto the green and rolled perfectly into the hole.
"This takes me to five holes-in-one, a whole handful – I guess the drinks are on me tonight, and dinner as well most likely!
"It's very nice to be leading the tournament, especially having played such a good round. I've been playing alright, the swing is getting better so I hope I can keep it going.

The Belgian contingent had illustrious company as Ryder Cup star Thomas Pieters surprised fans by caddying for his friend and compatriot Cedric van Wassenhove.

Scores after Round 1:
63 J Hansen (Den) ,
64 A Olsen (Nor) , J Sjöholm (Swe) , J Zunic (Aus) ,
65 A Turner (Eng) ,
66 E Goya (Arg) , J Lando Casanova (Fra) , S Benson (Eng) , B Paolini (USA) ,
67 D Dixon (Eng) , C Bezuidenhout (RSA) , G Moynihan (Irl) , J Sarasti (Esp) , O Lengden (Swe) , S Grant (Irl) , M Cort (Eng) ,
68 R Davies (Wal) , S Fernandez (Esp) , M Wiegele (Aut) , A Langenaeken (Bel) , J Carlota (Por) , A Bernadet (Fra) , C Sharvin (Nir) ,
69 E Di Nitto (Ita) , M Ortolani (Ita) , K Hesbois (Bel) , F Laporta (Ita) , J McLeary (Sco) , M Haastrup (Den) , G Forrest (Sco) , S Connor (Eng) , M Kinhult (Swe) , P Oriol (Esp) , C Mivis (Bel) , C Braeunig (Ger) , B Hafthorsson (Isl) , P Mejow (Ger) , C Sordet (Fra) , N Geyger (Chi) ,
70 J Arnoy (Nor) , K Johannessen (Nor) , D Foos (Ger) , O Suhr (Den) , S Brown (Eng) , S Einhaus (Ger) , P Relecom (Bel) , J Garcia Pinto (Esp) , M Galiano Aguilar (Esp) , M Godoy (Arg) , J Ramos (Por) , W Besseling (Ned) , Y Touhami (Mar) , C Koepka (USA) , M Delpodio (Ita) , M Eggenberger (Sui) , M Cabrera-Bello (Esp) , P Eriksson (Swe) , C Del Moral (Esp) ,
71 D Gaunt (Aus) , P Howard (Eng) , M Laskey (Wal) , S Hodgson (Eng) , J Harrison (Eng) , M Kramer (Ger) , N Ravano (Ita) , B Åkesson (Swe) , D Law (Sco) , R McGee (Irl) , E Johansen (Nor) , B Eccles (Aus) , R Kellett (Sco) , M Lampert (Ger) , A Altuntas (Tur) , R Enoch (Wal) , R James (Wal) , M Fenasse (Fra) , K Samooja (Fin) , V Riu (Fra) ,
72 N Møller (Den) , B Robinson (Eng) , M Tullo (Chi) , D Dykmans (Bel) , G Watremez (Bel) , M Schneider (Ger) , K Phelan (Irl) , H Joannes (Bel) , M Lundberg (Swe) , J Loughrey (Eng) , J Glennemo (Swe) , A Tadini (Ita) , M Simonsen (Den) , M Madsen (Den) , T Pulkkanen (Fin) , D Huizing (Ned) , D Vancsik (Arg) , S Jeppesen (Swe) ,
73 D Fox (Aus) , P Valasek (Svk) , T Santos Silva (Por) , B Rusch (Sui) , F Bergamaschi (Ita) , M Ovesen (Den) , M Iten (Sui) , O Rozner (Fra) , J Barnes (Eng) , B Easton (RSA) , G Yang (Kor) , M Hoey (Nir) , O Lindell (Fin) , M Lafeber (Ned) ,
74 J Makitalo (Fin) , J Kunzenbacher (Ger) , S Kim (USA) , B Hellgren (Swe) , P Whiteford (Sco) , C Griffiths (Eng) , F Maccario (Ita) , T Shadbolt (Eng) , G Cambis (Fra) , M Kraaij (Ned) , D Berna Manzanares (Esp) , D Van Driel (Ned) , R Van Der Spuy (RSA) , C Doak (Sco) , A Bailly (am) (Bel) , G Tadiotto (am) (Bel) ,
75 R McNamara (Irl) , A Wennstam (Swe) , J Doherty (Sco) , G Pinto (Por) , S Hutsby (Eng) , E Kemaloglu (Tur) , Y Van Doren (am) (Bel) ,
76 C Selfridge (Nir) , T Lawrence (RSA) , E Dubois (Fra) , A Marjan (Mar) , S Piaget (Mon) , B Neil (Sco),
77 J Cafourek (Cze) , J Friesz (Svk) , V Simoni (Fra) , A Dumont De Chassart (am) (Bel) , A De Bondt (am) (Bel) , C Van Wassenhove (am) (Bel) ,
78 I Cantero Gutierrez (Esp) , J Girrbach (Sui) , T Rodrigues (Por) , R Sciot-Siegrist (Fra) , G Woolgar (Eng) ,
79 L Buijs (Ned) , W Harrold (Eng) ,
80 A Jones (Eng) , M Quiros (Esp) ,
83 D Suchan (Cze) , P Tarver-Jones (Eng)

Stay ahead of the game. Subscribe to our newsletter to get the latest Irish Golfer news straight to your inbox!