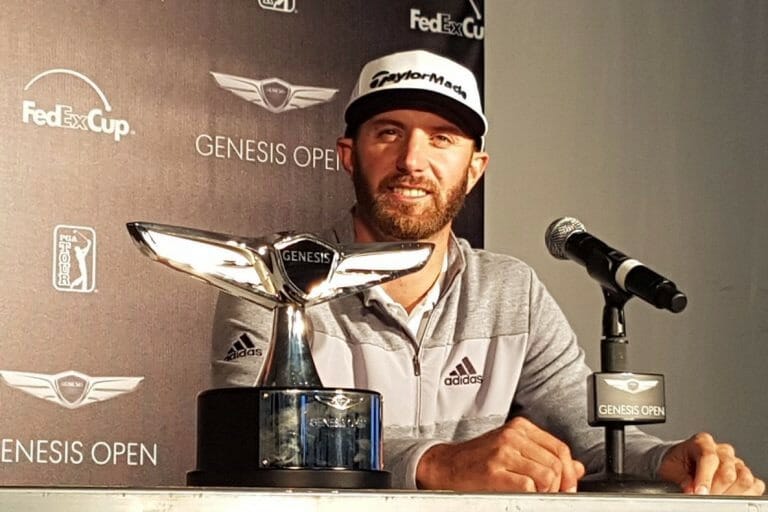 No sooner had Dustin Johnson climbed to the No. 1 position on the World Rankings and all the dog-tired looking American could think about was not becoming the game's best but climbing back into bed.

This was after the reigning U.S. Open champion stormed his way to a five- shot triumph and claim a 13th PGA Tour title with victory in the Genesis Open on the Riviera Country Club course in suburban L.A.

Johnson, 32 was a class all his own starting his fourth round by leading by an impressive eight shots before signing for a closing 71 and an emphatic 17-under par tally.
"I got up at 4:30 this morning, so right now the only thing I'm looking forward to is getting in bed," he said smiling.

"Winning the golf tournament is most important right now. That's what I was here to do. I was coming in here to put myself in a position to win and I did that and I played really well.
"But yeah, I wasn't really thinking about my world ranking, I was thinking about winning this golf tournament, what it would take to do that. That's kind of all I focus on.

"I don't really look at the World Golf Rankings as it was not like my goal this week that I wanted to get to No. 1 this week. I wanted to win the golf tournament that I was competing and if I go to No. 1 in winning the golf tournament, then obviously that's a bonus.
"But for me the most important to me is winning golf tournaments".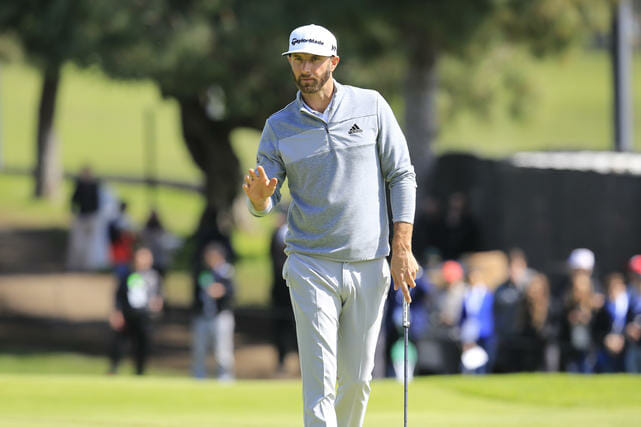 Johnson turned professional in 2007 and his victory in just his fourth event this year, and also his third since capturing last June's U.S. Open, has taken his PGA Tour career earnings to just over $US 41m in his 206 events. As well, Johnson joined Jack Nicklaus, Arnold Palmer and Genesis Open tournament host, Tiger Woods in now having won at least one tournament a year in his first 10 years on the Tour.

Australia's Jason Day, who needed to share third place or better to retain the No. 1 ranking, crashed to a share of 64th place at two over par.
Day had reigned for the past 47 weeks and for a total of 51 weeks.
"Dustin deserves it because he's been playing great golf", said Day. "He goes ahead and wins this pretty convincingly, he deserves to get that ranking".

Johnson, like many of his fellow final round competitors, had been be up since 4.30am local time in readiness for a continuation of the third round of the rain-interrupted event.
The 32-year old reigning U.S. Open, whose fiancée Paulina Gretsky had confirmed on the eve of the tournament that the duo was expecting their second child, turned on a master class in shooting a seven under par 64.

However, Johnson had just 14 minutes between the end of his third round and heading out to tee-up for his final 18 holes. But after three birdies in succession to end his third-round Johnson displayed he was not about to let-up making it five birdies in a row over the first two holes of his last round.

Johnson ensured daylight remained a distant second with a third birdie at six before some tiredness started to creep into his game with a bogey at nine and dropped shots also at 15 and 16 and eventually two-putting the last from some 30-feet for par.
Among the first to greet him was his fiancée and their child, Tatum.

And with the year's first Major, the April 6th starting Masters, now some seven weeks away it is worth noting that 10 players since 1992, including Fred Couples, Nick Faldo, Craig Stadler, Jose Maria Olazabal, Mike Weir (twice), Phil Mickelson (twice) Adam Scott and Bubba Watson, have won at Riviera and then gone on to win a Masters.

"My game's in great shape. It was last year, though when I finished second here last year", he said.
"But yeah, it was in good shape last year going into the Masters. I feel like I struggled a little bit the past couple months but I really didn't expect anything you know, I took a lot of time off in the off-season, but that was on purpose.

"We have a long year and I work really hard during the year, so the off-season I didn't practice at all. It took me a few weeks to get back into it but now I'm feeling good with the golf game and obviously looking forward to the next tournament in Mexico City that I'll play, and then I'll play Match Play, Houston and Augusta.
"Yeah, obviously looking ahead to the Masters but I'll be more focused on the tournaments I'm playing before Augusta".

Belgium's Thomas Pieters, star of last October's losing European Ryder Cup side, posted the equal lowest round of the week of an eight under par 63 to share second with American Scott Brown (67). England's Justin Rose, despite battling an injured left thumb, continued his impressive start to 2017 shooting a last round 68 and share fourth place for a second time in four events, and after the Gold Medal winning golfer was runner-up in his first event of the year in Hawaii.

Final Day Highlights