The first four Professional Golfers' Association, We Love Golf events for 2019 have been hailed as a huge success after 135 women and girls braved the wind and rain to take part in four golf taster events held across the UK & Ireland.
Wicklow Golf Club hosted Ireland's first event, attracting over 50 enthusiastic women who made it abundantly clear that interest in the women's game on Irish shores is very much on the rise!
We Love Golf, which launched in May last year, uses social media to encourage more women and girls to play golf and then connects them to PGA lead female focussed programmes across the world. This year's first four events build on the success of two pilot events in 2018 and pave the way for a series of We Love Golf Events to be held across the year.
As well as the very successful first instalment at Wicklow Golf Club, events were held in the three other home countries too; The Belfry, Stirling Golf Club and Wenvoe Castle. The focus was on introducing women and girls to the game in a fun, relaxed environment and the feedback following the events certainly endorsed that approach.
PGA Head Professional, and coach of the We Love Golf sessions at Wicklow Golf Club, Louise D'Arcy commented, "I was blown away by the number of women that signed up and their courage to step out of their comfort zone and try golf at the #welovegolf event at Wicklow golf club.
"Despite some rain and wet conditions, they all had great fun with the different golf shot challenges and everyone made some new friends!"
Heather MacRae, PGA Professional and coach of the We Love Golf sessions at Stirling Golf Club agreed when commenting, "Despite the weather, the turnout and feedback from the day was amazing, to see so many women come and try golf and enjoy it is what this day is all about. It's a lot of work to put a day like this together but to see it all go so well is amazing and now we just need to keep the momentum going.
"And the momentum is certainly with women's golf at the four venues, with spaces at the follow-up beginners' golf programmes filling up fast with women who were bitten by the golfing bug. Louise d'Arcy has also agreed to take her golf sessions into the local secondary girls' school so that more girls can share in the fun experience that their classmates had at the Wicklow Golf Club sessions.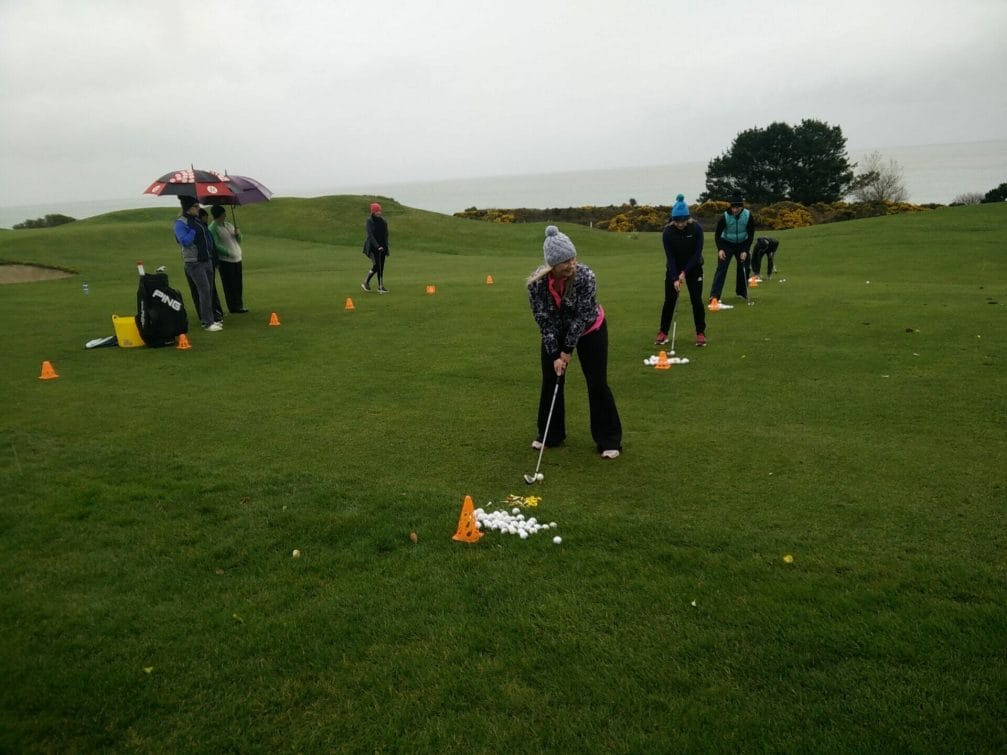 Robert Maxfield, Chief Executive of The PGA said, "It's great to see so many women interested in trying the game and we know that with the right support from PGA Members, women will make the transition to become regular golfers. We want to capitalise on the insights we've had through the We Love Golf campaign and create multiple opportunities for women to try golf with a PGA Member and follow a pathway into regular participation.
"We can't wait to see what impact our We Love Golf events will have across 2019. This is a really exciting prospect not only for us, but for golf in general."
All We Love Golf events will be supported with integrated marketing campaigns, including social media advertising. To widen the reach and audience for the wider campaign, The PGA has launched @WeLoveGolfPGA on Twitter and Instagram. WeLoveGolfPGA Facebook page will continue to be a source of information for We Love Golf events and be populated with useful information for beginners and improvers.
Dr Jonathan Wright, Golf Development Executive at The PGA said, "This campaign has evolved into a movement that can stimulate the market and change the way that we deliver golf. Many women do not want to become Golf Club members but they do want to play and improve. By acknowledging this and giving women diverse access to golf we can keep them in the game and encourage even more women to join them.
"As well as co-ordinating events around the world, there will be additional opportunities for Members to engage with the campaign around key dates in the diary including Women's Golf Day, the AIG Women's British Open and The Solheim Cup.