Robin Dawson kept up his great run of recent form after he finished tied for second in the European Amateur Championship in the Netherlands with Conor Purcell sixth and Rowan Lester tied seventh.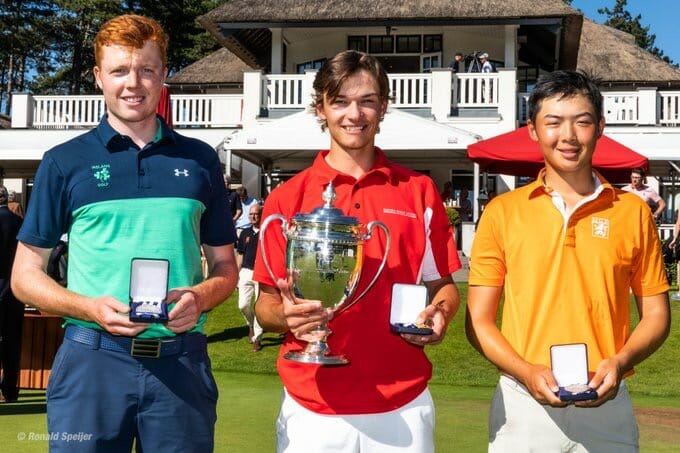 Silver medalist Robin Dawson (left) with winner Nicolai Hojgaard and Jerry Ji

The Tramore man, who rose to 13th in the world following his runner-up finish in last week's Amateur Championship at Royal Aberdeen, closed with a four-under 68 to finish just a shot behind Denmark's Nicolai Hojgaard on six-under-par at Royal Hague Golf & Country Club, claiming the silver medal. Dawson now looks set to move into the top 10 in the World Amateur Golf Ranking following this result.

Tied for 15th with Purcell and Lester overnight, six shots behind Hojaard on two-under par, Dawson made an eagle, two birdies and two bogeys to be out in 34 before picking up two more shots on the back nine to shoot 68 and set the target at six-under 282 with Hojaard two ahead with five to go.

With Portmarnock's Purcell posting a 69 to finish just two shots behind the winner on five-under and Hermitage's Lester left to rue to bogeys in the last three holes as he shot 70 to finish three behind on four-under, it was an excellent week for the Irish.

Hojgaard, who led by a shot overnight from England's Mitch Waite, made three birdies and three bogeys in his first 14 holes to keep nose in front. After a birdie at the 16th, he had a three-shot lead going to the par-five 18th and while he took seven, he still won by a shot from Dawson, Waite (73), the Netherlands' Jerry Ji (69) and Norway's Viktor Hovland (67) to claim his place in The Open at Carnoustie.

Click HERE for final scores




Stay ahead of the game. Subscribe to our newsletter to get the latest Irish Golfer news straight to your inbox!