The transition from the amateur to professional ranks seems to be the toughest task facing most elite amateurs leaving the comfort of the GUI nest in recent years. Those first few years are make or break and luck can play as much a part as hard work.
In 2009 Shane Lowry faced the transition but in a very different way as he wasn't focused on earning or keeping a tour card like the majority of those that make the move. Armed with a two year exemption after his Baltray success Lowry's challenge was to acclimatise quickly to the new world he was entering. Yes, he had a two year buffer zone but embracing the new suroundings and feeling like you belong in the professional ranks was still far from an easy task.
"I remember my first few events as a professional, I shot what felt like millions over", he said laughing. "I was shooting late to mid-seventies every round I played and missed my first three cuts. But it's a different type of golf in the professional game and it takes time. People don't understand and think it's easy. People at home see Rory doing what he's doing and lads winning majors and it's like people think 'oh sure it's easy!' You do alright on the European Tour and then, it's 'when is he going to win a major?'. There's a 156 guys teeing up, that's not many people when you take the amount of people that's in the world, so, I think people just need to sit back and take stock of what we have in Ireland."
Lowry is all too aware of the talent we are producing in Ireland and the different routes to gaining cards on the major tours.
"The young lads we have in Ireland are trying their best, it's not easy. You look at Gavin Moynihan, who has just had a great start to the year. He's all of a sudden set himself up now and even this year people were saying he's never going to do anything. Take Seamus Power too, a lot of people wouldn't have even heard of him in Ireland, but now he's got his PGA tour card. Me and him have obviously had different journeys, but now we've ended up in the same place."
"Golf is not just about playing golf, it really is not like that and you need to be able to travel the world on your own and you need to be able to be on your own all the time. You know, you need to be able to make sacrifices and be working yourself because there's no one telling you to do it, you have to do it yourself. That's the difference with golf and other sports, you're kind of on your own a lot. You just have to learn how to do it your own way."
A lot has happened for Lowry in the years since 2009 and he was probably destined for great things regardless of his Baltray win but that week certainly helped speed up the process.
"I remember I'd played great golf all year in the lead up to Baltray in '09. I don't think I'd finished outside of the top ten, I know it was only amateur golf, but still I was going pretty good and I played well at the Lytham Trophy a few weeks previous. I remember I shot a great sixty-six in the first round. Tony Dissley who was one of the Walker Cup selectors at the time, followed me for that round and I think I was leading by three after the first round, so I was kinda' like…that was me almost cemented as a real Walker Cup contender for later that year. Then at the Irish Amateur at Royal Dublin the following week, which is the week before the Irish Open I finished sixth so I had a lot of links golf under my belt before making the trip to Co Louth."
"I drove home from playing thirty-six in Royal Dublin on the Sunday, my Mam washed my clothes and that's it, back into my Mitsubishi Colt at nine o'clock the next morning and straight up to Baltray for the practice rounds, it was mad. I mean I'd never do it now but I was excited to get out and get a feel for it. I think that's why I did so well, there was no expectation going into it and I was just happy to be there and have a chance to tee it up."
"I knew Baltray very well and I remember I got off to a really bad start and I was three over through five holes on the opening morning. I ended up shooting five under that day and then shot a ten under par 62 on the Friday. So if you look at it I was actually eighteen under for the next thirty-one holes. Which was a bit ridiculous to be honest, it all happened so quickly.  I remember sitting down with Alan my brother on the Friday night in our house for the week saying 'What's going on here?' it was unbelievable."
"We had a small house rented in Termonfeckin that was meant to be for 4 people max and I think there was eleven of us in the house on the Friday night and even more on the Saturday night, it was mental. It's funny actually, the house was costing €400 for the week plus extra for electricity. We were going around in the dark all week not wanting to switch the lights on and run up a bill! On Sunday morning before I was leaving for the course the woman that owned the house slid a note under the door. She obviously realised what was going on golf wise and wished me good luck and the letter ended, P.S the electricity is free!! It was very funny. I couldn't eat at all Sunday morning and left the house without any breakfast to pick up my coach Neil Manchip. He forced me to eat something in the clubhouse, I was just so nervous. Once I had teed off on the first I was grand though and I settled into it very fast."
"I actually think I got lucky the way the draw worked out at the weekend. We were delayed all day Saturday, obviously I was very nervous all weekend. I remember going off last on Saturday and a few lads had passed me on the leaderboard so not to be leading at that point in hindsight was probably a good thing and got me focused. Even going into the last round I was tied for the lead instead of me leading on my own, it certainly helped."
"With the weather delays we didn't finish 'til late on Saturday, maybe half seven or eight o'clock and because of the bad weather forecasted for the following day, we were off on the final round at just after eleven. I didn't really have much time to dwell on it where as If there had been good weather all of a sudden you're looking at a long morning thinking about it."
"People seem to forget though that during the final round the weather didn't get bad until about the fourteenth tee. So, it actually wasn't that bad for the first thirteen holes, but then it got bad. When the weather's bad you're just literally trying to stay dry and you're trying to keep your clubs, grips & glove dry, that's all you're trying to do. Maybe, if the weather was good and clear, you have a bit more time to think! So the weather kind of helped too."
"I remember Rocky (Robert Rock) holing a good putt on the seventeenth and getting back to all square with me – I nearly got sick. Looking back now, to play the last like I did and how aggressive I was, it's amazing. I pushed my tee-shot down the right of the Par 5 18th, I actually got pretty lucky and I had decent line to the green but the ball was in a big lump of rough and not lying great. I took my 3 wood out and had a go at it, I would never do it now. It's strange I just went for it, that's the way I played all that week."
"Obviously then what happened, happened and I got to the play-off. No disrespect to Robert (Rock) or Johan (Edfors) but it wasn't Monty or Lee Westwood I was teeing it up against so I wasn't intimidated by them and my golf remained aggressive."
"I remember when I missed the putt to win, which was no more than 4ft I wished that the ground would have opened up, and I would have jumped into it. That was tough but I am very proud about how I bounced back from it straight away."
"The winning moment after that is all just a blur. It's mad looking back on it and how composed I was. You know, I really can't see anyone ever winning their home tournament, as an amateur again! Especially not the Irish Open with the fields we are getting now."
"It was a week that changed my life and I will never forget it."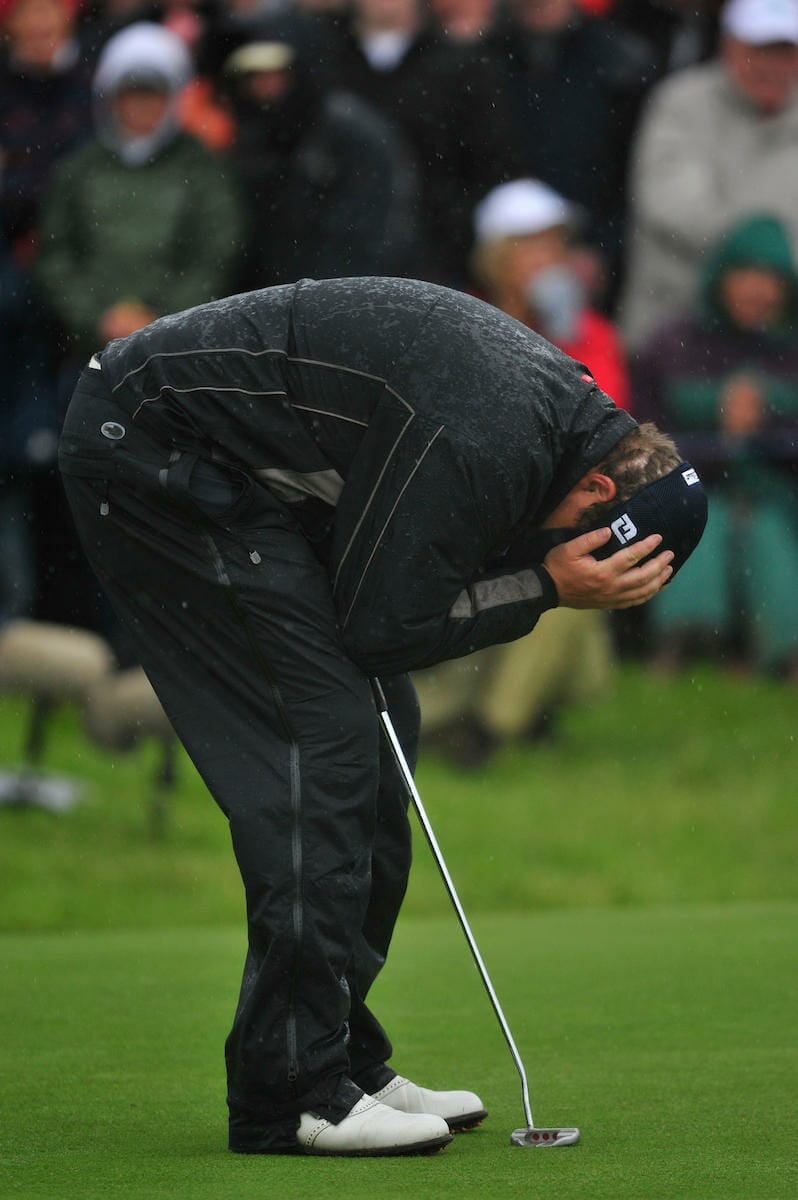 Settling into professional tournament life was initially tough for Lowry but he had plenty of help. "The Irish lads on tour were great to me" he said. "Peter Lawrie, Damien McGrane, Gary Murphy and Padraig Harrington would always go out of their way to make sure I wasn't alone. I do the same for the younger lads now. It can be lonely sitting in a hotel room on your own and we all try to avoid it. One of my first events out as a pro I remember getting dinner by room service one night and it was horrendous sitting there on my own. Since that night in 2009 I have probably only done that twice, I would always have someone to go out for dinner with, Dermo my caddie and a few other lads. I have family and friends at events as much as possible too, you really need that away from the course."
Missing his first three cuts after turning professional Lowry really needed a result to settle him down and make him feel like he belonged on Tour.
"I was over signing for Cleveland Srixon in Japan later that year and I got a place in the Dunlop Phoenix Open on the Japanese tour. I finished third there and then I came out the first tournament of the year in Abu Dhabi and finished fourth. So, that kind of set me off and running and I think I finished sixty-first on the Race to Dubai, which was a good year for my first season.  I do feel like I have progressed every year since. Even last year, as difficult as it was to lose at Oakmont I was in contention going into the back 9 at a Major Championship."
Not one to tweak his equipment much Lowry had been a Cleveland Srixon staff player since his first year on Tour and his loyalty to the brand is clear.
"When I signed with Cleveland / Srixon, at the time they were only really pushing their wedges and ball and then I could use whatever equipment I wanted after that. I was happy with that, but over the years I've transitioned into other Srixon equipment. The irons were a big thing for me and to be honest, I think the irons have changed my game since putting the Z series in play. I put the new irons in the bag two years ago and I haven't looked back on my iron play since. I am about 30 yards longer now since I came out on tour and that's a huge difference some helped by the equipment and also with the physical work I do with Robbie Cannon. I'd be happy staying with Srixon for the rest of my career to be honest. I like the lads on the trucks on both tours and the equipment is as good as you will get."
"You know, obviously there are big stories about equipment changes and stuff like that. But those guys like Rory and Jason, they're in a different league, a different stratosphere, you know, they're talking serious figures when it comes to those boys. I'm just happy to be, you know, using the equipment I really like. Srixon look after me and I try and look after them as much as I can. I try and do as much for the brand as I can. I am not one to tinker with equipment too much.  I put in new wedges every few weeks to keep the grooves in good condition and I've used the same shafts for six or seven years so I don't really change that much. I did make one big change the week before the Masters this year, I went for a softer ball moving away from the Srixon Z-Star XV to the new Z-Star. I love the softer feel off the ball and it's been a great transition."
"Since the Masters, I've gone back to basics in regards to my putting too and I feel like it's really working. I feel like I've putted well in the last few weeks. You know, there's putting well and there's putting bad and within all of that there's feeling comfortable. Late last year, I was feeling like I hated walking on to a putting green. I've got that out of my head now and I don't really mind it, it's just up to me now, to go and do it."
On a personal level the last year has been life changing for Lowry as he got married to Wendy and they had a little girl, Iris, in March.
"It's a big change. Especially when you go home after two weeks away and you see how much she's (Iris) has grown and the changes she's made. I know we have FaceTime and all that but I've never liked being away from home too long, especially now I am playing a lot on the PGA Tour. I have been coming home on Sunday nights the last few months just getting a day at home with the family and then back to the States on Monday night. It's a lot of travelling but worth it."
A tie for fifth at Carton House in 2013 represents Lowry's best Irish Open finish as a pro. It's the one he feels he let slip away. "I really felt I should have won that Irish Open at Carton House", he said grinning. Maybe he can claim the title again in Portstewart?
This article is from the July edition of Irish Golfer Magazine. You can read the full magazine by clicking here.