The best of Irish amateur golf will be on show in Dun Laoghaire this weekend where the AIG Senior Cups are decided.
If you are there you might spot Joe Hallam pulling a pint behind the bar or one of the other Tivoli Hills Golf Club enthusiasts out on course enjoying the action.
"We would hope they would come and certainly that as many of them as possible could pop down and see the finals which would be amazing golf, I just know it will be," said Barbara Dillon.
Dillon is one of the founders of this Special Olympics club that has grown to 17 members, and with a waiting list she expects it to build further in the years to come.
Dun Laoghaire is crucial to the success of Tivoli Hills and the former Women's Captain understands the major role the golf club plays.
"I set it up because a friend of mine has a son who has special needs and another friend does it in Elm Park Golf Club and that's where I got the idea from for it," said Dillon.
"It was about giving back to something and it is such a feel-good factor in doing the training every week. They're a wonderful bunch, fun loving, they are great fun.
"We set it up and I thought it was something great to be able to help people with intellectual disabilities play the game of golf and give them a love of the game as much as I have a love of the game.
"All of them bar one had never held a golf club before and when the parents come now and they see them and how wonderful they are and well able to hit the ball it really is very heartening to see that.
"We think we are (making a difference), they come, and they have great fun, and they have great friends out of it."
Dillon lives in Sandycove but she is originally from Drogheda and got into golf around 20 years ago. She had played tennis and hockey before after her father Noel MacQuillan gave the family a real sense of competitiveness.
"Everybody in Drogheda played tennis so we just went out to the local club almost every day during the summer and you played tennis from June until September and then you picked up the hockey stick and played hockey from September until May and that was the natural progression," said Dillon.
"My parents were very involved, my father in particular was very involved in County Louth Golf Club and I suppose always instilled a sense of you giveback something to a club and be very competitive, so we come from a very competitive family.
"I'm very competitive so it was always trying to get better and better. I have represented Dun Laoghaire in many of the competitions. Junior cup, senior foursomes, we won the All-Ireland Revive there back in 2019, I was on that team."
Dillon became a mainstay in Dun Laoghaire Golf Club and she thrilled to take up the hotseat in 2020.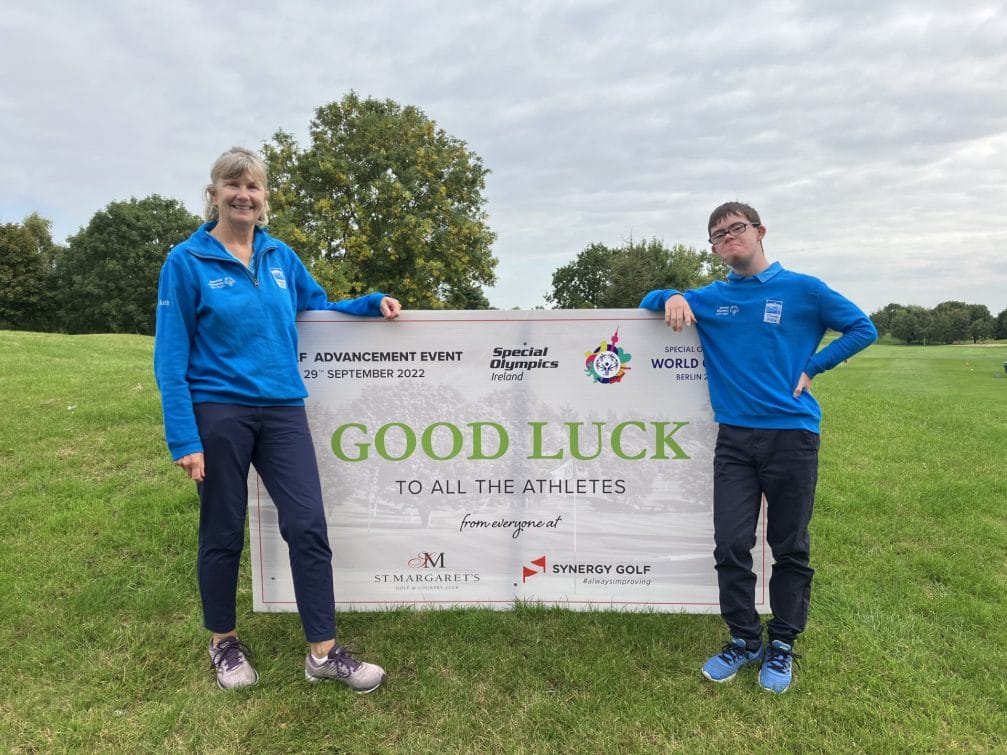 "It was an absolute honour to be Lady Captain. It was a challenge but one that certainly we took on myself and the male captain Alan Gormley, and Alan is also a volunteer with us in Tivoli, it was a complete and utter honour for us to get that role," said Dillon.
But even before that she had already created a club with a future that would help to change the lives of many of its members.
Tivoli Hills Golf Club was founded n 2016 with a vision of making a difference in the lives of the young people in the area while giving them a physical and social outlet. Golf can be the ideal sport for people with special needs and it is working in Dun Laoghaire.
"We never would've thought that we would've got to a stage of having any of them represent our club at the Ireland games, to have four of them members of Dun Laoghaire Golf Club, to have one of them working in the club it really is fantastic," said Dillon.
"It's about including everybody and in particular people with intellectual disabilities, including them in the club and including them in all sorts of jobs, you know, it really is heartening to see it and the club have been huge support we wouldn't have been able to do it without them.
"Being able to get the facilities of the golf club and we take the area for the hour every Sunday and there's never an issue with the club, they really supported us hugely when we were setting this up and came on board as well with it, so it was great."
The future is bright in Dun Laoghaire and as they host the AIG Women's and Men's Senior Cups, the Women's Senior Foursomes and Men's Barton Shield this weekend, it provides the perfect opportunity to inspire once again.
Tivoli Hills has the right people and right location to grow and give more people with disabilities the chance to experience golf and all of its benefits. And Dillon is confident about what lies around the corner for her club and its members.
"It's a case of still being able to continue doing our practice every single Sunday," said Dillon.
"Being able to continue to get the volunteers because without the volunteers we wouldn't be able to run the club, so our volunteers come from the members of the club, we're always looking for volunteers and if we didn't have the volunteers we wouldn't be able to run it.
"So in the future our club is here to stay and we will always be training in Dun Laoghaire. We hope that we will be able to take on more athletes, we have a few, about six or seven on our waiting list, and our aim would be able to take all of these on whilst continuing to work with our existing athletes."