From playing professionally in his favourite golf course, the dream career, to the nightmare of learning that he would never walk again. Ian St John will never accept the fact that he is paralysed but as his motto goes: "there has never been a better time to have a disability."
And he is making the most of every day, with a bright future ahead which includes representing Ireland in the European championships. This week his focus is on Roganstown and the Irish Open for Players with a Disability. It has been a whirlwind few years for the man from Tramore.
"One day I was a golf professional and I could play to a decent level," said St John.
"I had just finished playing a Pro-Am in Ballyliffin and then basically the next day I am paralysed. I have spinal cancer, I am probably never going to walk again and I have a battle to stay alive.
"My wife is eight months pregnant, I have a two-year-old little girl also and life is destroyed. Absolutely destroyed in every way you can think it is, obliterated in the space of a couple of days.
"And with the court case then that followed. To know immediately that obviously I have cancer, I have spine cancer. But to know that I should be walking, it's a very very hard thing to take.
"Even to this day and for the rest of my life, it affects everything. I always get asked are you used to it, do you accept it? The answer will always be no."
The 45-year-old had ambitions of becoming a professional footballer but a cruel cruciate knee ligament injury cut that short in his early teens. Golf was his saviour and he took to Tramore thanks to the influence of his parents, Oliver and Josephine. St John became engrossed in the game and went on to win an Irish Schools Championship with the club  in 1995, and although he went to WIT to study business his calling was always somewhere back in the world of golf.
Fast forward to 2013, and an opportunity presented itself at Rush Golf Club, St John jumped at the chance to work in the industry he loved. He went on to become a professional, his life was in full swing until disaster struck. He found out he was paralysed and had cancer all at once in Beaumont Hospital.
The following years were a battle, like no other he had ever faced in his life. It took its toll on his family too and they had to prepare themselves for a new life. But St John was still determined to get back out on the golf course and ParaGolfer afforded him with that opportunity.
"It was through a guy I saw on Twitter that was playing and he gave me all the information about how to get it," said St John.
"I sit into it. You are basically cocoon-strapped into this awkward looking machine. It gets you into an upright position and you can play golf. It has a maximum speed of 9.6km which isn't brilliant.
"But for me anyway it's been life changing because when I got paralysed, I'm a PGA professional, that was my life, that was everything I do, play or teach, the works. So I didn't want to know about golf or anything like that afterwards.
"But then I was made aware of this machine and yeah, I got into it in June. Just when the weather was getting better."
St John was able to go out on the golf course again and he started playing a few times a week, mostly at home in Tramore. Considering he was a professional before his paralysis, he wasn't aware of the fact he could apply for a handicap but his journey back to the top continued.
"I got in touch with the guys from The R&A and they got back to me and said yeah, of course a pro can get a handicap. The idea of playing in competitions will be a local rule at your golf club," said St John.
"Then I got permission to play in competitions. Basically how the ParaGolfer works, you get up and sit into it. I have upper mobility. I am not a quadriplegic, I am paraplegic.
"Using upper body strength I can just get into it, strap myself in. My house, I live 600 yards away from the golf course. I just drive up the road, onto the golf course and there I am playing."
The unique technology of the ParaGolfer also allows St John to operate on the putting greens. The brilliant physics behind it means the weight is dispersed equally over the large area. The machinery makes less of an imprint on the green than a person would. Much of St John's brand new outlook has been thanks to the regular conversations he has with his councillor, Liz Finch.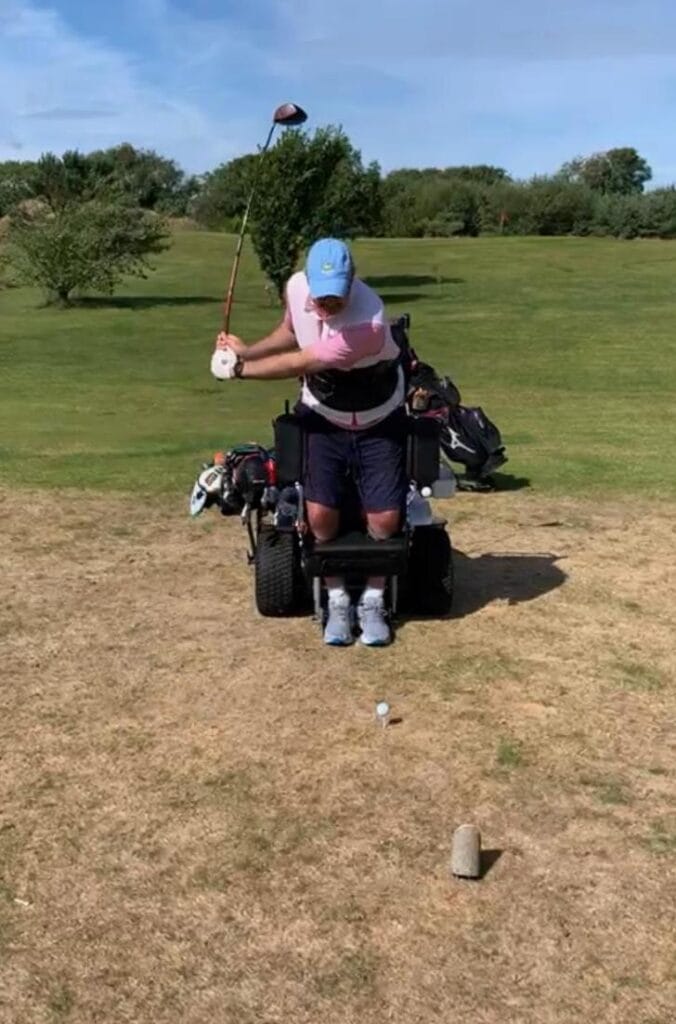 "She has been amazing, when you get paralysed, it's a lot of internal chatter. It's a psychological thing nearly, moreso than a physical thing," said St John.
"If you can beat the psychological battle you will beat the physical battle. Thankfully I am in a place where psychologically things are so much better. Look what I am doing, I am playing competitive golf. I am going to be wearing the Irish jersey in the Irish Open and in Holland.
"I am entered in several events around Europe, get to the US as well at some stage and further afield. It's night and day in that respect."
And recently, St John's social post displaying the Golf Ireland gear he received after his international call-up captured the imagination. "It's emotional, it's incomprehensible, it's surreal, it's humbling, it's an honour. It's unbelievable," said St John.
"To be able to pick up all the clothing there a couple of weeks back and you are going, I have more clothes here than days in the week."