Bernie McGuire reports from Dubai
Jonathan Caldwell's relaxed demeanour was clearly reflected in superbly igniting his challenge with a five-under par 67 on day two of the AVIV Dubai Championship at the Jumeirah Estates.
Caldwell headed to a well-earned lunch on the back of eight birdies to jump into a tie for 47th following his opening score of 71 to be sitting at six-under par at the halfway stage.
If left the Clandeboye golfer trailing nine shots adrift of French star and defending Dubai champion Antoine Rozner, who has Irish caddy Darren Reynolds on the bag, after he produced another stunning bogey-free display adding a 64 to his opening 65 to move one clear of the field on 15-under par.
Rozner, 28, has had two wins on the bag with Reynolds calling the shots – winning last year's AVIV Dubai Championship and then capturing earlier this year the Commercial Bank Qatar Masters.
"Darren's been on the bag for two years now and he brings an awful lot of experience to my game," said Rozner.  "He's won out here before and he's brought a good mindset into my game and especially this week and on this golf course as you have to be aggressive.  So, Darren helps me a lot."
Tied in second place at 14-under par is Italian Francesco Laporta, who added a second day 64 to his first round 66, and overnight leader Dane Joachim B Hansen with scores of 63 and 67.
Padraig Harrington continues to get better moving into a share of 17th adding a five-under par 67 to his opening 68 to get to nine-under.
Caldwell surprisingly is competing in his first Tour event in the UAE and as reported post his opening round, there's a real spring in the Irishman's step teeing-up as a winner this year on the 2021 Race to Dubai schedule.
The Irishman was two-under par through eight holes, including birdies at seven and eight, and made his score with five birdies over his closing seven holes.  Though sticking out like a sore thumb is a double-bogey '5' at the par-3 14th and sandwiched between birdies on 12 and 13 and also at 14 and 15.
Caldwell hit a wedge to five-feet at the 15th while it was a lob-wedge to 15th feet at 16 and then at the 17th, he was short of the green and chipped to within tap-in distance.
"It was a very solid round and very happy though there were one or two poor holes, like three-putting the second and then hitting a terrible tee shot at the 14th that found the water but I recovered with three nice birdies coming in," he said.
"So, very pleased with my finish as I was right in the cut line after the double but not now after the three birdies.  I was just good yesterday but just played much better today, and it's more about the grain in the greens as the greens are very grainy but apart from that, it's a pretty generous golf course off the tee.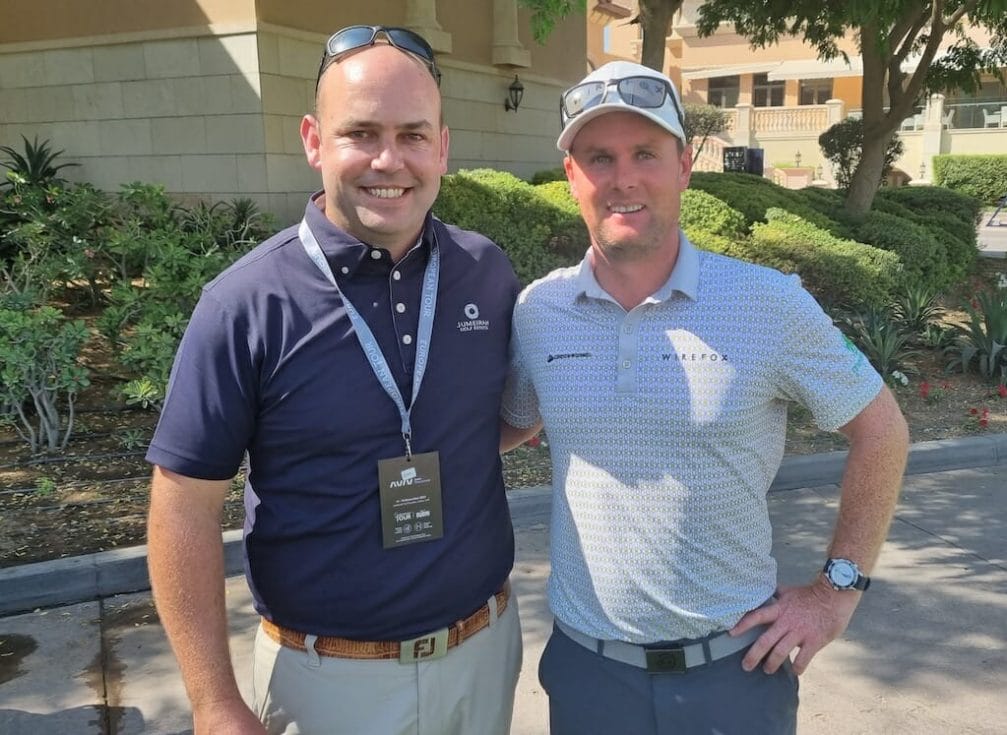 "It's just about making the putts and not short-siding yourself and the great thing is it's more weekend work and that's the main thing."
Indeed, this week is Caldwell's 26th event this 2020/21 season and he's now officially made the cut in 14, including now his closing four.
"It's the only job where you want to be working on the weekends, isn't it?," he said with a big smile on his face.
"I'm off for a bite to eat and will head back to the hotel and just chill out, as I don't need to head to the range and only complicate things."
Just as delighted with the effort was Welsh-born caddy Henry Tomlinson who resides in the famed north-west England twin golfing town of Lytham and St. Annes.
"I've been caddying for Jonathan since November 2019 for the Alfred Dunhill Championship at Leopard Creek, so it's been a great two years with him," said Tomlinson.
"I've been out on the Tour, a good few years now. I had a year caddying for England's Tom Murray while I've also caddied for Cormac Sharvin.
"I went to university with Cormac and that's how I got to know him really well, and it's also how I met Johnny and what a great year he's had this year.  What was great was seeing how well his win in Sweden was received and everyone was so pleased for him."