Doneraile and Enniscrone were crowned All-Ireland Champions on the penultimate day of the 2021 club season, at Strandhill GC.
For Doneraile it was the All-Ireland Mixed Foursomes which they won in dramatic circumstances following a 3.5-1.5 win over Rockmount.
Leading 2-1, with two games left on the course, James O'Mahony and Aoibheann Daly beat Colin McClenaghan and Rosemary McCrea on the 19th green to send the large travelling crowd from the Cork club into wild celebrations.
"It's unbelievable. It's been a fantastic journey", O'Mahony said on the green after the win. We'd have a brilliant team, supporters and management. People drove four hours this morning to support us. We're delighted."
"I'm still in shock," Daly added. "We're a small club, but we had a massive support. We couldn't ask to be part of a better club."
Enniscrone defeated Elmgreen 3-2 to win the Men's Four Balls, with Eugene O'Doherty and 82-year-old Ray Basquill winning the deciding point on the final green to give the Sligo club their first All-Ireland title in almost 20 years.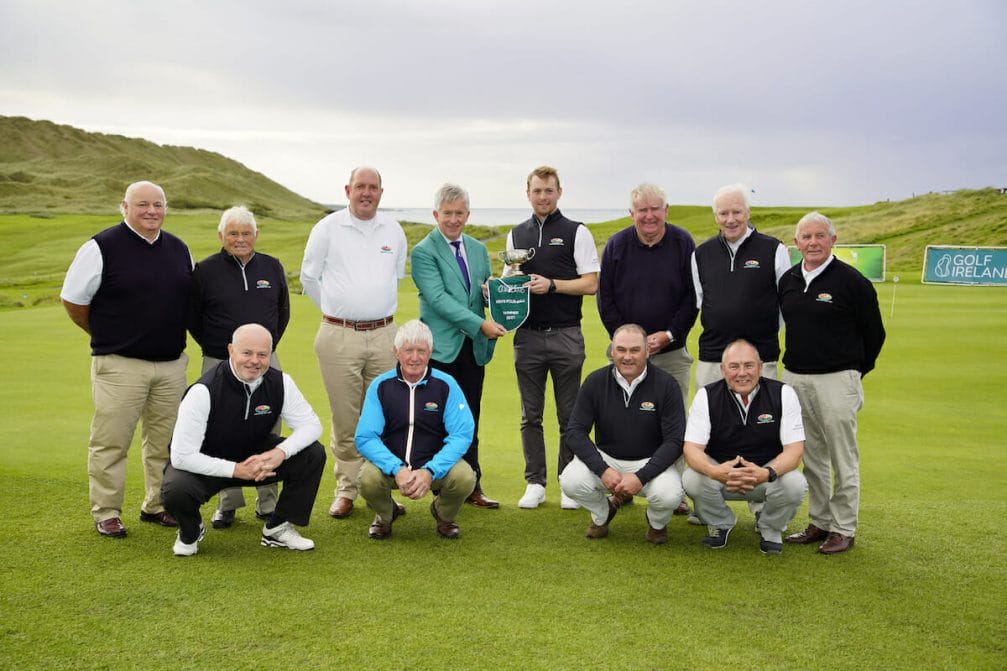 Speaking after the win, Basquill said it was the highlight of his golfing career so far.
"I'm thrilled. It's the biggest win of my career. I've won Captain's prizes and things like that, but this beats the lot.
"We had the advantage of playing on a links course today. I had a great partner in Eugene O'Doherty, and we carried each other along.
"The club hasn't won an All-Ireland since 2004, so this will be a great boost to the club."
In the Revive Active Women's Four Balls Semi-Finals, Ballycastle will meet Ballybunion in Sunday's Final after they defeated The K Club on Saturday afternoon, while Ballybunion overcame West Waterford 3.5-1.5.
Two matches in Ballycastle's win over The K Club went to extra holes, with Joan Kennedy and Briege Loughrey beating Carol Barry and Beryl Bowden on the 21st hole to earn the crucial point.
All-Ireland Mixed Foursomes Final
Rockmount 1.5-3.5 Doneraile
Ryan Wilson and Patricia McDonnell lost to Hugh Nolan and Noreen Roche 6&5
Colin McClenaghan and Rosemary McCrea lost to James O'Mahony and Aoibheann Daly 19th hole
Adam Douds and Leonie Power lost to Eddie Roche and Rachel Kelleher 4&3
James Robinson and Sue McDonagh beat Darren Roche and Marie Kelleher 6&5
Jonathan Patterson and Barbara Fleet halved with David Finn and Ellen Walsh
Men's Four Balls Final
Elmgreen 2-3 Enniscrone
Michael Telford and Robin French lost to Michael Concannon and Padraig Tighe 2&1
Alan Keane and PJ O'Brien beat Paddy Dunleavy and Thomas Bourke 2 holes
Joe Murphy and Ross Brady beat William Lalor and John Meakin 3&1
Sam Mehigan and Gary Whyte lost to John Rush and Jim Bowe 2&1
Steffen Mortensen and Peter Lawlor lost to Eugene O'Doherty and Ray Basquill 1 hole
Revive Active Women's Four Balls Final
Ballycastle 3.5-1.5 The K Club
Brenda McNeill and Phoebe Traill beat Karen Palmer and Sally Ann O'Connor 2&1
Bernadette Hegarty and Mary T McKiernan halved with Una McQuillan and Angela Cirillo
Joan Kennedy and Briege Loughrey beat Carol Barry and Beryl Bowden 21st hole
Susan Crawford and Mary Duffin beat Noreen O'Grady and Catherine Kinane 2&1
Catherine Black and Rita McCormick lost to Noirin Donovan and Amy Mangan 5&4
West Waterford 1.5-3.5 Ballybunion
Catherine Ruane and Josephine Swayne lost to Margaret McAuliffe and R Fitzgerald 2&1
June Whyte and Joanne Fox halved with Susan Gilmore Kettler and Olga Kiely
Mary Lou Carroll and Marie T. Curtin lost to Eileen Kenny Ryan and Marion Kennedy-Hogan 5&4
Deirdre Ruane and Una Mulligan lost to Patricia Joyce and Anne Marie Sexton 5&4
Denise Nugent and Finola Butler beat Maeve Barrett and Siobhan Walsh 6&5