Tom McKibbin kept up the momentum from his day one 67 at Massereene as he carded a second round 69 at Galgorm to lead the Irish Challenge at the ISPS HANDA World Invitational presented by Modest! Golf Management.
Despite dropping three shots on Friday, McKibbin took advantage of the back nine par 5's as he pitched in for an eagle on the tenth hole coupled with a birdie at the last to sit in a tie for 20th and comfortably make the halfway cut.
Only four of the twenty three Irish made the halfway cut as Simon Thornton and Dermot McElroy (-2) were joined by Niall Kearney (PAR) as the cut fell at level par.
"Im Glad that's over today" Admitted a relieved McKibbin after his round. "It wasn't playing easy, the wind was very strong and a lot of the hard holes were all playing into the wind which was tricky. I Grinded it out and hit some lovely shots when I had to, which was pleasing."
The birdie four at the newly modelled Par 5, 18th pleased the Holywood man the most though. "It was great. I've played here so much and I've played that 18th horrendously every single time, so it was nice to birdie it for once. I love what they've done here with the new water feature"
At the top Daniel Hillier carded an eight under 62 at Galgorm to move into the halfway lead. The 23-year-old from New Zealand is highly regarded as a future star and has already played in two Major Championships in his short professional career, pre-qualifying for both the 2019 U.S. Open and The 2021 Open at Royal St George's just two weeks ago.
Having opened his account this week with a three under 67 at the more difficult Massereene Golf Club, Hillier registered nine birdies and a single bogey at Galgorm to move to an 11 under total, earning him a one-stroke advantage over Jordan Smith.
Teeing off at the tenth at Massereene, first round leader Smith endured a nightmare start as he double-bogeyed his first hole but he bounced back and three birdies in his final four holes, including a closing birdie at the ninth, helped him to a two under 68 and a ten under total.
Women's Event
In the women's event, the USA's Emma Talley moved into a commanding lead as a seven under 65 moved her three shots clear of the field on 13 under par, with her compatriot Jennifer Kupcho and Korea's Chella Choi the closest challengers on ten under heading into the weekend.
Olivia Mehaffey was making the most of a start on home soil as she carded a level par 72 to sit in a tie for 26th. Mehaffey now advances back to Galgorm for round three, a course that suits her game but one she is still getting to know!
"Yes, I love that golf course now. I'm kind of ashamed of myself that I've never been to Galgorm until this tournament, and everyone said how I have this great advantage, but I had never played it until this week. Just a beautiful venue, really great golf course and really excited. Just honestly enjoying having so many people out watching and out supporting. I love playing in front of my family and friends."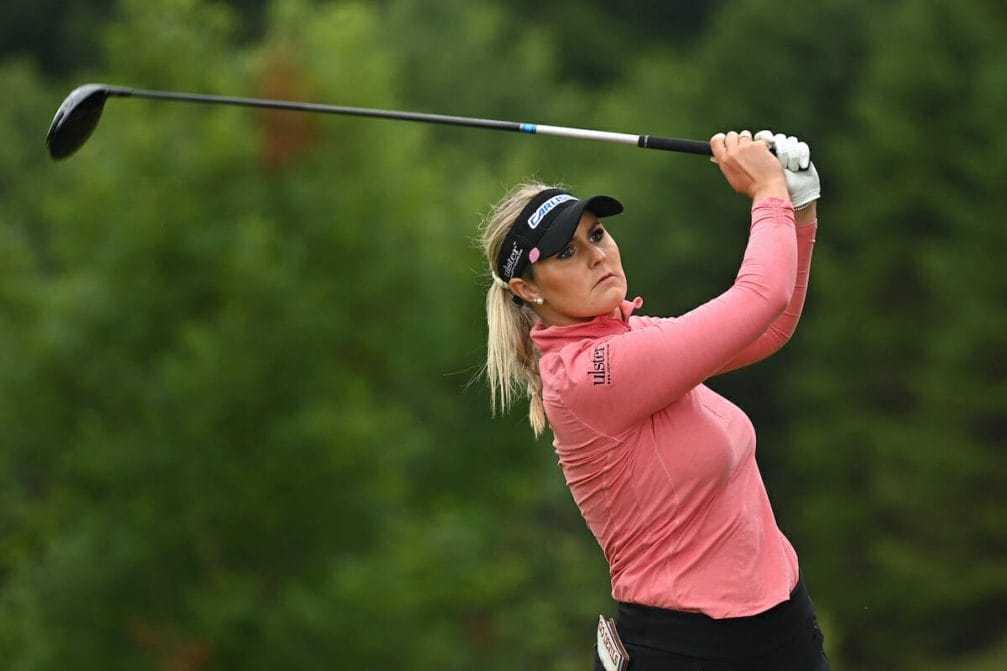 At the head of affairs, this is the first time in her four-year career that Emma Talley has held a 36-hole advantage. Her previous best position was outright second at the 2018 ISPS Handa Australian Open, where she ultimately finished in a tie for seventh.
Talley will be joined in Saturday's final grouping by Choi and Kupcho, as well as a familiar face on the bag for the 2019 Augusta National Women's Amateur champion. "It has been a long time since I've been in this position," Talley said. "I think with my sports psychologist and mental coach Paul Dewland, and where my game is, I'm really excited for the weekend.
"Paired with my boyfriend and his player [Kupcho], that has only happened a couple times. I always play well when Patrick [Smith] is around. Even though he may be trying to beat me the next few days, it will be nice to at least be paired together. I'm really just trying to focus on the process. I know that's kind of standard response, and I hate when I hear athletes say that, but it is the case of what I'm trying to do. My mission is to go out and play the best golf I can and hopefully win this thing."
A second cut will be made on Saturday after the third round to the top-35 players plus ties for both men and women. Rounds three and four will be conducted at Galgorm.