Davy Ambassador, Leona Maguire is treating her time in isolation as a second off-season and using it as an opportunity to best prepare for what's sure to be a condensed schedule when golf resumes following the coronavirus pandemic.
The LPGA Tour star is home in Cavan, dusting off practice equipment that served her so well in her rise through the amateur ranks while also trying to appreciate a rare extended stint at home, regardless of circumstance.
"We're doing pretty well; I suppose Cavan's one of the better places you could be," said Maguire. "We're all safe and healthy and that's the main thing right now. I decided not to go back to the States and figured Cavan was the best place for me to be until all this passes.
"The board games have been taken down, card games too and I've been watching a bit of telly. We're just trying to keep everyone in good form and sane through all this."
"Mam's the least competitive," she laughed when asked if tension can build around the card table like it often does on the fairways. "That's probably the easiest one to answer. The rest of us are all pretty competitive. There's definitely been a few squabbles but we're all still talking which is the main thing. We'll go again tonight!"
Now a leading professional on the most elite Tour in women's golf, the 25-year old is expecting an ultra-demanding stretch of tournaments once the LPGA Tour is given the green light to play. Therefore, she's leaving no stone unturned in fine-tuning her arsenal which looked in great shape when claiming a top-5 finish in just her second outing of the season at the ISPS Handa Vic Open in Australia.
"It's been a long time since I practiced here so I'm going back to the routine that I had in secondary school, when I'd be getting work done in the evenings and the wintertime," she said.
"In terms of the set-up, I've indoor putting mats. Dad's unearthed some nets from the garage that I can pitch into. I can hit up to a seven iron in the field out the back so I'm lucky that way.
"There's a lot of technical things I can still do like swing work in the mirror. I'm also sending videos to my coach Shane [O'Grady] and he'll send them back to me to keep things ticking over. I'm treating it as a second off-season.
"I have some good equipment for my gym work so I can build up my strength as well. When we do go again it will most likely be a lot of golf in a short space of time so it's about making sure my body's as strong and as healthy as it can be for whenever we start."
A comfort blanket for Maguire in all this is the €48,000 cheque she earned for that tied-4th finish in just her second full LPGA Tour start at 13th Beach Club in February.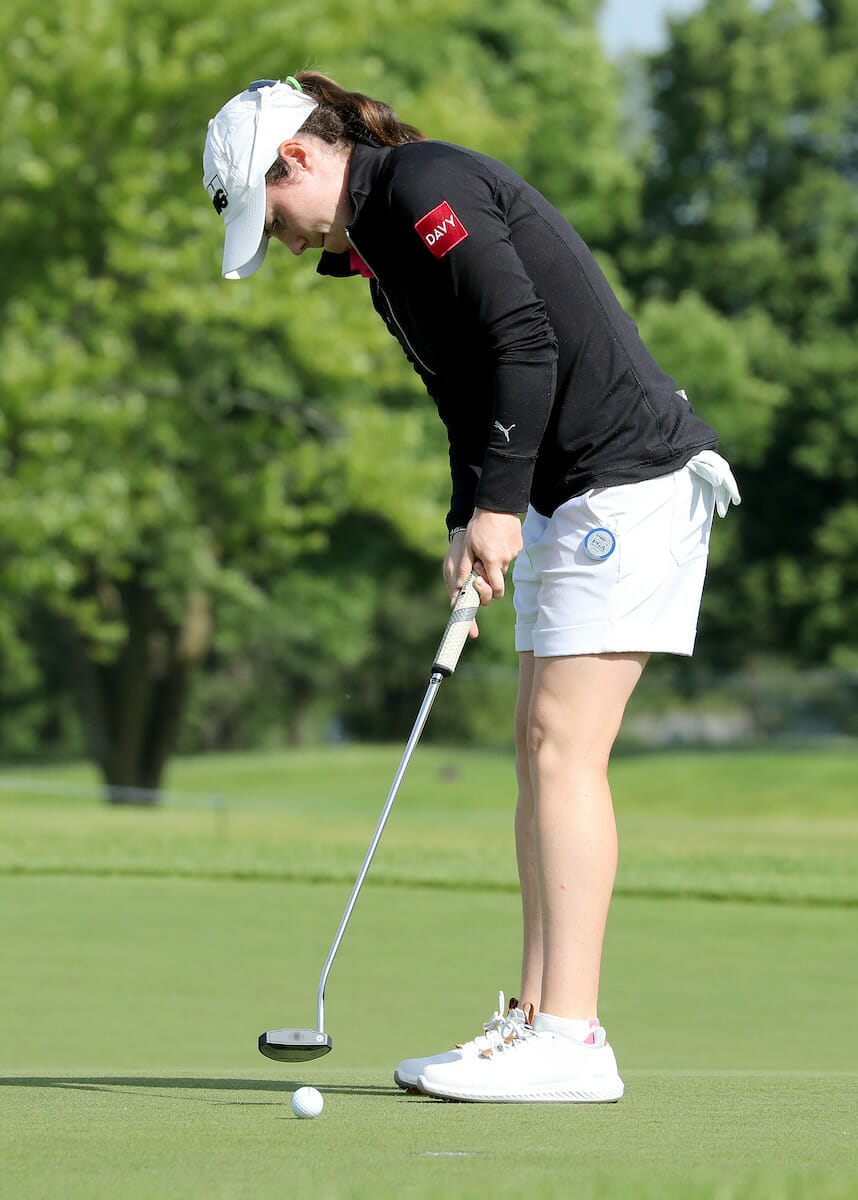 The financial strain that this global crisis has placed on all of us around the world is very real and Maguire is no exception, admitting she's more grateful than ever for the support of Davy given how the coronavirus has impacted the golf industry in recent weeks.
"It's been massive," Maguire said. "The support of Davy has meant a lot to me since I first turned pro and even more so now. If we don't play, we don't get paid so if it wasn't for my sponsors, I wouldn't have any income right now. I definitely couldn't do it without them.
"It means a lot to me that they're standing by me. There's a lot of struggles going on in the world, everyone's having to adapt and Davy have had to adapt their business as well but hopefully we'll all come out of this stronger. It definitely makes you appreciate where you are when you find yourself in circumstances like this."