One of Ireland's rising stars on the amateur circuit, Ronan Mullarney has been a winner both at home and abroad and he recently claimed his first Irish Championship at the AIG Irish Amateur Close in Ballybunion. Hailing from Galway and growing up playing predominantly parkland golf, he makes no excuses for the fact that parkland courses dominate his selection of his ten favoured tracks. 
Adare  
I haven't as yet been privileged enough to play the new incarnation at Adare (hint hint) but the old course there was one of my absolute favourite courses in Ireland. Every hole was interesting and had something about it. It was very scorable, the greens were amazing, I've lots of great memories playing there with my Dad and it was always a fantastic test. 
Ballybunion 
Unsurprisingly, this makes my list! I played it for the first time this year at the AIG Irish Close and I just loved it. The approach shots are intimidating and the greens are so small and elevated and have run-off areas which can prove really tricky. Overall, the course is unbelievable. It has to be one of the best in the country and while I wasn't sure it would suit my game, I now have my first Irish Championship under my belt there and it will always have a special place in my memory.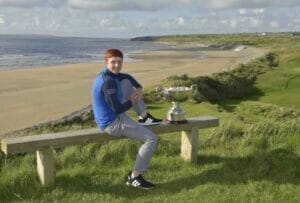 Druids Glen 
I always think that the par 3's here are some of the best in the country and I love the mature tree-lined fairways, changes in elevation and there is such an emphasis on driving the ball well, which is something I really like in a golf course. 
Galway 
I grew up playing golf here, won my first medal here, broke par for the first time here, became a scratch golfer here and I've played it so much with my family and friends that I can go anywhere on the course in my mind and play a shot. It's a super course in its own right and makes this list on merit but I have so many great memories that make Galway a little bit extra special for me. 
K Club (Palmer) 
I've played this course a lot and similar to a lot of courses I like, it's tight off the tee and it can be made to play really long. I like holes that have shape and definition and the Palmer Course definitely ticks that box. This is a super test and every time I play it, I like it even more. 
Mount Juliet 
Yes I know, another big parkland layout! I just love these tour standard parkland courses and Mount Juliet fits the mould perfectly. There is a huge emphasis on driving the ball well and some of the approaches are very difficult. I've read that it's in the discussion for Irish Open next year and it would be a great venue for that. 
Mullingar 
A really traditional parkland layout with tree-lined fairways that punish wayward tee shots. Mullingar is really scorable and once the weather is decent, there are plenty of opportunities to go low if you're on your game. Mullingar is always in great condition and the people there are so friendly and welcoming. 
Palmerstown House 
Everything about this course is superb, from the practice ground to the facilities and the golf course itself. If you ever wanted to play professional golf, I think this would be a great place to learn as it's a real tour course with long carries, tough tee shots and great greens.  
Royal Portrush 
What a golf course! This is an unbelievable test of golf and it had to make my list. If you're not hitting the ball well here you're in serious trouble. I think they have some of the best tee shots in the country and the 4th is one of my absolute favourite holes. 
Tralee 
Everyone raves about Tralee and I won the Irish Students Championship here, shooting 66 on day two, so I've lots of great memories. There are some incredible holes here and the 3rd and 15th stick out in my mind as outstanding. The back nine is amazing and with the new facilities they've added recently, it's a great overall set-up.