Relief was the overriding emotion for Westport as the host club beat Dun Laoghaire to win the AIG Junior Cup crown.
The hurt of two recent final defeats was put to bed on an emotional weekend at Westport. Still mourning the death of club legend Gar Golden, their quest for a green pennant continued in Sunday's Junior Cup decider.
Although Ronan Hehir (4&3) and Ronan Mahon (3&2) scored early points for the home side, victory had to wait until Anto Browne defeated Jamie Campbell at the first extra hole.
"We've been trying to win this for 10 or 15 years now, it's brilliant," said Browne. "We won this in 1980 but one of the team members died on Friday, Gar Golden, who's a former president of the GUI. We'll be dedicating this one to him. I knew him well. I played a lot of golf with him when I was younger. A gentleman as well. He'd have been delighted. He'd have been the first one in shaking hands."
Since that win in 1980, Westport have lost three times at the All Ireland stage. Browne, 33, tasted defeat in 2006 and in 2015.
"We're so lucky having the home draw," Browne reflected. "The team we played yesterday only had two rounds here. It's not enough on any course."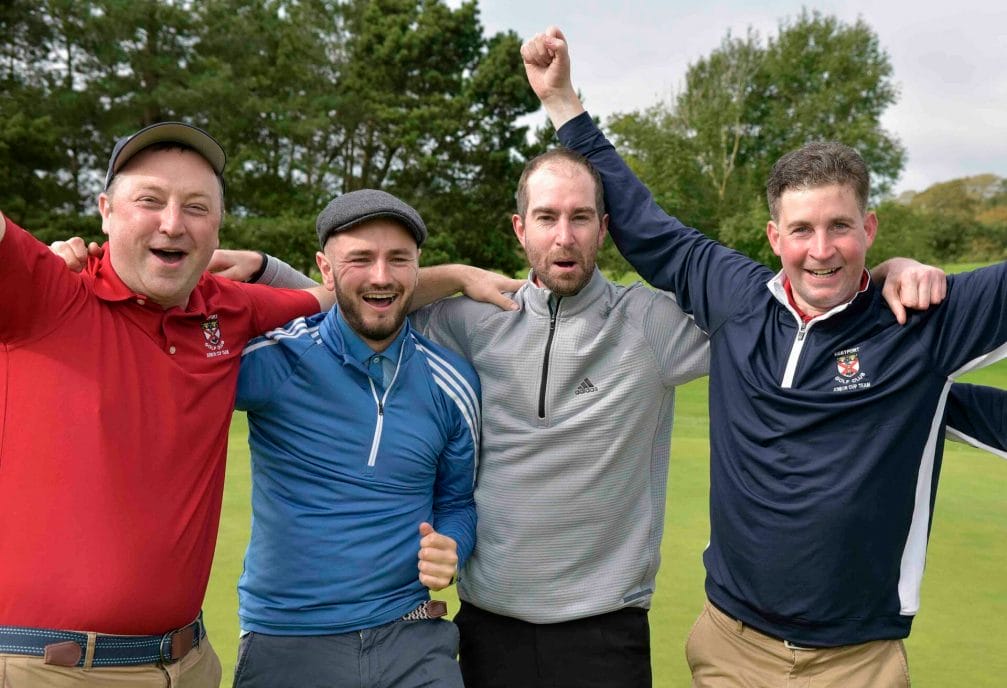 Whatever advantages accrued to Westport from playing at home, to win required courage and resilience. Having come so close before, they were bound to feel nervous near the winning post.
"I am so happy to have finally won one and to get over the line on our home course," said team captain Tony Bree. "It was right in the melting pot the last few holes, and it could have gone either way in those deciding two matches."
Although Browne sealed it for Westport down 19, Fergus Rothwell also played a part in the drama. He led down 18 in the game behind Browne. And moments after Westport's victory was confirmed, Rothwell holed for birdie to close the match in style.
Amid the celebrations, team captain Tony Bree paid his own tribute to Gar Golden.
"We have all played with Gar a lot down the years," Bree recalled. "I remember back in 2002 in Galway when we were beaten in the Connacht final by Portumna that year. Gar played in that team, and he was still a fantastic player at that age. He was a great clubman, and he was great for the GUI. He was known in golf clubs everywhere, and he will be fondly remembered in golfing circles all over the country. Hopefully he was looking down on us and got us over the line."