Rory McIlroy has overwhelming crowd favourite Tiger Woods and World No. 1 Justin Rose in his victory sights after two birdies in his closing four holes boosted hopes of success in the season-ending Tour Championship in Atlanta.
McIlroy posted a day two 68 to grab the then clubhouse lead at five-under par minutes before Rose birdied 18 in a score of 67 to move to the lead at seven-under and then later joined by Woods who also birdied the final hole in his round of 68.
Woods, who had doubled the par-4 16th while leading by two shots at eight-under, is seeking a first win in well over five-years and looks ever-determined after two seconds in this year's comeback season to bury that statistic in brilliant manner, in an event he's won twice before.
And what a boost a win would be for the 42-year old but also before heading to France for an eighth USA Ryder Cup showing.
Despite holding a share of the halfway lead, Woods was not about to entertain thoughts of being handed what would be a third Tour Championship victory trophy.
"Well, I need to get there first, and that's my responsibility to get there," he said.
"I've got 36 more holes to go, and hopefully I'll be answering that question come Sunday night."
And one thing Woods says he's been good at throughout a 79-winning PGA Tour career is staying patient, and it will be how he handles the next 36 holes that will determine if the 42-year old is successful.
"I've been pretty good at being patient in my career," he said.
"I've won 14 majors, so I'm pretty good at being patient and in order to get ahead, I've got to stay patient."
For a second day running McIlroy got the start he wanted birding both the second and third holes and as he had done on Thursday.
McIlroy hit a 181-yard iron shot to seven-feet at the par-3 second and rolled-in the birdie putt and at the par-4 third he hit a booming 359-yard drive some 45-yards short of the flag before chipping to six-foot also for birdie.
His progressed was checked with a bogey at the fourth where he missed the fairway right and eventually three-putted from 50-feet but he picked-up the shot with a 10-foot birdie gem at the par-3 eighth hole.
But then and also for a second day in succession the par-4 12th jumped-up to bite him and on this occasion, following a double a day earlier, McIlroy three-putted from 20-feet.
McIlroy was back to three-under for the event with an 'army-like' left-right playing of the downhill par-4 14th and finding the back of the green in three ahead of the third bogey of his round.
He then holed a massive 21-footer for birdie at the par-3 15th ahead of a virtual tap-in on 17 but only to then walk off with a closing par.
But there's now real spring in McIlroy's step as he looks to capture a second Tour title this year.
"I was not maybe quite as good off the tee today as I was yesterday, but I still gave myself plenty of chances," he said.
"If I'm disappointed about anything, it's probably the two pars on the par-5s. I had a 6-iron and a 4-iron into them, and I made two 5s. If I can make two 4s there, I'm all of a sudden 7-under instead of 5-under and probably in the last group.
"But look, there's still 36 holes to play. I like this golf course. You know, I've played it, I don't know, this is the fourth or fifth time at the TOUR Championship, and I've played it pretty well every time I've come here. I think it suits me. It suits the ball striker.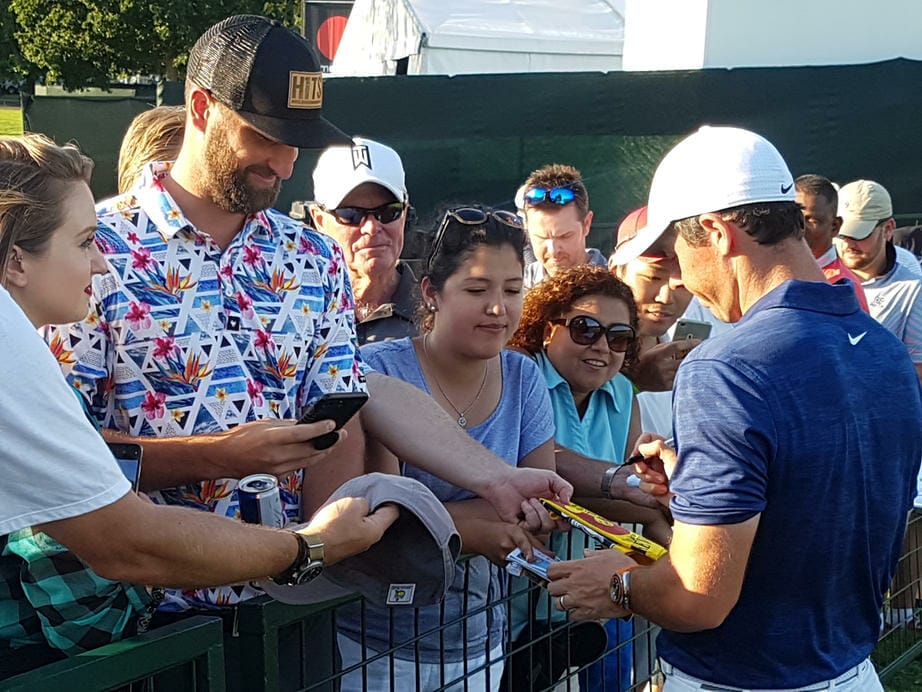 McIlroy signing after his round – Image from @TourMiss 
"I feel like my game has continuously gotten a little bit better over the last few weeks, and I feel in a good place with it.
"I've made 12 birdies in 36 holes, which is really good around here, and that's with not birdieing either of the par-5s today. So yeah, just tidy up the mistakes a little bit.
"It's more the chipping. It's so different, from going — Bellerive it was sort of — it wasn't Bermuda, it was -yeah, I guess it was rye. And then we had — for me, Boston and Philadelphia, which is both ryegrass, and then you come back to Bermuda, it's so different.
"So, different feelings, different ways to play chip shots, and I haven't quite adjusted yet, so I'm going to go do a little work on that."
Scenarios for McIlroy to Win FedExCup:
(currently 3 in the tournament; projected 10th in the FedExCup)
• Wins the TOUR Championship
And…
• Bryson DeChambeau (#1) finishes T-11 or worse
• Justin Rose (#2) finishes in a 3-way tie for 4th or worse
• Tony Finau (#3) finishes T-3 or worse
• Dustin Johnson (#4) finishes in a 3-way tie for 2nd or worse
• Justin Thomas (#5) finishes T-2 or worse
• Keegan Bradley (#6) finishes T-2 or worse
Round 2 Highlights