Stephanie Meadow tells Mark McGowan about her early life, grief, injury and long journey back to a Major Championship podium
Almost a decade after bursting onto the scene at the 2014 U.S. Women's Open, Stephanie Meadow found herself back in contention at a Major championship and two-strokes back on the 17th green, it was make or break time.
Playing alongside 54-hole leader Leona Maguire in the final group, hopes of a first Irish women's major were high, but the emotional toll of a win the previous week began to surface. Maguire's challenge faltered but Meadow took up the reigns.
With two par-5s to finish at Baltusrol, the birdie putt she faced on 17 was crucial. To have any realistic chance of winning, it absolutely had to drop. From the fringe at the front edge of the green, she took dead aim, and it never left the centre of the cup.
In the group ahead, China's Ruoning Yin was forced to layup and hit a good approach to the last before coolly holing a 10-footer to leave Meadow in need of an eagle. Playing long and uphill, the last hole was a beast and few of the 76 who'd already played 18 had managed to get aboard in two. A birdie would secure a joint-second finish and a cheque in excess of $800,000.
But the money wasn't on her mind. She was playing to win. "At this point in my career, I want to win on Tour," Meadow said, "and to win a major is even better. There is something different when you've been out here for a while, you hear the guys talking about it a lot when they're not thinking about the money and I can understand that, and obviously that was one of the biggest purses of the year but at the end of the day, we play for pride, and you want to win. That's what we've dreamed of."
A good drive set up an outside chance of reaching the final green in two, and with a hazard between her ball and the green, it was decision time, but there was no doubt in her mind, she was going for it. "It was borderline," she admits, "if I had piped it, I may have been able to make the front edge. I saw her [Yin] make birdie so I knew what I had to do and probably swung out of my shoes a little too hard."
Golf is a game of fractions and in trying to step on the 3-wood, she caught it on the thin side and watched as the ball skipped through the hazard and came to rest in the rough a long way back. "We're all human," she said looking back, "it goes to show that anyone can do it, but golf comes down to very small misses. One centimetre higher."
She'd go on to make par, settling for a T3 finish and just over $420,000 in prizemoney, but being back in major contention was enough to leave her smiling. "It was great," she remembers, "that's the reason why I get up every day. That's what I want, to not only do it at a normal tournament but to do it at a PGA – and with Leona in the final group – all of that combined was a very special experience and I took a lot of confidence from playing several good weeks in a row. I felt like it was trending that direction but sometimes you just don't get the results.
"It was nice to be under the gun and prove to myself that I could still do it. And I loved every second of it."
It's been a long journey for the Jordanstown native who burst onto the Irish golfing scene as a 12-year-old in the Irish Girl's Close Championship where she finished runner-up despite giving away six years to some of her opponents. "I played Tara Delaney in the final," she recalls, "and they were all 17 or 18, so I kind of got thrown into it, but I loved it."
Their daughter's burgeoning potential wasn't something that the Meadow's needed reminding of and at 14, the family made the monumental decision to move to Hilton Head in South Carolina believing that the David Leadbetter academy there would provide Stephanie with the best possible chance of progressing to the next level as a golfer. "I think when you're 14, you don't realise how big the move is," she explained, "moving away from family and friends, but as adults, for my parents to just pick up and leave was so much sacrifice and showed so much belief in me at such a young age. They really helped me to pursue my dream and obviously it paid off. I'm forever grateful for that, but I think at 14 that really doesn't set in.
"But mom is still in the U.S., and she loves it there, so it was a pretty good move for everybody."
A stellar junior amateur career saw Meadow receive a scholarship at Alabama University where she'd go on to become the Crimson Tide's first ever four-time first-team All American, winning nine tournaments throughout her Collegiate career, representing Britain and Ireland twice at the Curtis Cup – in 2012, GB&I would reverse a final-day deficit to break America's seven-tournament winning streak and Meadow, playing in the penultimate match and the only one left on course, would have the honour of clinching the victory with a 4&2 win – and winning the Women's Amateur Championship in 2012. That win secured an invite to the 2013 Women's Open Championship, but with her head firmly screwed on and college work taking precedence she declined.
"Yeah, it's always been a priority," she said of her decision to focus on her studies at the time. "My parents always said that education is important, and you know, being a golfer, you never know when your next shot is going to be and that's still the case, so it's nice to have that backup plan. I was doing accounting which isn't an easy degree by any means so I kind of had to balance the positives and negatives and try to make it work and that's something I still value to this day. I'm not sure how much accounting is left in my brain, but at least I have it and I'm proud to say that I did do it."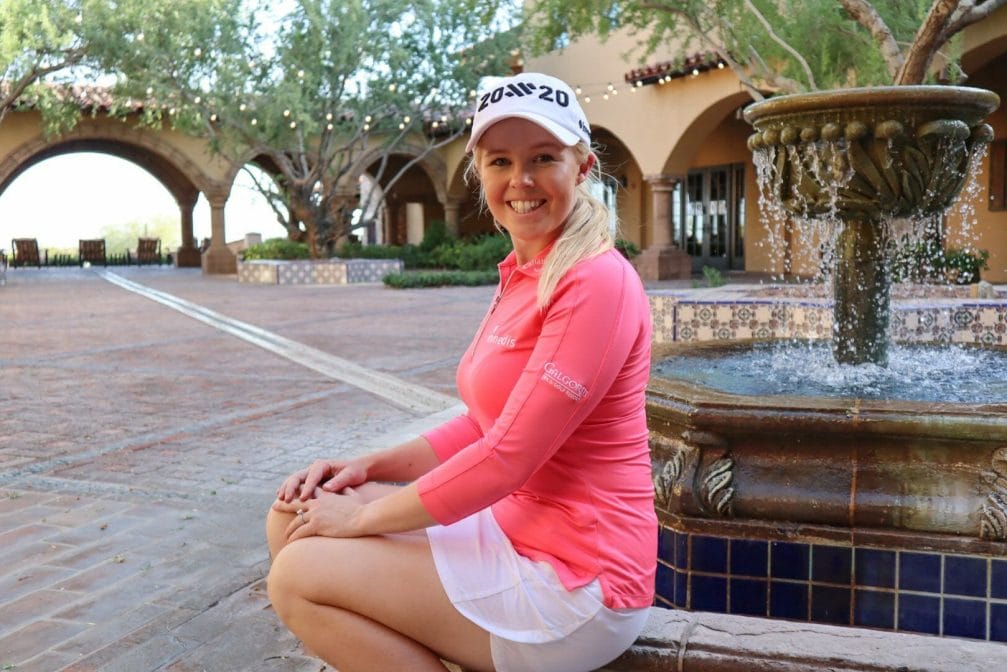 Interestingly, Meadow is one of the few LPGA stars who handles all her own contract negotiations which is testament to her own business acumen.
"Yeah, it's fairly uncommon," she concedes, "there are a few girls out here that handle their own but you know, I found a lot of deals based on, not necessarily personal connections, but friends of friends or through Pro-Am groups, but honestly, it's not that much work," before adding with a laugh, "they're mostly renewals now anyway so it's just 'sign on the dotted line.' So, it's nice not to pay someone the percentage if you don't have to."
Of course, this comes with the added bonus of being more personally connected to your investors which is never a bad thing when it comes to selling yourself. "It's so hard to put a monetary value on any sponsorship," she explained, "it's a return on investment, and having that relationship can only help. It makes you more personable when you go and do those client days and a couple of them massive mentors to me and have taught me how to go about things. I've learned a lot from them."
This all seems so logical, which is a reminder again that Meadow is an accountancy graduate and in accountancy, the numbers have to make sense. With sponsorship value being such a vague commodity, you sell the known quantity, yourself.
This logic-driven approach somehow seems at odds with her decision to go for the green on 18 at Baltusrol, where the numbers would've suggested laying up was the prudent option. But pragmatism in business is one thing, pragmatism when there's a glimmer of hope of Major glory is quite another and there'd be no accumulation without speculation there.
Life on Tour hasn't always been easy for the Jordanstown native. The third-placed 2014 US Open finish came in her first start as a professional, but as many fledgling pros discover, a dream start to a professional career is in no way a guarantee that the successes will continue and sometimes life throws punches that catch you on the blindside. Some six months after her incredible US Open performance at Pinehurst, Stephanie's father Robert was diagnosed with aggressive pancreatic cancer and she'd pick up her clubs just once – turning in a highly-impressive T20 finish at the season's first major, the ANA Inspiration – before he passed away. Grief is an invisible hurdle, and it takes a long time to realise you're fully over it, but as if the death of a parent – and the reason she began playing golf as a five or six-year-old was to spend more time with her father – a serious back injury made it a one-two punch and her game fell off a cliff afterwards.
"It was brutal," she said of the three-year stretch following the shock diagnosis. "Obviously for personal reasons it was really hard not having dad around anymore as he was obviously such a huge part of my golfing life as well as everyday life, and that took a lot of adjusting to just like it would for anybody. But then to have the injury – and I'd never really gone through an injury before – it was hard, scary and obviously becomes a mental thing at some point as well. Yeah, it was rough. There's probably nobody out here that hasn't gone through something like that though, it's all relative, but it's hard, you question what you're doing, but there's always light at the end of the tunnel and you just have to keep going."
As scary as most back injuries are, particularly for a sportsperson, they generally heal and by 2018 the physical pain had subsided, but she'd lost her LPGA Tour card and was forced to compete on the LPGA's feeder tour, the Epson Tour as it was then called. A new look Meadow, who'd also moved across the country to Arizona seeking a fresh start, began to get back in the groove. A win and nine top-10s followed and after just a year's hiatus, she was back amongst the big guns.
"Obviously not playing in pain anymore was great, that was a huge hurdle," she explained, "but getting back into that mind frame where you're putting yourself in position to win, putting back-to-back tournaments together was huge and it was a little bit easier on the Epson Tour to get the momentum going. The Epson is no joke though, there's a lot of great players out there too so it wasn't like I was playing ok and finishing well, I was playing some great golf that year and that gave me some confidence to come back out on the big tour."
After an extended period in the doldrums, life was good again both on and off the course and in 2019, she'd return home to compete in the ISPS HANDA at Galgorm Castle and in the first event of its kind where men and women competed on the same courses, at the same time and for the same prizemoney, delivered a first victory with her partner and future husband on the bag.
"He'd been out here caddying for a for a couple of other girls before," she said, "and I was struggling to find someone I gelled with and he stepped in so what was supposed to be a short stint turned into a much longer stint, but then we realised it's a tough thing to do to be in a relationship together and work professionally together in that stressed environment. Don't get me wrong, when you're playing great and you have a significant other on the bag there's nothing better but when you're not playing great, it's not so fun."
Despite parting ways professionally so Kyle could pursue other interests, he and Stephanie tied the knot earlier this year but he could yet make a return to active duty should Stephanie realise one of her short-term goals and qualify for a third straight Olympic Games, something she values extremely highly having played in Rio in 2016 when at a low career ebb and then again in 2021 where COVID restrictions meant that she could neither properly appreciate her seventh-placed finish nor properly experience the games and life in the Olympic village.
"Tokyo was great," she remembers, obviously I wish it wasn't COVID and we weren't testing everyday, and I could've gone to different events and watched different athletes compete. But anytime you get to put on the country uniform and step on the first tee representing your country, it's very special. And Kyle did caddie for that one which was a really cool experience. He really enjoyed being in the Irish house and the Olympic village. There's nothing better than doing that and it's definitely one of the highlights of my career for sure, so hopefully we'll do the same thing in Paris next year.
"I'd never been in Japan before and I really wanted to explore but obviously couldn't and I love watching other athletes and how they compete in other things so not to be able to do that was one of the things I missed the most from when I was in Rio. There I got to see badminton and boxing and all these sorts of things, so yeah, the bubble was intense and stressful at times."
One of the sources of criticism of Olympic Golf is the format where 72-hole singles strokeplay offers no deviation from the week-to-week events delivered by the top-tier tours in both the men and women's games and though Meadow understands why the format is as is, she makes no secret of her desire to have some sort of team format introduced. "I think it would be cool to see some sort of team aspect," she admits, "if they could join something up with the male side as well. A lot of sports get to play that team as well as individual format a little bit so it would be really fun to do something like that, but I also understand why they don't. Anytime that we can play with the men or with a team of men, it's great for women's golf so if we could do something like that in the future it would be fantastic."
Women's sport in general and golf in particular have made great strides over the past decade or so and there is arguably no other sport where the elite men and elite women are as technically indistinguishable with power being the only real standout difference.
"I hear it all the time, whether it be Pro-Am groups or just spectators in general, that A, we didn't realise how good the girls are and B, just how much more relatable it is," she explains. "You know, for the average amateur to watch the men, it might as well be a different game, they don't hit it 340, but a lot of the amateur men can hit it 250 or 260 and when they see what we can do with the same swing speed it's pretty impressive, so getting people through the door and getting past those preconceived notions is hard, but the more and more we do it, the closer we'll get."
Those barriers are being chipped at bit by bit, and it's thanks in no small measures to players like Stephanie Meadow who've been through the professional grinder and come out the other side, who've travelled the world for a fraction of the rewards that their male counterparts receive, and who've inspired a new generation of female golfers to follow in their footsteps and put women's golf on the pedestal it's long deserved but so often been denied.
And with what she's been through and where she is now, there are few better role models than the Jordanstown girl.
The above feature appeared in the 2023-7 edition of Irish Golfer. To view the full edition, click below