Golf, Sligo, instant fame and life on the road – We caught up with Westlife's Shane Filan to get the lowdown
Home club and handicap?
County Sligo Golf Club and I'm 10.7. It's the lowest I've been but I'd love to get to single figures. 9.4 I'd take.
How and when did you get into golf?
Around the start of the band actually, back around 2000, though I did play a bit of pitch-and-putt growing up. The Tiger hype probably helped, but we started playing on tour because we'd be in cities for three nights, four nights, whatever and you'd have a lot of days off and we were staying at The Belfry and other golf resorts because it was too crazy to stay in the cities, and you'd be looking out at golf courses so we decided we may as well play. Nicky [Byrne], Kian [Egan], Brian [McFadden] and myself started going out as a fourball and then do the gigs that night. It was a bit of craic initially, but then of course the competitiveness kicks in and we'd be looking for bragging rights.
And who took the bragging rights initially?
It was over and back at the start because we were all at a similar level. We don't play together that much now, but I probably play the most golf, Nicky is probably second and Kian doesn't really play that much, but he was off nine or ten when he was younger so he's still got a decent game. When we played the JP McManus Pro-Am recently, he had a great round on the second day. We had a really good team score going, we were fifth or sixth and we got to the par-3 16th. The three of us, Luke Donald, Nicky and myself all put it in the water, but Kian took an extra club, hit a great shot and put us on the green which was all we needed. So yeah, he's always had a decent game.
And do the clubs always come on tour?
If we're touring the UK, then yeah, because you're in all these cities and have days off and I'd play with the lads the odd time, but sometimes friends and family would be over and we'd play some of the nicer courses like Royal Birkdale or The Belfry. So, I try to play as much as I can but you don't play enough. You can never play enough.
So you didn't bring them on your recent Asian Tour?
No, Asia is a funny one because we might only be there for two weeks. It's kind of hard to get into the time zone, and you're waking up at 12 or one o'clock in the afternoon and it's nearly too late to go golfing then. We did before though, I've played in Malaysia and Singapore and places like that and some of the courses are phenomenal out there so it's always tempting to bring them.
You've played in big Pro-Am events; how do the first tee nerves compare to getting on stage in front of tens of thousands?
It's definitely different. When you're going out singing, it's more adrenalin than nerves. You're excited, you're buzzing for the first song to hit and it's something that you've rehearsed a lot, something you've practiced for and have been doing for years. With golf, no matter how good you are as an amateur, when you're on the first tee with 500 or 1,000 people watching, you're just praying that you hit a good shot and get off to a half-decent start. But luckily enough in all the ones I've played, I've tended to play pretty decent. Maybe it's because you focus a bit more, or slow down your swing a bit, but so far, thankfully, no first tee disasters.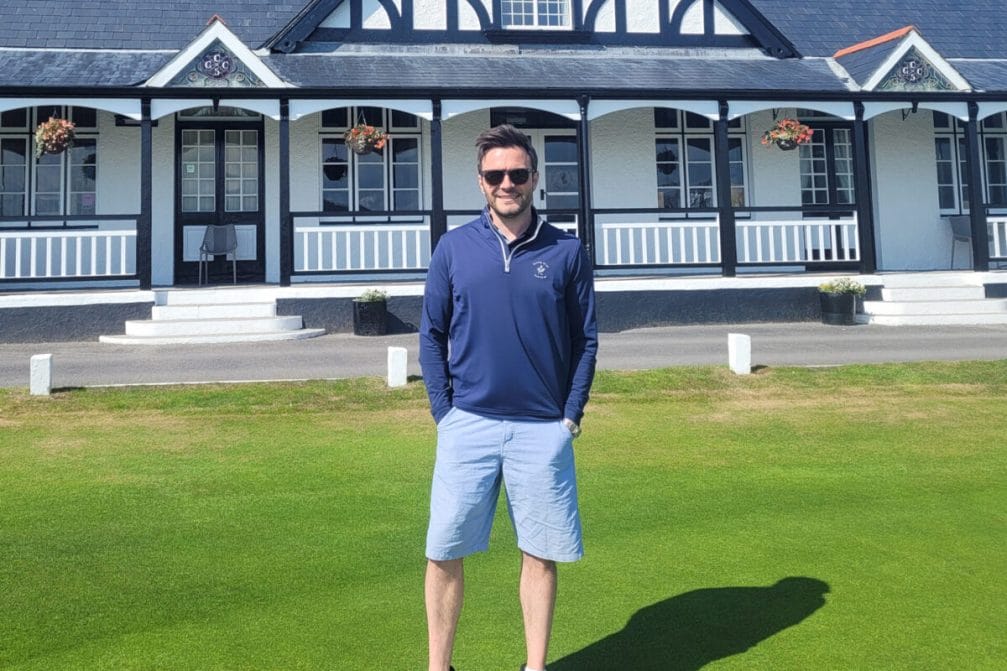 Who is the best golfer you've played with?
Good question. I've played with Luke Donald and Sam Burns in the last two JP Pro-Ams. Donald's bunker play and short game was off the charts, phenomenal, and Burns' iron play was incredible. We were coming down the par-5 12th – a very long dogleg – and he had 247 in and pulls a 4-iron. Hit this high draw and when we got up there it was six feet from the pin. Probably one of the best iron shots I've ever seen. But as an all-round golfer, I've played with Lee Westwood a few times and we actually won a Pro-Am at the European Club, and his game all-round is pretty spectacular. It was actually the first Pro-Am we'd ever played so that was pretty cool.
What are the strengths and weaknesses in your own game?
Putting is definitely my biggest strength. I got a general golf lesson a few months ago with Colin here in Rosses Point, and he asked me what's my favourite club and I said "my putter," and when he asked why, I said "because I just feel so happy with it in my hands." My driving is quite good but my bunker play is probably my biggest weakness. I'm working on it and it's getting better, but I should practice it more because I only live a few minutes from the course in Rosses Point and there's a great short game practice area here, but I'll come up and practice my putting way more often than I'll practice my bunker play.
I hear you've a decent setup at home as well?
Yeah, one of my best mates, Gary McDermott, is the rep for TrackMan in Ireland and Wales, so when he started, I was obviously intrigued and got it installed in one of the rooms in the house. We use it as a cinema/TrackMan room because it's got the screen, but the kids probably spend more time watching stuff on it than it's used for golf. It's great craic, and the games on it are brilliant, and I can play Pebble Beach or St. Andrews anytime I like.
Have you ever had a hole-in-one?
No, I've hit the flag and gotten very close a few times, maybe three inches or so, but no, never got a hole-in-one. It's something you keep searching for, every par-3. You obviously have to hit a great shot but you need a bit of luck as well. I've holed out from 120-yards or so for eagle though, and that felt pretty great and I didn't have to buy a round of drinks for the whole bar either!
Do you have a regular fourball?
I have two really. One we call the 'Masters Fourball,' with my mates Philip, Gary and Paul. We started about 12 or 13 years ago and we'd play golf on the Saturday and then go for a few drinks and watch the Masters afterwards so we started calling it the 'Masters Fourball' and it's become a ritual thing, but then I have a fourball in Co. Sligo as well with my friends Shane, Robbie and Keith.
Have you ever won a competition at your home course?
I have. A couple of years back I won a tournament here on Open Week, and winning here was really big because I'd never won here before. There was 90-odd people in it and I won it on countback. It was funny because I was out for dinner the night before, had a few pints and it was a late-ish night, and it was an 08:20 starting time, so I nearly pulled out but the lads were going out and it was the only time available. I wasn't expecting much but it's mad that when you're not thinking about it you can play really well and I had 39 points and that got the handicap down a bit as well.
What's your favourite course?
I'm very proud of Co. Sligo, it's a very cool course to be able to call your home course. It's beautiful, but can be very tough, especially when the wind blows, but when you get it on a sunny day, it's absolutely stunning. But Adare Manor has to be the best course. It's just a remarkable place and everyone talks about it, not necessarily because of the level of difficulty, because it's fair if you know how to play it, but the whole place is like a snooker table and the greens might be better than a snooker table. I've played there quite a few times and I've never seen anything manicured as well. It's like Augusta – a little flatter – but the same levels of perfection and you don't want to be aiming at many flags there.
And what course is top of the bucket list?
Augusta, probably the same for most people, and Pebble Beach would be number two, but Augusta is definitely number one. I went to the Masters a few years back, and it's just incredible. You already know every hole on it from watching it every year, but I'd love to play it and you imagine yourself playing it, imagine playing Amen Corner and hitting the green on 12. I'd say it's a very difficult course to play, but if anybody wants to extend me an invite, I'll be on the first flight over!
Who are your own heroes and influences in the music industry?
Growing up, probably Michael Jackson, and Lionel Richie as well. Band wise, in my teenage years, I was into pop music and the Backstreet Boys were huge influences and I was very much a fan of them. When we started out, we'd bought tickets to see them in Dublin, queued for tickets actually, and then three or four months later we were supporting them for our first gig which was pretty spectacular for a 17-year-old.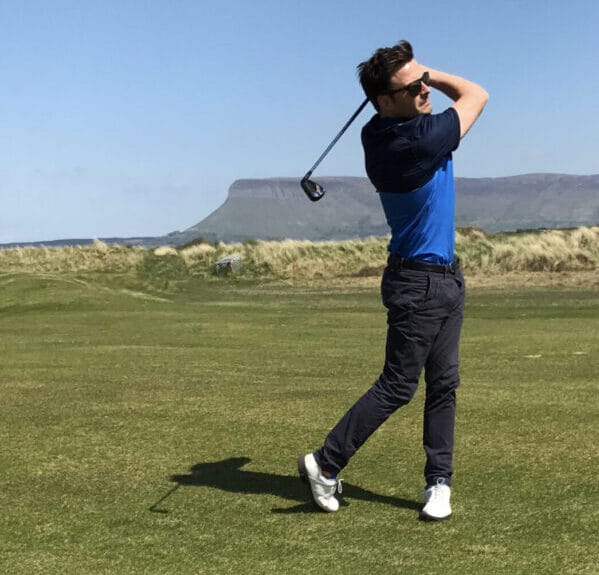 Success and fame came so quickly. How did you adjust to that?
You can't prepare for it really, it all happened so quickly. Once we went number one with our first single, we weren't expecting it, but then we were number one again the next week and holding it was nearly a bigger deal. It just kept going and we had seven number ones in a row. It was crazy, but we were living in a crazy bubble of success, though we didn't really think of it as that. We just wanted to be popstars, we wanted to be a famous boyband and we never really thought of what our lives might be like when we went home. But Sligo was a great place to be living because our families and friends were here and those close-knit ties kept us grounded and they wouldn't let us lose the run of ourselves because it would be very easy to do so.
You picked up the guitar during lockdown. What's your number if you're handed it at a party?
I'm just about there to be able to play and sing together at a party, but that's a good question. Probably The Dance by Garth Brooks. It's a beautiful song to play and always a crowd pleaser, I love playing Shallow from A Star is Born. I'm learning some of the Westlife songs as well as they sound beautiful on acoustic guitar and I've always wanted to be able to do that
Music and golf are passions that can be pursued late into life, which do you see yourself giving up first?
I hope it's not singing anyway. I love golf and hope I'm lucky enough to play into old age, but as long as I'm able to sing, I'll be singing until the day I die.