Apes Hill Barbados, the luxurious 475-acre resort overlooking the Island's west coast, has achieved Audubon Cooperative Sanctuary for Golf certification for its 18-hole championship golf course from Audubon International, a global leader in environmental sustainability certifications.
The Audubon Cooperative Sanctuary Program for Golf educates course managers on environmentally sound management techniques across six focus areas: Site Assessment & Environmental Planning, Wildlife Habitat Management, Water Conservation, Water Quality, Chemical Use Reduction and Safety, Outreach and Education. By becoming certified, Apes Hill Barbados will receive third-party verification of their sustainability efforts.
The 18-hole championship golf course at Apes Hill Barbados was renovated and redesigned under the watchful eye of legendary course architect Ron Kirby, with our own Roddy Carr also heavily involved. After opening for play in November 2022, the layout has been complemented by a state-of-the-art Performance Centre – hailed as the best teaching facility in the Caribbean – with a short par-3 course set to open next year. While this certification focuses on golf, Kirby's layout is just one of many environmental practices at the amenity-rich resort that is setting an inspiring, elevated standard in the Caribbean.
"Achieving Audubon International certification illuminates our sustainability commitment which is the foundation of everything we do here," said Sunil Chatrani, Executive Chairman, Apes Hill Barbados. "We didn't just build another green sustainable golf course; we're building an eco-system rooted in responsible behaviour that puts our people, our wildlife and our planet first."
Following are some environmental initiatives that Audubon International commended Apes Hill Barbados for implementing:
Irrigating exclusively with captured rainwater
Reducing irrigation use
Expanding acreage that requires less irrigation (mulch beds, drought tolerant vegetation, low maintenance vegetation)
Planting drought tolerant turf and vegetation
Upgrading irrigation system to improve efficiency and distribution
Analysing weather data prior to irrigating
Monitoring irrigation system to ensure efficiency and distribution patterns
Installing part-circle heads to help eliminate water from going on cart paths and/or native areas
Improving soil and turf health by using proper cultural practices including mowing, irrigation, fertilisation and compaction management
Reducing overall chemical inputs by expanding acreage not requiring chemical treatment
Introducing a new variety of turf that is less susceptible to disease
Applying slow-release and organic fertilisers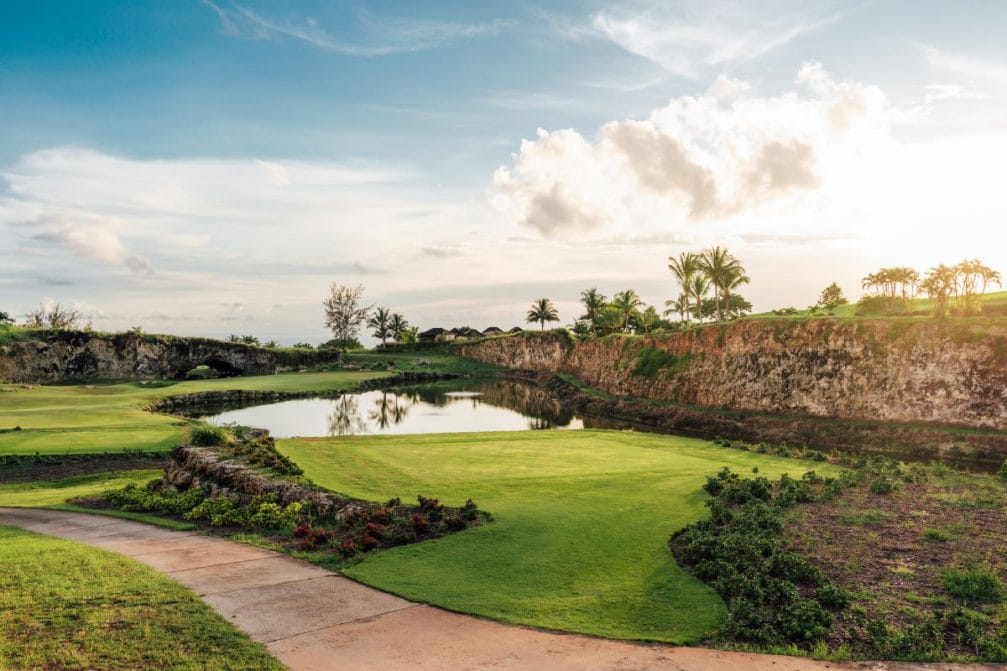 Sustainability is a way of life at Apes Hill Barbados. With 77 acres dedicated to farming livestock, 30 beehives, vegetable gardens, and 17 acres for fruit trees, it is dedicated to preserving biodiversity. Planting passion fruit, lime trees, and other local trees helps reinforce a vibrant ecosystem and aids in food security.
Apes Hill Barbados achieving ACSP certification comes on the heels of it recently garnering 'Development of the Year' acclaim from Golf Inc., a leading golf industry magazine reporting news, trends and best practices globally. That award 'recognises the finest private clubs and daily fee/resort courses with the best new traditional and non-traditional golf courses that opened during the past year around the globe'.
Apes Hill Barbados was bestowed with two Luxury Lifestyle Awards earlier this year as 'Best Real Estate Developer' and 'Best Sustainable Residential Development'.
"Apes Hill Barbados is burgeoning as a modern-luxury, environmentally responsible resort community that is unmatched in the Caribbean," added Chatrani.
Located on the Island's most elevated terrain 1,000ft above sea level with sweeping views of both the Atlantic Ocean and Caribbean Sea, Apes Hill Barbados is also home to a developing range of accommodation options, with a portfolio of stunning real estate on site alongside golf vacation properties set to allow guests to stay and play from later this year.
Amenities at Apes Hill Barbados will include a wellness centre, several kilometres of enchanting nature trails for hiking and biking, flood-lit Padel courts, TigerTurf tennis courts, spa, dining, and bespoke outdoor and well-being activities as well as a dedicated concierge service.
For more information, please click here.