Play continued today at Knighstbrook Hotel, Spa and Golf Resort in the AIG Cups and Shields Finals.
Following their semi-final defeats of Galway Bay and Adare Manor, East Cork and Edmondstown will face off tomorrow in the AIG Intermediate Cup Final. Edmondstown will be looking to make up for their semifinalist result in the AIG Junior Foursomes earlier this month while East Cork are searching for double success, as the club won the AIG Jimmy Bruen Shield last weekend.
In the AIG Pierce Purcell Shield, Castlebar carded another convincing win over Lismore while Abbeyleix narrowly saw off Mayobridge in the other semi-final. The two will line out tomorrow in the final at Knightsbrook from 09.30am.
The AIG Women's Junior Cup quarterfinal also got underway today with a second Castlebar team progressing to the semi-finals. The Connacht side will be joined by Royal Portrush, Tralee and Newlands in the semi-finals tomorrow.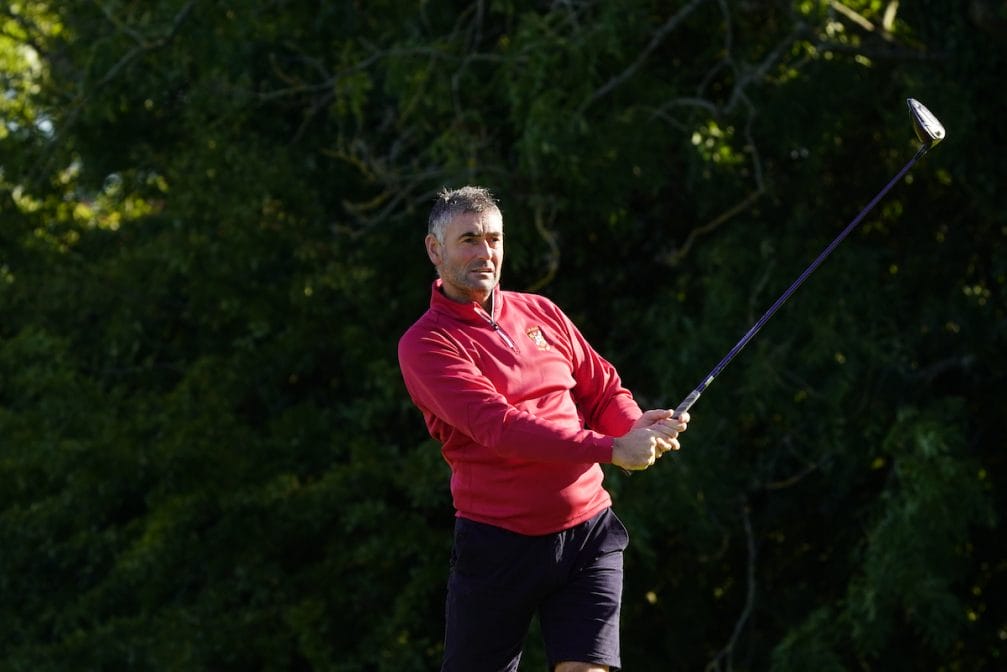 AIG Intermediate Cup Semi-Finals
East Cork 3 – 2 Galway Bay (East Cork names first): Claire Coughlan lost to Lorna Shaughnessy 3&2, Kate Daly lost to Fiona Graham 1 hole, Mary Walsh beat Sharon Rooney 3&2, Claire O'Brien beat Aoife Killeen 3&1, Orla Evans beat Eileen Clasby 7&6.
Adare Manor 2 – 3 Edmondstown (Adare Manor names first): Breda Naughton beat Barbara Maher 2&1, Siobhan Curran lost to Carolanne Roopnarinesingh 1 hole, Marie Barker lost to Shirley O'Donoghue 3&2, Bernie O'Dea beat Libby Delap 5&4, Marian Noonan lost to Grace O'Neill 2&1
AIG Pierce Purcell Shield Semi-Finals
Lismore 1 – 4 Castlebar (Lismore names first): W Curley & M O'Driscoll lost to P Burke & S Haugh 2&1, S O'Rourke & L O'Rourke halved with T Moylett & D Prendergast, P Morrissey & P Curley lost to T Lawless & C Dawson 6&4, M Power & G Mulcahy halved with S Granahan & J Collins, P O'Leary & D O'Leary lost to B Evans & R Prendergast 7&6
Mayobridge 2 – 3 Abbeyleix (Mayobridge names first): P McGivern & JP McIlvenny beat K Joyce & M Ring 3&2, J Boyd & C Magee lost to S Walkin & N Condon 6&5, C McConville & J Brown lost to D Clooney & M Thornton 1 hole, S Fegan & B O'Hare lost to M Lawlor & G Bonham 1 hole, G Delvin & P Travers beat E Cassin & A Dunphy 5&4
AIG Women's Junior Cup Quarter-Finals
Fota Island 2 – 3 Royal Portrush (Fota Island names first): Norma Hill beat Poppy Hastings 4&3, Deirdre Ryan lost to Ella Proctor 5&3, Sel O'Leary lost to Julia Currie 4&3, Aileen Sweeney O'Sullivan beat Jo Donaldson 4&3, Lorraine Stanley lost to Siobhan McHugh 3&2
Royal Tara 2 – 3 Castlebar (Royal Tara names first): Ann Gorman lost to Sarah Prendergast 20th, Katie Daly beat Lorna Irwin 1 hole, Emily Davis beat Breege Finnerty 6&4, Terrie Cahill lost to Shiela Baynes 4&3, Angela Reilly lost to Carmel Moran 3&2
Tralee 4 – 1 Clandeboye (Tralee names first): Emma Leahy halved with Paula Hunter, Lucy Grattan beat Louise Bickerstaff 5&4, Emma Morrissey beat Sonia Hopley 3&2, Ella Moynihan beat Gillian Murphy 5&4, Sarah Fitzgerald halved with Aimee Blair
Newlands 4 – 1 Tullamore (Newlands names first): Ann Hughes beat Richelle O'Neill 2&1, Leonie Colgan beat Emily Donohue 3&1, Fiona Ryan halved with Mary Kinsella, Louise Halpin beat Stephanie McNiff 6&5, Carol Kiely halved with Eilish O'Connell