Ballycastle, The K Club, West Waterford and Ballybunion have all qualified for the Semi-Finals of the Revive Active Women's All-Ireland Fourballs in Sligo in October after the four teams won their Quarter-Finals at Knightsbrook in Co. Meath.
Ballybunion defeated Rathdowney 3-2, with three of the five ties going to the 18th hole. Stephanie Phelan and Claire Phelan-Delahunty beat Maeve Barrett and Siobhan Walsh on the final hole in the bottom match, to win the match for the Kerry club.
West Waterford had a 3-2 win over Gort where Denise Nugent and Finola Butler beat Beth Naughton and Teresa Gill 2&1 to win the decisive point for the Munster side who will meet Ballybunion in the Semi-Finals.
The K Club were the biggest winners of the day, after a 4-1 win over Shandon Park. Noreen O'Grady and Catherine Kinane's 4&3 win over Debra Thompson and Lorraine McCaffrey proved decisive to get the Kildare club over the line.
Ballycastle also booked their place in the Semi-Finals with a 3.5-1.5 win over Clontarf. Catherine Black and Rita McCormick beat Marianne Considine and Frances Hand 4&3, to help the Antrim club advance.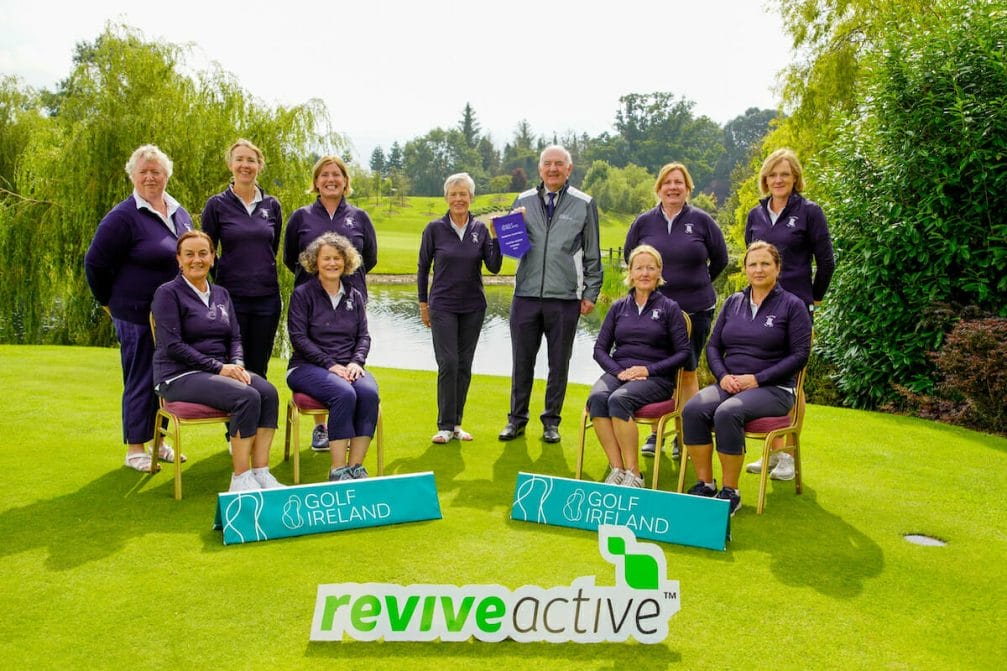 Revive Active Women's All-Ireland Four-Balls Quarter-Finals
Ballycastle 3.5-1.5 Clontarf
Brenda McNeill and Doreen Reid lost to Fionnuala Ford and Rachel Murphy 2&1
Joan Kennedy and Briege Loughrey beat Anna Marie Dufficy and Niamh Brown 3&2
Susan Crawford and Mary Duffin beat Mary Sheridan and Paula Carton 3&2
Catherine Black and Rita McCormick beat Marianne Considine and Frances Hand 4&3
P Traill and Bernadette Hegarty halved with Hannah O'Neill and Rena Walshe
Shandon Park 1-4 The K Club
Paula Irvine and Brenda Marson halved with Karen Palmer and Pat Desmond
Karen M. Simpson and Maeve Hamilton lost to Sharon Smurfit and Carol Barry 6&5
Nicci Wilson and Deborah Sweeney halved with Una McQuillan and Angela Cirillo
Debra Thompson and Lorraine McCaffrey lost to Noreen O'Grady and Catherine Kinane 4&3
C Loughins and Alison Honan lost to Karena O'Connor and Amy Mangan 5&4
Gort 2-3 West Waterford
Siobhan Forde and Shauna Burke lost to June Whyth and Joanne Fox 1hole
Jane Joyce and Mary Fahey Coen beat Mary Lou Carroll and Marie T. Currin 4&3
Maura Hanrahan and Josie Collins lost to Deirdre Ruane and Una Mulligan 5&3
Beth Naughton and Teresa Gill lost to Denise Nugent and Finola Butler 2&1
Joana Fogarty and Sara Broderick beat Josephine Swayne and Ciara Donnelly 5&4
Rathdowney 2-3 Ballybunion
Elaine Dowling and Eileen Dowling lost to Margaret McAuliffe and R Fitzgerald 6&5
Niamh Dunne and Kathleen Maher beat Catriona Corrigan and Noirin Hitchen 19th hole
Noeline Delahunty and Lily Graydon lost to Susan Gilmore Kettler and Orla Kiely 19th hole
Mary Molloy and Breda Colleton lost to Eileen Kenny Ryan and Marion Kennedy-Hogan 5&4
Stephanie Phelan and Claire Phelan-Delahunty beat Maeve Barrett and Siobhan Walsh 1 hole
Revive Active Women's All-Ireland Four-Balls Semi-Finals
Ballycastle v The K Club
West Waterford v Ballybunion
Revive Active Women's All-Ireland Four-Ball – QUARTER-FINALS