Only the most determined golfer plays in winter, those dedicated to the sport, unafraid of the cold, the wet, damp, high winds and of course the large number of fallen leaves that conspire to hide the golf ball at every opportunity. And yet it's those golfers who understand the value of being 'geared' up, who understand the benefit of the technologies that Skechers develop for their comfort and well-being and it's probably for those reasons that they are prepared to play in the harsh winter climate…that and the dogged determination not to be influenced by the weather and an old-fashioned love of the game.
Shoes, as we know can make or break a round at any time of year but it's in the mud and damp that they can really come into their own.  Skechers GoGolf are renowned for the comfort that they bring golfers and increasing numbers are realising just what that means to their game – one less thing to think about in a sport already plagued by the mind. Here is a selection of Skechers GoGolf shoes ideally suited to winter golf:
MEN'S:
SKECHERS GOGOLF TORQUE PRO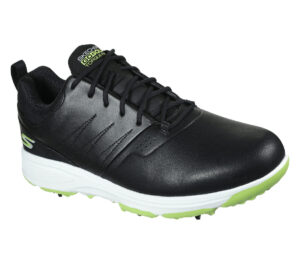 New for 2021, the Skechers GO GOLF Torque Pro offers undeniable value with a full-grain leather and synthetic upper with Skechers Waterproof Membrane Protection and a dynamic diamond traction plate with replaceable Softspikes for maximum grip in all weathers. In-shoe comfort is enhanced through a responsive ULTRA GO midsole and a Skechers GOGA MAX insole for high-rebound cushioning. The spiked golf shoe is available in extra wide widths in black/red, grey/red, white/navy and standard widths in black/grey. RRP: €110
SKECHERS GOGOLF PRO 4 LEGACY
The Pro 4 Legacy is the ideal wet weather golf shoe that features a combination full grain and synthetic upper and Skechers Waterproof Membrane Protection. A dynamic diamond traction sole plate with replaceable Softspikes ensures maximum grip in the worst of conditions and in shoe comfort is provided by Skechers high performance Resamax cushioned insole and lightweight responsive ULTRA GO cushioning.  Available in White/navy, grey/lime and black red. RRP: €135
SKECHERS GOGOLF TORQUE-TWIST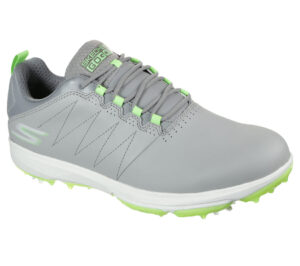 The all-new Go Golf Torque-Twist is a sporty, lightweight designed shoe that has a new twist-dial closure system that provides precise adjustable front closure for a closer snugger fit. The smooth uppers feature a seamless synthetic rain jacket construction for complete waterproof protection whilst inside the shoe Skechers responsive ULTRA GO cushioning and super comfortable GOGA Max high-rebound insoles are responsible for their industry renowned in shoe comfort. Max grip and traction is provided by replaceable Softspikes. Available colours: white, black, grey. RRP: €118
GO GOLF TORQUE BROGAN
Designed for the extreme conditions posed by winter golf, the Torgue Brogan is a boot-style golf shoe with waterproof, full-grain leather uppers and a synthetic stretch section that rises above the ankle. Featuring lightweight and responsive ULTRA GO cushioning and a Resamax cushioned insole, grip is offered by replaceable Softspikes mounted on a durable TPU bottom plate. It is available in black in sizes 7.5-13.  RRP: €163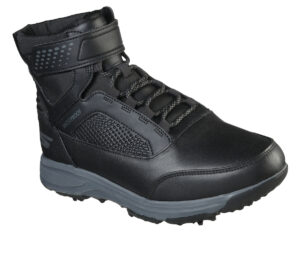 WOMEN'S:
SKECHERS GOGOLF PRO 2
The Pro 2 boasts a low-profile, full contact outsole, with replaceable Softspikes for unparalleled traction in all conditions. They are waterproof with synthetic leather uppers, lightweight and have Skechers comfort locked in through Skechers ULTRA GO and GOGA Max in shoe tech. Available colours: navy, white and black. RRP: €105
SKECHERS GOGOLF ELITE 3 DELUXE
Headlining the women's spikeless range, the low-profile Elite is fully waterproof with full-grain leather uppers and Skechers lightweight ULTRA GO and GOGA Max cushioning for unrivalled in shoe comfort. Available with a traditional lace closure and a durable TPU outsole, the Elite 3 Deluxe is available in two colours – black and white. RRP: €118

Stay ahead of the game. Subscribe to our newsletter to get the latest Irish Golfer news straight to your inbox!