Following their two year wedge product cycle, TaylorMade Golf has unveiled its latest in wedge design – the Milled Grind 4 (MG4) with the all-new Spin Tread technology.
The MG3 wedges that TaylorMade released two years ago featured raised micro-ribs between each of the main grooves. Those are now gone, replaced in the MG4 with a new surface-roughening pattern that TaylorMade calls Spin Tread. TaylorMade uses a laser to etch the design at a 45-degree angle to the central grooves, and if you rub your thumb back and forth over the hitting area, you can feel how course the hitting area is compared to the smooth chrome areas of the head.
Built upon the success of previous Milled Grind wedges, MG4 represents a significant advancement in the Milled Grind family, offering golfers a combination of spin control, versatility and premium feel. "This is a major step forward in the progression of the Milled Grind family. With MG4 we have evolved our approach to wet spin and developed an all-new Spin Tread technology. We use a laser etching treatment to create face roughness, which translates to better friction and moisture channelling for optimal ball control, especially on partial shots," said Bill Price, Senior Director of Product Creation, Putter & Wedge.
This innovation proves crucial, particularly in wet conditions, where players experience higher launches and reduced spin. By combining the laser treatment with strategically designed grooves and a raw face, TaylorMade has achieved notable improvements in wet spin rates compared to prior models while also increasing face durability.
The technology works in a similar fashion to the tread on a tyre, which creates space for water to exit so the tyre can have direct contact with the pavement and better grip the road. In the case of MG4, the treads channel away moisture and allow the golf ball to stay on the face longer while imparting more spin.
With MG4, TaylorMade has not only focused on performance and technology, but also prioritised aesthetics and player feedback. MG4 features a refined finish with a slightly darker tint, minimising glare and providing a more unified appearance that blends seamlessly with the raw face as it oxidises over time. Furthermore, the redesigned back geometry enhances the wedge with a more solid and softer feel – all complimenting its refined Tour-inspired shaping and address versatility.
"The feel component is a significant factor. By replacing the chrome-plated face with raw finishes early in the Milled Grind evolution, we were able to influence spin and also enhance the overall feel of the wedge. Adding our reconstructed backbar, with more weight positioned directly behind the strike zone, allows us to help players achieve their desired shot trajectories and spin rates with premium feel and confidence," commented Greg Cesario, TaylorMade Wedge Design Team
TaylorMade has also introduced a comprehensive range of sole grinds in the MG4 line-up, offering golfers more versatility while also simplifying the selection process. The grinds are categorised into three main options: low bounce (LB), standard bounce (SB) and high bounce (HB). However, to cater to different swing dynamics, the company added alternative options in each category, providing a total of six bounces to meet the player's unique requirements.
The new MG4 wedge range features the following sole grinds:
Low Bounce (LB): Low leading edge for added versatility and shot making in firm conditions.
Low Bounce V (LBV): Designed for skilled players with a shallow attack angle, offering exceptional spin and the ability to manipulate face angles effectively.
Standard Bounce (SB): All-around performance that prevents excessive digging and allows the clubhead to glide through the turf smoothly.
Standard Bounce C (SBC): Provides increased versatility for players who prefer to manipulate face angles, without compromising bounce performance.
High Bounce (HB): TaylorMade's standard high bounce design is playable for skilled golfers and defies the convention that high bounce wedges are only for high handicappers. In fact, Rory McIlroy uses a HB 60° Milled Grind 4 depending on course conditions.
High Bounce Wide (HBW): With an increased sole width, this high bounce option offers improved playability and excels in sand play.
Tiger Woods Grind (TW): Offered in 56° and 60° lofts, each sole on the MG4 TW was inspired by Tiger's grind. The 56° wedge is a dual sole with heavy heel relief, while the 60° has an extremely high bounce on the leading edge with a shaved heel. Designed to be supremely versatile, these unique grinds allow Tiger to take on any shot, on any course, anywhere in the world.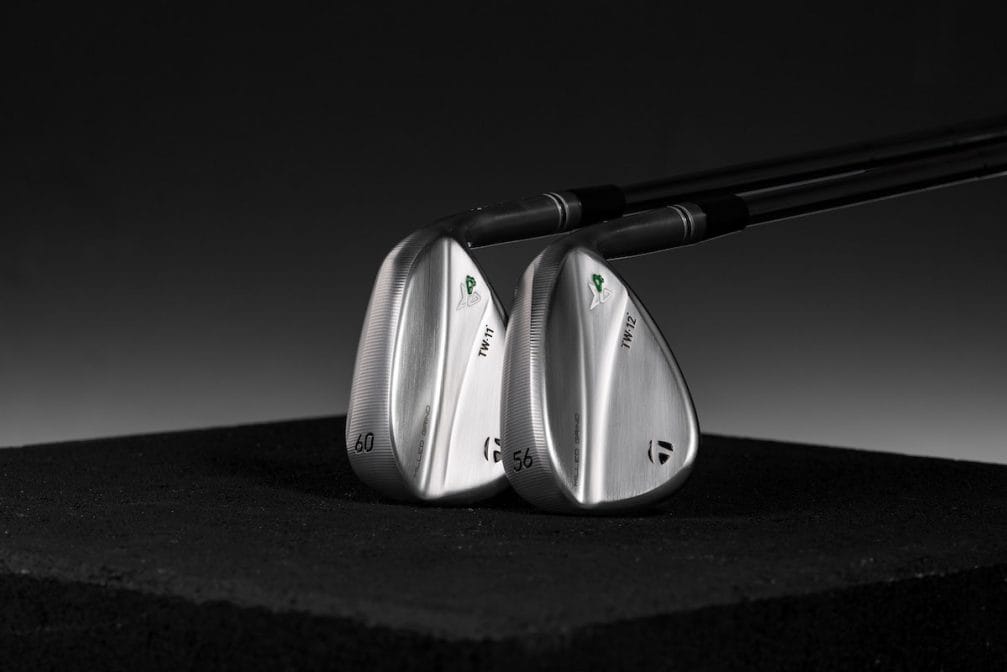 Pricing, Specifications & Availability
Milled Grind 4 wedges are available in two premium finishes, Tour Satin Chrome and Tour Matte Black (SB only). Milled Grind 4 will be available at retail on September 8, 2023 with an RRP of £159/€199 with the TW Grind at an RRP of £199/€249.
Standard available lofts include 46°, 48°, 50°, 52°, 54°. 56°, 58° and 60°. The 46° and 48° lofts are only available in Standard Bounce options. The wedges come equipped with True Temper Dynamic Gold Tour Issue 115g Wedge shaft and Lamkin Crossline 360 Black/Silver/Green Round grip.
Enhanced Personalisation with MyMG4
MyMG4 allows golfers to personalise their wedge with a variety of finishes, paint fills and engraved text or logo options. The four finishes include: black, chrome, aged copper and raw, in which the entire clubhead will rust over time. MyMG4 also offers further personalisation by selecting from more than 50 logos and a variety of placement options, as well as utilising dancing text to spell out a seven-character phrase with an adjoining logo. Golfers may also choose to position repeating initials diagonally along the toe.
There are 15 different paint fill options (White, Black, Tour Red, Silver, Gold, Pink, Yellow, Green, Orange, Purple, Lime Green, Blue, Light Blue, Midnight Blue, and Golf Ball Yellow).
MyMG4 is available on TaylorMadeGolf.eu at a price of £189/€219.