In the irons category Callaway are expanding rather than replacing for 2023 with the introduction of the new Paradym and Paradym X irons. For now the existing Rogue ST and Apex irons remain in their offering.
Paradym and Paradym X are designed to be something different than existing models though, forged, premium heads created to deliver more distance, a softer feel and improved sound giving Callaway huge choice for mid- and higher-handicap golfers who want more distance and a softer feel at impact.
To deliver that feel and performance with Paradym and Paradym X irons , Callaway is utilising several new technologies aided again by the use of artificial intelligence.
On the club face, Callaway is using a 455 stainless steel cup face. This 455 material is extremely strong and durable and great at transferring energy created by the swing into the ball. Like in the Paradym driver design, Callaway ran thousands of computer simulations on the face of each iron to maximise the faces and create optimal hitting areas.
Callaway has made hollow-bodied irons for years, but with Paradym, this is a different type of hollow body construction.
The back portion of the head has several cut out areas where steel was removed, creating a series of shapes and beams in the remaining steel. Callaway calls this as Speed Frame construction, and each iron head in the set have a precise pattern of cut outs that are in different locations.
By removing steel from high areas in the chassis engineers could remove discretionary weight to be redistributed to other places where it can improve performance differently in every head.
Callaway added two pieces of tungsten to each Paradym and Paradym X iron, with the total amount of tungsten averaging 67 grams. There is a small piece on the toe, and a more significant piece was shaped into a bar and positioned internally above the sole plate. The extra weight lowers the centre of gravity and encourages higher-flying shots, while the tungsten in the toe counteracts the weight of the hosel so the ideal impact spot is directly in the centre of the hitting area.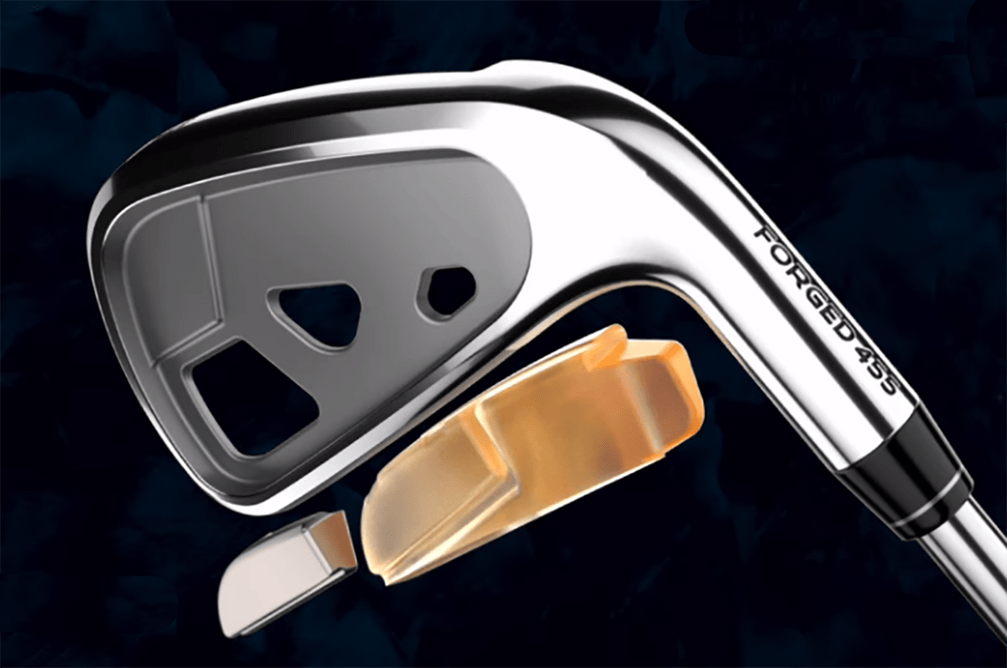 To improve the sound and feel of impact, Callaway injected urethane microspheres inside the head of each Paradym and Paradym X iron. The soft material does not inhibit the face from flexing or reduce ball speed, but the urethane soaks up excessive vibrations to soften the feel and create a more pleasing sound.
The Paradym was designed to be a better-player's distance iron. It has a touch of offset, a moderately wide sole and a thin topline.
Which one to choose – Paradym or Paradym X
It would be easy to simply say if you're looking for a players-distance iron, choose the Paradym and if you want more game-improvement features, go with the Paradym X, but there is more to it than that.
The Paradym X has a longer blade length, a wider sole and more offset, so it should inspire more confidence for mid- and higher-handicap golfers. The Paradym X also has stronger lofts, with the 5-iron at 21.5 degrees and the pitching wedge at 41 degrees. The 5-iron in the standard Paradym has 23 degrees of loft, and that pitching wedge is 42 degrees.
Paradym has a slightly thinner sole, a noticeably thinner topline and just enough offset that produces a look that makes you feel as if shaping shots is very doable. Both perform great of off centre hits and feel and sound very good.
Callaway Paradym, Paradym X irons each come with stock True Temper Elevate steel shafts or with Aldila Ascent PL Blue shafts or Project X HZRDUS Silver for graphite options.
The will be available to purchase on Feb 24th for an RRP of €1499 for steel and €1699 for graphite sets