Launched in 2016 the Ping Crossover was a staple part of the G family. For its latest iteration, Ping has moved it to form part of its i-series as the iCrossover geared for the better player who still needs distance at the top of the bag but doesn't necessarily want to play hybrid or a larger profile long iron.
Compared to its previous generations, the new iCrossover is a slimmed-down version with a thinner topline and reduced offset.
The iCrossover is engineered for high swing speed players looking for long iron alternatives (2XR, 3XR, 4XR) that fit seamlessly into their set while delivering increased ball speeds for more distance with higher launch. The sources of the high ball speed are the thin, maraging steel face and lower CG position, which is closer to the impact location to produce more energy transfer.
The face is robotically welded to the 17-4 stainless steel body with a lower-hinged bend point to provide higher launch for better stopping power. A smaller internal cavity with targeted EVA polymer on the back of the face ensures a pleasing feel and sound.
With similar sole shaping, including the rounded lead edge and ample bounce, the iCrossover seamlessly fits into an i230 iron set in place of long irons. The blade lengths are slightly shorter with less offset than previous crossover generations, making it more compact while providing a tour-style appearance. The standard shaft length builds also are approximately one-quarter inch shorter than the previous models to transition into a set more easily, providing more control and tighter dispersion patterns with similar distance. The precision-milled MicroMax grooves and matte-black hydropearl 2.0 finish deliver consistent launch and spin results for more accuracy.
A first in an iron-style design, the adjustable hosel provides eight settings for loft and lie to help dial in a golfer's desired ball flight. The lightweight hosel is clearly marked to allow for quick and easy adjustments, with a range of ±1.5° loft and lie in various combinations. The standard setting is the stated loft of the club at 1.5° upright.
"We looked closely at our fitting and Arccos data and discovered the vast majority of our crossover users were better players who use one of our blade irons," John K. Solheim, PING CEO and President commented. "So, we shifted our focus to engineering a crossover that better fit the needs of that type of player. The iCrossover performance results have been exceptional. Its shape looks great, the ball speeds are higher, and it sounds very powerful. The addition of the adjustable hosel is a huge benefit to help players at that level dial in their ball flight."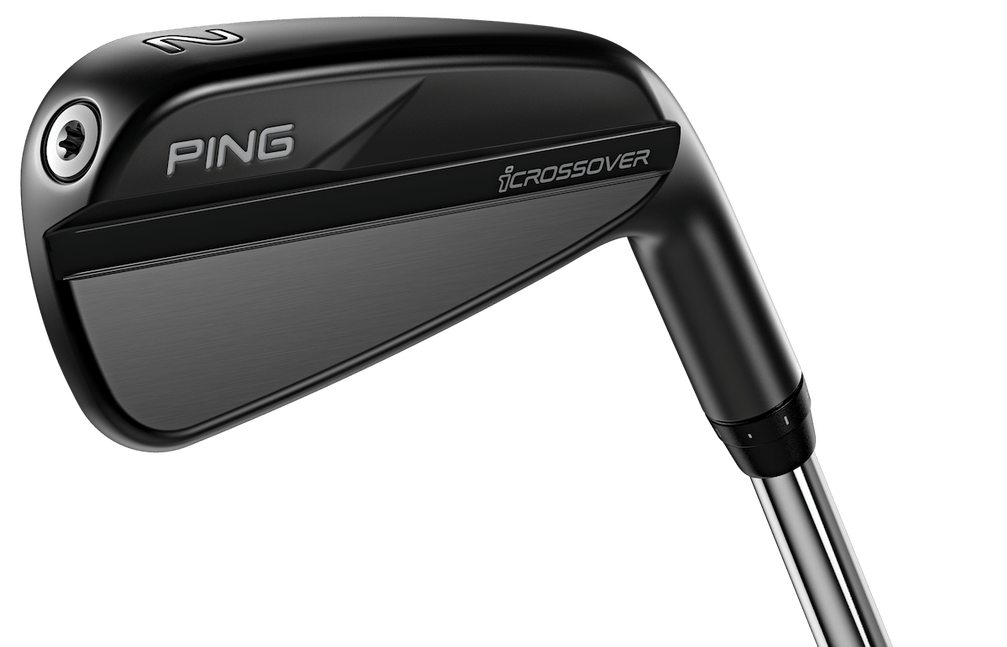 iCrossover Specifications
Multi-material construction: 17-4 stainless steel body; forged, maraging steel face; tungsten toe/shaft tip weights; matte-black hydropearl 2.0 finish
AVAILABLE: 2XR (18° loft) 40 1/8" std. length, 3XR (20°) 39.50", 4XR (22.5°), 39.00"
TRAJECTORY TUNING 2.0 HOSEL: 8 loft/lie settings
STOCK SHAFT: PING Tour 2.0 Chrome 85 (R, S, X)
OPTIONAL STOCK GRAPHITE SHAFTS: PING Alta CB Black (SR, R, S), Mitsubishi Kai'Li White 80 (S, X), Project X HZRDUS Smoke Red RDX 70HY (5.5), 80HY (6.0, 6.5)
STOCK GRIP: Golf Pride 360 Tour Velvet (six sizes)
RRP: €340 per club with graphite