You know that saying about 'you liked a course so much that after playing 18 you just want to go straight back to the 1st tee'? Well, that's how I produced this list of 100 Best Holes. Using the word 'Best' might be a touch disingenuous because I'm not producing a list strictly based on design merits – my list is about adventure, thrill and joy.
So, for example, when I produced a previous 'Best 100' list with designer Ally McIntosh, the list included Royal Portrush's 4th and Royal Belfast's 10th. Both appeared on Ally's 'Best 18' score card but neither makes my Top 100 list here. It is not that they're not exceptional holes – they are – it's just that they don't appeal to me in the same way.
As such, please accept this list for what it is: a list of my personal favourite holes that make me want to go straight back to the tee, whether I've walked off the green with a birdie or a triple bogey. These are the holes I love to play.
There are two specific criteria that I used for this list:
There is a maximum of two holes per course for the simple reason that I want to include as many courses as possible, while also allowing those courses with multiple 'best' holes to be visible. If I took all the holes from, say, Carne, Ballybunion, Tralee, St Patrick's, Druids Glen, Old Head, Royal County Down and Carlow, the list would become overloaded with big names… and courses such as Skibbereen, Claremorris and Kilkeel would not get the chance to shine. Please see the side panel 'Best of the Best'.
There are only 18-hole courses on this list. Unlike Ivan Morris, I have not played all of the 9-hole courses and while these courses have amazing holes – Cruit Island 6th, Connemara Isles 2nd, Blessington Lakes 2nd and Sutton's 8th are worthy contenders – I do not have a broad enough knowledge to include them here.
There are 23 par threes, 55 par fours and 22 par fives. There are 77 different 18-hole golf courses highlighted below, I am sure you have your own favourites so please get in touch and let us know any holes you would have included and why. Let's get started.
Adare, Hole 15, par 4. 277 yards. Index 18 – Clinging to the River Maigue even more tightly than the famous 18th, this short par four is risk and reward. You must land your drive as close to the water as possible or you'll leave a difficult approach to one of Adare's blisteringly shaped green complexes set above the river.
 Adare, Hole 16, par 3. 155 yards. Index 16. The parade of copper beech trees stands behind the green, enhancing the hole's drama, but the size of the green is such that the 16th plays between 120 and 180 yards. And the punishment for missing is severe, with water in front and a deep fall-off at the back.
Ardglass, Hole 1, par 4. 292 yards. Index 10. A peach to start and one of the best opening holes on the island. You drive over the sea to a fairway that rises steadily to a green set high in a turret of rocks. Little room for error on your approach.
Arklow, Hole 8, par 4. 331 yards. Index 15. You get a lovely view of this hole from the clubhouse car park as it backs onto the tee box. It's not long and you'll want to go after it from the high tee – why wouldn't you when you can see so much of the hole – but the two bunkers down the right are there for the big hitters and there's a deceptive dip just shy of the green.
Ballybunion (Cashen), Hole 16, par 3. 145 yards. Index 15. This is all about the 'wow' factor as the hole hits down to an isolated green hovering above the endless beach and surrounded by wicked fall-offs. The ocean and endless views behind give this hole such presence.
Ballybunion (Old), Hole 11, par 4. 402 yards. Index 2. Regularly listed as one of the best holes in the world, this par four sits above the beach and ocean, from tee to green. It descends in a number of distinct fairway ledges – which may need only an iron tee shot to maximise position – before the approach must be hit with laser accuracy to a green sitting beyond two sentinel dunes.
Ballybunion (Old), Hole 15, par 3. 206 yards. Index 4. The 15th is a beast of a par three, played towards the sea where the green awaits in a semi-hidden dell. It's a downhill shot and you'll quickly gauge that missing the green is not an option.
Ballycastle, Hole 6, par 4. 310 yards. Index 15. Named 'Hog's Back', this is a brilliant links hole that starts low, near the clubhouse, and rises up to a plateau via a fairway that slides off both sides. Precision is required on the tee shot with the pin sitting on the skyline at the top of that plateau.
Ballyliffin (Glashedy), Hole 14, par 3. 158 yards. Index 15. The high tee, the green wedged into the dunes below and nowhere to go but that sleek, wide putting surface… it's a dreamy shot with a glorious ocean backdrop. But that green is a touch shallower than you might like.
Ballyliffin (Old), Hole 14, par 5. 530 yards. Index 3. Running above the beach, the hole swerves subtly left then right, showing off the Old's low, bumpy terrain. A knoll of rough deceptively fronts the green, making you pause for thought.
Belvoir Park, Hole 3, par 4. 417 yards. Index 2. An uphill par four that turns an average drive into a spectacular approach. This top corner of the course has a dramatically benched green, tucked into the low hillside and perched above an oak that is over 700 years old. You play over a deep dip to get to the putting surface.
Birr, Hole 11, par 4. 380 metres. Index 2. As natural a hole as you'll find with a double roller over the eskers and between the woods. It's a generous enough fairway but you need to get down there if you're to have any hope of seeing the green beyond the rise and nestled low between the trees.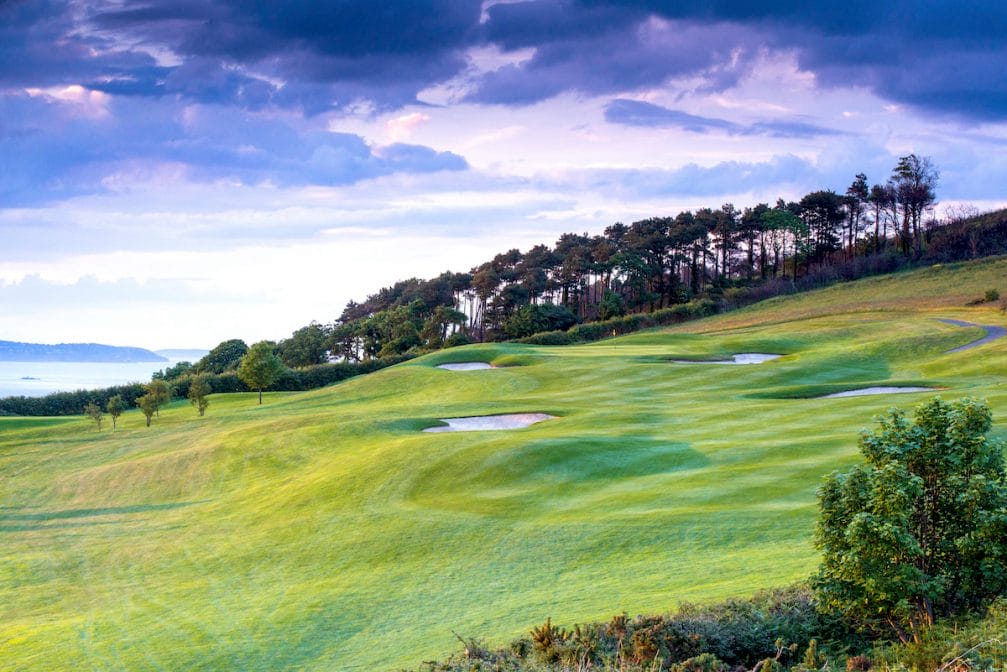 Bray, Hole 11, par 4. 289 metres. Index 14. The high point of Bray's back-9, sneaking up towards Bray Head, this shortish par four offers dramatic views over Bray and across to Howth. From a high tee you drive across the hillside, between bunkers flanking the fairway. Two more squeeze the sides of the green so this is tricky whether you lash the driver or play for safety.
Bunclody, Hole 15, par 4. 407 yards. Index 3. A dead tree, dead centre of the fairway makes for the perfect target. A delicious drive from the high tee and, after the 14th, this continues the course's strong finishing stretch. A narrow ditch runs in front of the green, requiring a precisely judged approach.
Cairndhu, Hole 2, par 3. 160 yards. Index 11. That tough walk that takes you up to the 1st green reveals its reward when you head to the 2nd tee. This stunning par three plays across the top of the narrow headland with views stretching as far as Scotland. Expect to be blown away.
Carlow Hole 16, par 4.  377 metres. Index 2. Before the rush of new courses that have flooded Ireland since the 1990s – and increased the course numbers by 50 percent – this was possibly the toughest and best inland hole in Ireland. You know what? It still is. The hole sweeps up the slopes and it's all visible from the high tee box tucked in the woods. For normal golfers this will always require a brilliant shot to reach a putting surface that's hidden from view.
Carlow Hole 17, par 3. 132 metres. Index 17. Everything about this short par three is perfect. It is nestled into a natural, tree-enclosed corner of the site. Playing from one roll of the land to another it has a beautifully constructed green, small and tough with its rise to the middle and fall-off at the back. The bunkers are attractively positioned and the entire hole is very appealing to the eye.
Carne (Hackett), Hole 17, par 4. 423 yards. Index 1. This list contains many tough holes, and Hackett's 17th may be the toughest of all. But it is also brilliant. A straight par four, the hole heads uphill with dunes dropping down from the right and a chasm opening up to the left. It's fairway or bust. The approach shot is an absolute terror. John Garrity, the American writer, played it 18 times in a row in his quest for par.
Carne (Wild Atlantic Dunes), Hole 8, par 5. 515 yards. Index 4. A 'split' fairway offers you a choice if your drive is far enough down this valley corridor: you can play the long way around, negotiating the narrow devil's elbow which sweeps hard right, between tight dune walls; or go for the monster shot up and over the towering dune that anchors the entire hole. Fail at one and curse yourself for not trying the other!
Carne (Wild Atlantic Dunes), Hole 14, par 3. 161 yards. Index 14. An isolated par three which feels almost lunar as two large dunes sit alone on the landscape, their bright sand a contrast against the 40 shades of green stretching into the distance. The green is nestled between those two dunes and from the high tee box it is one of those breath-taking tee shots that rewards the brave. The green is so muscled it's practically got a six-pack.
Castlerock, Hole 17, par 5. 485 yards. Index 12. Open the shoulders and head straight downhill towards a giant bunker and huge dune undulations fronting a neatly placed green. It's a rollercoaster the whole way.
Carton House (O'Meara), Hole 14, par 3. 176 yards. Index 7. Maybe you'd pick the par three 16th for its beautiful setting – it would certainly qualify as one of Ireland's prettiest holes – but 14 is the ignition that kickstarts O'Meara's 'Amen Corner' on the River Rye. The river loops around the green and, from a tee up in the trees, it looks delicious. But look at that Index.
Claremorris, Hole 1, par 4. 319 metres. Index 7. The sloping, tossing landscape does its best to hide the green on this straight par four, but you might just be able to glimpse the flag. You can then decide whether to go for broke, not knowing what awaits on the other side of the slope (the fairway feeds down to a lone bunker), or play safe leaving a long approach. Such a tempting opener.
Co Louth, Hole 5, par 3. 158 yards. Index 12. The natural shapes of the green and how it sits up on the curve of a dune make the 5th a beautiful hole to play. Don't be short; don't be long. (Decide for yourself if you prefer it to the par three 7th.)
Co Louth, Hole 14, par 4. 322 yards. Index 13. The greatest drive and pitch par four in the country, bar none. The elevated tee shot provides Baltray's only view of the ocean next door, but it is the approach to Tom Simpson's ingenious green site that makes the hole. The green's tricky movement and surrounding contours, as well as the deceiving ridges that hide dead ground just short of the surface were a favourite trick of Simpson. He always saw golf design as a challenge of wits between the architect and the golfer. The 14th is the epitome of that.
Co Sligo, Hole 4, par 3. 150 metres. Index 10. Such a tricky but tempting hole and a Colt work-of-art. The green is poised like a citadel, steep slopes flowing off the front and sides. You must be so confident in your club selection and swing because the wind wreaks havoc. If you find the green with your tee shot, take a bow: I've been trying and failing for years.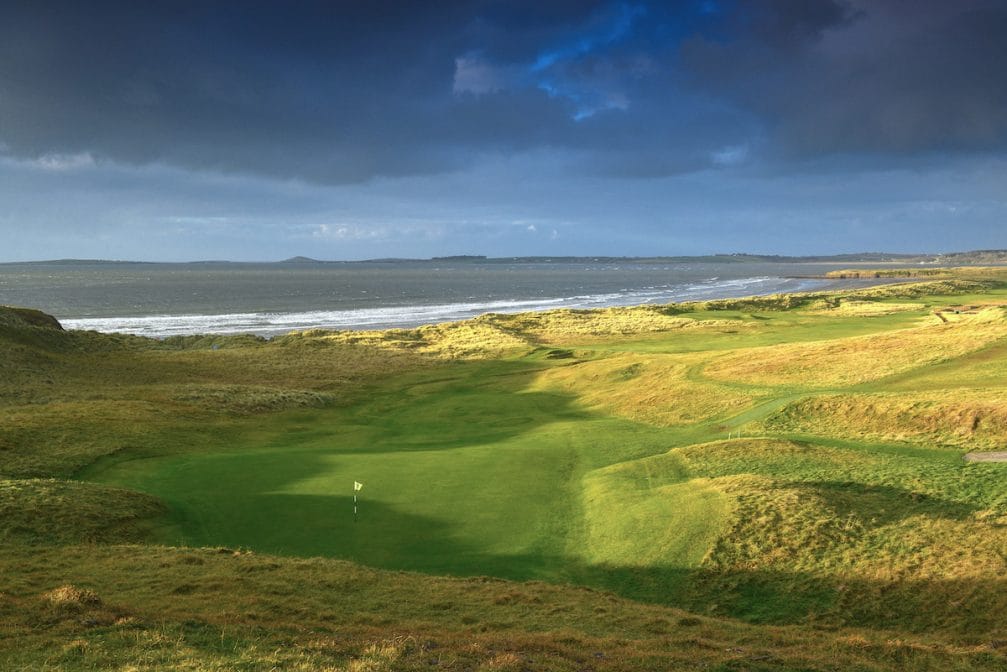 Co Sligo, Hole 17, par 4. 385 metres. Index 2. Another of the truly original and natural golf holes, Co. Sligo's 17th requires a smart tee shot along the flat stretch (keep right) before it shifts left and heads ever upwards to a sloping green. The approach is typically blind, with a white marker stone placed on the dune behind the green. Be warned, a big drive could see you finish in an untamed dip of unpredictable humps and hollows. Not one bunker.
Connemara, Hole 13, par 3. 206 yards. Index 9. Look at it. Just look at it. Sitting all alone and isolated in the rocky Connemara landscape this is a thing of beauty and an out-and-out terror. The small, shallow green is wedged onto the bank with steep slopes all around. It's a big, all-or-nothing tee shot. It will beat you up and spit you out… and you'll love it.
Connemara, Hole 14, par 5. 498 yards. Index 15. After Eddie Hackett's best par three on the course, tucked away in rocky solitude, the par five 14th bursts into the open, promising magnificent views over the Atlantic and the remainder of the course. From the high tee box you can see how the course entwines with the natural terrain, with out of bounds to the right of the fairway. For the approach, the bumpy fairway is split by a ridge, which only ends when it reaches the green.
Corballis, Hole 3, par 4. 391 metres. Index 1. It is often said that this tough (municipal) par four would not be out of place on any of the neighbouring championship courses (The Island, the Portmarnocks, Royal Dublin)… and that's true. A deft dogleg that swings to the right and follows a narrow, rippling fairway between angry dunes. A perfect green, too, and never easy to reach.
 Cork, Hole 5, par 5. 505 metres. Index 5. The club has cleared a lot of gorse and ensured that the tee box beside Cork Harbour is as dramatic as it can be. The green is visible a long way away, around the harbour's waters and pressed tightly to the sea. It will take three big shots to get on. Peaceful and daunting in equal measure.
Donegal, Hole 8, par 5. 498 metres. Index 3. The fairway glides over the back of the main seaside dune in imperious fashion. Three-shot par fives can be let down by their lack of choices for the second shot but not here: the fairway splits into different levels making the decision far from a straightforward one. Go high… go low… it's superb either way.
Dooks, Hole 2, par 4. 311 yards. Index 15. The hole rises steadily up the slope to a green floating on the horizon. There is no more beautiful place to stand in Irish golf than on that green.
Doonbeg, Hole 1, par 5. 510 yards. Index 5. This straight and well-bunkered hole aims directly at the green, with a heaving dune towering above. The tee next to the clubhouse adds extra glamour and shows off what lies ahead.
Doonbeg, Hole 13, par 5. 450 yards. Index 16. Doonbeg's 13th has one of the most exquisitely positioned greens in the country, propped up by dunes and angry bunkers. Because it is so short (white tees) it offers that great choice: go for it in two and pay a severe penalty for missing; or play safe and leave yourself a pitch onto a green well above you. Be sure to look back when you're done.
Dromoland Castle, Hole 15, par 4. 266 yards. Index 17. The perfect, short, risk vs. reward par four. The green is within driving distance of plenty of golfers as it plays downhill. There's a 'safe route' to par but muscling that tee shot may prove far too tempting for some.
Druid's Glen, Hole 8, par 3. 152 yards. Index 14. The sweetest of the Glen's four exceptional par threes plays over water to a green surrounded by towering trees and colourful flora. You could stand there and hit balls all day. The changes being made in 2022 will surely elevate its reputation even further.
Druids Glen, Hole 13, par 4. 461 yards. Index 1. Carved around a rock face, this hole calls for two of your bravest shots if you're to reach a green sitting beyond a lake. The tee sits up high, promising a glorious and daunting drive down onto a fairway that slides to the right, out of view. From there it's a big shot over the water. Many will play safe and turn this into a par five.
Dundrum House, Hole 10, par 4. 415 yards. Index 3. Not many holes boast split fairways anymore (although this list contains four), but this one has a nest of tall oaks in the middle and a river along the right.
Enniscrone, Hole 13, par 4. 338 yards. Index 13. I still think of this short Hackett hole as the 'spiral staircase'. It is one of several brilliant holes here and this one moves left to right in a constant downward spiral between the dunes, dropping to a hidden green tucked in a natural bowl. You might be tempted to have a go but be smart and aim for the sliver of fairway in view.
Enniscrone, Hole 16, par 5. 514 yards. Index 11. A somewhat blind, straight tee shot takes you between the beach and the big dunes. The hole then curves gently right through a narrow chute to a raised green.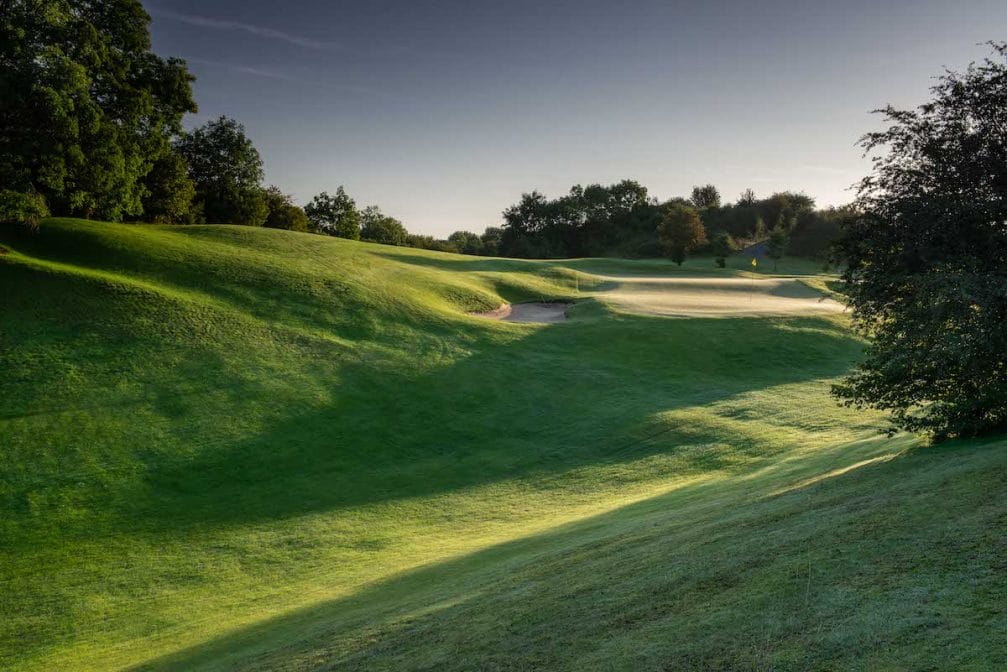 Esker Hills, Hole 14, par 4. 339 yards. Index 10. Such a fun hole, curling through a valley between steep eskers. The tiered green is then well above you and most visitors will wind up short of the surface.
Fermoy, Hole 13, par 4. 430 metres. Index 1. A tee shot you want to nail as it descends quickly between the pines, before rising just as fast to the green.
Galway Bay, Hole 12, par 4. 431 yards. Index 1. A tough dogleg that sweeps right, around a fierce nest of bunkers, before a lengthy approach plays over a ridge, over a lake and towards the waters of Galway Bay itself. The hole will make or break your round.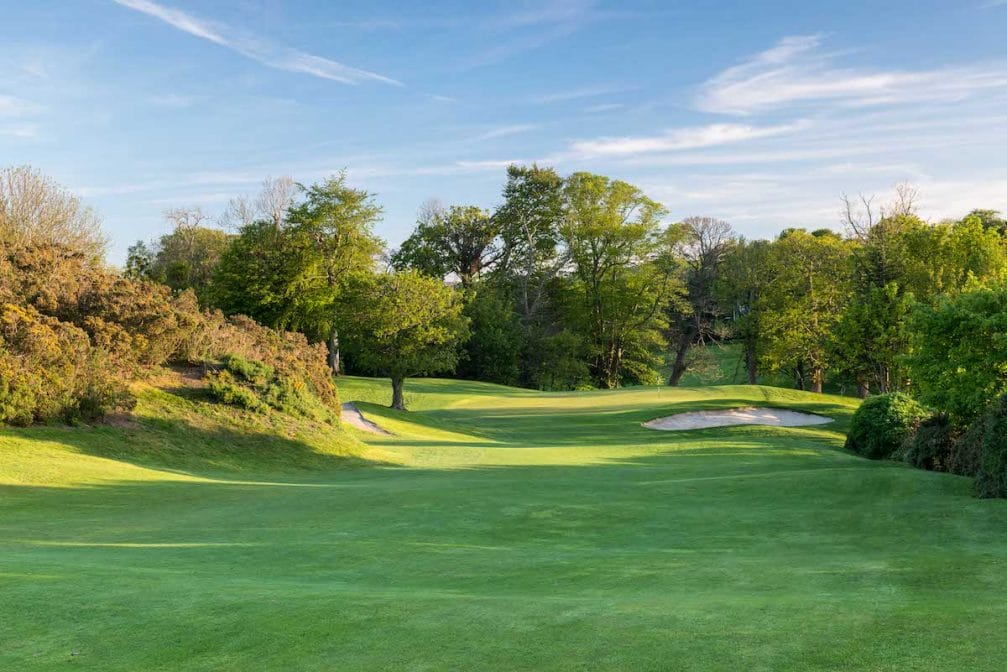 Greystones, Hole 6, par 4. 325 metres. Index 3. Never an easy hole, this par four slips downhill between rocks and banks of gorse. You need to be cautious as a fairway bunker on the right side marks the perfect spot from where you'll want to play your approach. The green is well below, in the trees, and tilted steeply towards you.  It doesn't require massive length; it does require considerable accuracy.
K Club Palmer North, Hole 18, par 5. 518 yards. Index 12. If you haven't watched Rory's glorious 5-wood approach which sealed his Irish Open victory, then why are you even reading this! This is a hole full of drama, glamour and thrills… which Rory proved effortlessly.
Kilkeel, Hole 6, par 5. 487 yards. Index 6. A dogleg right, snaking through tall trees. The green sits wedged into a small hill, offering a daunting approach shot. There is no sweeter sounding shot than driving through the trees. 
Killarney Mahony's Point, Hole 18, par 3. 162 metres. Index 9.The shot and hole of the round, over Lough Leane, and into an amphitheatre of picture-perfect pines. What a finish.
Lahinch, Hole 5, par 3. 148 yards. Index 16. The Dell is famous for its blind tee shot to a green hidden in the dunes. So different but such a great design.
Lahinch, Hole 6, par 4. 412 yards. Index 2.  A hole which calls for restraint, finesse and a lot of guts. It's a dogleg left, with your drive hitting up to a blind, angled fairway. It is intimidating and precision is required, especially as a rough-filled chasm lies short of the green. But fail to go far enough and you won't see the green at all. The green setting, above Liscannor Bay, is one of the sweetest you will find. Thank the unheralded Charles Gibson for that.
 Lough Erne, Hole 6, par 5.  535 yards. Index 7. Forget the long walk up to the tee and enjoy this high-ridge hole that connects the two parts of a wonderful lough-side course. The fairway positively swaggers its way to the high green.
Macreddin, Hole 12, par 4. 364 metres. Index 1. Paul McGinley's name looms large over the exhilarating Macreddin. The 12th may be the most thrilling of all, doglegging sharply around river and gorse and between the pines. A big drive from a high tee crosses the river and then bends right. More water and gorse flood the foreground to your approach, while a pair of pines threaten the safe route.
Malone, Hole 14, par 4. 444 yards. Index 2. Ken Kearney's design has revitalised this hole, pushing the green back closer to the lake's edge. This right-to-left dogleg is now even stronger with a dramatic approach to that sweetly shaped and cleverly protected new green below.
Mitchelstown, Hole 4, par 4. 340 metres. Index 1. A sweet, straight hole which swerves around a lone pine before the approach shot hit over the River Funshion and into a deep nest of trees. Augusta-like.
Mount Juliet, Hole 4, par 4. 387 yards. Index 2. It would be so easy to pick the par three 3rd ahead of the 4th, but this par four slips so tightly between the trees that it causes difficulties you won't face elsewhere on this Jack Nicklaus course. Watching your ball avoid those trees, heading towards the green, is a thing of beauty.
Moyola Park, Hole 17, par 3. 115 yards. Index 16. One of those drop-dead-gorgeous tee shots where the tee sits in shadows, high amongst the trees, while the green awaits below in front of a bustling river. This is no place for a draw or fade as the trees will return anything not straight.
Mullingar, Hole 2, par 3. 197 yards. Index 5. A long, tough par three with the green perched up on a ledge, surrounded by trees. Requires supreme confidence and commitment from the tee.
Narin & Portnoo, Hole 6, par 3.  140 yards. Index 14. The allure of this hole hasn't changed following Gil Hanse's renovations. What was previously the 7th still requires you to hit from one dune-top to another, surrounded by Donegal's beauty.
Narin & Portnoo, Hole 8, par 4. 422 yards. Index 2. You tee off next to the ocean. It's a blind tee shot over a steep ridge and this is followed by a delicious approach to a magnificent new green, wrapped in an Atlantic backdrop.
 North West, Hole 12, par 4. 425 yards. Index 2. A straight hole which shows off the sweet undulations, deceptive fairways and blind approaches that make North West a gem.
Old Head, Hole 4, par 4. 415 yards. Index 4. What more needs to be said about this famous par four? Nothing. It is iconic the world over and one look at the picture of this hole will have any golfer salivating.
Old Head, Hole 12, par 5. 537 yards. Index 3.  A hole to strike fear into the heart of anyone who stands on the tee. It's a dogleg around the cliffs and your opening drive must cross those cliffs. Wind factor: Enormous!
Oughterard, Hole 8, par 5. 444 metres. Index 12. A double dogleg through the trees. This one's all about guile and patience.
Palmerstown House Estate, Hole 9, par 5. 585 yards. Index 5. The par fives are one of this course's highlights and my pick is the 9th. The hole tees off beside a lake and then sashays its way up the hill around a sea of bunkers. Three big, big shots needed.
Portarlington, Hole 7, par 4. 402 metres. Index 1. A hole that launches itself between majestic old trees. It's peaceful, enchanting and a brute. Pinpoint accuracy is required. Mind the red squirrels.
Portmarnock, Hole 15, par 3. 190 yards. Index 8. Running parallel to and above the beach, this is a beast in the wind. The green is so cleverly positioned and defended, with steep run-offs and the very distracting beach only feet away. You'd better be on the putting surface… or kiss par goodbye. There's no safe 'miss'.
Portmarnock, Hole 18, par 4. 393 yards. Index 10. A demanding finish and part of the excellent run for home that starts on the 14th. A ridge across the fairway gives you something to aim at and you must keep as close as you can to the bunkers on the right if you are to maximise your attacking options. The elevated green, with the grand old clubhouse behind, is a majestic sight.
Portmarnock Links, Hole 16, par 4. 360 metres. Index 5. A daunting dogleg which swings hard right, putting a premium on tee shot placement. It's all on view from the tee… which somehow makes it harder.
Portsalon, Hole 2, Par 4. 397 metres. Index 3. Portsalon has one of the greatest beaches in Ireland and full use of that spectacular vista is made as it unfolds before you on arrival at the 2nd tee. This Pat Ruddy dogleg requires an heroic carry over the river and beach if you want a shorter second shot… and you'll want one because the approach is an all-or-nothing head-on challenge playing across the river. Two beautiful shots… but you'll be shaking in your golf shoes.
Portsalon, Hole 14, par 4. 387 metres. Index 2. Known as Matterhorn, this long par four starts high and targets a fairway that lies at a diagonal. Bite off as much as you dare and enjoy the rumbling fairway that drops over a ridge and bumbles along towards the green. Admire the views… after you've hit your drive.
Portstewart, Hole 1, par 4. 417 yards. Index 11. Another hole that needs little introduction so frequently is it mentioned as the best opening hole in Irish golf. And now that all the buckthorn along the right of the fairway has been cleared, you will have a clear view of the green… and not just the stunning surroundings.
Portstewart, Hole 2, par 4. 360 yards. Index 7. Many of the holes on the front nine could be on this list but the par four 2nd has a unique quality that makes it a worthy entry. The high tee puts the sea at your back while the green is slotted into the dunes slightly above you, across a hollow. It is not long but the Titanic-sized dune along the left, above the green, is utterly intimidating.
Portumna, Hole 16, par 4. 308 metres. Index 8. This is another course where you might choose a different hole (the 17th, I'll bet) but the 16th is another lesson in common sense and accuracy. The deep forest floods in from the right, from tee to green, and might force you left… but go too far and the green positioned on the rise will be behind trees. Small green, too.
Rathcore, Hole 11, par 3. 165 yards. Index 14. A handful of holes could appear here, but the 11th is the most obvious as it plays from the top of one of Rathcore's two hillocks to a green below, well defended by water and one giant tree.
Roe Park, Hole 15, par 4. 260 yards. Index 18. A hole that somewhat springs out of nowhere and signals the start of Roe Park's fine finish. The 15th plays over a deep dip with a pond at the bottom and the green perched above it, further up the slope. The fairway is well to the left, offering the sensible route to par – Index 18, no less – but you'll probably go for glory and to hell with the consequences!
Rosapenna Old Tom Morris, Hole 12, par 4. 383 yards. Index 7.  Rosapenna's three courses offer many excellent holes with some beauties found through the ever-so-subtle and original back nine on Old Tom. The 12th is a gentle dogleg right with a centre-line bunker that indicates the best angle in to the green. And what a green it is, an enormous false front feeding any slightly mishit approaches into a hungry pit positioned on its left side.
Rosapenna Sandy Hills, Hole 10, par 4. 365 yards. Index 6. For me, no hole shows off Sandy Hills' charms and challenges like the 10th. Tee and green are at equal elevation but a deep, swaggering fairway drops and rises in between.
Rosapenna St Patrick's, Hole 4, par 5. 508 yards. Index 5. The 4th is the big reveal at St Patrick's, as you escape the deep dunes and find a tee perched high with achingly beautiful vistas. That includes the par five hole that lies below you, running parallel to the beach. The fairway dances its way to another incredible green but look at the length and the index… it's no push-over.
Rosapenna St Patrick's, Hole 17, par 3. The vastness of the surroundings around the green prove deceptive on this par three. The green almost floats amidst the slopes and wide fairway. And just as for the 4th, expect another green that promises so much adventure and creativity.
Rosslare, Hole 7, par 5. 550 yards. Index 5. A dipping, swinging hole which flows easily between the dune shoulders to a green perched up high. It comes at the end of an excellent stretch.
Royal County Down, Hole 3, par 4. 457 yards. Index 3. Many would choose the 4th, 8th, 9th or the 13th holes as RCD's best… but I have a lot of love for the 3rd, which runs alongside Dundrum Bay. Combining the genius of Old Tom Morris, Combe and Colt, the tee shot overlooking the sea must slide between fairway bunkers left and right. A perfect tee shot allows you to fire at a devious, wonderfully natural green…  but keep right: that bunker on the left is no place to be.
Royal County Down, Hole 13, par 4. 422 yards. Index 2. After the openness of the first 12 holes, the curling 13th is enshrined in gorse-covered banks with a sweetly sloping natural green. Only a perfect tee shot will reveal the putting surface.
Royal County Down (Annesley), Hole 9, par 4. 274 yards. Index 3. This new (2015) hole plays around the biggest dune on the RCD property, driving from a high tee to a green at the bottom, around the corner. Sweet as you like and the Championship course is in full view.
Royal Dublin, Hole 16, par 4. 224 metres. Index 18. The impressive final stretch at Royal Dublin includes the very short 16th. It is a Harry Colt gem and eminently drivable. The green and approach, however, are so well bunkered that having a pop is not to be taken lightly. An iron and pitch might be wiser but who can resist the heroics at such a short hole?
Royal Portrush, Hole 5, par 4. 379 yards. Index 9. 'White Rocks' marks your arrival at the sea, the high tee showing off the scenery and the hole. It's a sneaky left-to-right dogleg across a corner of bumps and hollows.
Royal Portrush, Hole 16, par 3. 202 yards. Index 16. Calamity is one of the world's most famous par three holes. Given that you can see the terrifying consequences of a poorly struck tee shot, it is little wonder. Designed by Harry Colt, the hole plays across a yawning chasm which swallows anything short or right. The safest bet is to play short and left into 'Bobby Locke's Hollow'… a chip and one or two putts is preferable to hitting up blindly from the rough strewn chasm.
Royal Portrush (Valley), Hole 11, par 4. 311 yards. Index 11. A short and strategic masterpiece. A tee shot hit left leaves a blind and near impossible pitch over a dune ridge. Play to the right to approach down the line of the skinny green.
Scrabo, Hole 1, par 4. 404 yards. Index 1. A hole best played from the high back tees… yes, that means an opening par four of 459 yards but what a tee shot it is, and what views over Strangford Lough and across to Scotland. The hole is straight, rising quickly between dense banks of impenetrable gorse. The sloping, natural green is squeezed between the gorse and the turreted Scrabo Tower. The best of many thrilling holes.
Skibbereen, Hole 13, par 4. 335 yards. Index 2. A tricky little number that requires a very accurate and blind tee-shot at a marker on the hill. You can't go too far on this short hole as the fairway ends at a wild hollow short of an elevated green.
Slieve Russell, Hole 13, par 5. 494 yards. Index 14. You drive over Lough Rud and how much you bite off will dictate your second shot… but you need to be vigilant as this dogleg clings tightly to the lough all the way to the green, with the green perched on the water's edge.
Strandhill, Hole 5, par 5. 468 metres. Index 16.  If you've ever wondered what a skiing mogul field looks like, then make your way to the 5th at Strandhill where the humps and hollows are so violent and numerous that it's a challenge just to weave your way through them. A high tee shot takes you down into the bumps, all of which culminate in a supremely natural punchbowl green, the type of which you'd never see a modern designer even think about building… more's the pity.
Strandhill, Hole 13, par 4. 333 metres. Index 11. A devil in disguise. The high tee reveals a blind tee shot… you have to figure out where in the left-to-right valley below to aim your shot. The approach into the tiny green must slide between two sentinel dunes.
The European Club, Hole 12, par 4. 438 yards. Index 6. This may be unique for the vast scale of its green but the 12th is also your first full introduction to the sea. The tee sits above the beach and the fairway runs parallel to it. One of the most delicious drives you'll hit… and made all the sweeter if you can avoid the famous sleepered bunkers.
The European Club, Hole 17, par 4. 389 yards. Index 4. A secluded par four dipping low between the dunes. The small, lone tree, so stark from the tee, adds to that feeling of isolation.
The Island, Hole 14, par 4. 318 metres. Index 17.  The narrowest fairway in Ireland? Absolutely. This was the original 1st hole (1800s) and while it may be short, your tee shot has to thread the eye of a needle. Fail to find the fairway and your ball will slip away towards the marshes or head left onto a bumpy dune ridge. A good tee shot sets up a birdie opportunity but it is one slippery green. Holes 13, 14, 15 combine for a dynamite stretch at this brilliant links.
The Island, Hole 15, par 5. 479 metres. Index 15.  A glorious par five that unfurls beneath you from a high tee. A strategic tee shot to the left leaves you with a clearer approach to the putting surface whilst a pushed ball to the right will leave you blind and guessing. The approach can be run-in over supremely rumpled ground to a green sitting in the lee of the most impressive amphitheatre green on the East coast. 
Tralee, Hole 8, par 4. 375 yards. Index 4. Given the stunning back nine this may seem an unusual choice, but the 8th lends itself to different strategies as it doglegs around the waters of Barrow Harbour. The upgraded 2021 version is superb, with the new green utterly bewitching.
Tralee, Hole 16, par 3. 179 yards. Index 9. A magical par three where it's the green or it's disaster. The tee shot plays over deep, coarse rough to a green perched on a ledge below. It looks perfect and the surroundings are beautiful… as they are everywhere on this Palmer/Seay-designed links. Tralee has many remarkable holes with much of the back nine utterly breath-taking.
Waterville, Hole 11, par 5. 477 yards. Index 12. Named 'Tranquility', this is as peaceful a par five as you will find. Waterville may have middling-sized dunes but Tranquility is naturally nestled into the deepest ones, gliding gently right to a green sitting several feet above the fairway. That's the magic of Eddie Hackett's approach to course design. The hole offers birdie chances to all as the wind factor is reduced considerably. The par three which follows ('Mass Hole'), never mind the final three holes, is also magical.
Westport, Hole 15, hole 5. 498 yards. Index 9. Any par five played along a body of water usually pleases. But when that water is the broken edge of Clew Bay and when Croagh Patrick magnificently stands guard over proceedings, then excitement levels are ratcheted up a good few notches. Add in a forced carry over an inlet for the tee shot and a heroic approach if one wants to get home in two and you have an absolute cracker. Plays like Portsalon's 2nd in reverse.
The feature above appeared in Irish Golfer Magazine 2022-5 edition. Click the cover below to read the full magazine