Quickly, pick your three favourite holes in Ireland.  
Write them down before starting on this Irish Golfer list of Ireland's Top 100 holes. This island boasts almost 350 18-hole golf courses and over 80 9-hole courses. That's a vast number of holes to choose from (call it 7,000) so selection for this list is at a premium. Even if we picked only one hole from each course, there would still be some 330 courses that don't make the cut. 
That is actually pretty tough on some courses where there may be 6, 12 or even 18 very strong holes – The Heritage and Dun Laoghaire, for example. 
Debates about Ireland's best golf courses go on and on… but there have been precious few lists for the best holes. Every course likes to promote its 'signature hole' and, in some cases – green fee permitting – it can be worth the trip alone to play that one hole. Woodstock, Birr, Fermoy and Scrabo spring to mind.  
For this list, two regular Irish Golfer contributors – Ally McIntosh and Kevin Markham – have combined their knowledge to identify Ireland's 100 best holes. With a very different approach to picking these holes, Ally and Kevin certainly had a tough time reducing their initial list of 200 holes down to the final 100. Both will feel that they've left out some beauties. 
The list is a combination of the classic and the modern. It doesn't get much better or more classic than The Dell at Lahinch, the 17th at County Sligo or the 2nd at Mullingar. It emphasises how the architects of old created something for the ages. In terms of the modern, Eddie Hackett's 17th at Carne is brutal brilliance while the 13th at Druid's Glen, designed by Ruddy & Craddock, is another beauty to be feared. 
We make no apologies for links holes dominating the list (61 in all) as so many of our links were created by the greatest names in golf course design, where strategy was the key component. While golf courses today seem in a rush to embrace length, a great golf hole needs to be more subtle than that. You'll find an explanation by Ally on what makes a hole great, overleaf. 
Ally is a golf course architect whose work in creating the new nine holes at Carne has been praised widely. The 'Kilmore' nine is utterly captivating and two of its holes are in our list. Ally is currently working on Strandhill. 
In contrast to Ally's more strategic eye, Kevin's focus for a great hole comes down to the 'wow' factor you experience, both from the desirability of the hole and how it sits in its surroundings. Yes, it also comes down to the strategy required, the risk/reward element, the green complex, the challenges and how nature has been employed, but if it's a hole you want to go straight back to the tee and play again, then it made the shortlist. As Ally elaborates overleaf, a good golf hole is "one that will breathe and come alive time and time again". 
To show the differences in how Ally and Kevin chose their best holes, each has created a best 18 and you'll find the scorecards below the 100 listings. They share only one hole in common (Portsalon's 2nd) but they have chosen different holes from six of the same courses. See which course you would prefer to play. 
We did impose one specific condition on the selection criteria, which was that no 18-hole course can have more than three holes included. There are some which could easily have more but we wanted to include as many courses as possible.  
The 100 holes are laid out by their par and then alphabetically within those categories (par 3, 4, 5). Measurements are taken from the middle (usually white) tees, where most of us play from. 
What Makes a Great Golf Hole? 
A golf hole that reveals its challenges and choices on repeated plays is almost always a good golf hole. After all, it is one that will breathe and come alive time and time again, never boring the golfer in to merely using his technical ability without the need for mental agility. This is the essence of strategic golf design where the choices come in varying shades of grey rather than a straight black or white. 
It is difficult – though not impossible – for a great golf hole to have a less than interesting green, or at least green site: the ideal is that each hole should demand a different tactic from the tee depending on where on its green the pin is placed on any given day. This can only be achieved through intelligent green design. It will then further be enhanced by hazard placement, both in the fairway and up at the putting surface. 
The aesthetics of a hole are of course important. And whilst no man can fail to be taken in by surrounding scenery, especially in Ireland, it is more important for a great hole to feel in scale, have interesting ground movement and for all elements of its design to look attractive. The distant setting of sea or mountains adds a beautiful frame but has little to do with the playing qualities of what makes the hole great. 
I particularly like when a golf hole does not play how it first appears. I don't like trickery but I do like an element of deception. Therefore you will see that my "Best 18" have holes that include dead ground, hidden fairways and drivable par fours that tempt the golfer in to biting off more than he can chew. I hope that you will agree with at least some of those picks. 
---
Best 100 Holes in Ireland – Listed by par (3, 4, 5) and alphabetically within each. 
PAR 3s
Adare, Hole 16, par 3. 155 yards. Index 6. 
The parade of copper beech still stands behind the green, enhancing the hole's drama, but the size of the green is such that the 16th plays between 120 and 180 yards. And the punishment for missing is severe, with water in front and a massive fall-off at the back.   
Ballybunion (Cashen), Hole 16, par 3. 145 yards. Index 15.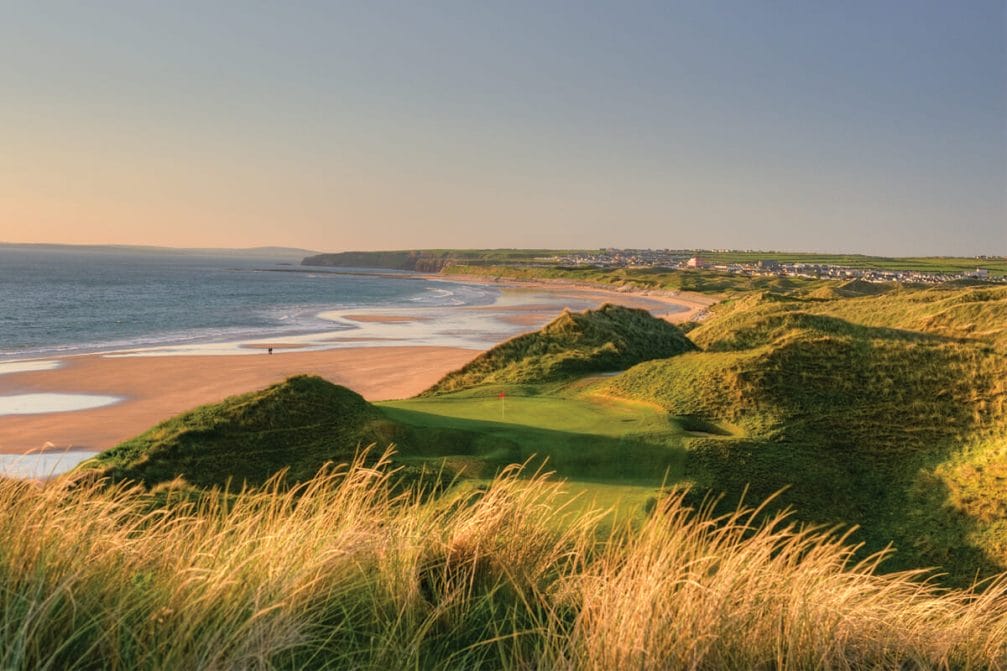 This is all about the 'wow' factor as the hole hits down to an isolated green, with beach, ocean and endless views behind. 
Ballybunion (Old), Hole 15, par 3. 206 yards. Index 4.
Add Ballybunion's back nine to Lahinch's front nine and you have the best composite course in the world. The 15th on the former is a beast of a par three, played towards the sea where the green awaits in a semi-hidden dell. The Atlantic and south-west tip of County Clare provide the background and a perfect balance to the picture postcard setting. Say cheese!   
Cairndhu, Hole 2, par 3. 160 yards. Index 11. 
That tough walk up the 1st hole reveals its reward with this stunning par three across the top of the narrow headland. Views stretch as far as Scotland. 
Carlow Hole 17, par 3. 132 metres. Index 17.
Everything about this short par three is perfect. After the long climb up the 16th, you find the 17th nestled into a natural, tree-enclosed corner of the site. Playing from one roll of the land to another, set just 140 yards away, it has a beautifully constructed green, small and tough with its rise to the middle and fall-off at the back. The bunkers are attractively positioned and the entire hole is very appealing to the eye.  
Carne (Kilmore), Hole 2, par 3. 147 metres. Index 14.
An isolated par three which feels almost lunar as two large dunes sit alone on the landscape, their bright sand a contrast against the greens stretching into the distance. The green is nestled between those two dunes and from the high tee box, it is one of those breath-taking tee shots that rewards the brave. Don't expect the green to be easy. Designed by Ally. 
Carne (Kilmore), Hole 7, par 3. 196 metres. Index 10. 
Perhaps it's a little cheeky including this hole given my involvement in its creation; but if you want the most dramatic one shotter in Ireland, then look no further. Our working title when building it was 'Calamity ++' after its similarity to the famous, now 16th at Royal Portrush. Here the chasm is to the left and a few sizes bigger than up in Antrim, and, as a result, the tee shot is a number of degrees more terrifying. Looks can be deceiving however: what makes the hole great is a hidden off-set fairway, generous and gathering to a bunkerless green site in a pretty dune dell.  
Carton House (O'Meara), Hole 14, par 3. 176 yards. Index 7. 
A dramatic change of pace and beauty greets you on the high tee as the River Rye winds around a shapely green.  
Co Louth, Hole 5, par 3. 158 yards. Index 12. 
The natural shapes of the green and how it rests on the curve of a dune make the 5th a work of art.  
Co Sligo, Hole 4, par 3. 150 metres. Index 10.
Such a tricky but tempting hole. The green sits like a citadel, steep slopes flowing off the front and sides.  
Cork, Hole 9, par 3. 159 metres. Index 11. 
A pick between the par three 7th and 9th… both are blessed with remarkably shaped greens which call for precision from the tee. 
Donegal, Hole 5, par 3. 174 metres. Index 13. 
Valley of Tears is one of the most aptly named holes in Ireland. The green is tucked into a low nest of dunes and almost impossible to locate in a strong breeze. 
Killarney Mahony's Point, Hole 18, par 3. 162 metres. Index 9. 
The shot and hole of the round, over Lough Leane and into an amphitheatre of pines. 
Lahinch, Hole 5, par 3. 148 yards. Index 16. 
The Dell is famous for its blind tee shot to a green hidden in the dunes. Look for the white pin position stone. 
Moyola Park, Hole 17, par 3. 115 yards. Index 16.
One of those drop-dead gorgeous tee shots where the tee sits in shadows, high amongst the trees, while the green awaits below in front of a bustling river. This is no place for a draw or fade as the trees will return anything not straight. 
Mullingar, Hole 2, par 3. 197 yards. Index 5. 
A long, tough par three, with the green perched up on a ledge, surrounded by trees.  
North West, Hole 16, par 3. 90 yards. Index 18. 
Short is sweet. This one has a gigantic bite, however. Good golf design isn't all about length – it challenges in other ways. 93 yards long from the very back, the ingenious green shape at North West's "Fairy" makes for a nerve-wracking short wedge to avoid the fall offs and bunkers all around. Think Ireland's equivalent of The Postage Stamp at Royal Troon.  
Portmarnock, Hole 15, par 3. 190 yards. Index 8.
Alongside and above the beach, this is a beast in the wind. With its steep run-offs you'd better be on the green… or kiss par goodbye. 
Portstewart, Hole 6, par 3. 135 yards. Index 15. 
A shorter and more wicked version than Portmarnock's 15th, an errant shot here will see you swatted 20 yards downhill. 
Rosapenna Old Tom Morris, Hole 14, par 3. 175 yards. Index 13. 
Sited at the far end of the Valley nine, this handsomely framed Colt par three is at the most peaceful point amongst Rosapenna's entire 36. 
Royal Curragh, Hole 4, par 3. 191 yards. Index 4. 
This elevated par three to a distant green is the best example of Royal Curragh's unique, open and prairie-style landscape.  
Royal Portrush, Hole 16, par 3. 202 yards. Index 16.
Calamity is one of the world's most famous par three holes. Given that you can see the terrifying consequences of a poorly struck tee shot, it is little wonder. Designed by Harry Colt, the hole plays across a yawning chasm which swallows anything short or right. The safest bet is to play short and left into 'Bobby Locke's Hollow'… a chip and one or two putts is preferable to hitting up blindly from the rough strewn chasm. 
The European Club, Hole 7a, par 3. 120 yards. Index 20. 
Doesn't even make it into The European's main 18 but the uphill tee shot to a wildly sloped green is a hoot. Don't miss it. 
The Island, Hole 13, par 3. 195 metres. Index 7. 
An original hole and still one of the hardest par threes around. It is long and played beside the water, over a deep hollow.  
Tralee, Hole 16, par 3. 179 yards. Index 9.
A magical par three where it's the green or it's disaster. The tee shot plays over deep, coarse rough to a green perched on a ledge below. It looks perfect and the surroundings are beautiful… as they are everywhere on this Palmer/Seay-designed links. Tralee has many remarkable holes with much of the back nine utterly breathtaking. 
Waterville, Hole 12, par 3. 164 yards. Index 14. 
The Mass Hole is a beauty, with the green wedged into a dune. A fabulous follow-up to Tranquility.
---
PAR 4s
Adare, Hole 15, par 4. 277 yards. Index 18.
Clinging to the River Maigue even more tightly than the famous 18th, this par four is risk and reward. You must land your drive as close to the water as possible or you'll leave a very difficult approach to a green set above the river. 
Ardglass, Hole 1, par 4. 292 yards. Index 10. 
A peach to start and one of the best opening holes on the island. You drive over the sea towards a green set high in a turret of rock and dune. 
Ballybunion (Old), Hole 9, par 4.  437 yards. Index 3. 
Tom Simpson's 9th green site set on a small nob with falloffs on all sides makes this understated hole one of the best two-shotters in the country. 
Ballybunion (Old), Hole 11, par 4. 402 yards. Index 2. 
Regularly listed as one of the best holes in the world, this par four sits above the beach and ocean, from tee to green. It descends in a number of distinct fairway ledges – which may need only an iron to maximise position – before the approach shot must be hit with laser accuracy to a green sitting beyond two sentinel dunes.  
Ballyliffin (Old), Hole 3, par 4. 348 yards. Index 6. 
Up high and heading towards the sea, this rumpled and tight par four flows effortlessly across the landscape. 
Birr, Hole 11, par 4. 380 metres. Index 2. 
As natural a hole as you'll find with a double roller over the eskers and between the woods. 
Bunclody, Hole 9, par 4.  296 yards. Index 18. 
One of the best modern drivable par fours in Ireland. The temptation is palpable but the big waste bunkers short and left are all too eager to gobble you up. 
Bunclody, Hole 15, par 4. 407 yards. Index 3. 
A dead tree, dead centre of the fairway makes for the perfect target. A delicious drive from the high tee and, after the 14th, continues the course's strong finishing stretch.  
Carlow, Hole 12, par 4. 335 metres. Index 8. 
A lovely sited horizon green can be approached via the ground from the right but has to be tackled over a fearsome hollow if out of position left. 
Carne (Hackett), Hole 9, par 4. 320 metres. Index 6. 
Uplifting. A high tee plays down into a dip, before a sharp ridge rises mid-fairway and continues up to the green. A very tough (often blind) approach. 
Carne (Hackett), Hole 17, par 4. 392 metres. Index 1. 
This list contains many tough holes, and Hackett's 17th may be the toughest of all. But it is also brilliant. A straight par four, the hole heads uphill with dunes dropping down from the right and a chasm opening up to the left. It's fairway or bust. The approach shot has to negotiate the natural fairway undulations and another dune/chasm combination at the green… which also slopes steeply.  
Castlerock, Hole 10, par 4. 386 yards. Index 4. 
I have a soft spot for links holes that play high over ridges rather than through all too obvious dune valleys: Anything unusual is – paradoxically – usually a good thing. The 10th at Castlerock is draped elegantly over the side of a high dune with an appetising tee shot that moves gently left followed by a downhill approach to an interesting green that falls away to the back. A hole that could fit perfectly on Portrush's Dunluce course just up the road.  
Co Louth, Hole 14, par 4. 322 yards. Index 13. 
The greatest drive and pitch par four in the country, bar none. The elevated tee shot provides Baltray's only view of the ocean next door, but it is the approach to Tom Simpson's ingenious green site that makes the hole. None of County Louth's small set has as much internal movement and tricky surround contours as this beauty and the deceiving ridges that hide dead ground just short were a favourite trick of Simpson, who always saw golf design as a challenge of wits between the architect and the golfer. 
Co Sligo, Hole 14, par 4. 358 metres. Index 5. 
A subtle double dogleg par four that ingeniously makes use of two stream crossings to create its strategy, the 14th is the best of Harry Colt's additions to the tough finishing stretch at Rosses Point. Changes are afoot to move the green up onto the dune ridge behind; an idea that could add a spectacular twist to what is already a subtle masterpiece. 
Co Sligo, Hole 17, par 4. 385 metres. Index 2.
Another of the truly original and natural golf holes, Co. Sligo's 17th requires a smart tee shot along the flat stretch (keep right) before it shifts left and heads ever upwards to a sloping green. The approach is typically blind, with a white marker stone placed on the dune behind the green. Be warned, a big drive could see you finish in a dip of unpredictable humps and hollows. Not one bunker. 
Dooks, Hole 2, par 4. 311 yards. Index 15. 
The hole rises steadily but there is no more beautiful place to stand in Irish golf than on this green.  
Druids Glen, Hole 13, par 4. 461 yards. Index 1. 
Carved around a rock face, this hole calls for two of your bravest shots if you're to reach a green sitting beyond a lake. The tee sits up high, promising a glorious and daunting drive down onto a fairway that slides to the right, out of view. From there it's a big shot over the water. Many will play safe and turn this into a par five.  
Dundrum, Hole 10, par 4. 427 yards. Index 3. 
Not many holes boast split fairways anymore (although this list contains four), but this one has a nest of tall oaks in the middle and a river along the right. 
Enniscrone, Hole 13, par 4. 338 yards. Index 13. 
I still think of this short Hackett hole as the 'spiral staircase'. It is one of several brilliant holes here and this one moves left to right in a constant downward spiral between the dunes, dropping to a hidden green tucked in a natural bowl. You might be tempted to have a go but be smart and aim for the sliver of fairway in view. 
Esker Hills, Hole 14, par 4. 339 yards. Index 10. 
Such a fun hole, curling through a valley between steep eskers. The tiered green is then well above you and most visitors will wind up short of the surface.  
Fermoy, Hole 13, par 4. 430 metres. Index 1. 
A tee shot you want to nail as it descends quickly between the pines, before rising just as fast to the green. 
Gowran Park, Hole 4, par 4. 383 metres. Index 2. 
Ireland's equivalent of Augusta's 13th, this tree-lined and pretty dogleg left needs the approach to carry a diagonal creek to get home safely. 
Gracehill, Hole 13, par 4. 400 yards. Index 1. 
Weaving between tall trees, two precision shots (as emphasised by its Index) are needed to find the green. 
K Club, Hole 17, par 4. 364 yards. Index 14.  
Water, water, everywhere… the hole hugs the River Liffey as it doglegs gently from tee to green. Terrifying for anyone with a draw. 
Killeen Castle, Hole 17, par 4. 375 yards. Index 2.
Nicklaus designed this beastly right-angled dogleg, which clings to a lake. You're invited to drive over the water… but only bite off as much as you can chew.   
Lahinch, Hole 6, par 4. 412 yards. Index 2. 
A hole which calls for restraint, finesse and a lot of guts. It's a dogleg left, with your drive hitting up to a blind, angled fairway. The dunes behind the fairway and to the left prove intimidating so precision is required, especially as a rough-filled chasm lies short of the green. But fail to go far enough and you won't see the green at all. The green setting, above Liscannor Bay, is one of the sweetest you will find. Thank the unheralded Charles Gibson for that. 
Lahinch, Hole 9, par 4. 391 yards. Index 10.
To bring Lahinch's unmatchable front nine to a close, this Alister MacKenzie par four doubles back and gives a wide vista of course and town behind. The drive is defined by a diagonal ridge in the landing area which itself slopes heavily from right to left. Stay high and you will have a clear view down the neck of the skinny, 60–yard long green, one of only a handful left untouched by the recent renovation. 
Macreddin, Hole 12, par 4. 364 metres. Index 1.
Paul McGinley's name looms large over the exhilarating Macreddin. The 12th may be the most thrilling of all, doglegging sharply around river and gorse and between the pines. A big drive from a high tee crosses the river and then bends right. More water and gorse flood the foreground to your approach, while a pair of pines threaten the safe route.  
Mitchelstown, Hole 4, par 4. 340 metres. Index 1. 
A sweet, straight hole which swerves around a lone pine before the approach shot hit over the River Funshion and into a deep nest of trees. 
Narin & Portnoo, Hole 7, par 4. 311 yards. Index 16.  
The new Gil Hanse hole is still a short, glorious downhill par four with a green on the edge of the Atlantic Ocean. Take a moment on the tee to take in Donegal's beauty. 
Narin & Portnoo, Hole 8, par 4. 373 yards. Index 2. 
Now you play along the edge of the ocean. A blindish tee shot is followed by a delicious approach down to a green, wrapped in an Atlantic backdrop.  
North West, Hole 12, par 4. 425 yards. Index 2. 
A straight hole which shows off the sweet undulations, deceptive fairways and blind approaches that make North West a gem. 
Portarlington, Hole 7, par 4. 402 metres. Index 1 
A hole meandering between majestic trees and calling for pinpoint accuracy. Mind the red squirrels. 
Portmarnock, Hole 14, par 4. 387 yards. Index 2
There isn't a weak hole at Portmarnock and this is the strongest from an excellent set of two-shotters. Aiming at Ireland's Eye in the distance, the tee shot has to contend with four diagonally placed bunkers. The approach makes the hole, playing into a plateau green, fit snugly behind a large dune shoulder and two more bunkers. Great undulations and internal contour too.  
Portmarnock, Hole 18, par 4. 393 yards. Index 10. 
Hug the bunkers right and approach over a big roll in the ground to an elevated and gorse surrounded green with the grand old clubhouse behind. 
Portmarnock Links, Hole 16, par 4. 360 metres. Index 5. 
A daunting dogleg which swings hard right, putting a premium on tee shot placement. It's all on view from the tee. 
Portsalon, Hole 2, Par 4. 397 metres. Index 3.
Portsalon in Donegal has one of the greatest beaches in Ireland and full use of that spectacular vista is made as it unfolds before you on arrival at the second tee. This Pat Ruddy hole has it all; an heroic carry over the corner of the sand leaves you with a shorter second shot, much needed as the approach is a penal all or nothing head-on challenge with a stream so wide it could be a river. 
Portsalon, Hole 14, par 4. 387 metres. Index 2. 
Known as Matterhorn, this long par four starts high before swooping down to the right, arriving at a green with interesting humps in front. 
Rosapenna Old Tom Morris, Hole 12, par 4. 383 yards. Index 7.
Rosapenna's two courses offer a plethora of excellent holes but many of the very best can be found through the ever so subtle back nine on the Old Tom course. The 12th is a gentle dogleg right, the tee shot having to deal with a reverse cambered slope and a centre line bunker that needs to be hugged closely for the best angle into the green. And what a green it is; an enormous false front feeding any slightly mishit approaches into a hungry pit positioned on its left side. 
Rosapenna Sandy Hills, Hole 4, par 4. 346 yards. Index 11. 
The most scenic of all Sandy Hills' holes, play is along the top of the primary dune ridge to a flag tempting a more direct line than is wise. 
Royal Belfast, Hole 10, par 4. 303 yards. Index 14.
An understated Harry Colt parkland course with the 10th tee set on the shore of Belfast Lough. Hitting up on to the main plateau where the fairway is placed, it's a tempting shot as the green sits tantalisingly within reach. But surrounded by mature trees and tightly guarded, the longer you go, the more trouble awaits.  
Royal County Down, Hole 3, par 4. 457 yards. Index 3.
Many would plump for the 4th, the 9th or the 13th holes as RCD's best… but I have a lot of love for the 3rd, which runs alongside Dundrum Bay. Combining the genius of Old Tom Morris, Combe and Colt, the tee shot overlooking the sea must slide between fairway bunkers left and right. A perfect tee shot allows you to fire at a devious, wonderfully natural green…  but keep right: that bunker on the left is no place to be.  
Royal County Down, Hole 9, par 4. 428 yards. Index 5.  
The blindest hole in golf? Quite probably. And the most terrifying as you drive up over the dunes and hope your ball will land on the fairway far below. A caddie might help! Then straight to the green with Slieve Donard rising beyond. 
 Royal County Down, Hole 13, par 4. 422 yards. Index 2. 
After the openness of the first 12 holes, the curling 13th is enshrined in gorse-covered banks with a sweetly sloping natural green. 
Royal Dublin, Hole 16, par 4. 224 metres. Index 18.
Royal Dublin sometimes doesn't get its fair dues. The course is solid and in the 16th and 17th, the finish has two great links holes. The former is a Harry Colt gem, eminently drivable but therein lies the problem: the green and approach are so well bunkered that having a pop is not to be taken lightly. An iron and pitch might be wiser but who can resist the heroics at such a short hole? 
Royal Portrush, Hole 4, par 4. 455 yards. Index 3. 
A few things make this my favourite hole on Harry Colt's masterpiece. The beautiful contouring of the fairway, the centreline bunkers that tease and cajole, the out of bounds wall that adds further question marks to the strategic tee shot; and the green site saddled cutely between two small dunes. All combine to give this hole an even greater impact than its more celebrated brothers at 5 and 14. 
Royal Portrush, Hole 5, par 4. 379 yards. Index 9. 
'White Rocks' marks your arrival at the sea, the high tee showing off the scenery and the hole. It's a sneaky right-angled dogleg across a corner of bumps and hollows.  
Royal Portrush Valley, Hole 11, par 4. 311 yards. Index 11. 
A short and strategic masterpiece. A tee shot hit left leaves a blind and near impossible pitch over a dune. Play right to approach down the line of the skinny green. 
Scrabo, Hole 1, par 4. 404 yards. Index 1. 
A hole best played from the high back tees… yes, that means an opening par four of 459 yards but what a tee shot it is, and what views over Strangford Lough and across to Scotland. The hole is straight, rising quickly between dense banks of impenetrable gorse. The sloping, natural green is squeezed between the gorse and the turreted Scrabo Tower. The best of many thrilling holes. 
Strandhill, Hole 13, par 4. 333 metres. Index 11. 
A devil in disguise. The high tee reveals a blind tee shot… you have to figure out where in the left-to-right valley below to aim your shot. The approach into the tiny green must slide between two sentinel dunes.  
The European Club, Hole 17, par 4. 382 yards. Index 4. 
A secluded par four dipping between the dunes. The small, lone tree, so stark  from the high tee, adds to that feeling of isolation. 
The Island, Hole 14, par 4. 318 metres. Index 17.
The narrowest fairway in Ireland? Absolutely. This was the original 1st hole (1800s) and while it may be short, your tee shot has to thread the eye of a needle. Fail to find the fairway and your ball will slip away towards the marshes or head left onto a bumpy dune ridge. A good tee shot sets up a birdie opportunity but it is one slippery green. Holes 13, 14, 15 combine for a dynamite stretch at this brilliant links. 
Tralee, Hole 8, par 4. 377 yards. Index 4. 
Given the stunning back nine, this may seem an unusual choice, but the 8th lends itself to different strategies as it doglegs around the waters of Barrow Harbour. 
Woodstock, Hole 7, par 4.  373 metres. Index 1. 
Another dogleg wrapped around a lake, Woodstock's 7th makes it all the more tempting as you can see the entire hole from a high tee. The lone fairway tree is best avoided.
---
PAR 5s
Ballyliffin (Old), Hole 14, par 5. 530 yards. Index 7.  
Running above the beach, the hole swerves subtly left then right, showing off the low bumpy terrain. A knoll of rough deceptively fronts the green. 
Blainroe, Hole 18, par 5. 455 metres. Index 16. 
Played along the cliff tops that make Blainroe stand out, the second shot bunker strategy adds the finishing touches to this great closing hole. 
Castlerock, Hole 17, par 5. 485 yards. Index 12. 
Open the shoulders and head straight downhill towards a giant bunker and huge dune undulations fronting a neatly placed green.  
Concra Wood, Hole 4, par 5. 525 metres. Index 7.
A par five which double doglegs around the idyllic Lough Muckno. Designed by Christy O'Connor Snr and Jnr, the 4th calls for patience and accuracy off the tee as the fairway moves sharply right. It's a long hole so play it as a three-shotter, especially as the green sits perched on the lake… and your approach shot may well have to cross the water. 
Connemara, Hole 14, par 5. 498 yards. Index 15.
After Eddie Hackett's best par three on the course, tucked away in rocky solitude, the par five 14th bursts into the open, promising magnificent views over the Atlantic and the remainder of the course. From the high tee box, you can see how the course entwines with the natural terrain, with out of bounds to the right of the fairway. For the approach, the bumpy fairway is split by a ridge, which only ends when it reaches the green.  
Donegal, Hole 8, par 5. 498 metres. Index 3. 
The way the fairway moves along the coast makes this my favourite par five in Ireland. It glides over the back of the main seaside dune in imperious fashion. Three shotters are often let down by their lack of choices for the second but not here: the fairway splits into different levels making the decision far from a straightforward one – the essence of good golf design. 
Doonbeg, Hole 1, par 5. 510 yards. Index 5. 
This straight and well bunkered hole aims directly at the green, with a heaving dune towering above. The high tee, right by the clubhouse, is a lovely place to stand. 
Enniscrone, Hole 16, par 5. 514 yards. Index 11. 
A somewhat blind, straight tee shot takes you between the beach and the big dunes. The hole then bends right through a narrow chute to a raised green. 
Kilkeel, Hole 6, par 5. 487 yards. Index 6. 
A dogleg right, snaking through tall trees. The green sits wedged into a small hill, offering a daunting approach shot. 
Lough Erne, Hole 6, par 5. 535 yards. Index 7. 
Forget the long walk up and enjoy the high ridge hole that connects the two parts of this wonderful lough-side course. 
Old Head, Hole 12, par 5. 537 yards. Index 3.  
A hole to strike fear into the heart of any golfer. It's a dogleg around the cliffs and your opening drive must cross those cliffs. Wind factor: enormous. 
Oughterard, Hole 8, par 5. 444 metres. Index 12. 
A double dogleg through the trees. This one's all about guile and patience. 
Powerscourt West, Hole 16, par 5. 496 metres. Index 2. 
Downhill all the way and an early dogleg left requires three intelligent shots to find the highly mischievous green. 
Rathsallagh, Hole 7, par 5. 490 yards. Index 6. 
Good to see this course open again. The 6th has a lot going on with streams, trees and bunkers all contriving to direct the way you play. 
Rosslare, Hole 7, par 5. 550 yards. Index 6. 
A dipping, swinging hole which flows easily between the dune shoulders to a green perched up high. It comes at the end of a very good stretch. 
Slieve Russell, Hole 13, par 5. 494 yards. Index 14. 
You drive over Lough Rud and how much you bite off will dictate your second shot… but as this dogleg clings tightly to the lough, caution is required. 
Strandhill, Hole 5, par 5. 468 metres. Index 16.
If you've ever wondered what the golf equivalent of a skiing mogul field is, then make your way to the 5th at Strandhill where the humps and hollows are so violent and numerous that it's a challenge just to weave your way through them. A high tee shot takes you down into the bumps, all of which culminate in a supremely natural punchbowl green, the type of which you'd never see a modern designer even think about building, more's the pity.  
The Island, Hole 15, par 5. 479 metres. Index 15.
A glorious par five that unfurls beneath you from a high tee. A strategic tee shot to the left leaves you with a clearer approach to the putting surface whilst a pushed ball to the right will leave you blind and guessing. The approach can be run-in over supremely rumpled ground to a green sitting in the lee of the most impressive amphitheatre green on the East coast. 
Waterville, Hole 11, par 5. 477 yards. Index 12.
Named 'Tranquility', this is as peaceful a par five as you will find. Waterville may have middling-sized dunes but Tranquility is naturally nestled into the deepest ones, gliding gently right to a green sitting several feet above the fairway. That's the magic of Eddie Hackett's approach to course design. The hole offers birdie chances to all as the wind factor is reduced considerably. The par three which follows ('Mass Hole') is also magical. 
Westport, Hole 15, par 5. 498 yards. Index 9.
Any par five played along a body of water usually pleases. But when that water is the broken edge of Clew Bay and when Croagh Patrick magnificently stands guard over proceedings, then excitement levels are ratcheted up a good few notches. Add in a forced carry over an inlet for the tee shot and a heroic approach if one wants to get home in two, and you have an absolute cracker. Plays like Portsalon's 2nd in reverse.
---
Out of the 100 holes listed above here are both Kevin & Ally's favourite 18's
KEVIN MARKHAM – Favourite 18
Carne (Kilmore), Hole 2, par 3. 147 metres. Index 14
Moyola Park, Hole 17, par 3. 115 yards. Index 16
Royal Portrush, Hole 16, par 3. 202 yards. Index 16
Tralee, Hole 16, par 3. 179 yards. Index 9
Ballybunion (Old), Hole 11, par 4. 402 yards. Index 2
Carne (Hackett), Hole 17, par 4. 392 metres. Index 1
Co Sligo, Hole 17, par 4. 385 metres. Index 2
Druid's Glen, Hole 13, par 4. 461 yards. Index 1
Enniscrone, Hole 13, par 4. 338 yards. Index 13
Lahinch, Hole 6, par 4. 412 yards. Index 2
Macreddin, Hole 12, par 4. 364 metres. Index 1
**Portsalon, Hole 2, Par 4. 397 metres. Index 3** only hole that makes both lists
Royal County Down, Hole 3, par 4. 457 yards. Index 3
Scrabo, Hole 1, par 4. 404 yards. Index 1
The Island, Hole 14, par 4. 318 metres. Index 17
Concra Wood, Hole 4, par 5. 525 metres. Index 7
Connemara, Hole 14, par 5. 498 yards. Index 15
Waterville, Hole 11, par 5. 477 yards. Index 12
ALLY MCINTOSH – Favourite 18
Ballybunion (Old), Hole 15, par 3. 206 yards. Index 4
Carlow Hole 17, par 3. 132 metres. Index 17
Carne (Kilmore), Hole 7, par 3. 196 metres. Index 10
North West, Hole 16, par 3. 90 yards. Index 18
Castlerock, Hole 10, par 4. 386 yards. Index 4
Co Louth, Hole 14, par 4. 322 yards. Index 13
Co Sligo, Hole 14, par 4. 358 metres. Index 5
Lahinch, Hole 9, par 4. 391 yards. Index 10
Portmarnock, Hole 14, par 4. 387 yards. Index 2
**Portsalon, Hole 2, Par 4. 397 metres. Index 3** only hole that makes both lists
Rosapenna Old Tom Morris, Hole 12, par 4. 383 yards. Index 7
Royal Belfast, Hole 10, par 4. 303 yards. Index 14
Royal Dublin, Hole 16, par 4. 224 metres. Index 18
Royal Portrush, Hole 4, par 4. 455 yards. Index 3
Donegal, Hole 8, par 5. 498 metres. Index 3
Strandhill, Hole 5, par 5. 468 metres. Index 16
The Island, Hole 15, par 5. 479 metres. Index 15
Westport, Hole 15, par 5. 498 yards. Index 9