We all love rankings, even if they are the cause of endless debate and argument. Compiling such lists is a difficult and complicated process and golf is no different, with every player having their own idea of what it takes to make a special layout. Below are our 2020 Top 100 ranked courses in Ireland, voted for by our panel of experts after lengthy consultation and deliberation. As ever, there were some tight calls made after intense discussions but we landed on a system that delivered what we hope you will agree is a well-thought-out and largely accurate reflection of this island's golf offering. So, do you think we got it right?
For voting criteria, the panelists, the Top 30 Links and Parklands as well as the numerical listing of the Top 100 for 2020, please click the below cover. Or read on to find out who took top spot and where your club featured…
(Up⇑, Down⇓, Same ↔, New Entry, since last year's rankings)
---
100 GLASSON www.glassongolfhotel.ie
The smart short game academy and the exceptional golf hotel make Glasson a popular choice, but Christy O'Connor's design and the thrilling closing stretch have always attracted praise. New ownership should see Glasson up its game.
VERDICT: A beautiful location and a serious golf 'package'. (⇓4)
---
99 MOYOLA PARK www.moyolaparkgolfclub.co.uk
Deep woodland, old estate, effortless charm and a river running through it. At the heart of the course is a heavily wooded hill. You play into it, you play out of it, you play through it. No fuss, just fun.
VERDICT: A rich and colourful parkland lost in trees. (New Entry)
---
98 CASTLEKNOCK www.castleknockgolfclub.ie
The young and ever-popular Castleknock moves over a shapely terrain. It feels quite open so it is left to the well-placed, attractive bunkers and water features to threaten tee shots and approaches. There are five par fives and five par threes.
VERDICT: Well routed and with a sense of adventure. (New Entry)
---
97 BALLINROBE www.ballinrobegolfclub.com
A parkland that continues to hide its light under a bushel. Ballinrobe is strong in every department, from course to facilities. Only its location in Co. Mayo plays against it for travelling golfers.
VERDICT: Charming, peaceful parkland. (New Entry)
---
96 CASTLETROY www.castletroygolfclub.ie
This smart suburban parkland holds its position and is an impressive course of subtle hole shapes and sweet conditioning. The back nine ramps up the excitement.
VERDICT: Excellent maintenance and a very steady course from start to finish.(⇑3)
---
95 DUNDALK www.dundalkgolfclub.ie
A classic parkland course set over a rolling landscape, Dundalk has benefitted from recent investment which sees it nudge up five places. Narrow fairways, large trees, well-placed bunkers and water features mean it's a full experience.
VERDICT: A fun round at this friendly 'oldie' with its new flourishes. (⇑5)
---
94 ROYAL CURRAGH www.royalcurraghgolf.ie
Ireland's oldest course has upped its game too, with conditioning vastly improved and the sheep now confined to fenced off areas. Heathland turf playable all year round.
VERDICT: One of Ireland's unique and special golfing locations. Play in May for the gorse (⇑1)
---
93 NAAS www.naasgolfclub.com
The works completed on the front nine ensure Naas remains in our Top 100. Good conditioning, strong routing, smart greens and a wonderful day out with the Driver… Naas remains under-appreciated.
VERDICT: A course sure to grow in popularity as its charms are unveiled.(⇓1)
---
92 NORTH WEST www.northwestgolfclub.com
One of the founding members of the GUI, North West is a classic links where the layout was dictated by the natural landscape. Its low fairways and sweet greens emphasise the beauty of old-school design.
VERDICT: A too often-ignored course, North West delivers a links education. (⇓1)
---
91 BALBRIGGAN www.balbriggangolfclub.com
This is a flowing parkland with big undulations and tall, dark evergreens shadowing fairways. Despite the trees, it still feels spacious and cleverly routed holes take advantage of the natural landscape and water features.
VERDICT: With the upgrade works now settled in, Balbriggan drops back having made headway. (⇓13)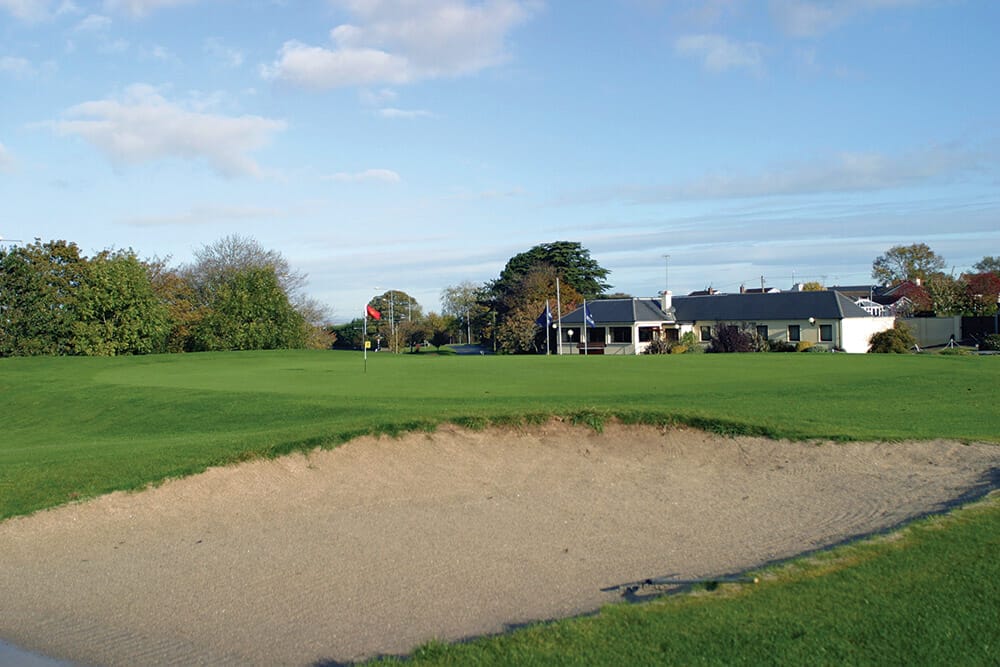 ---
90 LAYTOWN & BETTYSTOWN www.landb.ie
A links where the low-flowing inland back nine butts up against the crumpled, tossing front nine, which are squeezed against the coast. Its out-and-back nature makes wind a big factor.
VERDICT: A shining example of one of Ireland's lesser known links. (⇓3)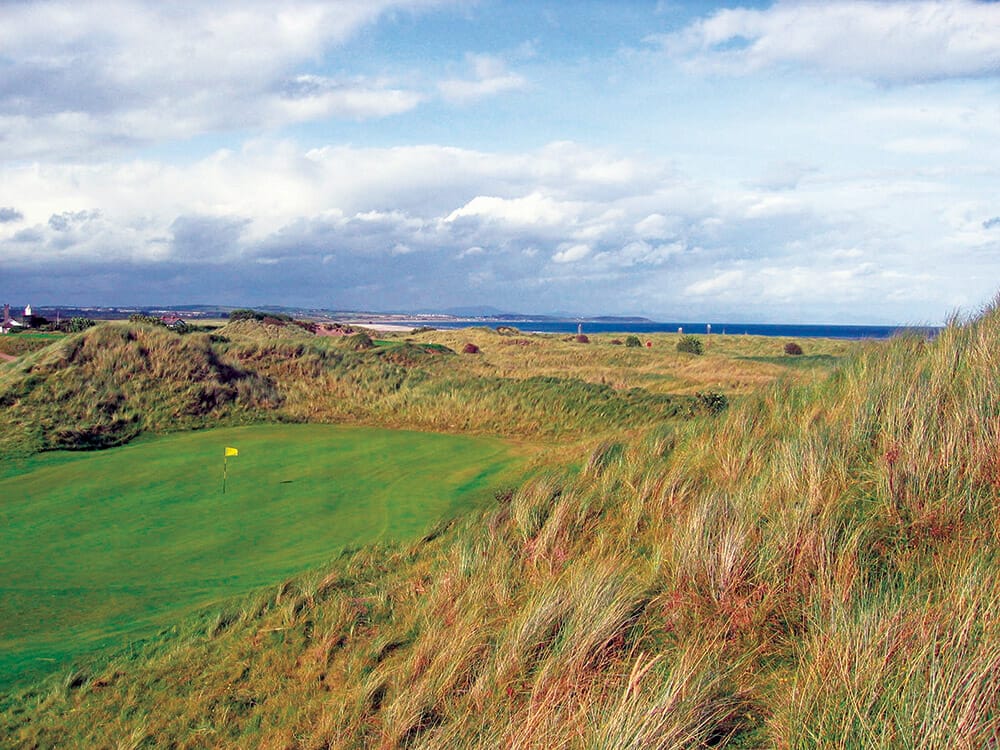 ---
89 KILLARNEY (MAHONY'S POINT) www.killarneygolfclub.ie
The gentler of Killarney's two courses has been receiving enhancements and its subtle parkland layout, under the gaze of the MacGillycuddy's Reeks, promises a relaxing round… before you reach the stunning par three 18th.
VERDICT: There's an old school charm here but it needs a little love. (⇓6)
---
88 MOUNT WOLSELEY www.mountwolseley.ie
A big, pulsating Christy O'Connor Jr parkland wrapped around a hotel. The course is known for its tough and thrilling start… and your driver will be well used as you negotiate some big water features.
VERDICT: A parkland that demands your best game… and a sensible choice of tee. (⇓6)
---
87 SEAPOINT www.seapointgolflinks.com
The two nines emphasise how a smoother terrain to start (the opening inland nine) can build momentum and then switch up a gear for a more muscular back nine and a final flourish beside the sea.
VERDICT: The chute of dunes that leads you home is a beautiful sight. (⇓1)
---
86 ROYAL COUNTY DOWN (ANNESLEY) www.royalcountydown.org
This par 66 proves that size isn't everything, especially with a rise of two places. The three new holes are well settled in and the conditioning is as good as its world- class sibling. A strategic test of accuracy and common sense.
VERDICT: It packs a punch but leave your driver at home. (⇑1)
---
85 CORBALLIS www.corballislinks.com
This is a thrilling links (par 66) rolling over some chaotic and shapely dunes. With six par threes it promises fun and adventure and, in the par four 3rd, one of Ireland's great golf holes.
VERDICT: Public links golf that packs in the adventure. (⇑5)
---
84 HEADFORT (OLD) www.headfortgolfclub.ie
Without the New course alongside, the Old course would receive far more plaudits. It is a tricky but charming course routed through big trees. Never easy but always enjoyable.
VERDICT: Bring an accurate radar as those charming trees will swallow your ambition. (↔)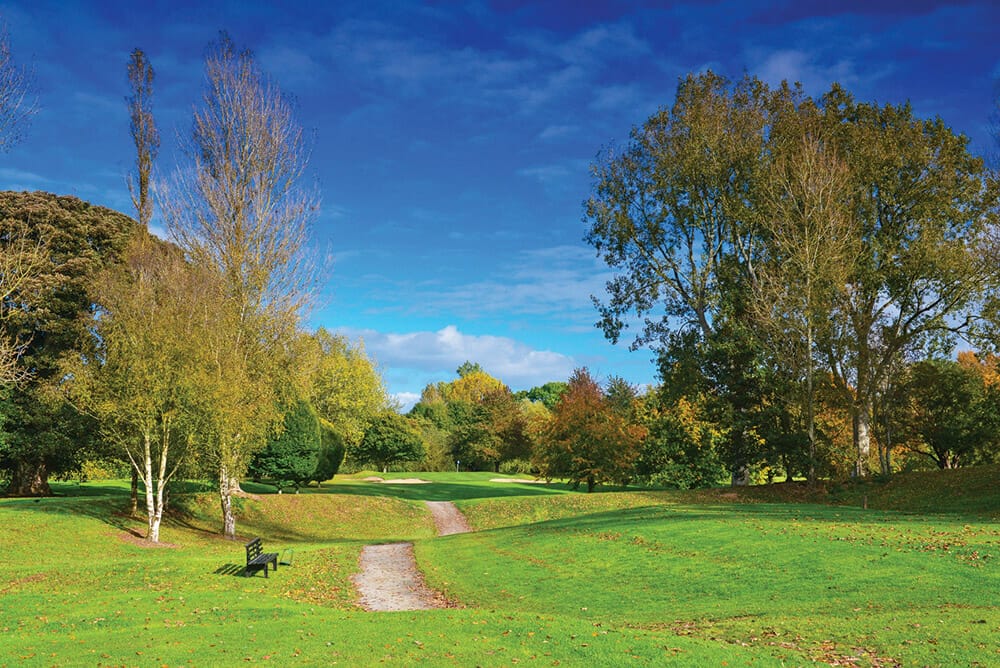 ---
83 MULLINGAR www.mullingargolfclub.com
The classic nature of Mullingar remains despite recent upgrades to the greens. It's not the longest of courses – certainly by today's standards – but the tree drenched landscape creates plenty of intrigue.
VERDICT: A solid, colourful and testing parkland which dates back to 1894. (⇑6)
---
82 POWERSCOURT (EAST) www.powerscourtgolfclub.com
Powerscourt's original course mixes an opening tree-drenched corner with a more open, curvaceous terrain… before trees and water return for a grandstand finish. Views of the Great Sugar Loaf follow you all day.
VERDICT: An interesting mix of holes on a testing course with excellent greens. (↔)
---
81 MACREDDIN www.macreddingolfclub.com
The Paul McGinley-designed course gets a sharp little bounce back up the rankings. It stretches over two sides of a valley in the depths of Co.Wicklow. Over the hillsides and through avenues of pine trees and gorse it is one of Ireland's big adventures.
VERDICT: A tumbling parkland that has to be played to be believed. (⇑4)
---
80 ST. MARGARET'S www.stmargaretsgolf.com
This Dublin parkland has all the elements you'd hope for with water features aplenty and some stand-out holes.  It returned to the Irish scene a few years ago in spectacular fashion and its location reinforces its popularity.
VERDICT: A perfect society venue with a sweet, easy landscape which will rebound when course changes settle in. (⇓9)
---
79 ST. ANNE'S www.stanneslinksgolf.com
Links golf in the heart of Dublin Bay. Low fairways ripple constantly and the routing takes on the full force of the wind. It may not be long but it does require your A game.
VERDICT: A smart and very accessible links with an intriguing clubhouse. (⇓7)
---
78 DUN LAOGHAIRE www.dunlaoghairegolfclub.ie
Dun Laoghaire continues to move back and forth in the rankings as it tries to find its place. A reduction in bunker numbers and a smart tree management programme has shaken things up as the three nines flow across a hillside with big greens waiting at the end.
VERDICT: Condition is always top notch, as are the facilities. (⇓12)
---
77 CASTLEMARTYR www.castlemartyrresort.ie
Still young, the Ron Kirby-designed Castlemartyr is wrapped up with a five-star resort. There's an inland-links type feel and rhythm and that is now being enhanced through a new bunkering programme.
VERDICT: New owners, new investment and a resort that puts golf front and centre. (↔)
---
76 TULFARRIS www.tulfarrisgolfclub.com
The considerable investment in this course is bearing fruit. Tulfarris flows sweetly around Blessington Lakes and, as pretty as that sounds, you'll find several water features on the course, too. Host venue to the Prem Group EuroPro Tour Irish Masters.
VERDICT: Parkland or lakeland? A perfect mix of the two. (⇑3)
---
75 FARNHAM ESTATE www.farnhamestate.com
One of Ireland's youngest courses (2008) Farnham offers an interesting mix of holes. Starting with an open landscape of big trees it switches into forest mode on the higher back nine.
VERDICT: A new clubhouse opened in 2019, which is an important addition. (⇑2)
---
74 MOYVALLEY www.moyvalleygolf.com
A modern course of open spaces and easy rhythm. It's almost hypnotic and big greens make for tantalising targets. Under new ownership, the course has overcome its fallow period after the Celtic Tiger. Impressive facilities.
VERDICT: An inland-links feel with a powerful finish. (⇑1)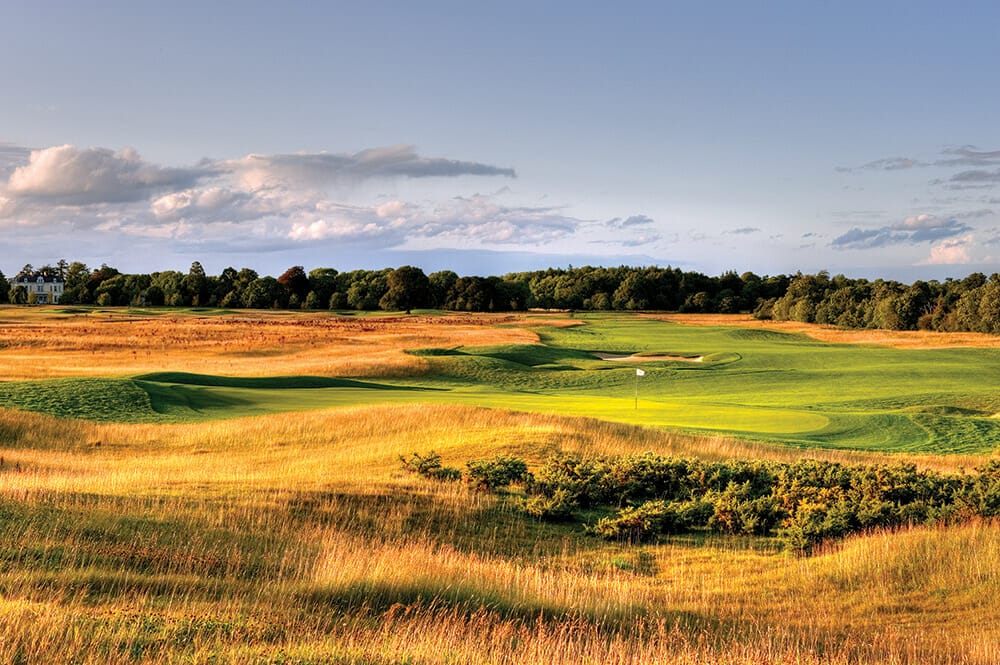 ---
73 THE HERITAGE www.heritageresort.ie
The conditioning at this Seve Ballesteros-designed course has not been of the usual high standards, which explains its fall in the rankings. We look forward to improvements to those big and dramatic bunkers, & velvet greens.
VERDICT: The only Seve Ballesteros course in Ireland and a compelling one at that. (⇓21)
---
72 ARKLOW www.arklowgolflinks.com
A lovely links on the outskirts of Arklow town. The dunes aren't big but holes are easily crafted and routed naturally between them. Fine bunkering too.
VERDICT: A little known links with a big heart. (⇑1)
---
71 DINGLE www.dinglelinks.com
Its remoteness means Dingle is too often ignored but a further rise of nine places (10 places last year) will grab golfers' attention. The course is smartly laid out with holes routed in every direction and a burn constantly influencing play.
VERDICT: A strong test for any golfer and located in one of Ireland's beauty spots. (⇑9)
---
70 ESKER HILLS www.eskerhillsgolf.com
There is nothing quite like Esker Hills. The erupting landscape tosses you about all day as holes cavort over and through the mighty eskers. Shane Lowry is their favourite son.
VERDICT: Wonderful, adventurous golf and as welcoming a clubhouse as you could ask for. (⇑4)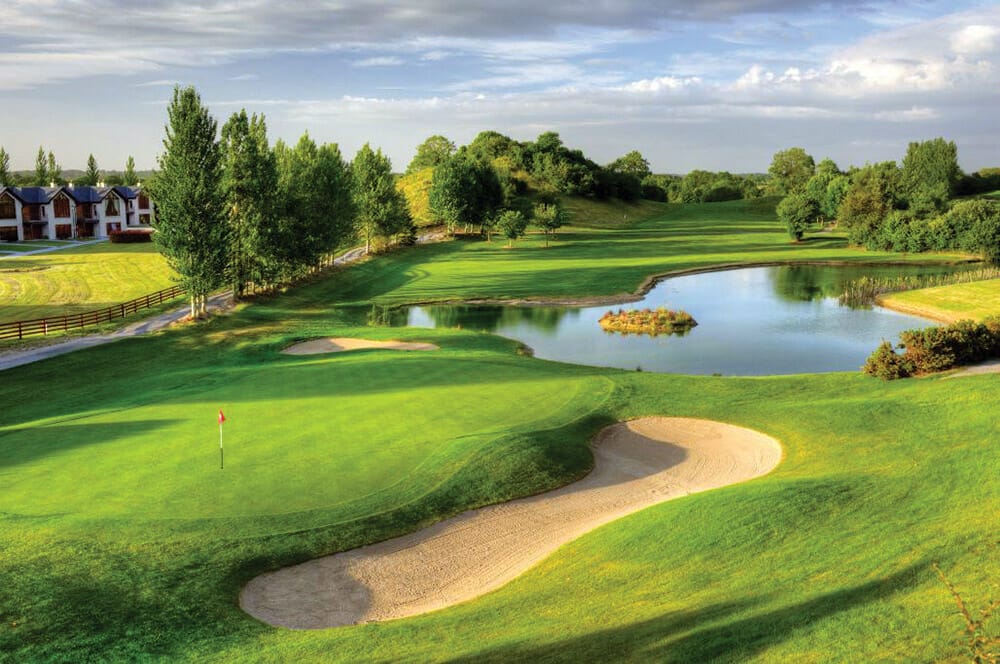 ---
69 GALWAY www.www.galwaygolf.com.ie
Alister MacKenzie used a hillside above Galway Bay to peg out tees and greens in the 1920s. The course may have evolved since then but MacKenzie's vision remains at Galway's heart.
VERDICT: A sparkling parkland where accuracy is required. (↔)
---
68 PALMERSTOWN HOUSE ESTATE www.palmerstownhouse.ie
Palmerstown House Estate has long been lauded for its scale which stretches over a vast estate of water features, flowerbeds, colourful touches and strong individuality.
VERDICT: A big parkland back to its best, with fearsome par fives. (⇑2)
---
67 GRANGE www.grangegc.com
The elegant Grange may have removed its opening brace of par threes following some revisions to the course but it remains one of Dublin's most formidable parklands. A new short game area has also been added.
VERDICT: A strong variety of holes with a James Braid heritage. (⇓2)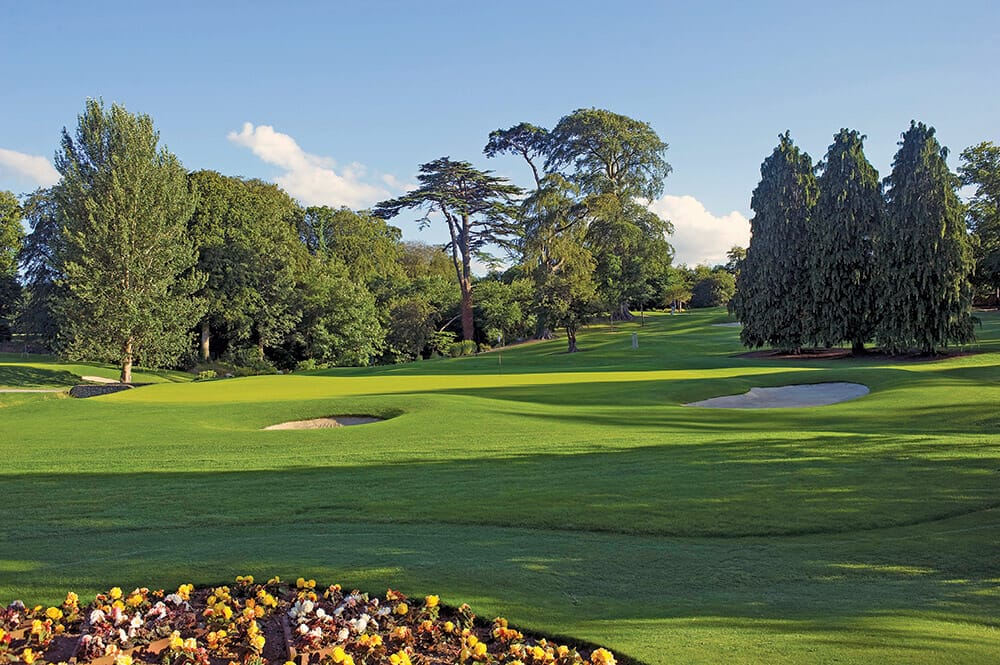 ---
66 WESTPORT www.westportgolfclub.ie
A beautiful setting below Croagh Patrick makes Westport one of those dramatic days out… and the golf is equally as good. From the 7th on the course promises a rollercoaster of thrills and with the strong conditioning it is good to see the course rising up the rankings.
VERDICT: A seaside parkland with an exciting, dramatic back nine. (⇑10)
---
65 BUNCLODY www.bunclodygfc.ie
This Jeff Howes-designed parkland combines two landscape types alongside the River Slaney. There are young and open spaces and then there are the magnificent mature avenues that lead down to the river and that famous lift.
VERDICT: A well maintained parkland which is maturing impressively. Excellent facilities. (↔)
---
64 CASTLE www.castlegc.ie
The strength of one of Dublin's top suburban parklands comes from a fluid rhythm rolling through dark tree-lined avenues. It's like a heartbeat and the bunker restoration work has enhanced the tempo.
VERDICT: Dublin City's top rated parkland and always in superb condition. (⇓7)
---
63 ROSSLARE www.rosslaregolf.com
Tucked away in Ireland's south east corner, Rosslare has some sensational links holes cavorting through low to medium sized dunes which come into their own at the farthest point.
VERDICT: Smart golf required on an understated links. (↔)
---
62 HOGS HEAD www.hogsheadgolfclub.com
The location of Hogs Head is captivating, the design work of Robert Trent Jones Junior has created something very different. Holes flow over an exposed, rolling headland promising dramatic sea and mountain vistas outside Waterville.
VERDICT: A headland adventure with some entertaining quirks. (New Entry)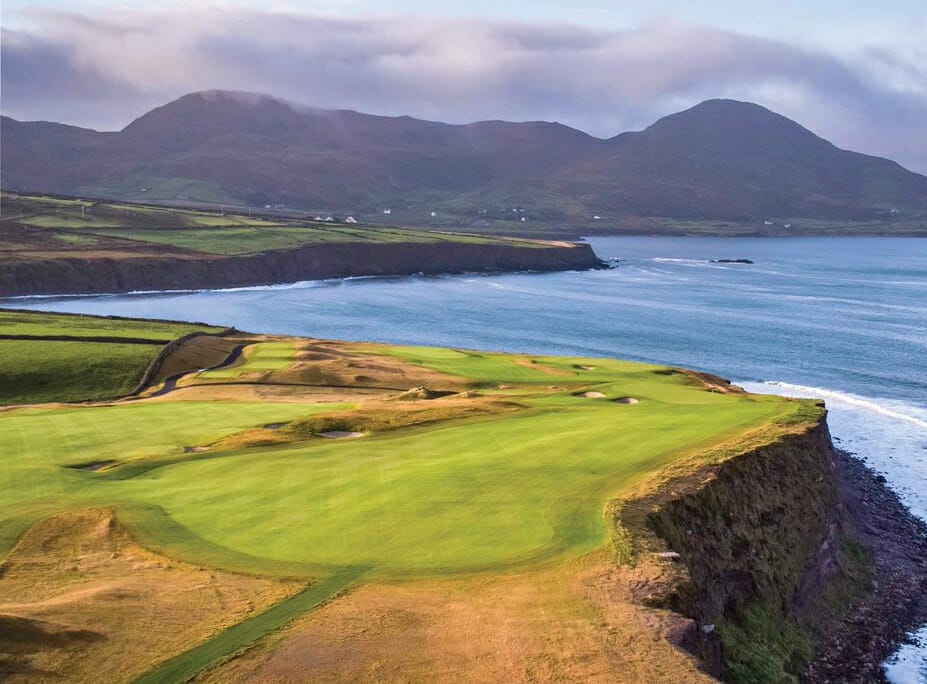 ---
61 NEW FOREST www.newforest.ie
New ownership helped this old estate parkland improve its reputation a couple of years ago, yet it still remains below the radar. There are wild marshes alongside pristine fairways and this club provides comprehensive facilities including lodging.
VERDICT: A modern, unheralded parkland with big holes & thrills. (⇓6)
---
60 RATHSALLAGH www.rathsallaghgolf.com
Re-opened three years ago this calm and peaceful parkland course introduced a new routing and a new par three to enhance the routing and the course's playability.
VERDICT: A parkland already back to its best and bristling with confidence.(⇑1)
---
59 ROYAL BELFAST www.royalbelfast.com
Old school… that's Royal Belfast for you. Its design harks back to the great Harry Colt. This is pristine, tumbling parkland on the shores of Belfast Lough, which continues to improve.
VERDICT: Rivals Royal Curragh for 'the oldest' golf club in Ireland title. (⇑8)
---
58 CONCRA WOOD www.concrawood.ie
Concra Wood hosted the Irish Challenge in 2018, emphasising the quality of this beautiful course on the shores of Lough Muckno. A big modern parkland with stunning lakeside views, with more elevation changes than you can imagine.
VERDICT: A big, quality parkland with endless lakeside thrills. (⇑1)
---
57 THE HERMITAGE www.hermitagegolf.ie
Renowned for the quality of its greens, Hermitage continues to upgrade its bunkering, giving the course an important and impactful facelift. Its heaving landscape and parkland maturity dates back to 1905.
VERDICT: A strong and sweet parkland close to Dublin City. (⇓1)
---
56 K CLUB (SMURFIT) www.kclub.ie
A course of big, hypnotic shapes with its own clubhouse and smart routing, not to mention a fabulous closing stretch where water is constantly in play, the Smurfit is an intriguing Arnold Palmer creation.
VERDICT: A hypnotic foil to the Palmer course. (⇓11)
---
55 DROMOLAND CASTLE www.dromolandgolf.com
For a club that has been making all the right moves and upgrading their course and facilities, it is good to see Dromoland Castle rising in the rankings. This elegant estate parkland is big and beautiful.
VERDICT: Serious parkland golf that starts steady and then proves unstoppable. (⇑5)
---
54 CARTON HOUSE (O'MEARA) www.cartonhouse.com
The second of Carton House's courses, O'Meara enjoys a meandering spacious landscape watched over by mature trees… before those holes by the River Rye give you an adrenaline rush.
VERDICT: Part of an exceptional golfing package. (⇑4)
---
53 ARDGLASS www.ardglassgolfclub.com
The continuing upgrades ensure that Ardglass continues its steep rise up the rankings. This is one of the most exhilarating (clifftop) starts on the island with the sea always in view. It also has the oldest clubhouse in the world
VERDICT: This coastline paradise continues to be upgraded under Ken Kearney's guidance. (⇑9)
---
52 TULLAMORE www.tullamoregolfclub.ie
James Braid created this beauty and it stands to his ingenuity that the routing and shape of holes test the golfer in so many ways. Trees will taunt you all day long. A continued rise for a parkland that embraces its classic parkland roots almost as much as it embraces the trees.
VERDICT: Parkland golf in the best tradition with stunning greens. (⇑2)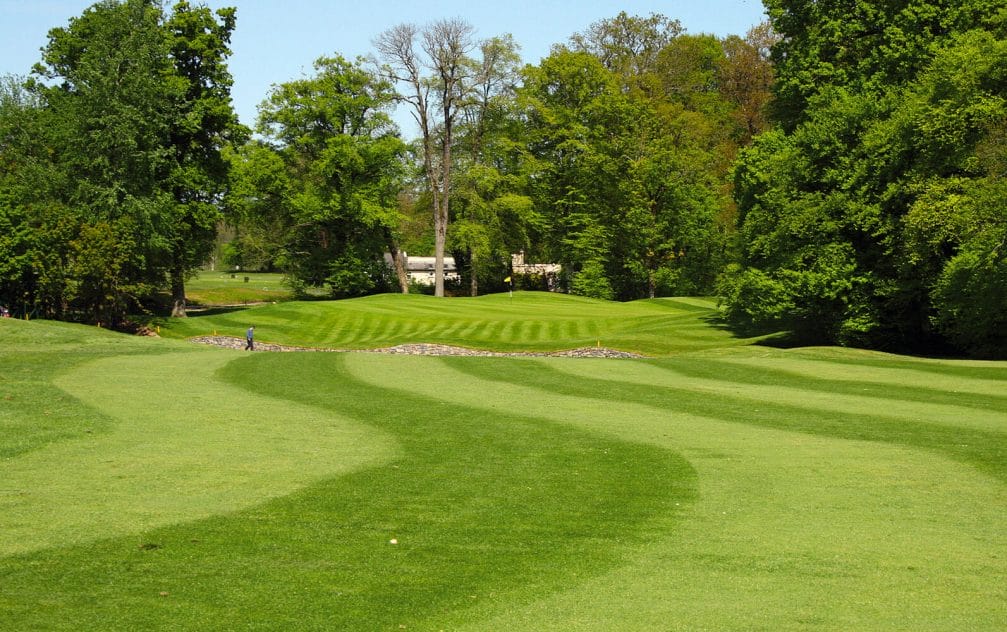 ---
51 KILLARNEY (KILLEEN) www.killarneygolfclub.ie
This big muscular parkland boasts a beautiful setting. Lough Leane and the MacGillycuddy's Reeks offer a stunning backdrop to most holes while the deer are ever-present. Poor conditioning of late should soon be remedied.
VERDICT: An enchanting setting for a super parkland course. (⇓11)
---
50 GALGORM CASTLE www.galgormcastle.com
Possibly the laziest, easy-flowing parkland on the island and home to 2019's ISPS HANDA. The rhythm is idyllic as the course swings in two loops and embraces the rivers Braid and Main. A resort that never stops investing.
VERDICT: The perfect place for a relaxing round of golf with all the trimming. (⇑3)
---
49 POWERSCOURT (WEST) www.powerscourtgolfclub.com
The East vs West debate always rages when discussing Powerscourt's two courses. At Irish Golfer we believe the West takes the title with a strong routing, excellent use of the land and some of the best greens in the country.
VERDICT: The West's terrain has lent itself to a creative, fluid and thrilling parkland. (↔)
---
48 BALLYBUNION (CASHEN) www.ballybuniongolfclub.com
A course that always divides opinion, the Cashen plays over even more impressive dunes than the Old links, with its closing stretch high above the beach and offering the biggest thrills of the round… much like the Old.
VERDICT: A seriously big links experience… but with a difference. (⇑3)
---
47 PORTUMNA www.portumnagolfclub.ie
Portumna is parkland bliss through a lovely old estate of forest, stone, watchtowers and deer. It climbs higher into the top 50 and if you've been lucky enough to play it, then you'll know why it is where it is in our ranking.
VERDICT: A sparkling, little known parkland with a big heart and a tiny green fee. (⇑3)
---
46 ROSAPENNA (OLD TOM MORRIS) www.rosapenna.ie
Old Tom Morris designed the original course but a brand new nine were added by Pat Ruddy in the late 2000s, to replace the inland holes. It sees the elegance and raw spirit of old school design mixed with more modern approaches.
VERDICT: A links mix of the very old with the very new. (↔)
---
45 BELVOIR PARK www.belvoirparkgolfclub.com
This Harry Colt parkland has stuck closely to its roots since the 1920s. Set on the outskirts of Belfast, it is a vibrant splash of green with mature tree-lined corridors (recently thinned) where golfers can swing freely… but only if they think carefully.
VERDICT: A Harry Colt classic, as simple as that. (⇑3)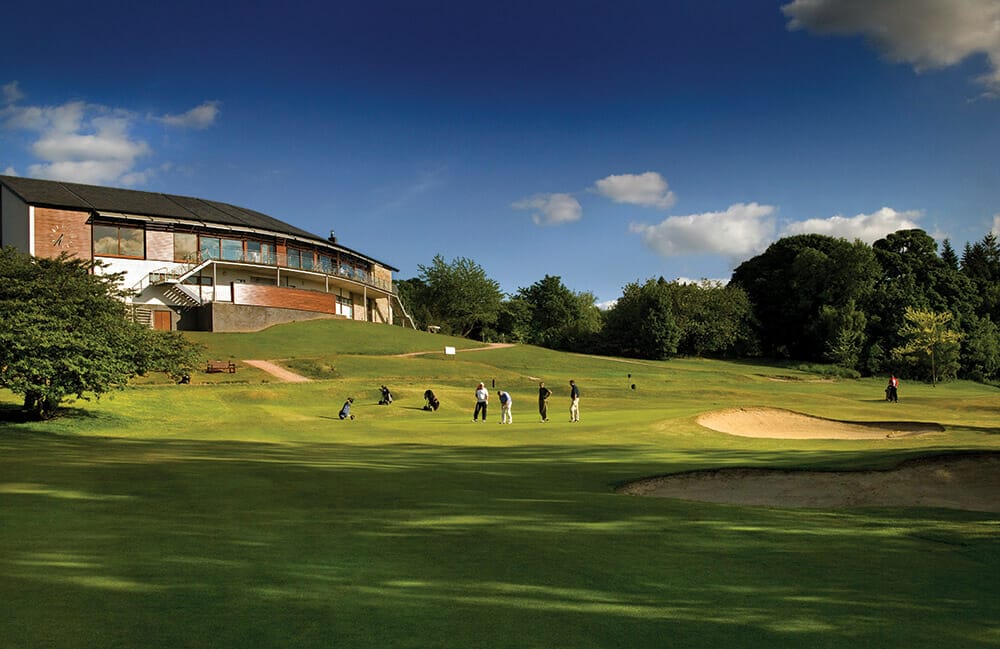 ---
44 GALWAY BAY www.galwaybaygolfresort.com
Galway Bay's conditioning is exceptional and just seems to get better and better. It is unique, unexpected and beautiful, too… if in a barren and windswept way. This has a links-like feel as holes tumble down to the sea in two shapely loops, with the sea almost always in view.
VERDICT: A unique experience, accessible for every level of golfer. (⇓1)
---
43 LOUGH ERNE www.lougherneresort.com
The Faldo course is a big, swinging parkland, stretched between two loughs. You visit the water's edge on several occasions with one fabulous par five up on a plateau high above. The course has been in poor condition this past year but expectations are high for 2020.
VERDICT: Blissful lakeside golf. (⇓14)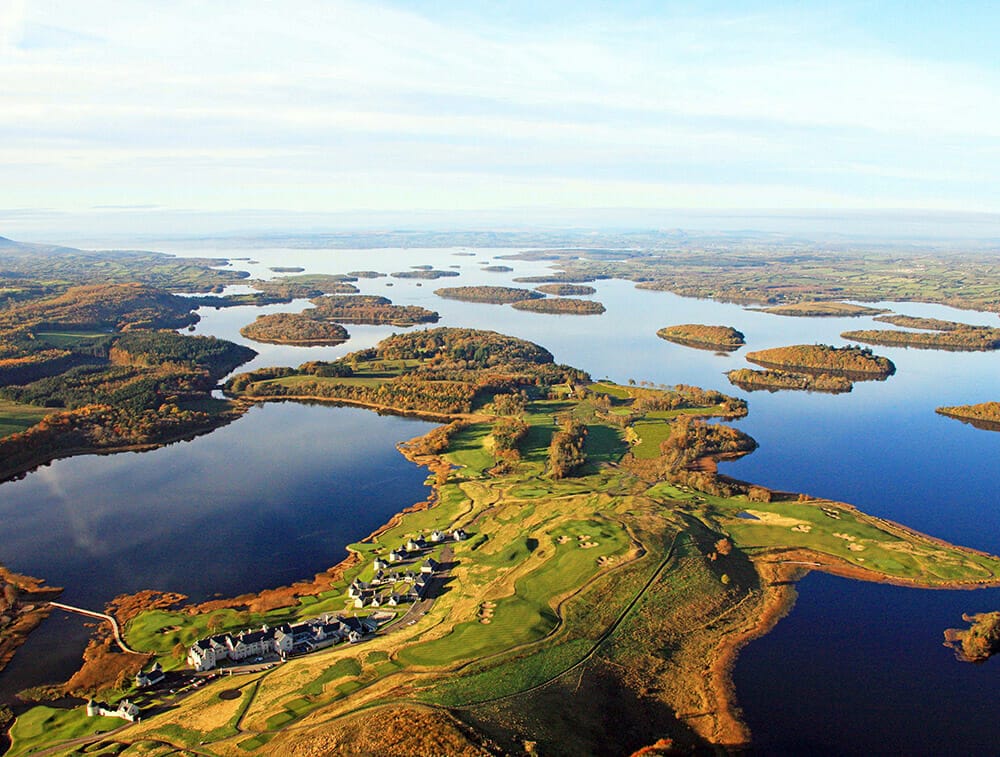 ---
42 ROYAL PORTRUSH (VALLEY) www.royalportrushgolfclub.com
Our island's best 'second' course. When two of Valley's best holes were snatched for the Dunluce's enhancement, Mackenzie & Ebert added a new closing stretch that has actually enhanced the reputation of this low, knotted links. It is a serious test of links discipline.
VERDICT: The second fiddle plays the sweetest links sonata. (⇓4)
---
MALONE www.malonegolfclub.co.uk
Malone starts strong, from the opening drive, and its rhythm between the dense trees is a core attribute of what's on offer here. The back nine picks up the pace with a dramatic 27-acre lake. Excellent facilities (new short game facilities added) and there's a third nine, too.
VERDICT: Perfect parkland rhythm at a venerable old club. (⇑6)
---
40 CASTLEROCK www.castlerockgc.co.uk
The changes by Martin Hawtree are young and refreshing, with a sizeable bunker upgrade programme and two new greens added. Golfers who visit this crumpled, boisterous links do not leave disappointed. It has all the elements with big dunes, flatter open stretches and a burn so expect its ranking to rise.
VERDICT: A smart par 73 links of varying rhythm and a serious buzz. (⇑1)
---
39 HEADFORT (NEW) www.headfortgolfclub.ie
This Christy O'Connor Junior design is one of his most subtle, with holes routed around an old estate and embracing water features on a dozen holes. A big attractive parkland layout and hosting of the 2019 Challenge Tour event has raised the profile of this 36-hole venue.
VERDICT: A big, water-laced and colourful parkland that challenges and thrills constantly. (⇑3)
---
38 DRUIDS GLEN www.druidsglenresort.com
A course of enchanting colour, fabulous routing and more thrilling holes than you can shake your driver at and also possesses the best set of par threes you'll find. Host to four Irish Opens and recent efforts have added finesse to bring the course back to its former glory.
VERDICT: Sizzling colours and startling variety make this a must-play. (⇑1)
---
37 LUTTRELLSTOWN CASTLE www.luttrellstowncastle.com
Debates about Dublin's best parkland may rage but Luttrellstown Castle is the star attraction for Irish Golfer Magazine. This is classic modern parkland with rivers and lakes laced across an old estate and big trees shepherding proceedings. The club has reversed the nines again so that it now returns to its original layout. It certainly makes for a more comfortable start. There are no climbs here… unless you count stepping in to one of the best clubhouses in Ireland.
VERDICT: Elegant, muscular parkland with every flourish you could ask for. (⇓1)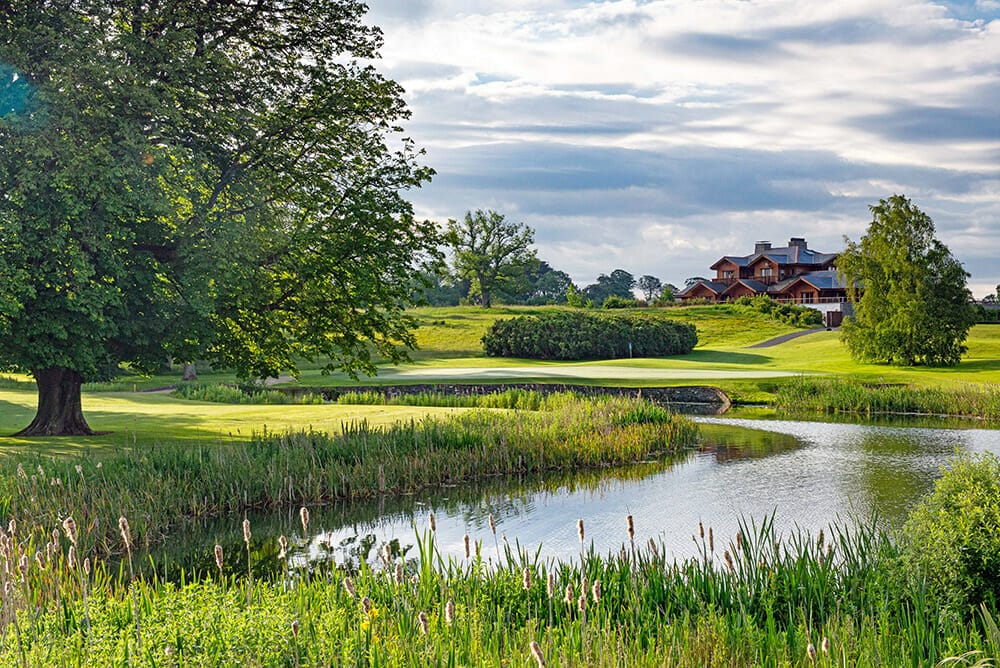 ---
36 STRANDHILL www.strandhillgolfclub.com
Strandhill's place in the rankings continues to shine as it rises eight places. The course continues its upgrade and refurbishment programme – specifically the bunkering – and as one of our quirkiest links it is attracting a lot more attention. The location, squeezed between two beaches and beneath Knocknaree Mountain, only adds to the course's charms. Strandhill has no airs or graces, throwing one fine hole at you after another, and it is dominated by a central ridge from which holes slide down towards those two beaches. Holes 5, 6, 13 and 15 are outstanding.
VERDICT: A quirky and entertaining links with absolute attitude. (⇑8)
---
35 ROSAPENNA (SANDY HILLS) www.rosapenna.ie
Pat Ruddy has an ability to route courses and shape holes that demand the very best of golfers. Sandy Hills may be one of his best (The European Club excepted) and the rhythm he has found through Rosapenna's biggest dunes is hypnotic. The location is stunning and you can breathe it in before teeing off as many holes dip down into the dunes before rising to greens where only pinpoint accuracy will leave you on the putting surfaces. This is tough golf that can leave you battered so be warned. It is part of a first-class golf complex.
VERDICT: A stern links test of sweet rhythm and a stunning setting. (⇓2)
---
34 CARLOW www.carlowgolfclub.ie
Carlow's design has changed little in almost 100 years allowing the acclaimed work of Tom Simpson and Molly Gourlay to shine. It is easy to say that because the course has evolved little, it can't reach the heady heights of the top-rated parklands… but that is to miss the beauty of the designers' work. Holes are wrapped and routed superbly around a central hill with so much shape that every facet of your game is challenged constantly. The turf is also sublime with the course playable all year round.
VERDICT: Underappreciated parkland/heathland classic. (⇑1)
---
33 CORK www.corkgolfclub.ie
The hand of the legendary Alister MacKenzie helped craft this remarkable course on Little Island, outside Cork City. There's no question that the famed quarry holes remain the club's signature but there is so much more to it than that. That said, the biggest thrills – including Seve's Spanish Chestnut – are out of sight of the clubhouse. The recent overhaul of the bunkers which saw some MacKenzie flourishes return has been tempered of late, although many of the increased challenges off the tee and on approaches remain. The location deep in Cork Harbour gives this course a peaceful setting.
VERDICT: A parkland of many different elements… but all of quality. (⇑4)
---
32 CARTON HOUSE (MONTGOMERIE) www.cartonhouse.com
One of Ireland's most intriguing creations, this is often referred to as an inland links. It certainly has some links-like attributes but a course such as this needs no comparisons – it is remarkable in its own right. The bunkering is ferocious, both in number and depth, although the fairway bunkers are being softened to make it more playable. The green complexes are superbly shaped. Yes, the Monty may feel open and barren but the rhythm and shapeliness of the course is mesmerising.
VERDICT: An open, devious parkland that unashamedly falls into the love/hate bracket. (⇑2)
---
31 OLD HEAD www.oldhead.com
Old Head offers a golfing experience like no other. 300-foot cliffs jutting out into the ocean will do that but so will the immaculate conditioning and the way golfers are looked after from the moment they arrive. This is glamour golf at its best and the elegant, generous design makes it a course anyone can play. That's assuming you can handle the drama of the clifftop holes, of which there are nine. Old Head boasts a world-class, bucket list attraction and it remains top of the list for many golfers.
VERDICT: A startling and unique clifftop golf experience. (↔)
---
30 NARIN & PORTNOO www.narinportnoogolfclub.ie
Currently being upgraded by Gil Hanse, Narin & Portnoo is set to shine even more brightly when the work is completed in 2020. The large ridge of dunes surrounded on two sides by sea is at the heart of the course and it is around and through this where holes find their fun. Much of it is wild and natural and the run of five holes starting on the 7th vies for the best sequence in the country. They take you to the ocean's very edge. The links will fall from a par of 73 to 70, with three new par threes being added.
VERDICT: A wild links adventure with several absolute thrillers. (↔)
---
29 CONNEMARA www.connemaragolflinks.com
The backdrop of the Twelve Bens on one front and the Atlantic Ocean on the other has always given Connemara a mystical quality. Throw in some rocky Connemara framing and it can feel almost lunar on Ireland's remotest western shores. It gives this 27 hole club a unique links feel and one that is so evident on arrival. Designed by Eddie Hackett, holes are therefore as natural as can be, using the low running front nine to set the scene before the more shapely back nine throw in some sucker punches. Recent improvements see a continued upward nudge in the rankings.
VERDICT: A links of lunar-like appearance with a smashing back nine. (⇑3)
---
28 FOTA ISLAND www.fotaisland.ie
You're playing golf on an island and while it might not feel like you've crossed over water to reach this quality resort, you will certainly discover you're playing through an arboretum. That's the charm of Fota. The course has held the Irish Open three times and that means you'll be playing a quality parkland that always keeps things interesting. The slopes, the natural water features, the green locations all contribute to a charming round of golf that is both thrilling and accessible for all. That makes a huge difference as does the comfortable clubhouse. The resort boasts 27 holes.
VERDICT: An Irish Open venue with oodles of colour and charm. (↔)
---
27 DOOKS www.dooks.com
There are few more beautiful places to play golf in Ireland – possibly anywhere – than Dooks. Surrounded by bays, sea and endless mountains, this is a wildly natural links set over heaving terrain which drops down to the water's edge. And yet it is open and playable. Dooks' reputation continues to rise with their greens receiving particular praise. That reputation is well deserved for not only is this a fine and fun course, it is also one of our most welcoming. What's more, there is change in the air as the club will expand and make upgrades in the years ahead.
VERDICT: A natural, thrilling links in a bucolic Irish setting. A bright future beckons. (↔)
---
26 DONEGAL www.donegalgolfclub.ie
Donegal's reputation stems from the remarkable piece of links land over which it flows. Designed originally by Eddie Hackett, with Pat Ruddy continuing to update it, this links stretches over a wide area surrounded by mountains, forest and sea. To that end it creates a lazy flow that lulls golfers under its spell and most who come here leave utterly charmed by the experience. The course does, however, require your full attention for its par 73 means it can play long and the stretch of holes, from 5 to 11, is utterly devious as well as one of the best in the country.
VERDICT: A dramatic, spacious links which will charm everyone. (⇓2)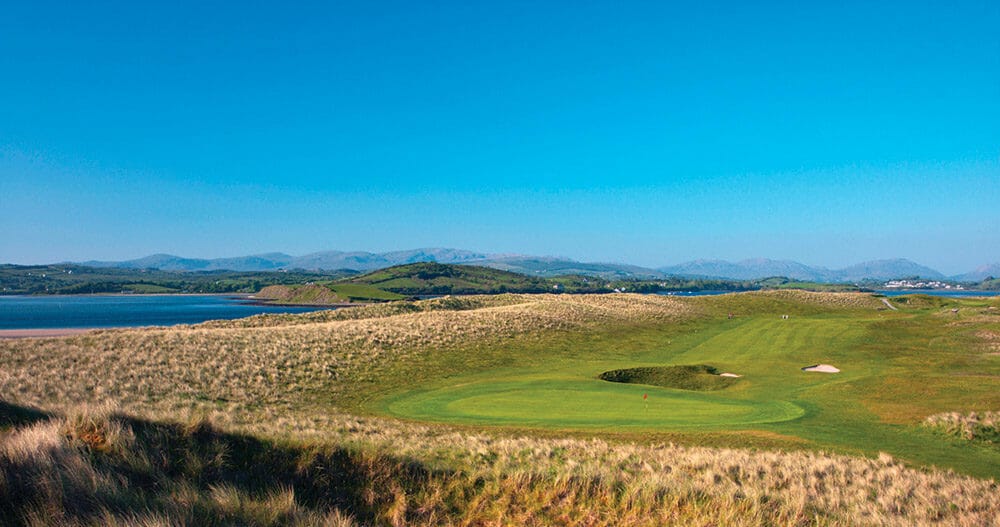 ---
25 MOUNT JULIET www.mountjuliet.com
In 2020, the Dubai Duty Free Irish Open will play over this famous Jack Nicklaus- designed parkland. It has hosted big events before but this will be part of the €7 million Rolex Series, so expect glamour and style and finesse. The course coasts through an estate of towering trees with a grace that makes playing here an absolute joy. Despite the water features it is not overly challenging… rather it is welcoming and designed for your enjoyment. Put it this way, can you point us towards a golfer who has left Mount Juliet in a bad mood? We didn't think so.
VERDICT: Jack Nicklaus designed it… just about everybody wants to play it. (⇓6)
---
24 KILLEEN CASTLE www.killeencastle.com
Killeen Castle boasts Ireland's biggest expanse of land for a golf course. It's hard to argue with that when you rarely see another hole let another golfer on this Jack Nicklaus- designed parkland. The castle which looms over the understated clubhouse is a spectacular sight and both it and the course are on show as you drive into the old estate. It is some introduction to a powerful parkland that can be generous off the tee but far more demanding on approach. Nicklaus likes to create dramatic green complexes and you'll find plenty of that here. Every parkland attribute you could ask for.
VERDICT: All the shapes and quality you'd expect from a Jack Nicklaus course. (⇓2)
---
23 PORTMARNOCK HOTEL & GOLF LINKS www.portmarnock.com
Often referred to as the Bernard Langer designed course – to differentiate it from the original Portmarnock – The Links has a wonderfully chaotic and bumpy links terrain which is quite different to its immediate neighbour. Here the heart of the course is more crumpled and while it is smoother inland, you can always see what awaits. It is a tempting sight. The resort's recent multi-million investment has added finesse to the course (and the hotel) especially the bunkering and paths, as well as a new short game area. Super greens.
VERDICT: A high quality links resort with Dublin on its doorstep. (⇑3)
---
22 SLIEVE RUSSELL www.slieverussell.ie
Slieve Russell hovers just beneath the radar – certainly in the south of the country – but its rise up our rankings continues. Perhaps the high ranking will help this stunning parkland shine more brightly. The course has everything a lover of parkland golf could ask for and that's all thanks to designer Paddy Merrigan. The tossing, tree-lined landscape uses Lough Rud as its focal point and there is a perfect rhythm to the momentum of holes as golfers are constantly enthralled. Through thick and thin, this course has remained in excellent condition. Go play it.
VERDICT: A parkland beauty still firmly on our 'must play' list for 2020. (⇑1)
---
21 BALLYLIFFIN (OLD) www.ballyliffingolfclub.com
The Old course at Ballyliffin glides over lower rumpled terrain and presses up hard to the sea's edge on the back nine. The Glashedy may dominate much of the higher more boisterous ground but the quality of the Old's turf is equally outstanding and choosing between them offers a dilemma. What the Old has in its favour is the sparkling run of holes beside the sea, starting at the 14th, and it promises a thrilling run for home.
VERDICT: A modern links with a lovely old crumpled feel. (↔)
---
20 ROYAL DUBLIN www.theroyaldublingolfclub.com
Royal Dublin's rich, illustrious history showcases the development of golf in Ireland, never mind the development of Bull Island on which it (and St Anne's) is located. This is low-lying links in a classic out-and-back routing where golfers will benefit from the wind for nine holes and battle it for the remainder. Therein lies the brilliance of its layout but there is more to Royal Dublin than that with its deep rough and its intelligent bunkering. This is a place where strategy and bump-and-run rule.
VERDICT: A classic low links and a stern challenge. (↔)
---
19 PORTSTEWART (STRAND) www.portstewartgc.co.uk
With the Strand course confirmed as the Dubai Duty Free Irish Open host venue 2021, Portstewart's reputation continues to rise after the same event visited this northern coastline in 2017. It certainly solidified the claim that this course boasts the best front nine on the island. From its stunning opening tee shot and holes cascading through the famed dunes of Thistly Hollow, this is a remarkable golfing adventure. The closing section of the course is more sedate but there are still many entertaining shots to be played.
VERDICT: A stunning links that kicks off on steroids. (⇑6)
---
18 PORTSALON www.portsalongolfclub.ie
Portsalon's reputation was strengthened when Paul McGinley helped to upgrade this lesser known Irish links wonder in recent years. The setting on Lough Swilly is magnificent and much of the front nine runs riot through rugged dunes above Ballymastocker Strand. And yet Portsalon has a natural feel that is striking. Two double greens emphasise how the terrain has been so cleverly used and this extends across the course, even to the more inland holes. And the 4th is outstanding.
VERDICT: A links of natural power and beauty, as well as one of the best holes in the country. (↔)
---
17 TRUMP INTERNATIONAL DOONBEG www.trumphotels.com/ireland
The upgrades by Martin Hawtree are settling in very well with the 18 greens all offering some dazzling putting surfaces. The overall quality of Doonbeg continues to shine and the addition of the new par three 14th has not affected the flow of this links one bit. Little wonder that with so many impressive holes its stock remains high. The course slides elegantly through the dunes for almost two miles above Doughmore Strand, reaching the 9th green at the farthest point.
VERDICT: A modern, big-scale links with a five star experience. (⇓2)
---
16 K CLUB (PALMER) www.kclub.ie
It is little wonder that the Palmer course still leans on the glory of hosting the 2006 Ryder Cup. It was a stunning victory for Europe and it showcased one of Ireland's leading parklands to a global audience. There have not been any significant changes to Arnold Palmer's original design – other than the new routing – nor do there need to be. This is a big modern course with all the facilities, all the colour and finesse that such a parkland entails. And it is accessible to all with big fairways, sweeping greens and the promise of a captivating day of golf.
VERDICT: Ireland's famous parkland is full of colour and rhythm. (↔)
---
15 CARNE www.carnegolflinks.com
Of all of Ireland's links, Carne is the biggest. The terrain is practically mountainous but the soul of this course lies in the raw, natural routing that takes you down into deep hollows and up and over dunes that can rise 500 feet above sea level. When Eddie Hackett designed Carne he let the land guide him (as was his way) and that has given the course its beauty and charm, as well as its many challenges. Some holes simply defy the imagination. The third and new Kilmore nine are also outstanding and are being brought back to their best. They may even be combined with the original back nine to form part of a combination 18 of epic proportions.
VERDICT: The biggest links you will ever have the pleasure to play. (⇑2)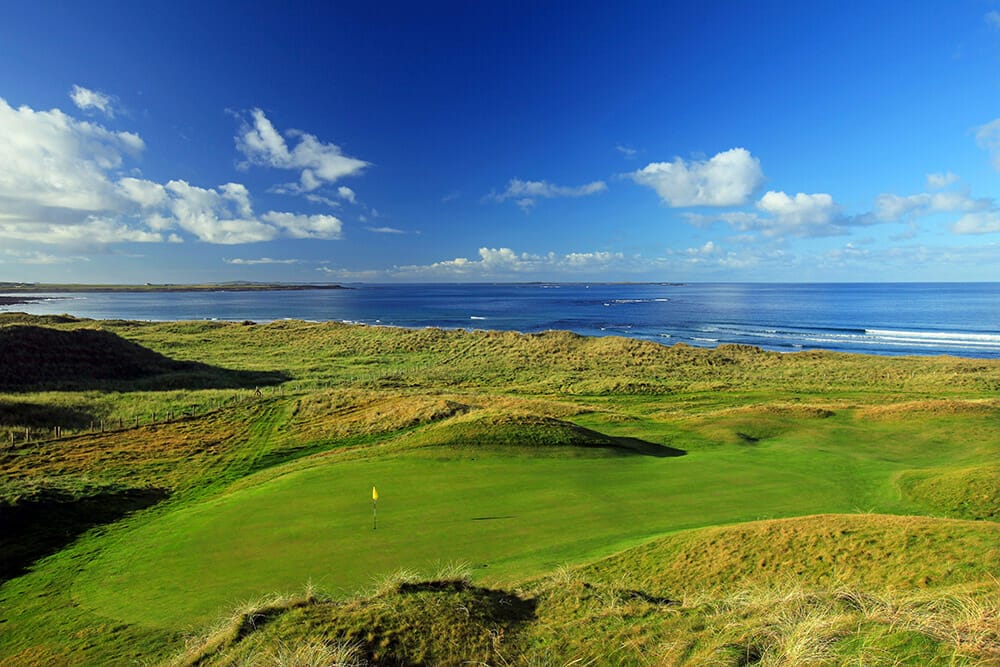 ---
14 BALLYLIFFIN (GLASHEDY) www.ballyliffingolfclub.com
Pat Ruddy's influence on Irish golf runs deep and Glashedy is his highest profile creation (after The European Club, of course). That profile rose further with the hugely successful 2018 Irish Open. The routing is done to perfection, allowing both nines to visit the biggest dunes on the property. These include the par three 5th and 14th which present tee boxes above greens with the startling backdrop of Glashedy Rock beyond. It is cleverly done. This is tougher than its Old course sibling because subtle doglegs and tight greenside bunkering make accuracy essential.
VERDICT: Home to the 2018 Irish Open, this is a stunning links. (⇓1)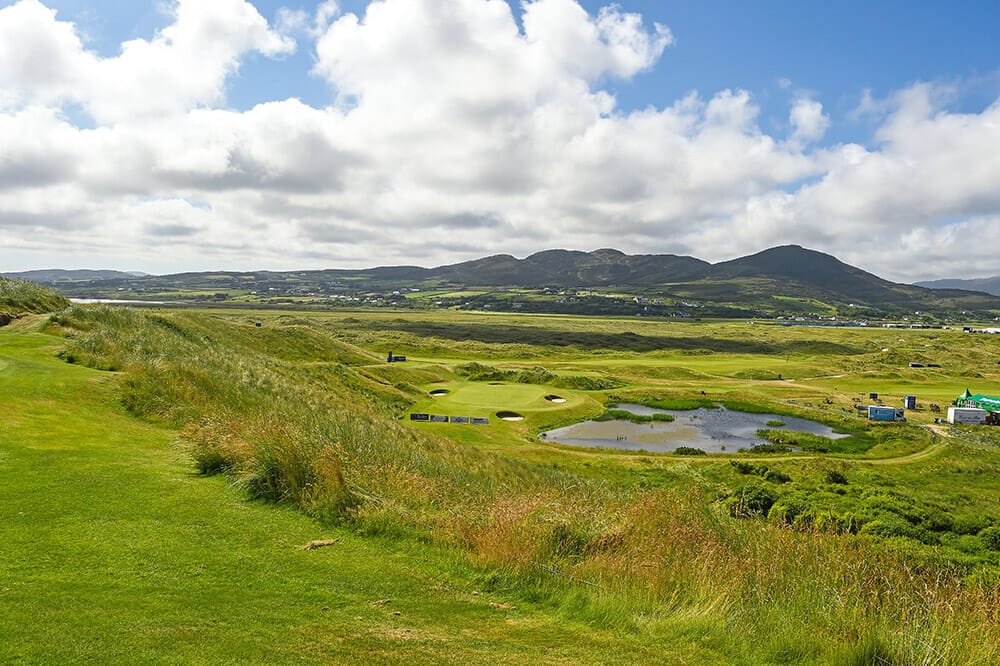 ---
13 ENNISCRONE www.enniscronegolf.com
Enniscrone celebrated its centenary in 2018. It was a major landmark for a club which is always in exceptional condition and is superseded only by Royal County Down when it comes to blind shots. The changes made by Donald Steel in 2001 took the course to a whole new level and it's now banging on the door of Ireland's Top 10. Rightfully so, too, with the much-lauded back nine stretching out to Killala Bay and holes 12 and 13 being of the quirky, blind and captivating variety. Bring your A game and a thumping short game because nothing less will do.
VERDICT: Links of big dunes. Big holes and quirky holes make Enniscrone a must-play. (⇑1)
---
12 COUNTY SLIGO www.countysligogolfclub.ie
This is a Harry Colt classic which continues to be updated by Pat Ruddy.
Co. Sligo is a course of different rhythms and different styles of holes, and this is determined by the fluctuating terrain over which it roams. The variety is astonishing but also hugely appealing as there's always something new to consider when you step onto the tee. Greens are fabulous and given the exposed nature of many holes, approaching them with low shots may prove beneficial. 2019 was the club's 125th anniversary.
VERDICT: A Harry Colt classic links of constant variety. (↔)
---
11 THE EUROPEAN CLUB www.theeuropeanclub.com
The European Club's routing remains superb, building to a crescendo in the middle of the back nine where the holes almost touch the sea. The course has become far more playable in recent years and the once polarising bunkers have settled in beautifully with the onset of age; natural grasses now protruding from the railway sleeper faces. There are fantastic dunes at Brittas Bay and even better golf holes. The only thing holding the course back appears to be the relative softness that has it play a little less fiery than other links.
VERDICT: A unique golf course that should be celebrated for offering a modern take. Comes with drama in buckets. (⇓1)
---
10 WATERVILLE www.watervillegolflinks.ie
Waterville's location is irresistible… as is playing this most rhythmic and picture- perfect course. Links golf doesn't get more attractive than this. There are no climbs here yet the landscape always moves and twists you across a terrain that feels as if it could serve no other purpose than to host a golf course. The rough, the grasses, the dunes are all indescribably beautiful. The Inny estuary embraces one side of the course while the wild seas of the Atlantic press up against the other, where the renowned three closing holes streak back to the recently refurbished clubhouse.
VERDICT: Ireland's most picture-perfect links. Utterly enchanting. (⇓2)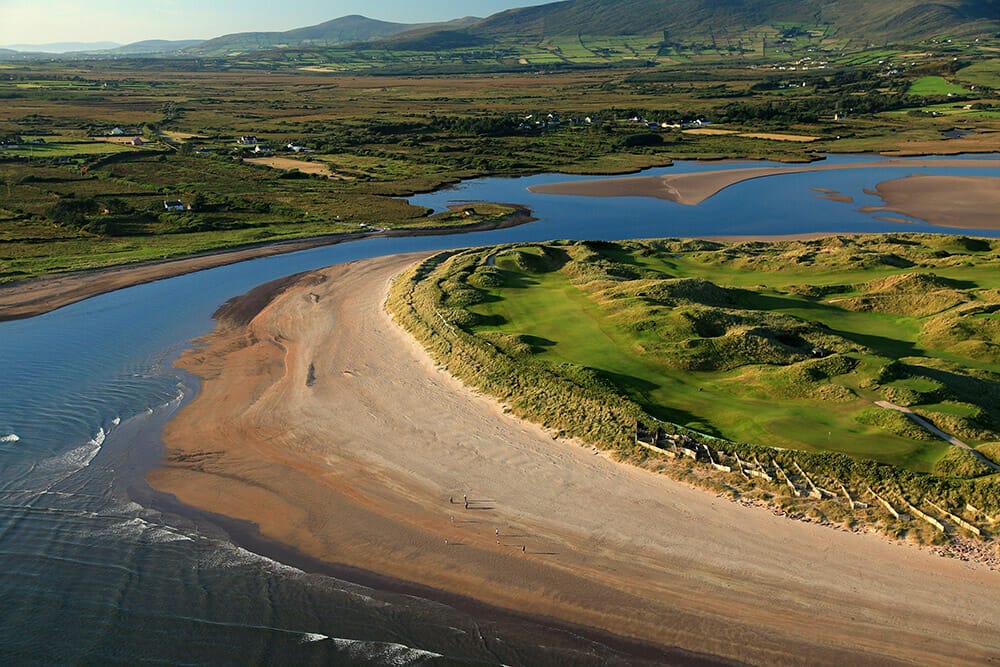 ---
9 THE ISLAND www.theislandgolfclub.ie
The work done at The Island in recent years has ensured the quality of the course as well as its playability are better than ever before. This continued throughout 2019, although changes are now afoot with Martin Ebert overseeing some significant changes. The Island is a magnificently entertaining links which was a recent qualifying venue for The Open Championship, as well as a host course for the 2019 Amateur Championship. That tells you just how good it is. The rather iconic opening run of eight par fours is about to change but the constant variety in shape and length and challenge will undoubtedly remain. It is a course of intriguing design and the back nine are even better.
VERDICT: An ever-improving links of stunning variety… about to be overhauled. (⇓2)
---
8 BALLYBUNION (OLD) www.ballybuniongolfclub.com
Ballybunion inches up one place after last year's dramatic fall due to the course condition. This follows the 2016 upgrading of Ballybunion's greens which was a huge success, as was the addition of the new 7th green and the new 18th which opened last year. Ballybunion is widely regarded as the most natural links golf course anywhere, and certainly the most natural with such towering dunes. These dunes, such is their shape, have created perfect doglegs, high tees and magical green settings, some set in bowls, some set on plateaus, still others protected by sentry dunes. And yet there are no blind shots. Expect its rise to continue… despite the brilliance of the courses above it.
VERDICT: As big and natural a links landscape as you will find. Captivating golf. (⇑1)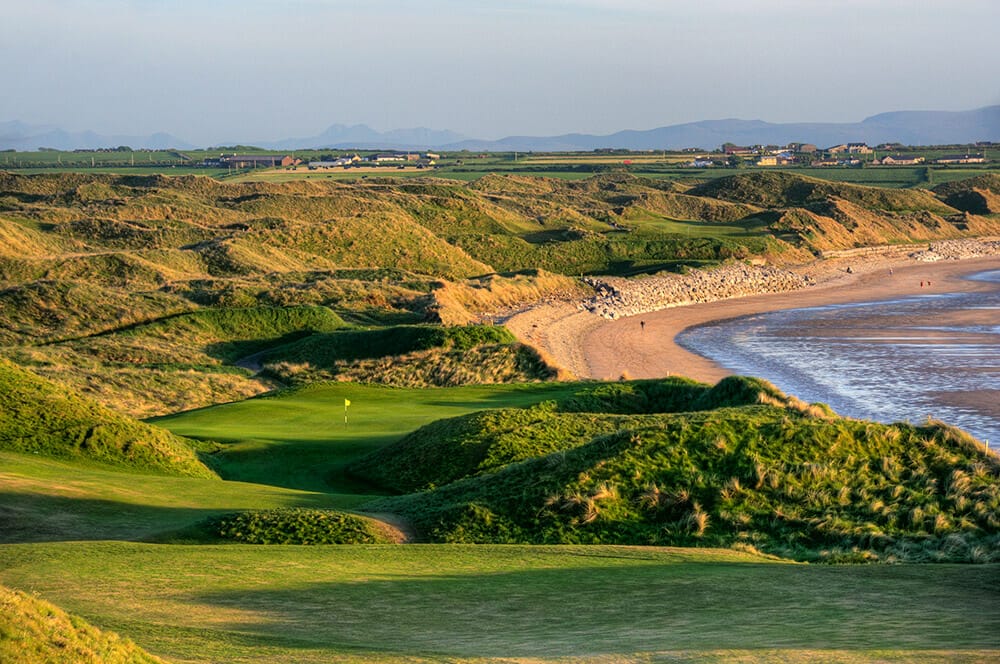 ---
7 TRALEE www.traleegolfclub.com
An impressive jump back into the top ten reflects the continuing efforts at Tralee, with a new golf academy and a six-hole par three course now open. It may possess one of Ireland's best back nines but the daring front nine is too often overlooked. Designed by Palmer and Seay in the 1980s, there are many unforgettable holes here, including 2, 3, 8, 12, 13, 15, 16 and 17. The shape and thrills of the holes really are that good. So too is the location which is devastatingly beautiful and the course and those views are all on show from the clubhouse. It sets the heart racing.
VERDICT: A links of outstanding beauty. (⇑4)
---
6 COUNTY LOUTH www.countylouthgolfclub.com
Not many courses can lay claim to one of the best stretches of holes in the country… yet Baltray boasts two: the 3rd to 7th and the 12th to 16th reign supreme, the strategies and intricacies around Tom Simpson's greens opening up a myriad of choice and opportunity. On account of a few of the inland holes, some feel it lacks the wow factor but this is to miss the essence of the links: The layout is a purist's delight, its subtleties revealing themselves a little more with each play. It's not short of quirk either, with small undulating greens and the occasional scary, blind shot.
VERDICT: Easily holding its own with courses above it, County Louth is a links lover's idea of heaven. (↔)
---
5 THE GOLF COURSE AT ADARE MANOR www.adaremanor.com
Last year's highest new entry has slipped a touch but it remains comfortably the top Irish parkland. It was never going to be easy ranking this course – last year or this – especially when you consider the exalted company it has to sit alongside, both nationally and internationally. The awarding of the 2026 Ryder Cup has certainly beefed things up. The routing of Adare remains the same but everything else changed. One eye-watering statistic is this: 200,000 tonnes of sand were used on the course… 64,000 tonnes went beneath the rough; and sand nine inches deep went under every fairway, increasing to twelve inches under every green. There are 56 green keepers in all and each of the 82 new tee boxes are hand mown. Discussions about Adare's course condition tend to be of the breathless variety, with sub-air technology raising pulses… but a course can't survive on conditioning alone. There needs to be more and Tom Fazio has designed Adare to be something truly remarkable. It is hypnotic in its rhythm with raised greens and their vast aprons of run-offs catching the eye time and again. They are dazzling targets. The bunkering is bright and unmissable, framing fairway corridors and threatening constantly around greens. It may be easier to be in a bunker than to run the gauntlet of those aprons which can sweep your ball 30 yards away. And yet its playability is one of Adare's great strengths. There is no rough to speak of and with thousands of trees removed you should always be able to access greens.
VERDICT: The most remarkable upgrade imaginable. Ireland's top parkland of yesteryear is back and better than ever. (⇓2)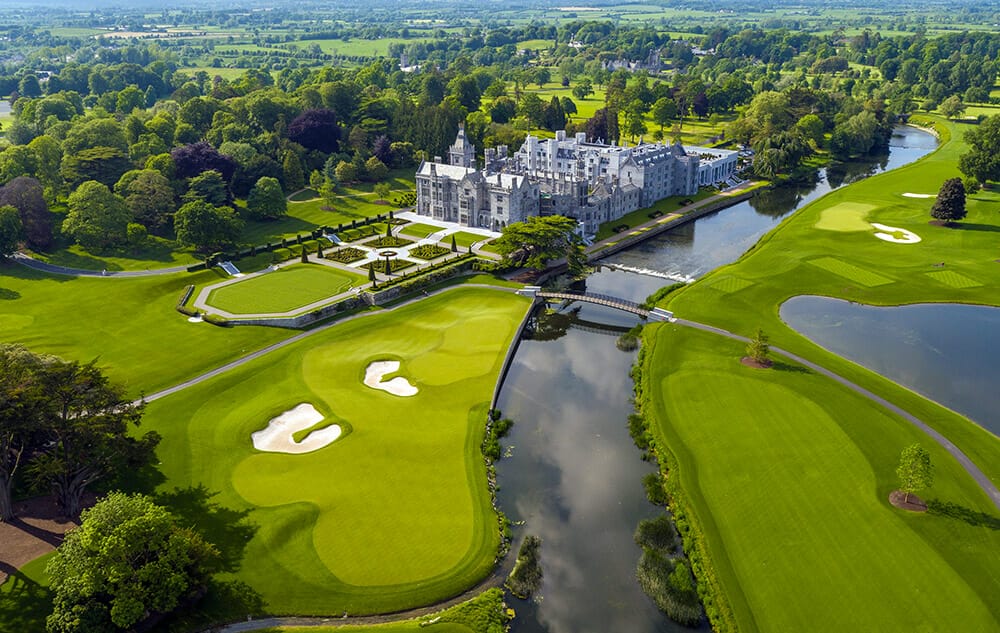 ---
4 ROYAL COUNTY DOWN www.royalcountydown.org
Royal County Down (RCD) has often been recognised as the best course in the world, let alone best in Ireland, so its ranking of fourth in our ranking will continue to surprise some. There's no question that RCD is one of the world's greatest golf experiences – it is unlike anything on the planet with those heaving, gorse-drenched dunes and bearded bunkers – but where it faltered in our rankings was in its playability. The great Jack Nicklaus felt there were too many blind shots and they are severe ones at that. Combined with those bunkers and some fairways that can treat you harshly with their deflections, it makes RCD a stern test for even the best players. It is not therefore as playable as the courses ranked above it. The three links above it have also upped their game massively in recent years. For many, though, RCD remains the ultimate, adrenaline-fuelled links with a heritage that embraces Old Tom Morris and a landscape that has been played over since 1889. Those blind shots are what many golfers remember most but this stretch of tumultuous links land is home to superb green settings, many of them nestled down low. The greens themselves roll like velvet and are oh so quick. The entirety of the holes, the perfect framing of wild rough, heather and gorse, and the strategic options available make RCD the epitome of a bucket list destination… and always will do.
VERDICT: Quite simply the most explosive links experience in the world. (⇑1)
---
3 LAHINCH www.lahinchgolf.com
When the Dubai Duty Free Irish Open arrived at the famous Co. Clare links last July, it was a big step for a big course. Lahinch is one of the most perfectly balanced links you'll find. Never mind that dune system over and through which it plays, Lahinch is blessed with a tempo that practically sings. The ridge of big dunes that hosts the front nine and press up to the sea heave in every direction creating sublime channels for holes to flow between. Such natural routing presents a layout where wind tests golfers from every angle but also accommodates some blind shots and fabulous quirks (The Dell, most notably). Farther inland, where the dunes are more subdued, the back nine are no different: perfect routing takes you to startlingly natural green sites. Indeed, the back nine demand more guile from the golfer, especially on approaches. What Old Tom Morris started, Gibson advanced, MacKenzie reimagined and Hawtree restored is now recognised as one of the world's greatest links.
Alister MacKenzie's name looms largest, but Hawtree deserves plaudits for his restoration of MacKenzie's original vision. He rebuilt green sites,updated the bunkering for the modern age and added two new par threes. He also pushed greens out to the ocean's edge to enhance the links experience. These changes and particularly his new bunkering to challenge the modern golfer have benefitted the club hugely. In an age when links courses have little room to expand, Hawtree found other ways to promote Lahinch's challenges. As anyone who has played here will tell you, Lahinch just gets better and better.
VERDICT: A restored classic links with a perfect tempo. (⇑1)
---
2 PORTMARNOCK www.portmarnockgolfclub.ie
Portmarnock was our first number one and despite work to enhance the course ahead of the Amateur Championship last year, the work completed at Royal Portrush means Portmarnock stays in second place. Portmarnock and the word 'subtlety' go hand in glove. While some visitors will miss the nuances of this wonderful terrain on a single visit, others understand the immense reward it gives on repeat plays, revealing its strategies slowly and releasing its secrets only to those who persevere.
Nuances such as the deceptive ridges on holes 3, 13 and 17, and the blind tee shot on 5 add to the fun but it is the peerless routing that provides the bones for this exceptional championship layout. It's worth noting that the skeleton of the course remains the same as when it was extended to 18 holes in 1896, the only significant addition being the famous one shot 15th along the water's edge, introduced in the 1920s. Portmarnock is big, not in the sense of mountainous dunes but in the size of its greens and hole corridors. Yet never does it feel too large, the holes fit so perfectly into the landscape. Great holes they are too, with more than one famous writer believing that there is no greater finish in golf than the final five at Portmarnock. The condition of the course is also second to none, the fine turf allowing firm and fast surfaces that encourage the ground game and necessitate a thinking golfer's approach.
VERDICT: Portmarnock remains as Ireland's truest test of golf. It doesn't put a blade of grass wrong. (↔)
---
1 ROYAL PORTRUSH www.royalportrushgolfclub.com
In our third Irish Golfer Top 100 rankings, Royal Portrush retains pole position. With the hugely successful 2019 Open Championship sold out and producing such a popular winner, that is only fitting. This is classic course design of the golden age – that pioneering age around the roaring twenties. Decidedly modern at the time, the best architects had started to build features rather than rely wholly on nature. Harry Colt was a virtuoso practitioner and, at Portrush, he created what remain the best set of greens in Ireland. Colt considered the Dunluce course his masterpiece and it's easy to see why: the holes sweep elegantly through an undulating dune-scape, never so violent that the golf is compromised yet never so calm that one's guard can be lowered. We all know the best of them, the 5th doglegging towards the sea and the long par three Calamity Corner being the most famous. But in truth, almost all of them are strong, beautifully following the land and taking the golfer on an adventure to each corner of the property. The course often appears to be in a perennial battle with Royal County Down for the top spot in the North. Each offers a very different experience to the other but in the past, both were perceived to have a brace of weak finishing holes. In preparation for the return of The Open Championship, Portrush has gone out of its way to rectify the situation, its hand being forced by the requirement to commandeer the 17th and 18th for the tented village. In their place, two outstanding new holes abutting the Valley course have been brought into the routing. These have become the 7th and 8th meaning the course now finishes on the original 16th. The visual appeal and challenge of the new holes have been an overwhelming success.
VERDICT: The most elegant design on the island retains the top spot. (↔)
---