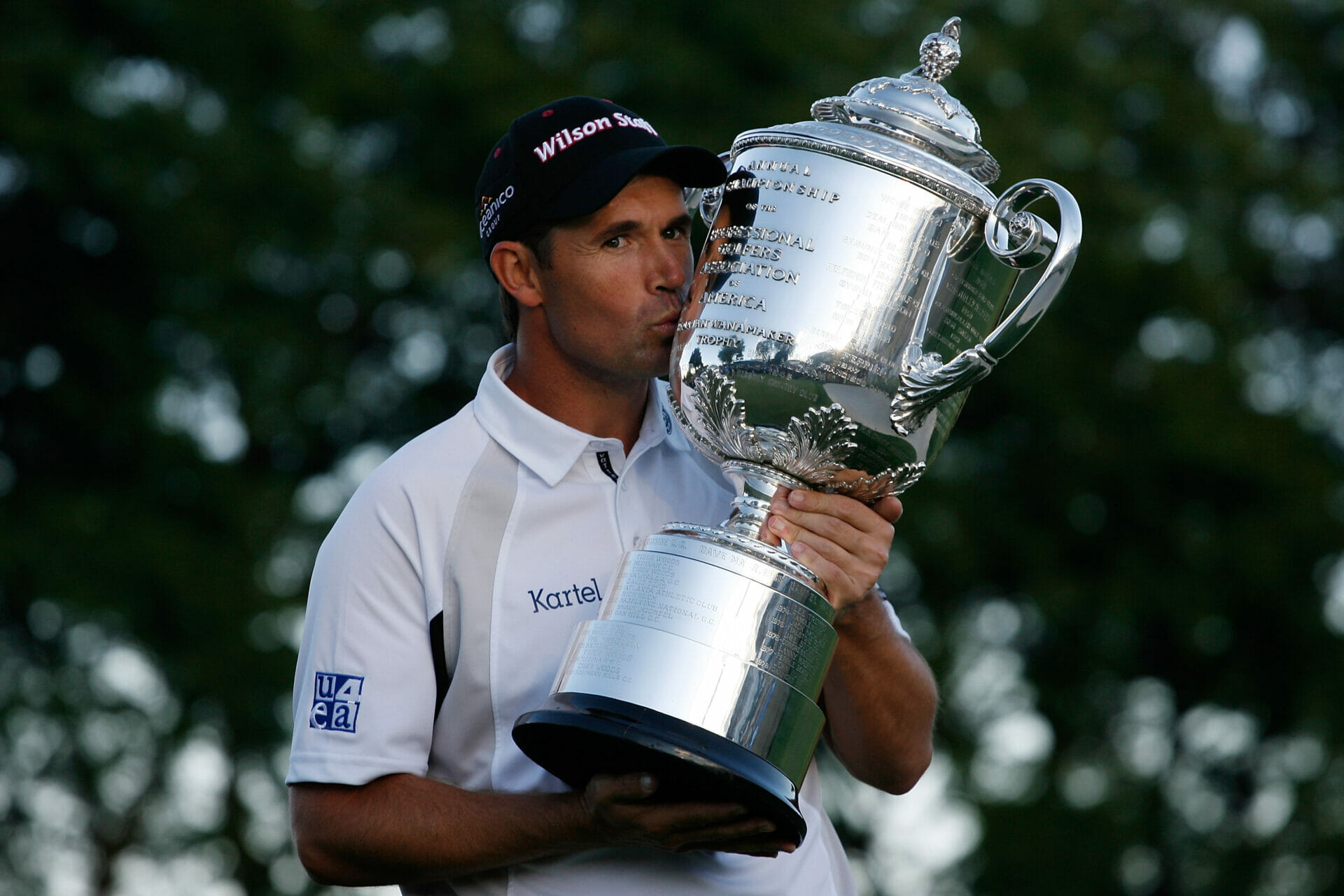 Padraig Harrington's 'fear of God' demeanour over the final few holes in capturing the 2008 PGA Championship has been replaced 10-years on with a fear of simply getting off to a good start at Bellerive.

Harrington captured a third Major Championship and a second in two weeks by again denying Spain's Sergio Garcia along with American Ben Curtis to win the 90th PGA Championship at Oakland Hills in suburban Detroit.

The proud Dubliner rebounded from opening scores of 71 and 74 to shoot a third round 66 and then made-up a three-shot deficit to post a closing day 66, including holing an 18-footer for par at the 72nd hole, and win by two.

"It doesn't seem like 10-years, no, not at all. It actually feels like, well I won't say last year, but a couple of years," he said.

"As a player, you just play along and in saying that I don't remember 2008. So, it doesn't feel like 10-years ago and it doesn't feel like a lot has happened.

"What I can remember of 2008 is getting seriously dehydrated on Thursday and on Friday. I lost complete coordination, nearly missing the cut and being completely out of it and having the fear of God in me for the Saturday and Sunday.

"And yet someone came up with me, who'd played with me in the last two rounds, and said they'd never seen better ball-striking. I was saying I had the fear of God in me after the shots I hit on Thursday and Friday, I wasn't feeling too smart but I was in the hunt and I was prepared to run with it…..I played awesome nine holes Thursday and terrible coming home.
"I played awesome first nine holes Friday and then completely lost it.

"As much as I had done the right stuff, I was dehydrated. The rain delay on Saturday was big and it gave me an extra 24 hours to play 27 holes on the Sunday, that was a big bonus."

Harrington's win made him the first European in 78-years to lift the Rodman Wanamaker trophy while he became the very first European-born player to hold both The Open and PGA Championship trophies in the same year.

However, Harrington admits winning three Majors in an 18-month run each came differently gift-wrapped.

"My first Major was very exciting and your first is always going to be while my second was satisfying, and the third one I feel like I kind of stole it," he said.

"Three different emotions. I tell you what, there is no better feeling than to get one you didn't think …first one I played great and it was exciting, but I messed up the 72nd hole, it always left something wanting.

"So, to win the second one the way I won it in the last group playing well, won by four shots, hit a great shot on the 71st hole, all those things were the things you dream about winning as a kid. It gave me a very satisfied feeling.

"The first one was exciting, the second one was satisfying and the third as I said I just grabbed it when I got my chance. There is probably nothing more, when you get one that wasn't yours, that makes you feel good, yes."

This week also marks Harrington's 73rd appearance at the game's highest level and what is his 19th PGA Championship since making his debut in 1997 at Winged Foot.
It ensures Harrington is one of the more experienced players teeing-up in suburban St. Louis.
"We can talk long and hard about experience because is there a tipping point in experience where you have innocence that is a good thing and then you get experience, and then you find yourself over the top and you've got scare tissue and all that sort of stuff," he said.
"I would say that when you are playing well, you are playing well within yourself and when you're not, you're like me as you feel as though you need to be maxed out on the best.

"You just don't feel like you can take the hits when you were in form.
"It looks like 20-under par is going to be a winning score here, so that puts you under pressure from the word 'go' as you feel like you can't afford to make many mistakes."

And after celebrating last month returning to a rock-hard, sunburnt Carnoustie, Harrington and each of his PGA Championship colleagues find themselves presented with a rain-softened, lush-green Bellerive.
"Everything is different to Carnoustie as Bellerive is a totally different golf course," said Harrington.
"I am sure this is not how the PGA wanted it to be as the rough is not as heavy as they wanted it. The greens are a lot softer than they wanted them.

"The bunkers are perfect and they're no fear. So, to get the greens a little quicker would help them and it's just looking like a low-scoring week."

IRISH TEE-TIMES (Irish time)
Shane Lowry – 2.34pm
Padraig Harrington – 2.56m
Rory McIlroy – 3.23pm
Paul Dunne – 3.29pm