Team Europe will have to overcome an inspired Asian side in the final day Singles at the EurAsia Cup presented by DRB-HICOM after the home team staged a brilliant recovery during the Saturday Foursomes in Kuala Lumpur.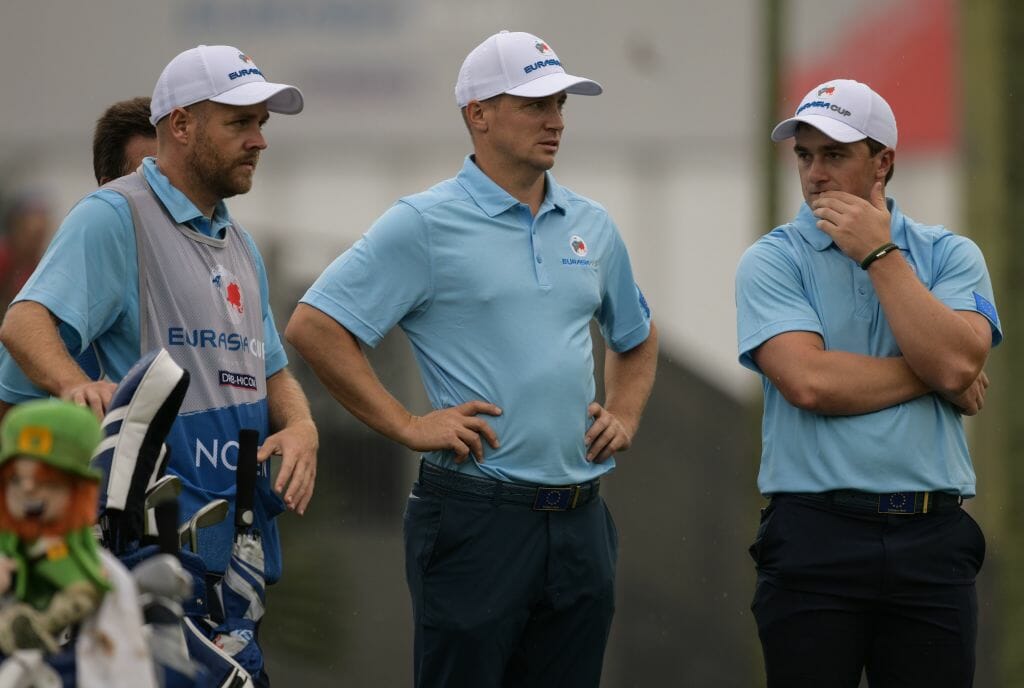 Photo by Getty Images

Europe had looked on course to banish the memory of their 3½-2½ defeat in Friday's Fourball session when they put the first three points on the board on Saturday.
But the momentum shifted Asia's way as the second day drew to a close, with victory in the three other matches handing them a 6½-5½ overall lead. For the second successive day, Paul Dunne and Alex Noren came unstuck against Hideto Tanihara and 18-year-old Phachara Khongwatmai. In a repeat of yesterday's Fourball, the match remained in the balance at the halfway point but it was the Asian pairing that managed the only two birdies of the back nine to win the tie 2&1.
It's been a difficult Debut for the Greystones star but Dunne will be hoping to put his individual exploits to the fore in tomorrow's singles where he will play the anchor match against Haotong in search of his first point for Europe.

Europe had taken control early on Saturday and were ahead in three matches and all square in the other three as the morning turned into the afternoon at Glenmarie Golf and Country Club.
Race to Dubai champion Tommy Fleetwood was once again sent out to lead the visitors on Saturday and, playing alongside Ryder Cup star Henrik Stenson, delivered a 3&2 win against Anirban Lahiri and S.S.P Chawrasia.
Fleetwood, who alongside fellow Englishman Paul Casey had won the first point in the fourball matches, holed the winning putt from four feet at the 16th to level the tournament.

"Tommy and I played a solid round of golf", reflected playing partner Stenson. "Got a little bit of help on one or two maybe soft bogeys, or a couple of bogeys from the opponent early doors and we got a good hold on the match and we started playing really well.
"I think we played more solid as a team today than we did yesterday. We didn't get as many points as we would have liked and we're still trying going into the singles, but it's not over by any means, and a big day tomorrow for both teams. We've got our hands full, that's for sure, and it's an exciting day tomorrow to see who is going to be the strongest.
"I've been lucky enough to hand that kind of stuff out on a few occasions over the years, and yesterday was my turn to receive it back. So, you know, just tip our hats. We didn't play poorly but they just played super solid yesterday and made a lot of putts. But overall, I thought I hit some good shots today and made some good putts. So certainly a little bit more solid than yesterday."
Paul Casey and Tyrrell Hatton wrapped up a 2&1 win against Byeong Hun An and Kiradech Aphibarnrat shortly after as Europe took an overall 4½-3½ lead.

Europe looked to be cruising when Matthew Fitzpatrick and Thomas Pieters' 3&2 win against Sunghoon Kang and Poom Saksansin ensured they could not lose the session, but the tide then turned in Asia's favour.
Yuta Ikeda and Gavin Green delivered the result of the day as they won three of the last four holes to beat Alex Levy and Rafa Cabrera Bello by one hole to secure an unlikely point for Arjun Atwal's side.
Dunne and Noren were next in the firing line to fall victim to the Asian revival before an incredible putting display from Li Haotong helped him and Nicholas Fung to a 3&1 victory against Bernd Wiesberger and Ross Fisher in the last match of day two. It left Team Europe Captain, Thomas Bjørn, with plenty to mull over ahead of the final day:
"It was a bit reverse of yesterday to be honest", acknowledged the Dane. "We got off to a really good start and things looked like they were going our way and it turned a little bit on its head in the end. We came out of the session 3‑3 which is not what we were looking for, but you know, we live to fight another day tomorrow and we've got 12 strong players, as I said, all week. I believe in all 12 of them, as I always will.
"We've got to go out and put some blue on that board and try and win the Singles. It's as simple as that. I would say that this team is very capable of winning the Singles, but we are getting a good fight this week, that's for sure. Slightly disappointed with the outcome today but I'm sure we can rise to what's ahead of us tomorrow.

"They will learn a lot about themselves and if you want to go on to bigger and greater things, and you want to be in the biggest tournaments in the world, you to have take these moments and stand up and be a big player. They know that. Some have things to learn and some have done it before, but as a group of 12, the spirit is great. They are disappointed with the results so far, but they have got a point to prove tomorrow."

Saturday Foursomes Results:
Match One: Henrik Stenson & Tommy Fleetwood 3&2 defeated Anirban Lahiri & S.S.P. Chawrasia
Match Two: Paul Casey & Tyrrell Hatton 2&1 defeated Byeong Hun An & Kiradech Aphibarnrat
Match Three: Rafa Cabrera Bello & Alex Levy defeated by1 hole Yuta Ikeda & Gavin Green
Match Four: Thomas Pieters & Matthew Fitzpatrick 3&2 defeated Sunghoon Kang & Poom Saksansin
Match Five: Alex Noren & Paul Dunne 2&1 defeated by Hideto Tanihara & Phachara Khongwatmai
Match Six: Ross Fisher &Bernd Wiesberger 3&1 defeated by Nicholas Fung & Li Haotong
Team Europe: 5½
Team Asia: 6½

Final Day Pairings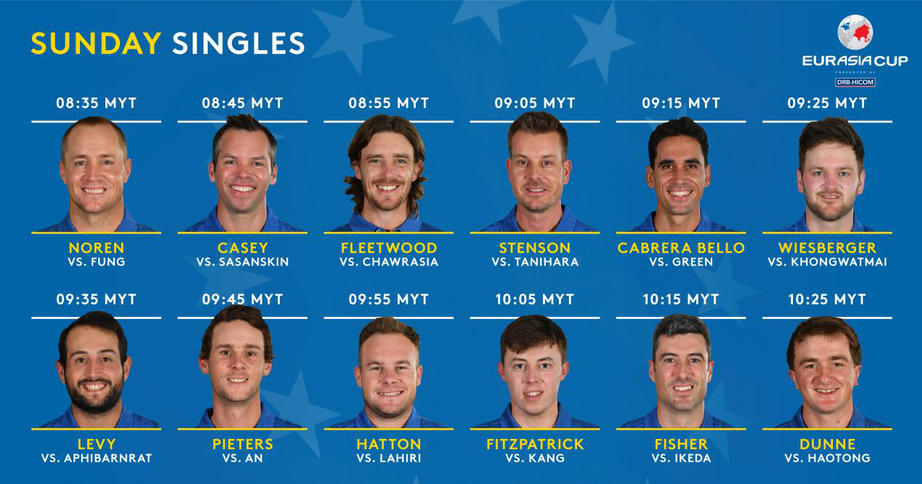 Stay ahead of the game. Subscribe to our newsletter to get the latest Irish Golfer news straight to your inbox!