Claiming the Flogas Irish Amateur today was a great achievement for Peter O'Keefe. After spending years chasing his tour dream O'Keeffe dropped back to the amateur ranks and used his knowledge and experience to set himself up in golf fitness.
So what do you do when you come up just short as a tour professional?  Many have turned their back on the sport, a few persevere in the pro ranks.  Some are bitter, some are relieved.  There's no set path for leaving the professional ranks, but there can't be too many that have gone from pro-golfer to pro-fitness coach.  Cork golfer Peter O'Keeffe regained his amateur status last September and that loosely coincided with the launch of his new golf business – Peter O'Keeffe Golf Fitness.  From a standing start he's built a full time business in a golf specific personal training routine for golfers of all levels.  Based in Douglas (Cork), the former Munster and Irish representative has taken his life-long interest in fitness, added what he learned with the Titleist Performance Institute (TPI) and made it into a full time job.
O'Keeffe's interest in fitness and sports science started over a decade ago, when he attended Southeastern Louisiana University on a golf scholarship where as well as playing golf at the highest collegiate level he studied sports science. That gave him a solid foundation in the scientific end of the fitness and physiology, and his interest in the area was further driven by his own experiences on tour.
Explaining what has led him to this new stage of his career he said, "I always had an idea of physical fitness and its relevance to sports.  The Titleist Performance Institute have done superb research on all types of golfers and have come up with a coaching method that is far superior to anything I have seen in my time as a golfer.  I played on the European Challenge Tour for five seasons and year after year I noticed the players getting fitter and stronger.  The daily routine went from lazy mornings in the hotel to a race to the gym to get your pre-round workout in.  I was always one of the longest hitters on the tour but I also noticed the gaps getting smaller in that department, which really focussed me to get working on my own body.  It's no coincidence that most players on the PGA and European Tours are now working with TPI certified fitness Professionals."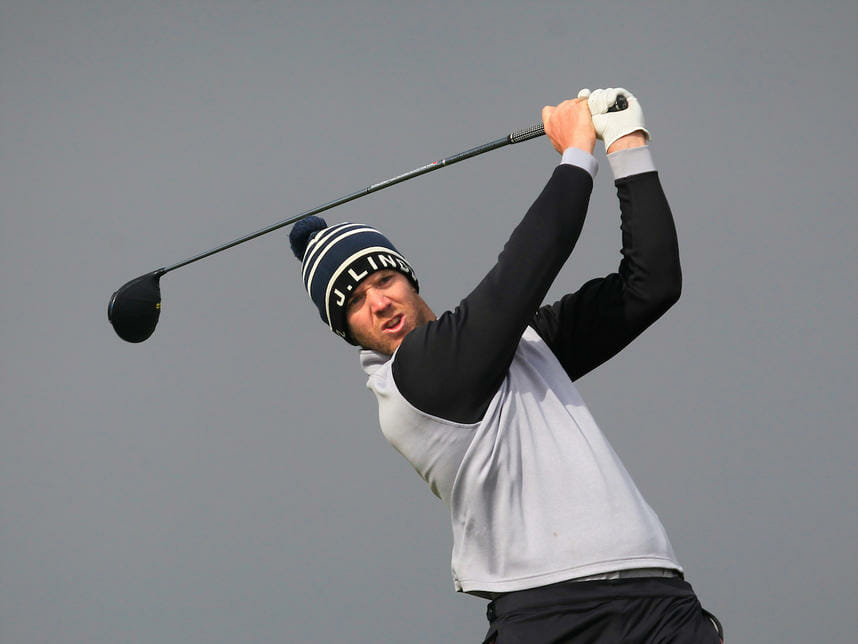 While many PGA teaching professionals go on to gain TPI certification, an increasing number of fitness professionals are using the TPI fitness modules training to specialise in fitness programmes for golfers.  Peter went through the TPI programme himself as a student while playing professionally in 2012, and he understands the value that it brings to golfers.  "I met Luke Dennehy in 2012 when I was playing on the European Challenge Tour when I heard that he was the only TPI qualified person in the area.  Luke quickly got me to work and I must say it really sparked my interest in the health and fitness industry.  The TPI training is focused purely on golf which at the time was just what I needed.  I've always been naturally athletic which certainly helps but for the first time I could see where my body was struggling and could make the connection to my swing which is the crucial part of TPI."
"When Luke put me through the TPI screening process it was a huge wake up call for me. From my results I could make the connections to the faults in my golf swing.  I suffered a fracture to my shin back in 2003 which resulted in a loss of mobility in my left ankle.  I never realised this but I had been compensating in my golf swing for years.  It took me ten years to face the problem which was made clear to me during the TPI screening.  Luke designed a program for me based on my results and I worked extremely hard to improve.  The TPI program covers a lot of physical aspects that are beneficial to everyone even outside of golf."
"I got much stronger, more flexible and I didn't have as many injuries. A lot of golfers suffer from niggles somewhere in their backs, including me. Core strengthening exercises and knowing the correct exercises to do has improved this for me no end.  In short I haven't felt a twinge in my back for years.  I am a much fitter person in general and as a golfer I improved my distance and my ball striking as a result of being trained in TPI."
After 15 years of playing at both amateur and professional levels, Peter has seen a big change in the approach that golfers of all levels are taking; "The 'golfer' is changing and has evolved into a proper athlete now.  When we play 18 holes at our local course, we usually cover 4-5 miles, either pulling or carrying a heavy golf bag and that's before we hit a shot.  That is demanding on our bodies and we as golfers will pick up injuries."

For the more advanced golfer, his or her coach is a crucial part of the TPI process.  With video analysis and the coach's input, together they can paint the picture of the player's tendencies and faults and by implementing a structured TPI golf exercise program, the results will speak for themselves.  The beauty of TPI is that golfers of any level can benefit.  Injury prevention is a major part of TPI training.
"By carrying out the initial TPI full body screening, along with the players' history of injuries if applicable, we can work to improve that injury through a bespoke golf specific training program and help that person play injury free golf.  Over the past six months my clients have ranged from 13 to 74 and it's been great to work with such a diverse client base as everyone is different.   The results from a 13 year olds assessment and a 74 year olds assessment will be night and day apart, but the challenge for me is to design programmes that will see both people developed and improve in different areas."
It's a credit to Peter and the programmes that he runs, that he is now almost fully booked weeks in advance with everyone from recreational golfers to PGA professionals taking on the initial assessments. Having played and watched golf at the elite level for almost two decades, 34 year old O'Keeffe admits to being surprised with the number of golfers lining up for his programmes: "For me it has surprised me how many people actually want to assess their golf performance via their body mechanics. I think when golfers out there become more familiar with the concept and the potential results, we will see a shift in how golf is learned.  If I can continue to help people play golf without injury and see people get fitter, faster and stronger I am confident that golfers of all ages, genders and levels will maximise their potential."
While the 6'5" big hitter trains golfers for a living, he still likes playing the game.  He returned to the amateur ranks last September and was given a handicap of +2.0. Today Peter claimed the Flogas Irish Amateur crown.
Life on Tour Ain't Cheap
For every Rory McIlroy or Shane Lowry there are hundreds if not thousands of professional golfers who try to make it on tour.  In Ireland alone around a dozen amateurs turn professional every year.  In addition to the European Challenge Tour, there are several mini-tours which offer aspiring professionals a chance to put a card in their pocket every week.  However the pro-tours are not cheap to compete in, and only a few hundred tour golfers make a decent living each year.  "An average week on any of the pro tours in Europe will cost €1,000 at least [entry fees, travel and accommodation], tour school entry is €2,000 and that's before you buy yourself a sandwich explained Peter.  "At no point would I moan about my time as a tour player, I achieved quite a lot in my career and it has led me to meet all the people that are now closest to me so there are no sour grapes.  Professional golf is an amazing occupation provided the path is clear for your schedule but more importantly your mind.   I could never jump the financial hurdle that would have allowed me to forget everything and send the ball where it needed it to go.  Travelling the world with your clubs to play the best courses week after week is a great experience but the bank balance was always lurking in the back of my mind.  It used make me sick to think of the emails and phone calls I had to make to a fantastic network of close friends I had around me to ask for sponsorship to keep the show on the road."
Q School Challenges
"Being financially independent on tour had always been my biggest challenge and even now I meet young kids with huge aspirations and I don't want to burst anyone's bubble, but I can't help thinking 'I hope you know what you're getting into'".  The financial challenge is immense. I had no doubt in my ability as a player, was I good enough to play on the European tour – Absolutely!  Do I have any regrets – No, I gave it my all.  I missed out on a senior international cap in 2008 but I knew I was a better player than I was getting recognition for, I knew I had guts to compete at a higher level.  I entered European Tour school as an amateur, holed a 20 foot putt on the final green at St Anne's links to qualify and I can still remember the elation, I was starting to move to a different level.  I was surprisingly comfortable, playing nicely I qualified 2nd at the stage qualifying for the final qualifying school in San Roque in Spain which would mean I would have at the very least a card on the European Challenge Tour.  In the space of a few months, I went from not making my international team to playing for a chance to tee it up with the best players.  Final stage at the time was a little daunting, I wasn't technically good enough and to be honest felt a little out of my depth.  I went to tour school 7 times during my career and looking back played some of my best golf under huge pressure, I enjoyed the feeling of pressure which I knew would stand to me."
This feature first appeared in Irish Golfer Magazine issue 2016- 3
 

Stay ahead of the game. Subscribe to our newsletter to get the latest Irish Golfer news straight to your inbox!