The Moyola Park Golf Club duo of Josie McGuckin and Kayleigh Mulholland sealed success in St Andrews to win the 2023 Coronation Foursomes.
At the home of golf, the pair from the Northern Irish club triumphed in the popular championship for women and girls' golfers across Great Britain and Ireland.
McGuckin and 15-year-old Mulholland posted a winning total of 42 stableford points over the Eden Course for a narrow victory.
Mulholland plays off a handicap index of 3.5 and thrived in the tricky conditions, which began with some rain before clearing to blue skies.
"It was a great day," said Mulholland, who played in The R&A Girls' U16 Amateur Championship at Enville earlier this year.  "Without Josie I'm not sure where we would be but we played very well. We stayed clear of any trouble and we're absolutely delighted to have won today.
"My home club, Moyola, is always nice to play and to do so with Josie. So it was just a day out together again playing golf but we managed to win.
"My dad is a professional so golf has always been in the family. I've been golfing from a very young age. My dad is my coach so it was nice to have him out watching today too. He is always supporting and helping me."
"It didn't start off too well," admitted McGuckin. "But as we progressed we had better scores and the weather got a wee bit better which added to our success. All in all it's been a good day for both of us. We are a good team together, I don't think we will be separated now."
McGuckin, 55, saw her love for the sport continue in St Andrews after admitting golf has given her a new lease of life.
She added, "I've been golfing for six years now and the reason I started was for the social impact. I was going through a bad stage in my life and I needed some more social interaction.
"One my friends was playing golf and she was always going away playing and I thought 'I think I could be doing with a bit of that girl time too'. And so I joined Moyola Park.
"I golf every Wednesday with my co-golfers. I have a really busy working life, but I block out my diary every Wednesday for six months of the year, from April to September and it's just brilliant."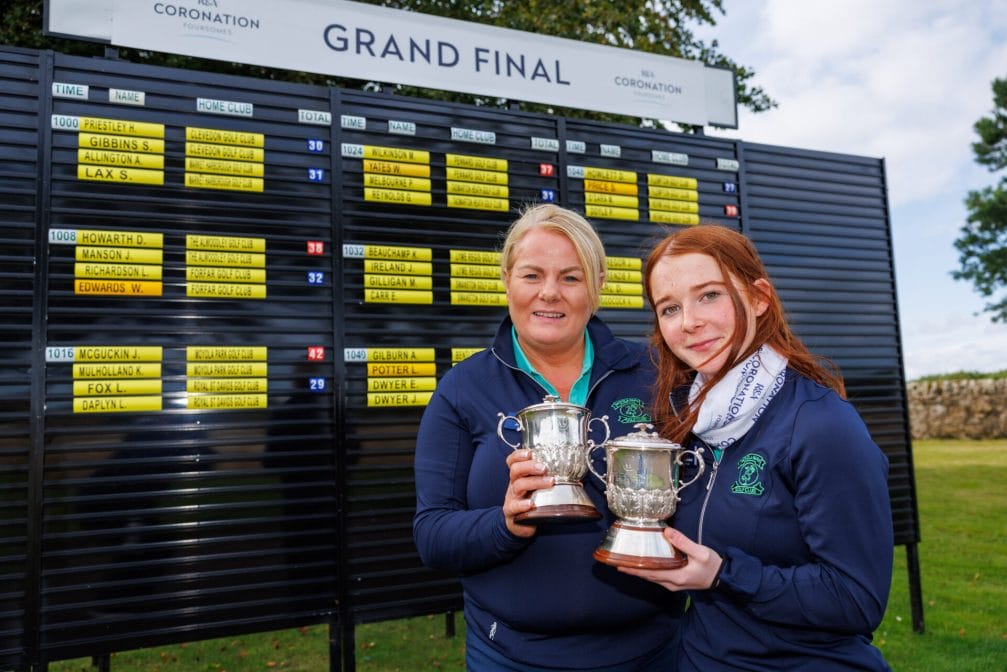 Among the 16 competing pairs, Joyce McGregor and Fiona Mackenzie of Balmore in Scotland came second with 40 points. Debbie Howarth and Jean Manson of The Alwoodley Golf Club in England finished third on 38 points after card countback (back nine).
As part of their prize, the winners sealed a dream place in the pro-am for the AIG Women's Open back in St Andrews next August.
"There is no better place than St Andrews so Josie and I will be counting down the days until we can come back for the AIG Women's Open," smiled Mulholland.
McGuckin added, "We are so looking forward to that. We never thought we would get to this stage never mind win and get to play in the AIG Women's Open Pro-Am. So we are looking forward to 2024 and playing together again."
The 32 finalists in St Andrews also enjoyed a two-night stay at the prestigious Old Course Hotel Golf Resort & Spa and a drinks reception at The Niblick Restaurant.
The unique team competition format of the Coronation Foursomes – the largest of its kind in GB&I that attracted entries from over 20,000 women and girls from just over 1,000 clubs in 2023 – sees club qualifying and Area Finals each year ahead of a Grand Final.
As part of The R&A's drive to encourage more women and girls into playing golf, the championship continues to attract all ages. Established in 1953, the Coronation Foursomes is open to all members of affiliated golf clubs in GB&I who hold a hold a current World Handicap System (WHS) Index of 40.0 or under.
For 2023 qualifying, local qualifying competitions – stand alone or played alongside an existing fixture – were organised by golf clubs, playing over 18 holes of handicap stableford foursomes.
Mothers and daughters, friends and family members all teed up – all for just £4 per pair.
The best 100 scores then qualified for each Area Final held at 16 venues in July and August, before the top 16 teams booked their trip to the home of golf for the showpiece final.
"It's been an absolutely brilliant experience to be in St Andrews," continued McGuckin. "There are so many people who are envious of us being here. It has been a complete delight and experience. I would encourage any young girl or woman to take up golf. It's a great experience and it's been great for me in terms of dark days in my life."
For more information please click here.