Mark McGowan at Dromoland Castle…..
At -7, Leona Maguire is the best of the home contingent by three-clear strokes but any hopes of an emotional homecoming victory look out of the question as Holland's Anne Van Dam shot a six-under to post -15.
The weekend crowds turned out in their droves to the KPMG Women's Irish Open, as early fog caused a one-hour delay to the start of the third round. But once the thick fog and subsequent mist had burned off, glorious sunshine bathed the Dromoland Castle grounds and cheers reverberated around the course as the appreciative galleries paid tribute to the players.
Maguire though, hadn't her best on the day, but it's testament to the high floor of her game that she'd post a three-under 69 with the only bogey of the day coming at 18.
"Yeah, didn't didn't have my 'A' game at all today," the rueful Cavan star reflected afterwards. "So I've made a lot of a lot of good saves, a lot good up and downs to keep me in it. It's just one of those weeks. It's all just been a bit off this week. So I kind of hung in as well as I can. I'll just try and go a bit better tomorrow.
"I mean, it doesn't take much for it to go one way or another. I think you have to take your chances where you get them and give yourself a few more chances. So I have one more day to do that tomorrow."
Unsurprisingly, Maguire's grouping which included defending champion Klara Spilkova, took the lion's share of the galleries, and in spite of her frustrations, she voiced her appreciation for the support and took the time to pose for selfies and to sign autographs for many of the young children in attendance.
"Yeah, it was great," she said. "I think it seemed like from sort of the sixth, seventh hole onwards it built as the day went on, which was which was great. And yeah, nice to see so many people out enjoying women's golf and sort of experiencing for themselves."
Olivia Mehaffey is the next-best placed of the home players on -4, and, like Maguire, was a little frustrated, feeling that she hadn't gotten the best from her round.
"I felt like I didn't do too much wrong," she said of her level-par round where she mixed two birdies with two bogeys. "I'm a little disappointed, because you feel like when you get to 15, you've chances. I hit a shot left (on 16) I mean, it was unlucky. I mean, I could not have played it from where it was. So I made a bogey.
"And then, you know, two pars to finish so a little bit disappointed, because I feel like I played better than that. But it's a course that you know you can make birdie so I look forward to tomorrow and hopefully I can hole a few more putts."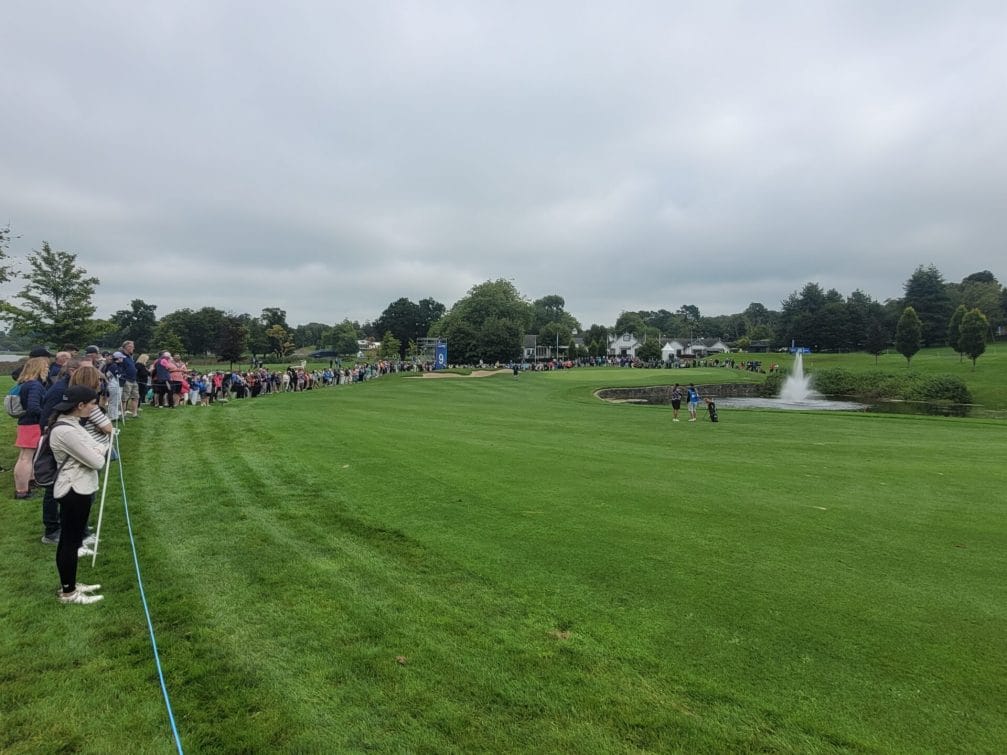 The story of the week from an Irish perspective remains the performance of the amateurs. 19-year-old Beth Coulter from Kirkistown Castle in County Down shot a three-under 69 from the second group of the day to rise to a tie for low-amateur with Douglas' Sara Byrne who birdied two of her closing four holes to get back to level for the day and -2 overall.
"Yeah, I mean, it's a fantastic place to start," Coulter, who's making her first ever start in a professional event, said. "You know, it's my first Pro event and a lot of the girls said it's actually their favourite on the LET, and no better place to start. I mean, at home with Dromoland in an Irish open, and so, I mean, it's really cool and hopefully now I can kick on for the rest of the weekend."
Finish of the day belonged to Hermitage's Kate Lanigan who, having struggled in the middle-third, produced four birdies in a row from 15 through 18 to get back into red figures for the tournament and it'll likely be a showdown between the trio for low-amateur honours with Belgian Savannah De Bock two behind Lanigan and three adrift of Byrne and Coulter.
Emma Fleming, who like Coulter had made the cut on the number, posted a four-over 76.
But at the business end of the board, Van Dam has opened up a three-shot cushion thanks to seven birdies, including three in the final four holes.
She leads Swede Lisa Petterson who lies solo second at -12, with India's Diksha Dagar, who closed out with a bogey-six, joining Alice Hewson in joint third at -11.