In the wake of the recent Ryan Tubridy and RTÉ payments scandal, I read an interesting column by Anthony Munnelly, aka 'An Spailpín Fánach' on Twitter. Munnelly is a Mayo man and occasional blogger who I followed some years back for his interest in GAA, and, despite his Mayo-ness, found to be a nuanced thinker.
He doesn't pop up on my timeline that much anymore, but when I saw his piece titled 'What's really going on with Ryan Tubridy Salary Story?' I felt compelled to have a peek. Now, Munnelly didn't quite get what all the fuss was about, which is where I'd have to disagree, partly because I find Tubridy representative of a privileged grouping that leaves me cold, and partly because I think it's genuinely a public interest story, just as I think any figure who's paid from public coffers – and Tubridy, like most of his colleagues in the upper echelons of the national broadcaster, is grossly overpaid in my opinion – should be held to account. Politicians, civil servants, all included.
But what really interested me was this line: "One reason is that it's a story that involves journalism, and nothing is of more interest to journalists than journalism." Guilty as charged!
And in the warped way that the mind works, it got me thinking about the PGA Tour's merger with the PIF. Quite the segue, I know, but true, nonetheless.
When the Saudis first started getting involved in golf, the reaction among the press was about as unanimous as you're likely to get. We all huffed and puffed and shook our moral walking sticks, and a large part of that was that Jamal Khashoggi, one of our own, had been butchered and dismembered for daring to be critical of a regime that, considering the butchering and dismemberment, was clearly worthy of criticism.
And for a journalist, there can be no greater crime than that committed against a fellow journalist. Just like the collective reaction from comedians following Will Smith's inability to take a joke at the Oscars last year. To them, slapping a comic for telling a joke was the most heinous of acts and they responded with ire, and if Smith (or his wife) hadn't enjoyed being the butt of one joke, suddenly, they were the butt of every joke, most of which Chris Rock's tame jibe about Smith's alopecia suffering wife paled in comparison to.
But the thing about outrage is that it can only last so long. It's tiring. And when the party you're outraged at are among the wealthiest sovereign states on earth, it's ultimately futile. Most of us have tamed, plenty have given up altogether, and some, seeing that the PGA Tour have been backed into a corner, have turned their ire towards those who've played their part in bringing the Tour to its figurative knees. Golf Channel and GolfWeek's Eamon Lynch is one of those.
The Irish born columnist is a long-standing critic of the regime, a vehement opponent of LIV Golf and its supporters, and in a recent article, tore Patrick Cantlay to shreds for reportedly working behind the scenes to scupper the PGA Tour and PIF merger, not from any sort of moral standpoint, but for reasons rooted in greed and self-service.
Cantlay, he argues, has been playing both sides, courting LIV and using the threat of defecting as leverage to force the PGA Tour's hand to the betterment of himself and his fellow PGA Tour players, all the while failing to give any public support to the tour that he's remained a member of and benefited from greatly. And if that is the case, it worked. The designated events now boast a first-place cheque of $3.6 million and the Player Impact Programme puts an additional $100 million into the top players' accounts, but because of the unsustainable nature of these methods, in addition to the substantial legal fees being accrued in back-and-forth litigation, the PGA Tour has been humbled and forced to go, cap in hand, to the very entity they battled against.
And it's hard to argue with Lynch's assessment. Cantlay repeatedly gave 'non-answers' when asked directly if he had any plans to go to LIV, forcing rumour mills into overdrive that he was constantly on the verge of jumping ship, and should the merger go through, then all of Cantlay's leverage will be gone, as will the potential payday of actually accepting an offer to defect to LIV if all are brought back under the same umbrella.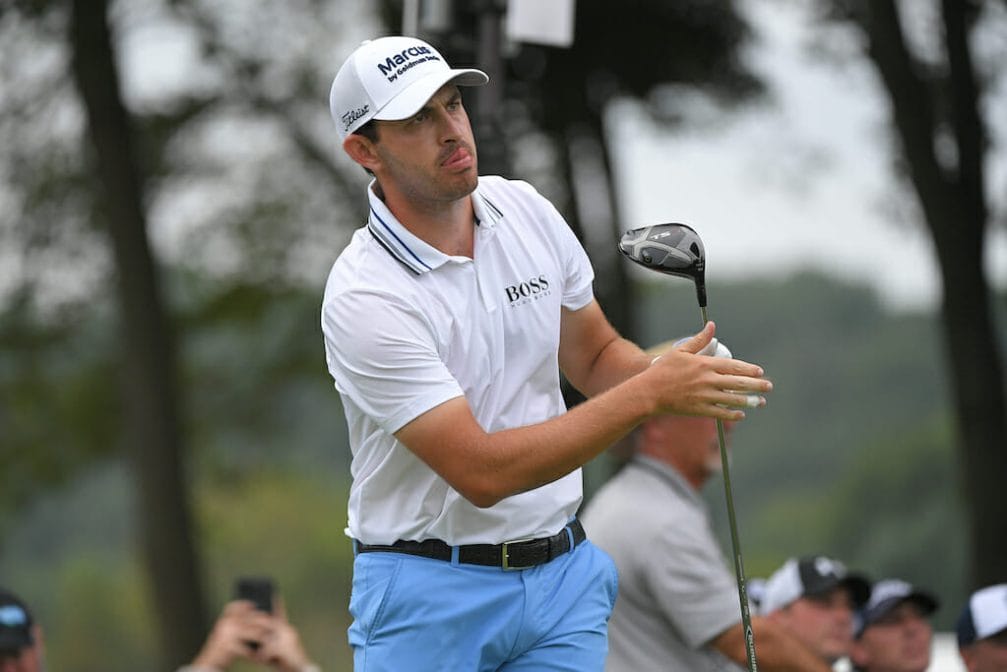 But maybe Lynch is giving Cantlay too much credit. Maybe he stumbled blindly into the position of strength he held, like a drunk whose wrong turn somehow sees him end up in a brewery, but for someone who Lynch claims "carries himself with the assurance of a man convinced he'd be a partner at Goldman Sachs if he wasn't merely sporting its logo on his cap," that seems unlikely.
Adam Scott, chairman of the PGA Tour's Players Advisory Council and one of the most popular players on tour amongst his fellow pros and fans alike, took umbrage to Lynch's article, posting an Instagram message calling reports of Cantlay's coup d'état ungrounded and dismissing Lynch's jibes about Cantlay's charisma or lack thereof, with several players, including Justin Thomas, Rickie Fowler and Will Zalatoris all rowing in behind the chairman.
Maybe it's professional courtesy, but I can't picture Lynch levelling such accusations without considerable and trustworthy sources to back up the claims. At this point, for the PGA Tour to remain at the forefront of professional golf, the merger has to happen. If it doesn't, and the reputed dire financial straits it's found itself in are realised, then Cantlay and others like him will be playing 54-hole shotgun start events quicker than you can say Goldman Sachs.
The goalposts may have moved, but Lynch is still fighting the good fight and more power to him, and a journalist engaging in journalism interests this journalist most of all.
I wonder what he'd make of RTÉ.