In the early 1970s, an intrepid group of 19 set out to develop a golf course for the area around Dingle. In 1924, Dingle Golf Club was founded, and a nine-hole course constructed at Ballintaggart, a few kilometres east of the town. In 1930, the Club moved a relatively short distance towards the sea to Dún Síon, home of the legendary Ó Muircheartaigh clan.
The club was based in Dún Síon for over 40 years with the site leased from local farmers. The needs of the landlords to encourage the growth of grass frequently clashed with the golfers' desire to have it short and eventually, when the lease expired, Dingle Golf Club closed.
The 'Pilot Group,' as the intrepid 19 were known, began to research possible locations including Burnham, the headland across the sound from the town but eventually came to view the area of Ballyoughteragh, under the shadow of Ceann Sibéal.
All were enchanted by the panorama – from the Blasket Islands to Ceann Sibéal, from the Three Sisters and to Mount Brandon – and the process of establishing Golf Chumann Ceann Sibéal/Dingle Golf Links began.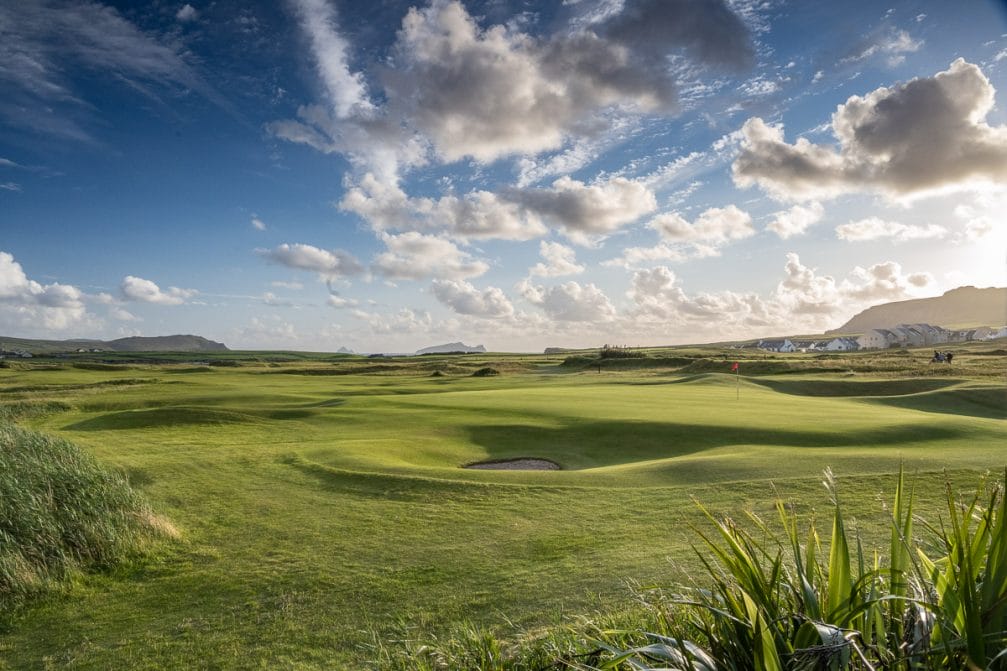 Play began in 1973 on a nine-hole course, designed by the great Eddie Hackett, following the determined and successful efforts of the founding members to raise the necessary finance to purchase the land from the local farmers.
In the 1980s, a second nine was added to Eddie Hackett's original design under the supervision of the late Christy O'Connor Jr and in the early '90s, the Clubhouse was built.
In the intervening years, the Club has flourished and become a firm favourite of many visitors from Ireland and far beyond, becoming a regular feature in Irish Golfer's Top 100 rankings.
On Thursday August 3rd, Dingle Golf Links Ceann Sibéal members were joined by Golf Ireland CEO Mark Kennelly, Chairman of Munster Golf Michael Coote, and a number of guests to mark the achievement of The Pilot Group both in their choice of location and the construction of the wonderful golf course.
The surviving founding members and family representatives of those who had passed were presented with a commemorative medallion to honour their achievements. The inscription on the medallion referred to their 'Fís' or Vision, their 'Misneach' or Courage and their 'Ceannródaíocht' or Pioneering Spirit.
The occasion provided a fitting tribute to the visionary, determined 'Pilot Group' of Ceann Sibéal.