Arklow Golf Links has become famous for its community spirit and innovative ideas but this untapped treasure can proudly stand alongside some of the best links courses in Ireland and hold its own. 
Described as "an affordable links" by golf and marketing manager Pat Costello, this is by no means a diminishing term but rather emphasizes the superb value on offer in Arklow.  
Often dismissed by our American friends because the green fees lack the zeros that other clubs boast, Arklow Golf Links is a rapidly rising club and is a treat for both members and visitors alike. 
Many golf clubs are quiet on a Friday evening after work ahead of the usual weekend hustle and bustle but if one was to step through the gates in Arklow, they would be met with a carnival atmosphere which has been spearheaded by Costello through his innovative ideas and competition formats. 
These competition formats have been revolutionary as membership continues to soar in Arklow with the guarantee of golf seven days a week. Arklow is one of the leading golf clubs for inclusion with male and female members often playing in the same competitions together with a particular favourite being the 'time for ten' on a Friday evening which sums up the entire ethos of the club.  A ten-hole competition which is all inclusive and has proven to be a fun way to play golf as well as a thriving social occasion. 
"The time for ten is really one of our busiest – it's become all inclusive, ladies and gents are mixing even on a weekend," explained Costello.
"The time for ten has really helped see a growth in that aspect. After work people just book a spot and don't look to see who is on the line. It could be two men, two ladies, one man and three ladies or three men, one lady and they just play together on a Friday evening. So time for ten on a Friday is extremely popular. We could have up to 100 people playing after work so it's been very good. 
"It's fantastic to see our members coming in which leads to them using the clubhouse on a Friday evening. We have a different menu – we could have burgers, fish, pizza… it's a more casual menu.  
"This year we have freshened up the time for ten by making it a four person team, two person team, scramble just to give a bit of variety and we introduced new formats which have gone down superbly. It's not quite reinventing the wheel but it helps with enjoyment," said Costello who can often be seen playing in the time for ten.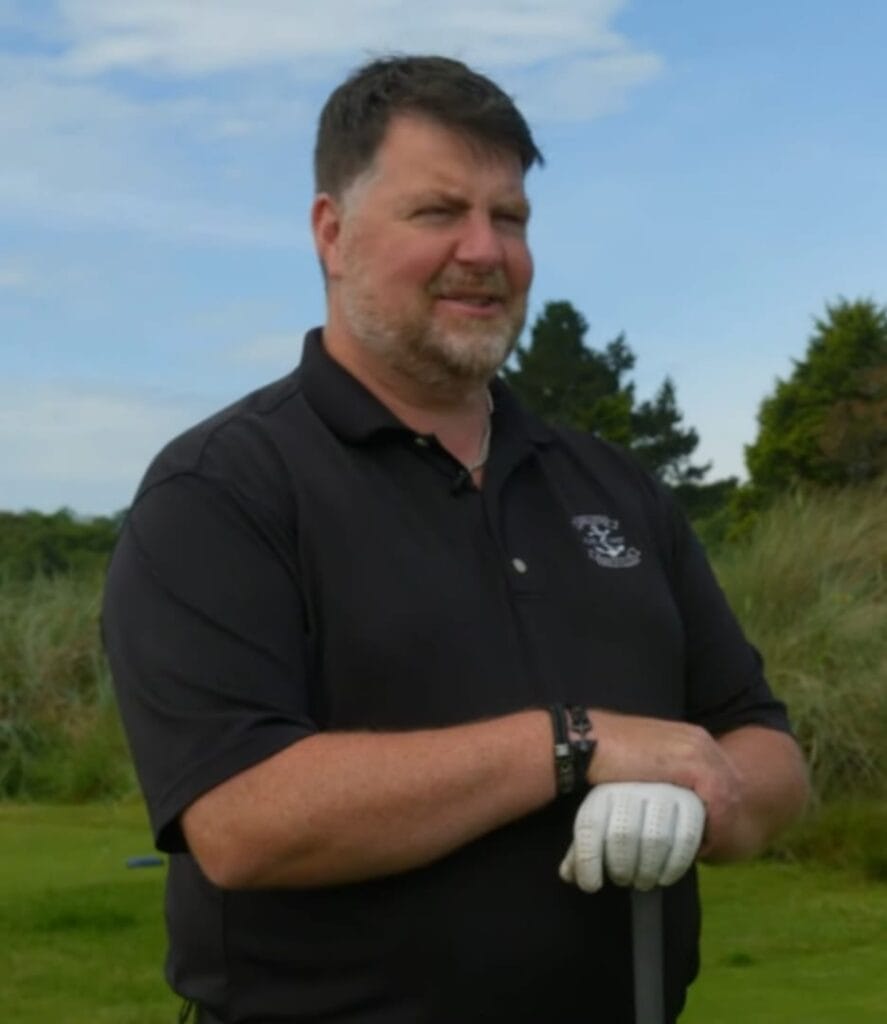 Costello has been a member of Arklow Golf Links since 1998 but his road to becoming the main man has been the one less travelled by.  
Growing up in Castletown a mere 7km south of Arklow, he moved to the town at the age of three and has been a mainstay in the community ever since. Golf wasn't always his main passion, only taking up the game at 23. He played GAA, football and boxing as a teenager before trying his hand at pitch and putt as something to do during the day before working nights at a local breast implant factory. 
Not many will have made the jump from pharmaceuticals to the golf industry but when Head Professional in Woodenbridge Golf Club, Craig Lewis came calling, it opened the door to a new career path where Costello has flourished. 
"I was a fairly late starter to golf. I had a job in a factory and after shifts we would play pitch and putt for something to do, that's how I started playing," explained Costello. "When I finished up working in pharmaceuticals, I joined Woodenbridge and worked there.  
"Working with Craig Lewis was fantastic in Woodenbridge. He wanted a pro and jokingly I said I would work but I said I had no interest in going pro. He was great in helping me to learn the ropes and a lot of what I learned over there I have brought to Arklow and hence the reason they came to me. They heard what I was doing out there with fresh ideas and thinking outside the box and they wanted me to come over and work for them." 
From the outside looking in working in your home club seems like a match made in heaven but it proved to be a significant stumbling block for the Arklow native who had to mull over the consequences of falling out with friends and not enjoying his golf, but as they say, home is where the heart is. 
"Arklow approached me to come on board as the golf and marketing manager in 2018 after two years in Woodenbridge. So I started in the summer of 2018. Being a member and coming to work in a place where I have spent so much time was the big stumbling block so I decided for the good of the club and myself that it was something I was going to try and take on. 
"I run all the golf here, the shop and now all the marketing aspect has come in so I do all that too. It's a long way from working in a factory twenty odd years ago. 
"There are plenty of courses up near us, we have Coolattin, Woodenbridge, Blainroe and Wicklow so you don't have to travel far for good golf courses," added Costello with Arklow part of a three-course package deal alongside Woodenbridge and Coolattin with Wicklow Golf Tours. 
"We are the affordable links in the sunny south east and the course is playing fantastically at the moment. We have a superb team on the course, and our bar and restaurant is franchised out to links catering. Myself and Tracey work here in the clubhouse and we have a few lads in the shop with me. A small group but we all work closely together and it's a members owned club." 
With all restrictions lifted, 2022 has seen an influx of overseas travel coupled with the continued demand from the domestic market and Costello relishes being on site to give visitors from far and wide the Arklow welcome. 
"The balancing act is to make sure money is coming in with societies and tour operators and hotels and business partners, there's room on the sheet for everyone to get out. We accept visitors seven days a week too. 
"The overseas travel has been great we are seeing a lot of Europeans. Scandinavians, German, Continental Europe, a lot of Welsh and Northern Irish in particular this year and we have had a flurry of Americans coming over which is good. 
"We don't always get a lot of Americans because they look at the price and think if it's not a big premium green fee it's not worth playing but we prove them wrong and they play and enjoy it and they come back again. 
"Being front of house is fantastic I really enjoy it, I always try and make sure when someone is finished their round I see them again and get their thoughts on the course and make sure they get that Arklow welcome. It goes down very well here when they come back in and you're talking to them," added Costello who is always trying to stay ahead of the curve with innovative competition formats. 
"I am really member orientated, I want to make sure members get golf seven days a week and making sure they are happy, have access to the course. 
"The membership is very positive, we are constantly getting new members and we are still open for membership it's a fantastic golf course, a great links. The membership is a big part of why I love it here, everybody who comes here gets a great welcome and the members ask visitors how they got on and that's great. It's like a big family here, we all play and socialise together. 
"The fact we have our ladies and gents playing together so much is great which puts us ahead of a lot of clubs. Golf is moving that way but we are ahead of a lot of places when it comes to inclusion. 
"We have membership applications at the moment and we have so many people interested through the get into golf programme which has seen a huge influx of female members 
Costello also takes huge pride in the Arklow juveniles and goes out of his way to ensure the next generation are made to feel a massive part of the club. Mini Arnold Palmer's can be seen roaming about the clubhouse and the golf course on Wednesdays and Saturdays in red jumpers that have been brought in by Costello specifically for the youngsters. 
"I went for a colour I don't stock so red is just for the juniors so they stand out. When you see a red club shirt, they are all in the junior academy and it looks great. When you are out on the course and see the red you know they are our juniors. It was an idea I had and it has worked better than I thought it would, the summer camps have been great, you see the red dotted around the golf club and of course I needed one for myself! 
"Junior membership is very good. We have an excellent junior committee who are very involved. We used to just have a Saturday competition this year we have a Wednesday morning competition so that gives them more than one competition a week and we are looking to get them down here more often. 
"We have almost 100 children in the academy, from eight years of age you can join and the committee look after them on the practice range and then as they develop then they can progress onto the golf course.  
"We try and have them coaching and then competitions where they do everything, they arrive and sign in etc so it's really getting them prepared for getting them to the next level and going to the computer. They're on their holidays in the summer so we want them to be busy," beamed Costello. 
It has been another booming summer for Arklow Golf Links with the club still smiling after a superb open week in early August. With some of the best greens in the country in terms of surface and speed, they proved to be a serious hit with members and visitors with many returning or playing more than once. 
"We had our open week and I think we broke all sort of attendance records, we were packed every day with around 200 people per day. We had a great variety of competitions, men's and ladies every day with prizes for everyone so it was brilliant. 
"The feedback on the greens was just unbelievable. I had people here during open week who might have played Monday, Tuesday but because of the condition of the course they decided to play Wednesday, Thursday, Friday, Saturday. It's unbelievable value at €35 for open week," Costello explained with a proud smile who recently helped the club raise a staggering €17,500 for the Nadine Lott trust. 
"We are growing at a great rate as is the town of Arklow so we have invested heavily on the course over the last few years and we will do more in the winter, which is great for the members and the visitors coming down. 
"It's great for me to see the figures, competitions being up, membership going up and that brings a sense of pride for me to see the growth in the club." 
The only way is up for Arklow, one of the best courses in the sunny southeast and well worth a visit as part of any golf trip.